It was a beautiful day for all lipstick junkies when Urban Decay announced their intention to launch 100 Vice lipsticks at only SGD$29 each 0.0 and 50 lip pencils at SGD$32 each. Amongst the 100 Vice lipsticks, there's 6 indulgent finishes: Mega Matte (MM), Comfort Matte (CM), Cream (C), Metallized (M), Sheer (S) and Sheer Shimmer (SS)! Wow, just wow!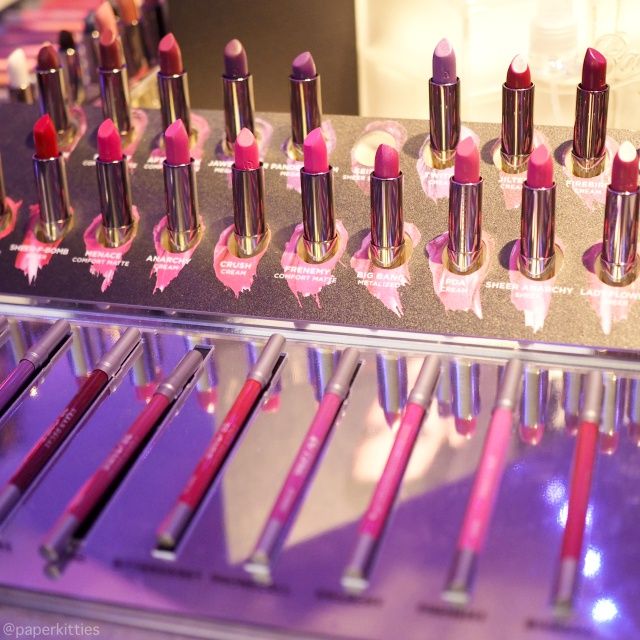 If that wasn't enough, be impressed by the "upgraded" version of their original case that reminds me of a shotgun shell – sleek gunmetal with luxurious gold base and debossed lettering. What was it about mismatched hardware being a fashion faux again? Clearly, you need to see this for yourself.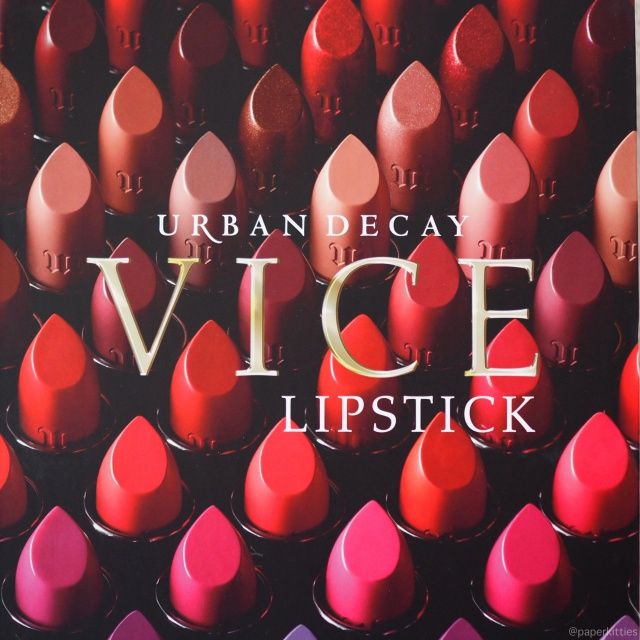 From bold brights to sexy dark shades to the super-versatile neutrals, let me make your life easier by shortlisting the top 10 picks from the founding partner of Urban Decay, Wende Zomnir, can't live without! And you'll be surprised to note that quite a few shades were actually from the
Urban Decay x Gwen Stefani
range that I'd recently
blogged
about 🙂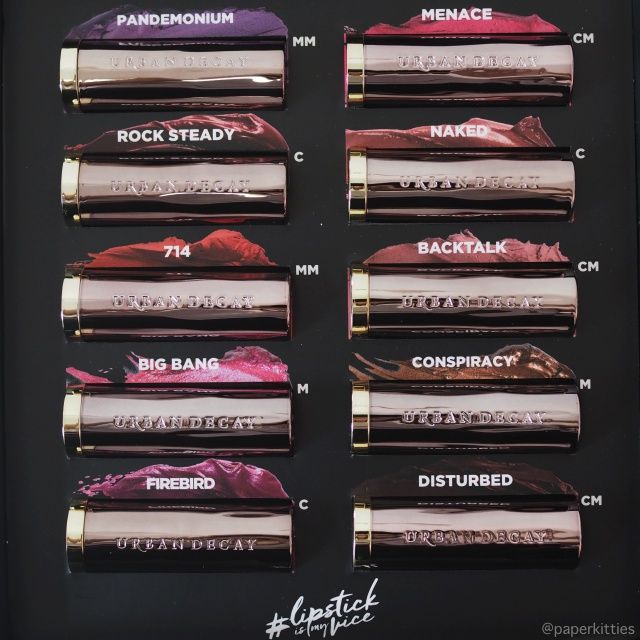 I swooned upon unboxing this! Before I go ahead with my swatches, let me tease you a little more by breaking down what each of the 6 finishes is about:
1. Mega Matte (MM) – super-intense matte
2. Comfort Matte (CM) – creamiest matte
3. Cream (C)- the original creamy, badass luxury
4. Metallized (M) – cream with a high level of pearl
5. Sheer (S) – a punch of colour with a sheer, shiny finish
6. Sheer Shimmer (SS) – slightly transparent finish with floating pearl but has a smooth texture
There you go, the top 10 must-haves to kick start your vice journey~ These are all achieved with just on swipe; amazing laydown of colour hey? This is highly likely due to their Pigment Infusion System™ that gives UD's vice lipsticks a super-creamy texture, rich payout and superior colour dispersion.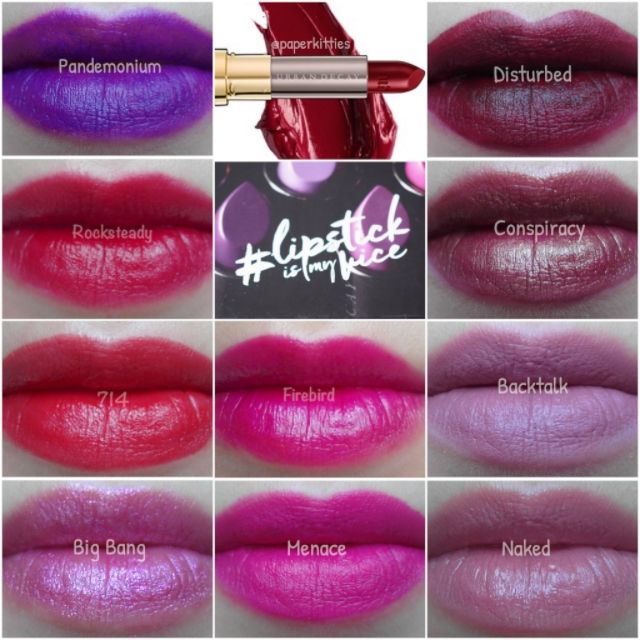 Usually, I will be able to more or less gauge the texture the moment I swatched lipsticks on my arms but I was in for a surprise at how completely different it felt on my lips. I'll tell you one thing, the pigment is insanely rich! Yet at the same time, the application was exceptionally smooth from the yummy butter blend of aloe vera, jojoba, avocado and babassu oils; except for the matte ones, those needed a little lip balm help – like all matte lipsticks. Yes I did had a little trouble applying the matte lipsticks as my lips are kinda dry at the moment from all the various matte lippies I have been applying :/ But every other finish was a breeze. One swipe and voila~
My favorites from this lot was surprisingly different from my usual choices: Menace (medium fuchsia pink), Conspiracy (plum bronze shimmer), Disturbed (deep brick red) and of course, Naked (nude pink). Other than the nude, they are certainly unusual choices for a natural makeup lover like me, I simply couldn't help but be intrigued by these crazy shades and the endless possibilities I could have with them. I would definitely recommend you to just pop down to your nearest Sephora store and start swatching away.. There's surely something for everyone!x