With the big day coming up, it is without a doubt that one of secret fear is to wake up to puffy face. Though I blame them on my poor sleep cycle (which I'm trying desperately to adjust), it's good to know that my trusty Clarins has just the right range of products of my needs again! And that's none other than the Clarins Shaping Facial Lift that's much raved about by my gfs. To be honest, I didn't think too much about the range until I tried them out during the workshop (on dayre here), and was totally impressed by this range! With V-Facial Intensive Wrap & Enhancing Eye Lift, in synergy with Shaping Facial Lift Serum,today I shall introduce you a total facial reshaping program to achieve the ideal V-face contour without going under the knife or aesthetics injections~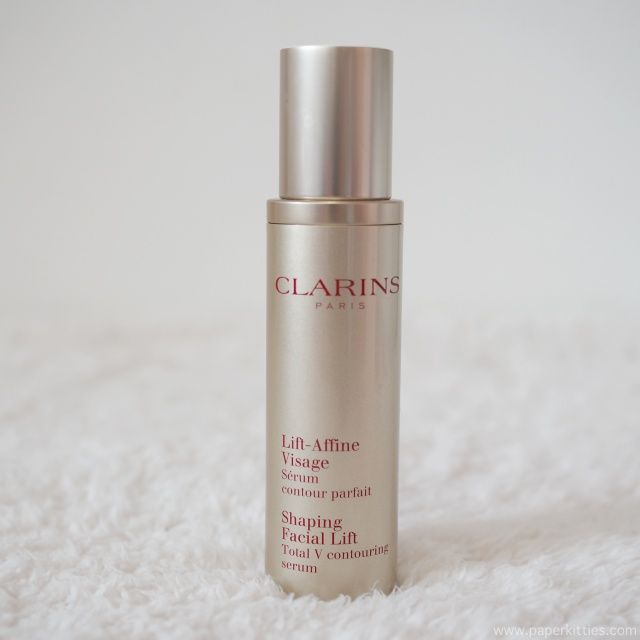 Shaping Facial Lift Total V Contouring Serum
First up, let's talk about the newly formulated
Shaping Facial Lift Total V Contouring Serum
. If you're in your late 20s like I am, as much as you may try to deny, I reckon it's about time you start preparing using skincare products that has anti-aging and/or lifting properties to prevent yourself looking older than your actual age in the long run.
Shaping Facial Lift Total V Contouring Serum
is combined with 3 powerful plant extracts:
1. Guarana extracts helps to slim,
2. Zerumbat Ginger extracts to visibly depuff and,
3. Kaki extracts to lift facial contours.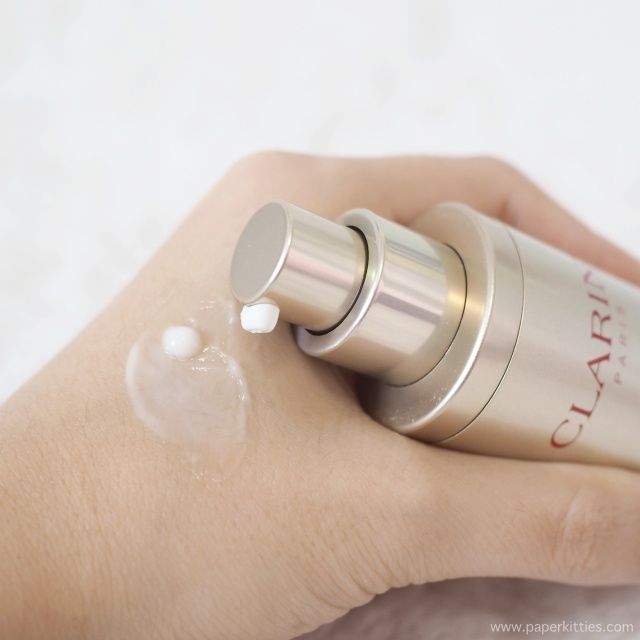 The texture is so featherlight and fresh, it brings an immediate feeling of well-being that instantly enhances the "lift" effect. My skin felt as though it was slightly tighten yet still left feeling soft and not the least sticky/greasy – you know I how much I shun products like that. Of course, I would say that most of
Clarins
products would not be as effective if you do not follow through with the suggested application method. And
Shaping Facial Lift Total V Contouring Serum
is, of course, one of those products where you should adhere to the instructions given. It's pretty straightforward and takes less than 2 minutes of your time! You can simply follow the instructions shown in the manual with every purchase. It's really simple and feels quite therapeutic, having a mini time for yourself, despite all the rush in the morning and after a long day.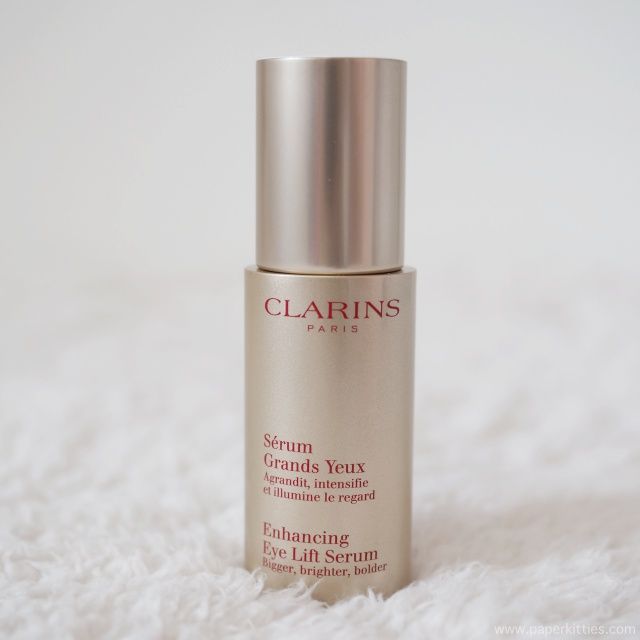 Clarins Enhancing Eye Lift Serum
This is highly raved by my girlfriends and it's not hard to understand why! Amongst the many many eye cream/gel/serum I have tried so far, I reckon
Clarins Enhancing Eye Lift Serum
is one of the more effective ones that helps with out eye problems and help achieves:
1. Bigger eyes by encourages microcirculation (Zerumbet ginger extract) and stimulating fat breakdown (Guarana extract) to reduce eye puffiness, preserving skin firmness and lift the upper eyelids (Kaki extract and Kaki extract) with long term results)
2. Brighter eye contours through microcirculation to limit the leakage of blood pigments into skin tissues (Escin from horse chestnut) and limiting skin darkening (Lady's mantle)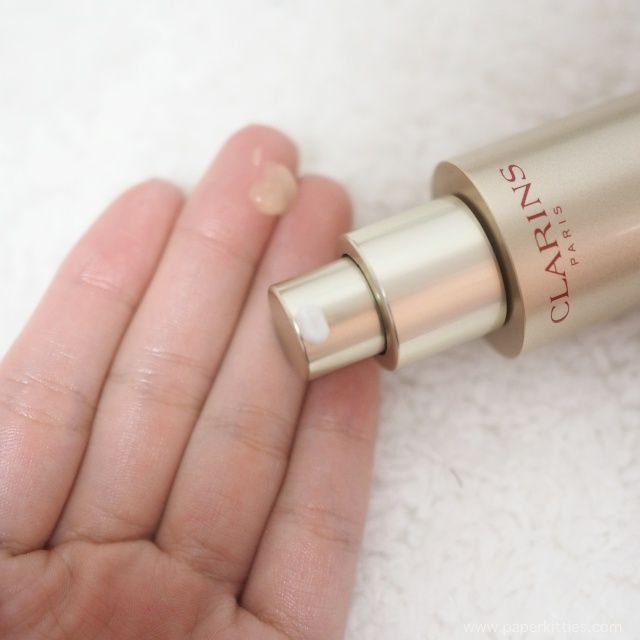 Clarins Enhancing Eye Lift Serum
is super lightweight and sinks in immediately which I love! I'm very particular about eye creams as anything too rich will result in milia seeds, which I already have aplenty. I find it very good for those with puffy, droppy eyes (like me) as the results are much more visible too! Once again, remember to use the Clarins Manual Auto-Lifting Method by applying this fresh, lightweight serum with pressing motions as seen in my first post for
Clarins
here
!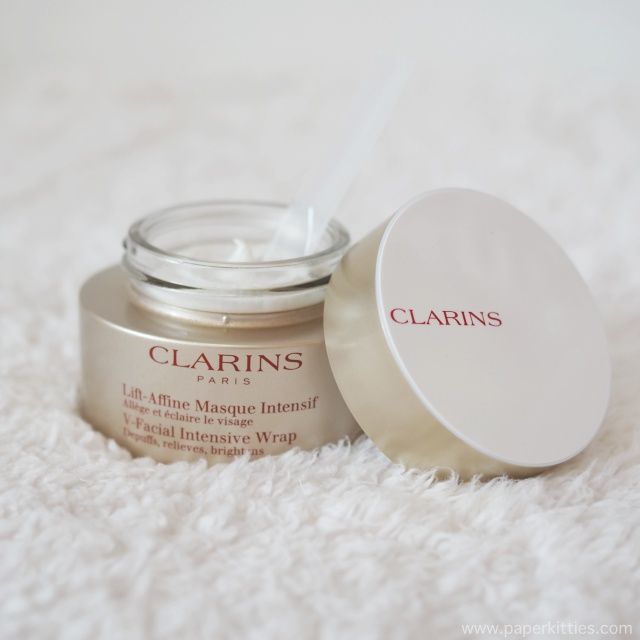 Clarins V-Facial Intensive Wrap
Finally, we have my favorite of the lot:
Clarins V-Facial Intensive Wrap
. I love this the most because you can see instant results (on dayre
here
)! This is perfectly ideal for lazy peeps who once to see results immediately upon using, especially on days when your face is so puffy. In my opinion, a good facial mask is one that delivers what it promises. In this case,
Clarins V-Facial Intensive Wrap
has 3 instant actions:
1. Depuffs intensely and instantly
2. Relieves the face
3. Brightens the complexion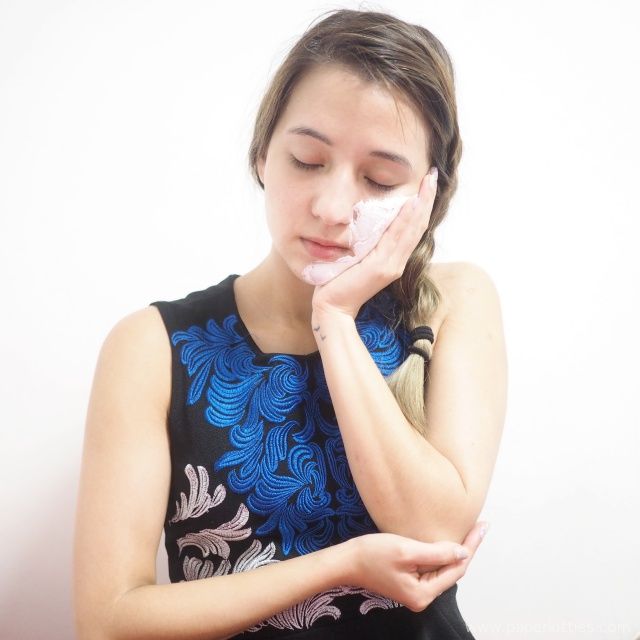 Clarins V-Facial Intensive Wrap
has a thick and heavy texture, concentrated with plant extracts, that is effective for absorbing excess water accumulated in one's face. Simply apply the wrap in a thick layer on the lower part of the face and neck, on clean, dry skin and leave it for 10 minutes. Some may find the texture slightly tricky to apply, my suggestion is to treat yourself with a gelish eye mask (might as well make the best of your time right), before applying the product with a spatula in an inwards position. After 5-10 minutes, remove your mask, and carry out the steps in Clarins Manual Auto-Lifting Method as seen above: Place the left elbow in the palm of the right hand and place the chin in the palm of the hand. Gently move your head to the left and back for four times. Repeat steps on the other side before rinsing it with cold water. And voila!
Don't believe me? Why not try out the complete V Facial Contouring Trial Pack yourself by signing up on po.st/paperkitties and see for yourself! And don't forget to pop over Clarins e-store while you're at it – Their GSS offers great gift sets for SFL too! x