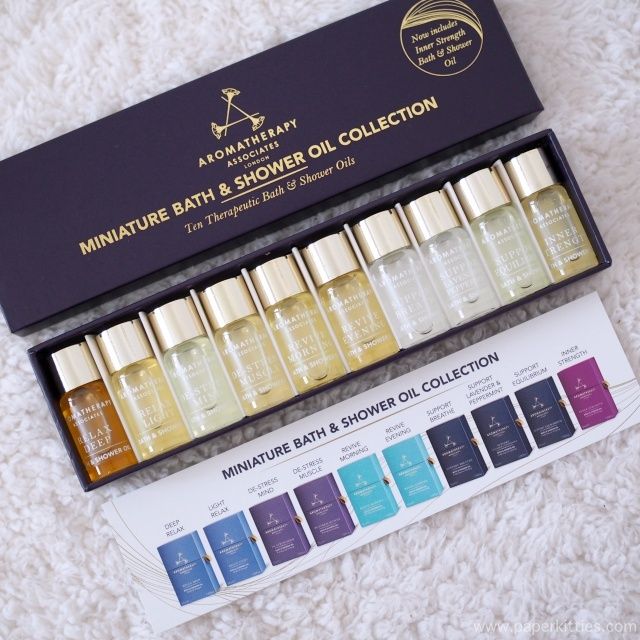 I must admit that one of my biggest flaw is that I indulged a little too much when it comes to pampering myself. This is especially important when I work in quite a stressful industry, and what with the wedding in both countries coming right up, all I find myself wanting by the end of the day is some personal time to relax and chill. Thus, the constant need on buying therapeutic stuff such as masks, candles and anything to do with aromatherapy to escape from the daily hustle and bustle.
One of my long time interest is in essential oils. Not only do they smell fantastic and absolutely comforting, they can easily bring their unique healing properties to every cell of the body be it through your sense of smell or massaging. Traditionally used to help ease muscular aches and pains, improve circulation and ease sinus congestion. They are now also known to have a positive effect on the skin! By penetrating into the deeper layers to encourage the process of cellular renewal, enhance blood circulation and help problems such as acne, eczema and ageing skin; the problem now lies in, where do I get a good one?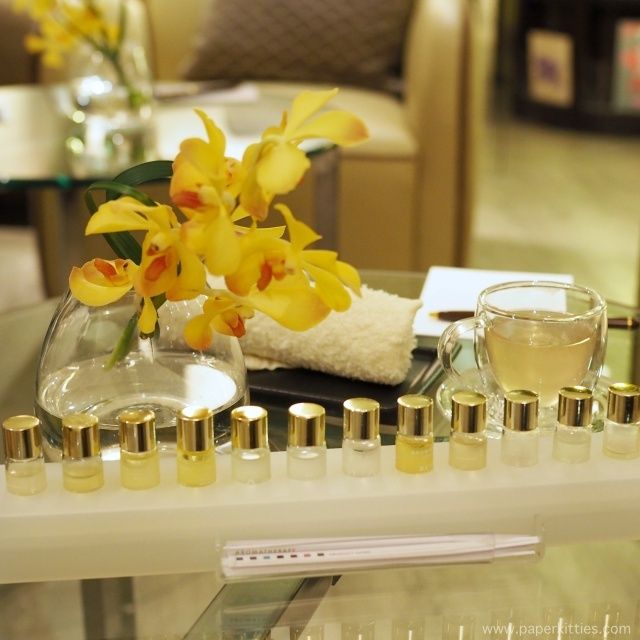 Aromatherapy Associates
is an online exclusive brand that was recently launched in
Sephora.sg
, so you wouldn't be finding it in any Sephora stores at the moment. What you may not know about this brand is that it actually have been around in UK for 30 years (31 this year) and is hand blended with only the finest natural ingredients. As compared to other bath and shower oils in the market,
Aromatherapy Associates
actually contains 30% essential oil, making it most potent and effective in the market!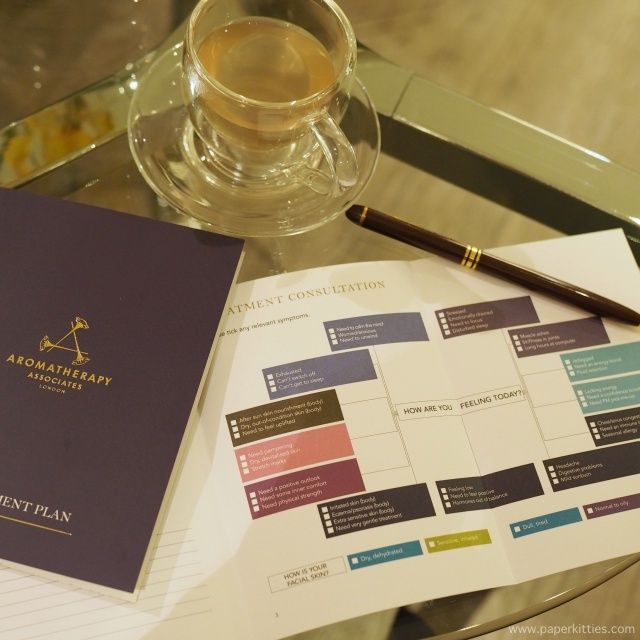 The brand actually started out in luxury and boutique spas around the world before they eventually venture into the consumer market, offering a huge variety of products from bath and body products right down to skincare for specific needs (I'm so aiming the facial oils next)! This explains why today's intimate session was set around The Fullerton Spa –
Aromatherapy Associates
latest venture.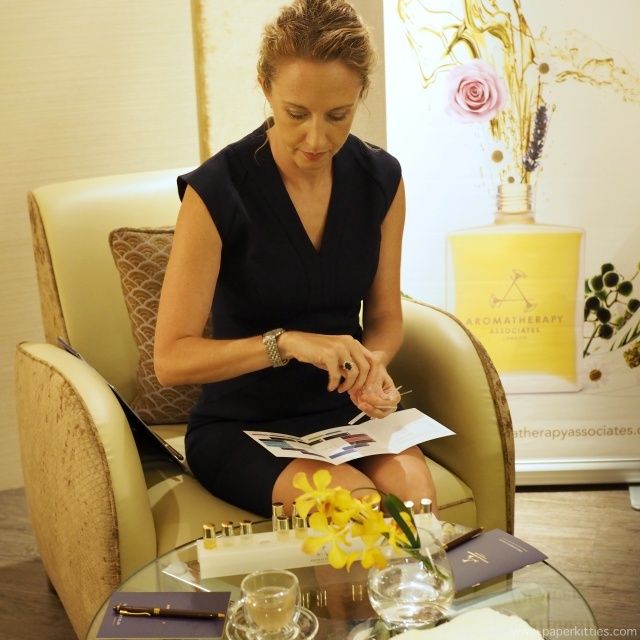 After explaining the brands history and products to me, Lynsey proceeded to have me filling up this consultation form to better understand what was my current need in this session. She then proceeded to narrow it down to 3 main oils that she felt will be best suited for me.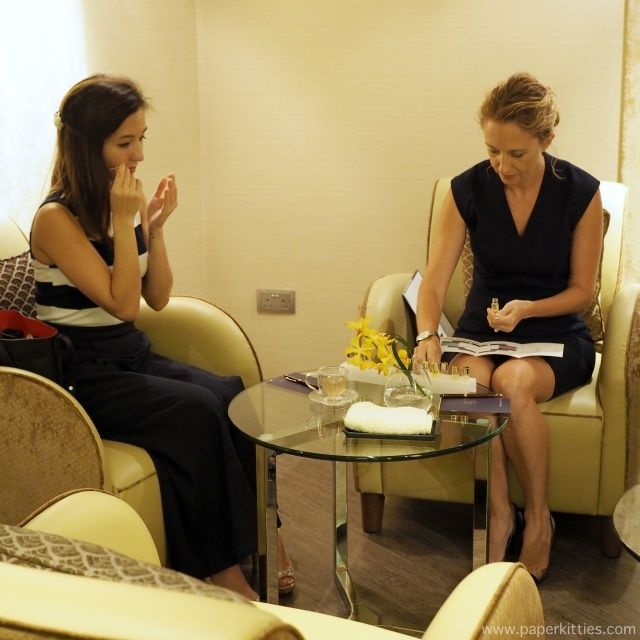 Smelling my 3 choices and having to narrow them to one was much harder than I thought! But what I've learnt from Lynsey was that when in doubt, pick the one that smells the strongest to you – cuz that's your body way of telling you what it needs most. No surprise that mine was
De-Stress Muscle
.. Blended from the intensely warming and easing powers of rosemary, black pepper, lavender and ginger to de-stress your body after spending too long in one position or after too much physical activity. Sounds apt hey!
The second oil that I almost choose was Inner strength. Formulated with a unique blend of rose, clary sage, frankincense and cardamom essential oils combined with skin conditioning jojoba and peach kernel oils to help leave skin smooth whilst inspiring a sense of positivity.. This is a very unique blend created by the lady behind Aromatherapy Associates, Geraldine Howard, to help her get through tough times when she was ill. Although this would also be her final blend before she passed on, it's worthy to note that 10% of the Inner Strength range proceeds will be donated to her chosen charity, Defence Against Cancer.
This being my first time stepping into a hotel spa (in Singapore), I was definitely soaking in this virgin experience. Everything was so elegant and thoughtfully set up in The Fullerton Spa, I wished I could stay inside forever! Or at least making it a weekly tai-tai hideout~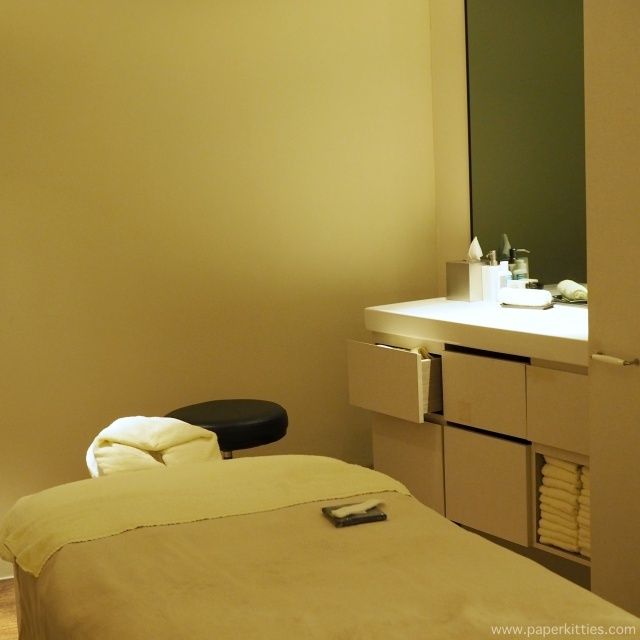 My sweet haven that I never had wanted to leave. I have been having a rather stiff shoulder as of late, and the hours spent crunching numbers sure didn't help alleviate the situation. We started the session by breathing in the mind-calming frankincense oil to unwind, followed with my feet being cleansed with heated mitts – now that's a first! My masseur then proceed to knead my achy back with De-Stress Muscle Massage Oil. The whole experience was so relaxing and nurturing, my only complain was that it ended too quickly, I wanted more!!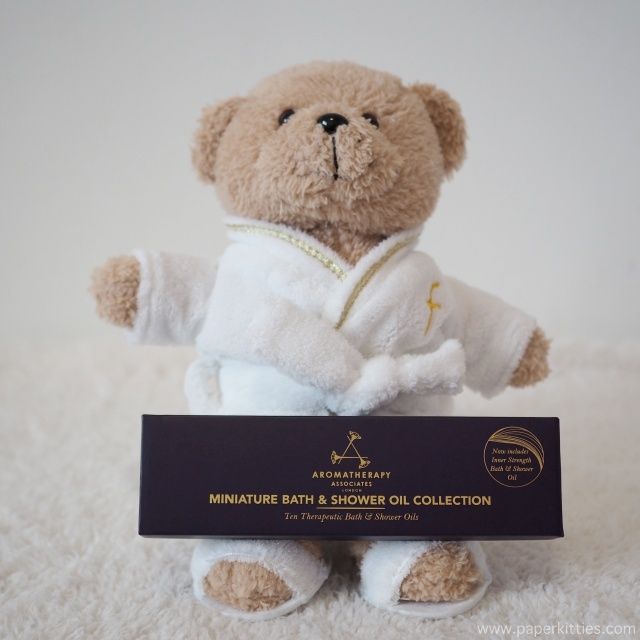 One tip I've learnt from Lynsey was to pick the very essential oil that you have chosen on your spa treatment for home use. As our brain tend to connect certain scent to certain memorable events, picking the same essential oil and using it at home will help further relax you as you get reminded of the relaxing time spent there. Interesting isn't it?!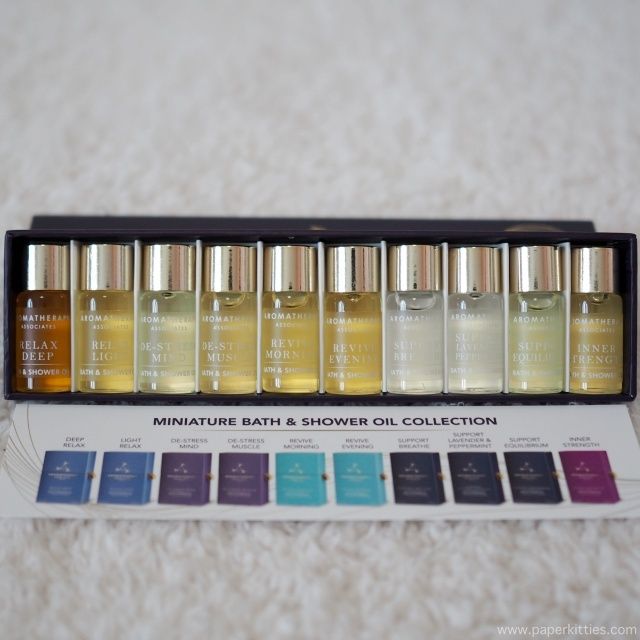 If you are new to this brand,
The Aromatherapy Associates Miniature Bath & Shower Oil Collection
is perfectly ideal to try the lovely oils, without having to commit to the full size straight off. The set itself contains 9 3ml glass vials, and you are recommended to use half a bottle at one time, roughly 18 uses out of each set. A different bottle for every mood and occasion, each oil is a therapeutic oil with a different treatment and experience including Revive Morning, Revive Evening, Support Equilibrium, Support Lavender & Peppermint, Relax Light, Relax Deep, Support Breathe, De-Stress Muscle and De-Stress Mind.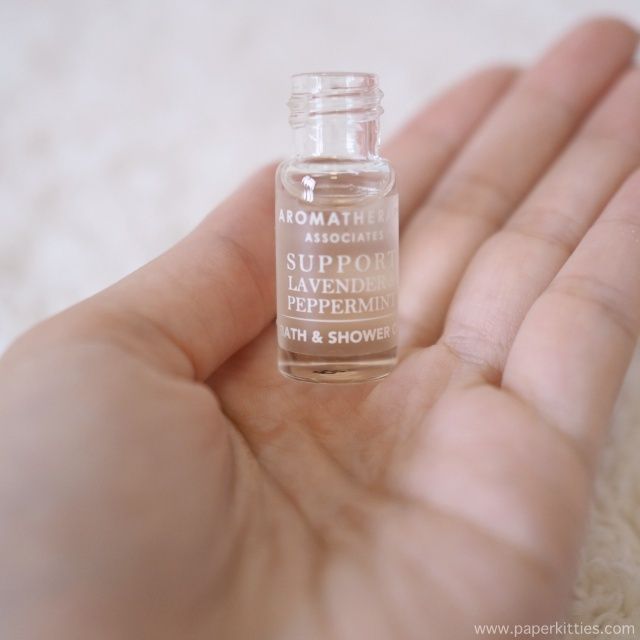 Using these bath oils is simple. If you are running a bath, simply pour half a bottle in before soaking until you "pruned". If you are using it as a shower oil, apply it on your dry body and let it sit on for approx 3-5 minutes. So go around on your nightly routine, remove your makeup, don some facial mask, before washing the body oil off. Although it feels too precious to leave the oil on for such a short period of time, Lynsey has advised us that 3 minutes is more than sufficient time for the benefits of the essentials oils to be absorbed by our body and into our bloodstream!
So if you are having a rough day, go pamper yourself a little. Get a massage, or simply treat yourself to some aromatherapy at all, there's nothing more fitting than creating a sanctuary for the soul to get you through. x
Follow my blog with Bloglovin ♥