Sponsored>
Prior to New Moon Inner Radiance Collagen powder, I've previously blogged about the launch of New Moon Inner Radiance Collagen Drink in April where more than 200,000 bottles were sold in less than 3 months!. It was popular with it being one of the collagen drink with the highest collagen dosage with whitening properties and sold extensively with good reviews from customers.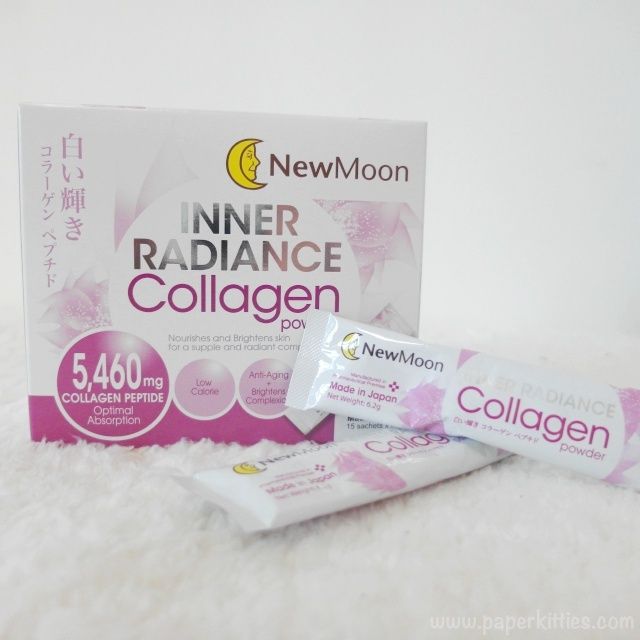 As I continute on my never-ending quest to beautiful skin, I've recently tried New Moon Inner Radiance Collagen Powder for an all rounded maintenance to better, healthier skin. New Moon Inner Radiance Collagen Powder contains one of the highest collagen content of 5,460mg for powdered formula in Singapore, is low in calories and 0% fat with anti-aging properties and claims to nourish and brighten skin for a more supple and radiant complexion. Formulated and manufactured in Japan Pharmaceutical premise with high collagen content, low in calories with anti-aging properties aids to rejuvenate and enliven skin for a luminous complexion. But.. will it pass my test?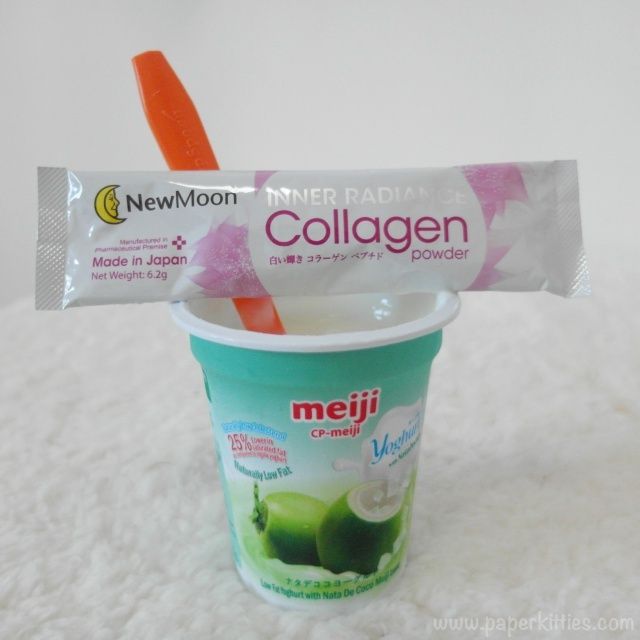 But first, let's talk about the taste. Those who are familiar with consuming collagen, especially those in powder form, will know that most of them have that unbearable fishy taste that could instantly ruin whatever beverage you've decided to mix it with. For New Moon Inner Radiance Collagen Powder, I find the taste when added into my beverages, bearable. It's almost tasteless although being a fussy eater I can still taste it…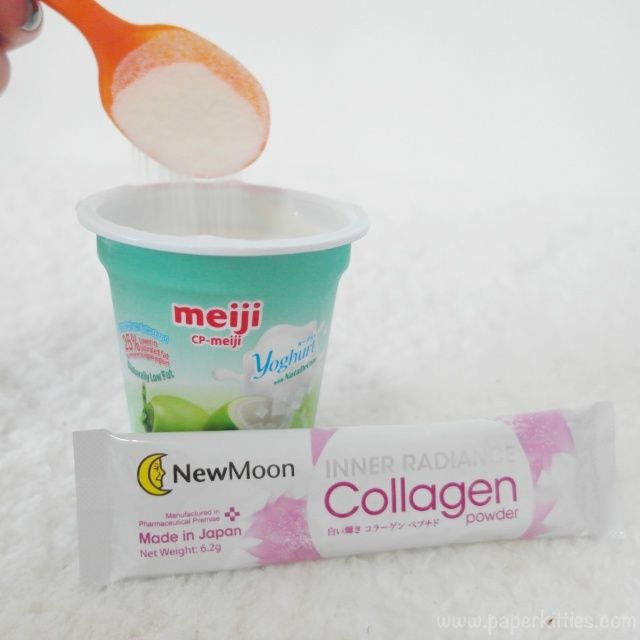 So here's my trick: mixing New Moon Inner Radiance Collagen Powder with yogurt! It dissolves super easily despite my small cup of yogurt, doesn't change my yogurt texture and completely masked whatever fishy taste that my tongue is super sensitive to. And for those who're not familiar with the benefits of yogurt, it helps help boost the immune system, promote a healthy digestive tract and maintain a healthy vagina! Talk about killing two birds with one stone 🙂
Packaged in lightweight sachets means that I can consume them whilst on-the-go, making it very travel friendly for a fuss-free person like me. It is recommended to take one sachet daily and add it into your favorite beverage. However, do take note to try avoiding high temperatures as it will destroy the Vitamin C found in New Moon Inner Radiance Collagen Powder :/
I've tried consuming this healthy combo for two weeks and I've noticed my complexion to be brighter and clearer, I'm so impressed! I've also noted that it contains Lactobacillus (a type of probiotics), meaning that it help rejuvenates skin by enhancing growth of beneficial bacteria in the intestines. Which means that even if I decide to consume this collagen powder without mixing with yogurt, I will still have a balanced microflora in the intestines which in the long run will help clear up breakouts, for a blemish-free, radiant skin.
– Boost collagen supply for skin from Collagen Peptide
– Hydrates skin by holding in moisture
– Nourishes and improves skin condition from within
– Stimulates skin to produce collagen naturally
– Brighten skin tone for a radiant complexion
-healthier as it is low calorie and contains 0% fat
-helps clear breakouts for blemish free radiant skin
Go get your box of New Moon Inner Radiance Collagen Powder for supple, glowing skin today! x