Editorial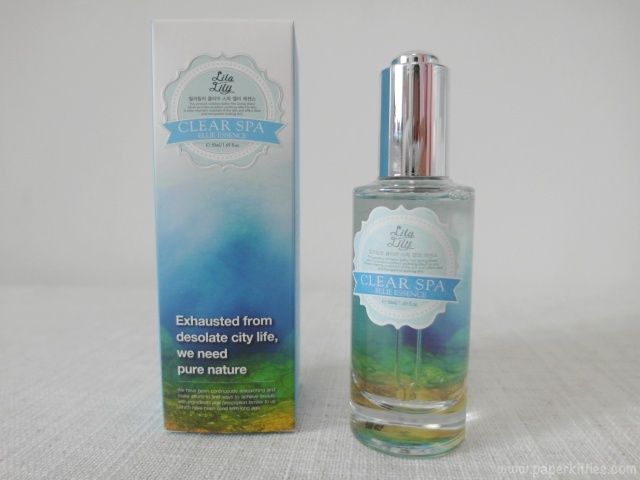 Remember the amazing
Konad Stamping Nail Art Set
that I'd previously blogged about? Well, they actually have a skincare line too! Lila Lily Clear Spa Ellie Essence is said to be contain extracts of Tremella fuciformis Berk, Asiatic Pennywort and also Sulfur Hot Spring Water and Nacre Protein to help relieve various skin troubles. It also contains plankton extract and Salicylic acid to prevent excessive sebum on the skin, eliminates corneous tissues and body wastes… Not to forget vitamin complex and marine collagen to provide moisture for both in and out of skin surface, making your skin elastic.
Well to cut things short, Lila Lily Clear Spa Ellie Essence contains 70% of thermal water enriched in minerals, to reduce inflammation and red spots, making your skin smoother and clean from troubles.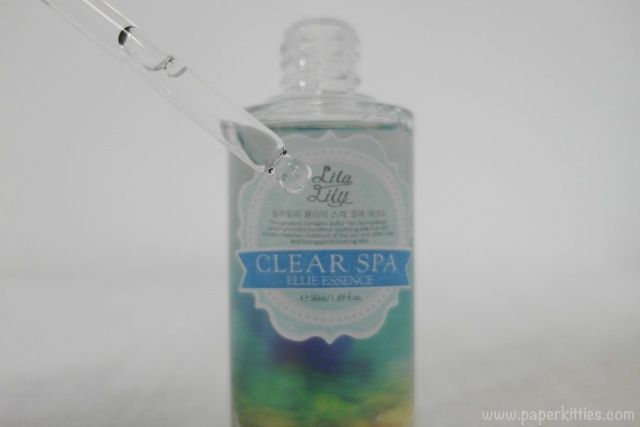 But me being me, obviously the first thing that caught my eye was how delicate glass bottle and soothing the packaging is, and how the colour scheme is so apt to the pure nature branding they are trying to put across. I loved that it comes with a dropper, making it much easier for me to control the amount dispensed. I'm not too sure about the scent though as I reckon it will be a hit or miss for many. For me, I like the refreshing citrus scent that wasn't too overwhelming and was easily covered by my next skincare routine.. but it really all boils down to personal preference.
Applied after the toner step, the texture was slightly sticky and gooey upon application but it easily spreads across and absorbs quickly into my skin, leaving no greasy after-feel at all – I find this amazing. My skin was left with a hydrated sheen but that was really about it. I wished it had done a quicker job in keeping my blemishes in control and was as effective as it claimed to be. I know that we should never rush skincare, but when it comes to acne I'm pretty strict with the results. An effective acne care will soothe majority of one's skin within a week of consistent using but it wasn't the case for this.
Overall, I would think that it does a better job keeping my skin hydrated than clearing my skin troubles. I had high hopes for this product but sadly will have to re-think about purchasing this again.
Check out Bntnews for Korean news and trends!
Follow my blog with Bloglovin ♥