Advertorial
Remember the detox challenge that Melissa and I had to do on our previous Lifestyle Beat Episode?! Fret not, I have conveniently posted the links for your kind perusal and you're welcome~ I'm glad that most of you guys enjoyed all of our miserable tastings and unglam moments, but can you imagine having to go through such nonsense steps on a daily basis just to detox? :/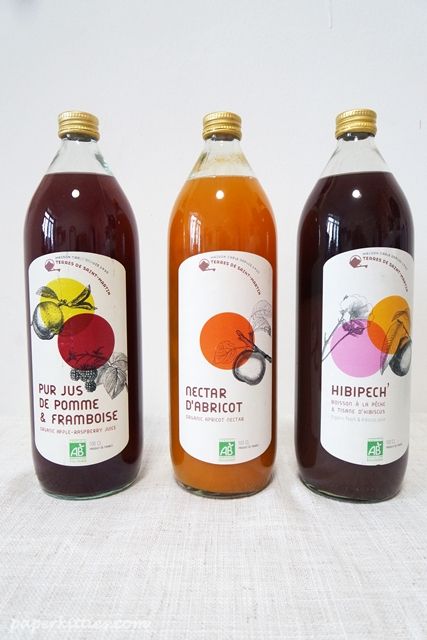 At THERESA, the secret to slimming and wellness is through a combination of internal and external detoxifying program in lieu with their slimming treatments. So today, I will be introducing you the THERESA French Cleanse Program in detail! The French Cleanse system is formulated with the best fruits from the land of France. Aiming to cleanse the body system with its rich organic nutrients to achieve optimum wellbeing. Juice cleansing is a natural way to give our bodies a break, clear out toxic obstructions, and repair degenerated cells. Fresh raw juices flood our cells with live enzymes, vitamins, mineral and oxygen in their most absorbable form to stimulate the body's innate healing system while flushing out old toxic waste. Our bodies can return to natural balance, and optimum health, leaving us feeling light, clear, healthy and energized!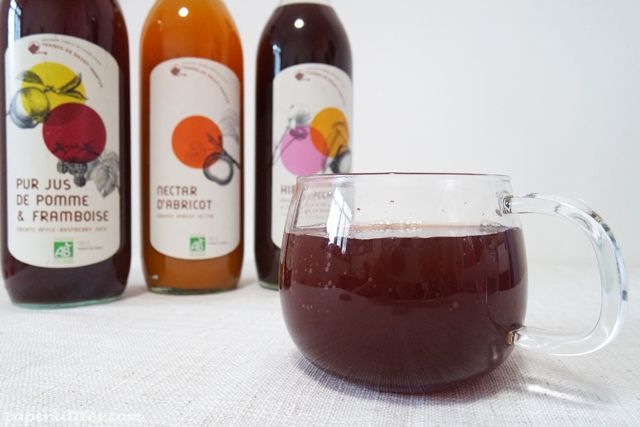 Basically, it replaces your daily meals as it is a full 3 days program. If you are a crazy meat fan like I am, you can still "cheat" a little and take in some lean protein as well. This French Cleanse Program couldn't come at a more timely manner as I have been stuffing myself silly with all the birthday/wedding/festive celebrations lately.. It will help your body with:
– Regular clearing of bowels
– Reduce feeling of being bloated
– Body fats percentage drop
– Weight loss
– Feeling more energetic and less tired easily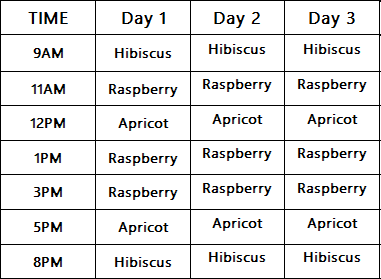 This was my 3 Days Organic Detox & Maintenance Programme that I had to adhere to religiously. Though to be honest, I tried to stick as closely as I could to the timings.. there were still times I missed a few due to me being out and about 😡 Here's a mini review on the juices I drank:
Hibiscus – Cleanse for detoxification. It contains vitamin C, minerals and anti-oxidant benefits ideal for controlling cholesterol, softening and healing your skin. Bet you didn't know that it is also known to alleviate constipation, bladder infections (so important for us women since it can be pretty common to get UTI) and nausea.
Apricot – High fibre Detox. It contains nutrients such as Vitamin B, Beta-carotene, Vitamin C, Iron and Fibre. Being someone who is not a fan of her greens, I welcomed this drink with open arms to help fulfil my daily fibre intake and help clear my bowels regularly. Silly as it sounds, I always feel that the best way to detox to "let it all out".
Raspberry & Apple – Cleanse for ultimate fat burning. Did that just perk your interest?!Containing nutrients such as Vitamin B3, folic acid, iron and fibre which can burn fats 5X faster than any other fruits. It can also alleviate morning sickness and aids digestion. It may be too quick to judge whether I actually lose any fats from just 3 days of cleansing but I felt that my tummy did look less bloated though.. which is great!
My effect probably wasn't as significant as most girls due to my tendency to snack a lot, and boy was it really hard to control myself during those 3 days. I would suggest that you choose a weekend where you will be mostly home to start this program so as to reap as much benefits as possible during this detoxifying process. Other than just drinking juices, be sure to hydrate yourself well with a minimum of 8 glasses of water a day. If you're hardcore enough, drink slimming tea in between juice intakes too! Protein based light meals are still possible too~
To those who are about to start a weight loss process or your trim and fit routine, I would recommend that you undergo an internal detoxification first to achieve better results. THERESA French Cleanse juices are 100% pure fruit – carefully selected, pressed, softly pasteurized to preserve nutritional quality and bottled. They even have an AB logo that belongs to the French Ministry of Agriculture since all the fruits used in our juices are certified by many certifying bodies in France. Drinking a 250ml glass is equal to 500g of fruits, so easy and fuss-free please!