Editorial Review
Had the opportunity to attend an exclusive demo workshop with girlfriends previously where we learn simple makeup techniques to complement 2 different colored contact lens by Anna Sui's Makeup Artist Director, Mr Okazaki. And it was also during this mini workshop that I finally get to have a good look of Anna Sui's Autumn 2014 Collection and have Mr Okazaki to choose the perfect shade for me! Whee~
ANNA SUI Autumn 2014 Collection Beauty Haul
But before I proceed to give an in-depth review of each of my beauty haul, let's admire the amazing makeup skills of Mr Okazaki during the demo. Eyeshadows of 3 different shades were used to accentuate the grey and brown contact lens respectively: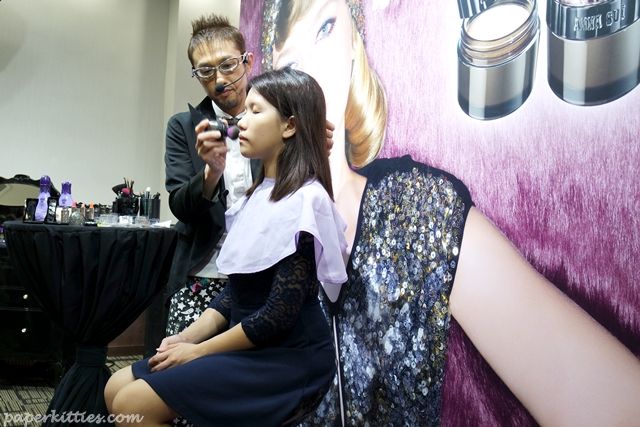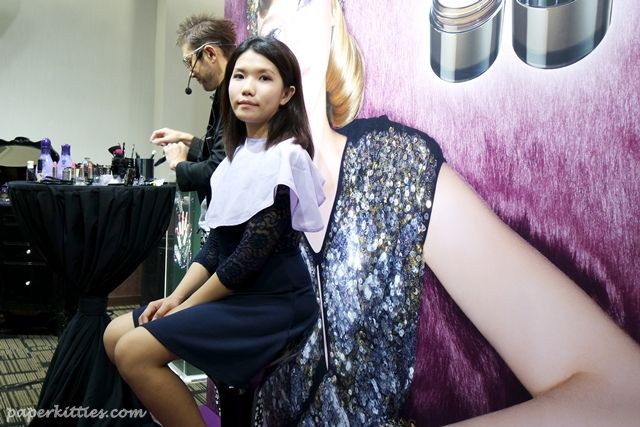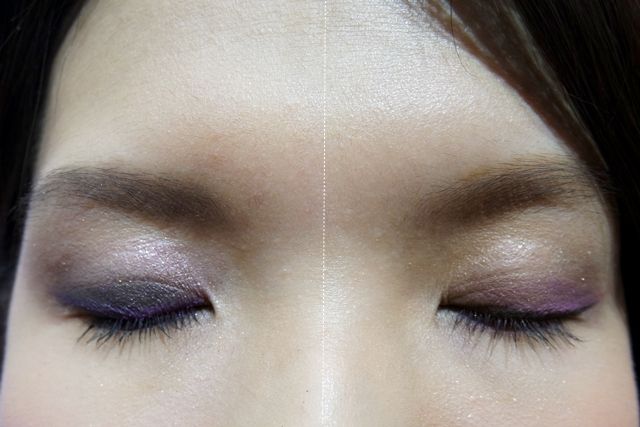 To accentuate the shade of the grey contact lens (on the left), white eyeshadow was applied as a base before applying soft purplish lavender on the eyelid socket to create eye contour and depths. To the double the actual fold, dark purple with sparkles (a complex mix) was used as an asset colour for a nice tint of accentuation on where her eyelids falls – think eyeliner stroke. The dark purple with sparkles shade was also used to line the under eyes so as to make the black innerline more demure and soft.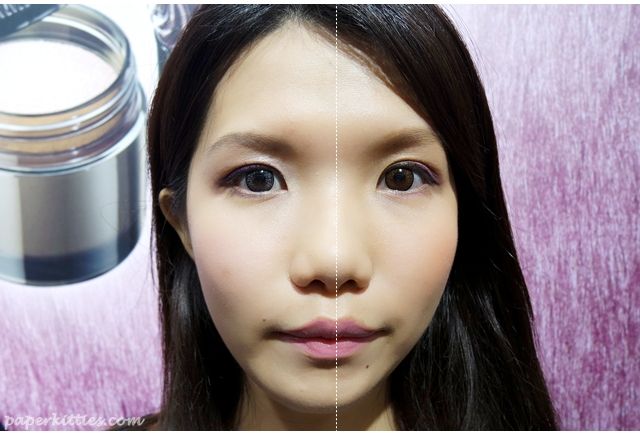 To accentuate the shade of the brown contact lens (on the right), using the same technique, beige eyeshadow was applied as a base. Natural brown was applied on the eyelid socket before using a reddish purple shade to accentuate your eyelids. Lastly, a bronze eyeline was use to fine line the eyes so as to elongate the eyes. Remember to line your waterline and apply your mascara starting from inwards from the middle, outer center to out.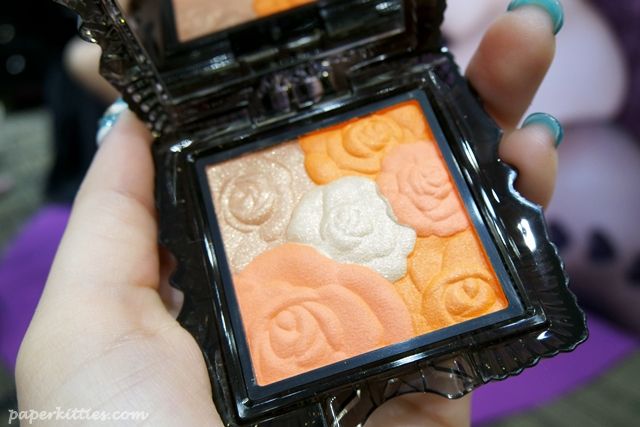 What caught my eye was when Mr Okazaki applied Anna Sui Rose Cheek Color in 600 Sunny Rose on her right cheek! It was a gorgeous warm shades of vivid orange, apricot orange, golden orange and champagne beige ♥ ♥ ♥ FYI, her left cheek was in 303~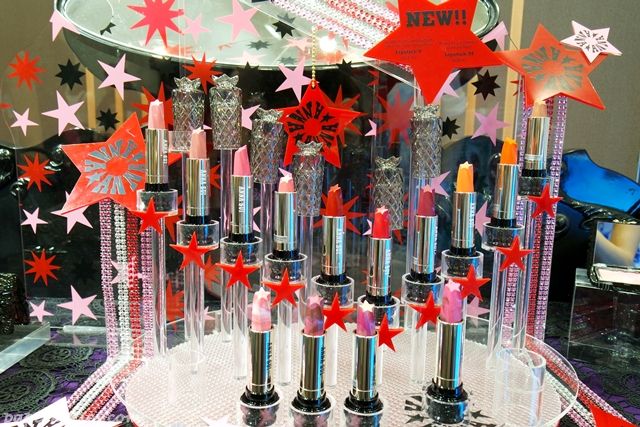 Although I got to admit that the star attraction of the day was none other than the Anna Sui Lipstick in a shooting star bullet design! I was determined to finally own one that day and luckily, Mr Okazaki was there to advise me on the perfect shade for me!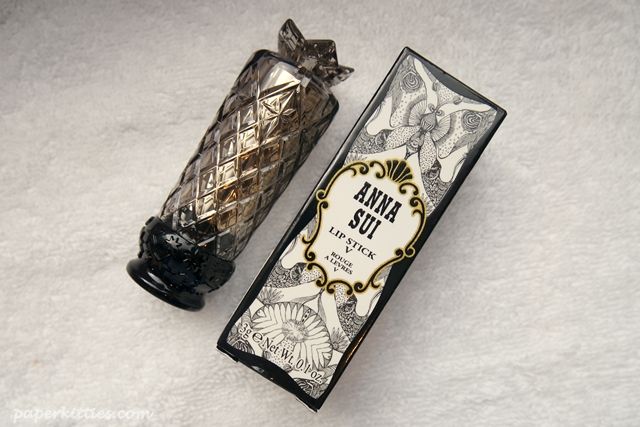 Anna Sui Lip Stick V 302 in Fresh Pink, with silver and red pearls
Lipstick V is Anna Sui's most vivid and pigmented lip product yet. Its highly transparent base formula ensures pigments show up true and unclouded. The light Glossy Oil provides lips with a shiny, bouncy finish and a pleasantly creamy application.
This range comes in 10 different shades but 302 was the shade that was picked for me; I love how it looks so natural on my lips, despite it being a much brighter shade than usual to perk my perpetually tired face. I like using the edge of the star to helps accentuate my cupid bow naturally without much need of a pencil liner. Overall, my lips were ultra-hydrated and looks freshly-applied all day long.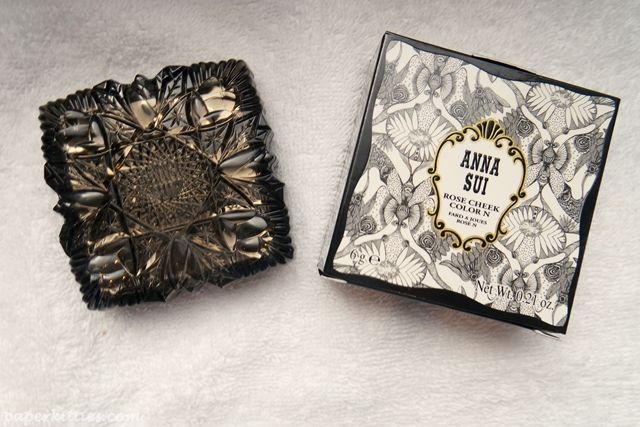 Anna Sui Rose Cheek Color N 301 in Dreamy Rose
The popular Rose Cheek Color is now available in new jewelry-like packaging inspired by Anna Sui's love of antique bracelets and crystal. With 6 different palettes to choose from, each palette comes in four bright vivid colors and pastel colors that have been combined into one compact for mixing and blending perfection.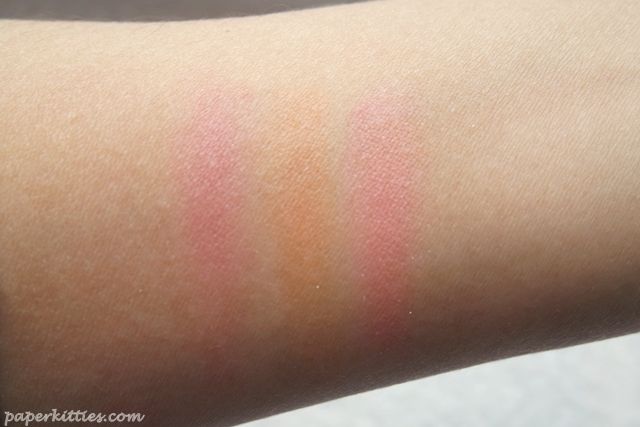 The gorgeous deets and texture of my blusher is shown on the first picture (: I find this the most value-for-money blusher I have ever owned, and am thankful that Mr Okazaki choose this for me when my heart was yearning for the Sunny Rose shade. Dreamy Rose is nicely pigmented and the blend of all the colors gives you a nice flushed look. You can use each color separately if you want a certain color say pink (left), coral (middle) or simply a fun mix of all (right)! The color payoff is amazing and the slight shimmer you see actually comes from the middle rose – which can served as a highlighter too whilst the rest are beautiful matte shades… amazing right? There is so many looks/colours I can create with just one palette, I just can't get enough of it!
Anna Sui Loose Powder Foundation in 201
This makeup base feels really fine and will leave your skin looking soft, poreless, and glowing. No kidding. An abundance of ultra-fine Airy Powder allows this foundation to glide over skin like air for a light porcelain finish. Additionally, the plate-like particles of Moisture Plate Powder & Sliding Powder create a thin, even veil over skin for a naturally glowing finish. Luxurious packaging adorned with poppies and a soft funky purple brush, its a must-have on every girl's vanity table.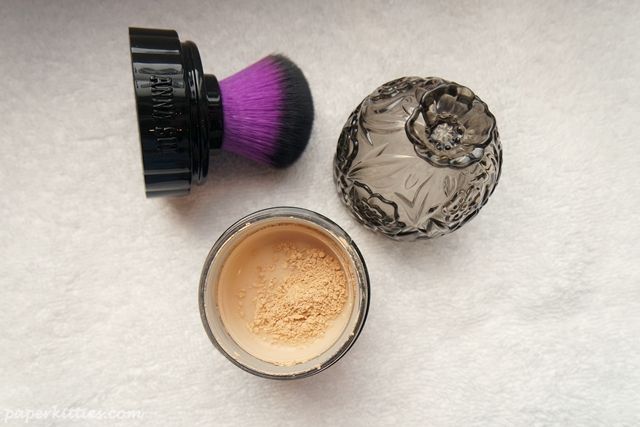 I have swore by this ever since I first tried it on. Granted that the packaging is slightly filmsy and if you're not careful, you may make a big mess due to the small screen tamis. But once you get over that, you will love how a swirl and a buff will easily help you achieve perfect skin that looks naturally poreless and glowing. I find it especially useful in preventing my liquid foundation from streaking, and it stays all day long without me needing to touch up. Despite its long-staying powers and sebum-absorbing ability, it does not clogged your pores nor dry out my skin in cold climates. Two thumbs up!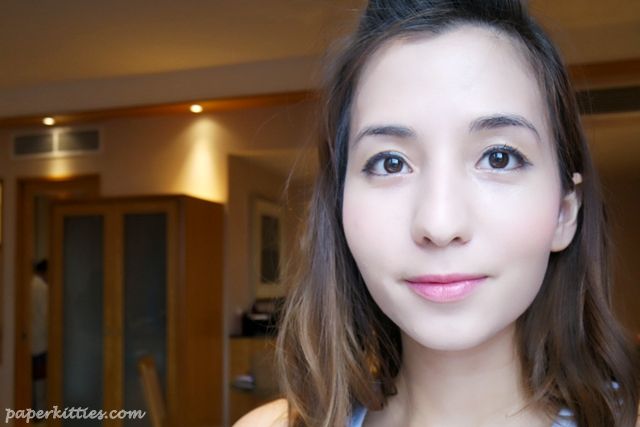 #motd using the above three products for my girlfriend's wedding!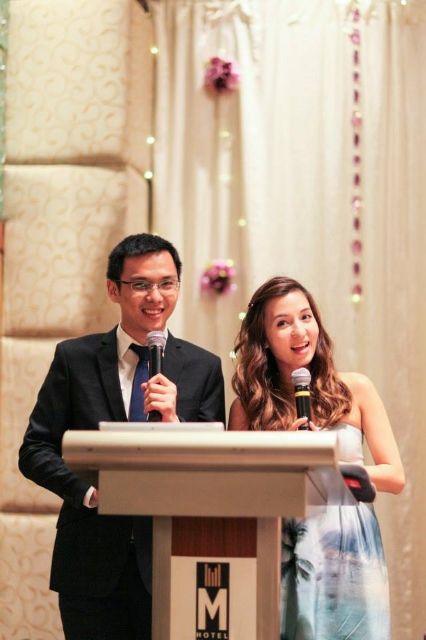 Well basically this three combo along with my eyeliner and mascara were all I needed to last me from day to night for my girlfriend's wedding (as a bridesmaid and the emcee) with minimal touch-up needed. Something sweet but natural to look decent in the pictures I reckon, haha.