Event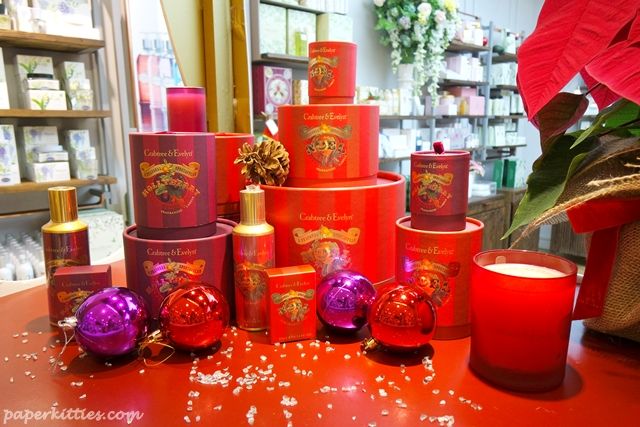 No one celebrates the happiest season of all better than Crabtree & Evelyn! A one-stop shop with a wide assortment of Christmas gifts consisting of Fine Foods, Gift Collection and Home Fragrances all beautifully and lovingly packaged… let me take you into a visual sneak peek on what Crabtree & Evelyn has to offer this Christmas!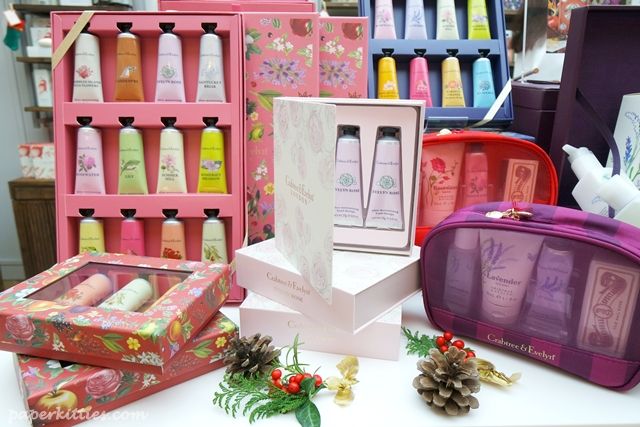 Hand care gifts are always the fail-proof choice when shopping for Christmas gifts in Crabtree & Evelyn and this year is no different! With more than 10 Hand Therapy gift ideas to choose from, featured above are the
Deluxe Hand Therapy Sampler in Pink and Navy
at
SGD$78
each,
Festive Botanical Hand Trio
(they have the Floral trio too) at
SGD$30
each to the classic
Evelyn Rose Hand Therapy Trio
at
SGD$33
. Crabtree & Evelyn truly is the heaven for those who love to pamper their smooth and supple hands~
Gift collections are also available for the individual signature scents alongside perfumes, rich lotions, soaps.. there were many value-for-money collections like the
Lavender Traveller
SGD$38
which also comes in Rosewater, Caribbean Island Wild Flowers, La Source, Jojoba Oil. Be prepared to feel really spoilt for choice as you venture from one signature range to another.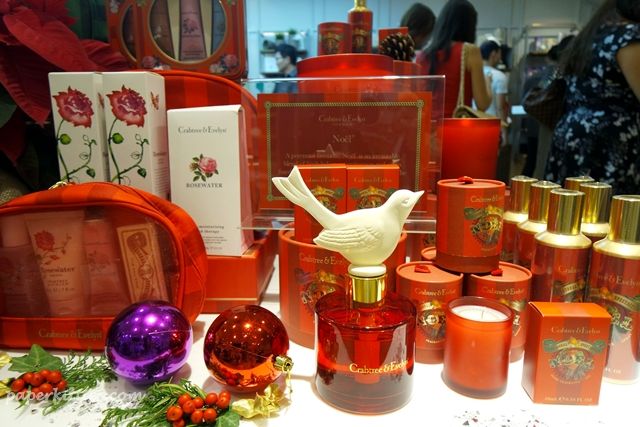 Now, the highlight of this year's Crabtree & Evelyn Christmas 2014 is the limited edition
Noel
range – a perennial favorite of an irresistible blend of bresh balsams, persimmon and citrus fused with spicy star anise, clove and nutmeg. This is a classic Crabtree & Evelyn Christmas collection that never fails to make one feel warm and welcomed.
What caught my eye has to be the
Home Fragrance Diffuser
SGD$98
with a gorgeous ceramic dove; it definitely felt every bit Christmas-sy as it should be! Available in two scents (Noel and Hollyberry), this is no doubt the star of the season!
Hollyberry
is new to the Christmas collection. This enchanting fruity spicy fragrance is inspired by crimson berries and fresh green leaves, with notes of red currant, coriander, fig, nutmeg and frankincense.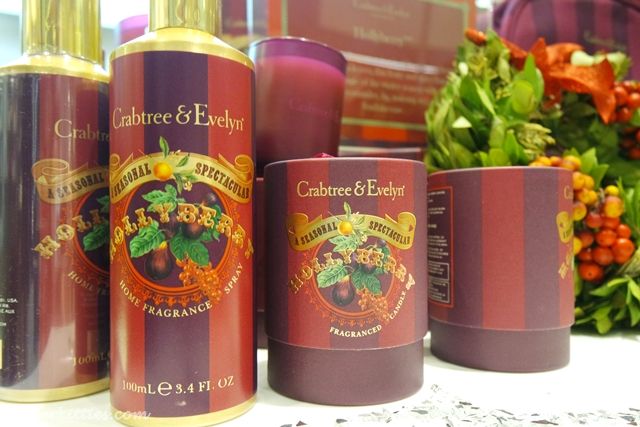 Some
Hollyberry Home Fragrance Spray
SGD$30
and
Fragranced Candle
(large for
SGD$50
and small for
SGD$38
) may perk your interest if you wished to have your house smell very Christmas-sy~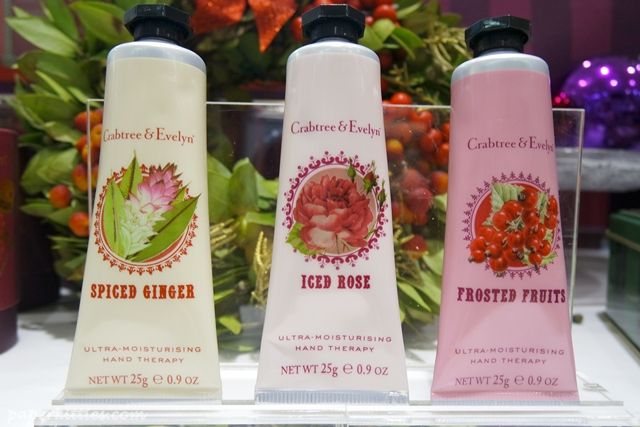 Other than the usual handcreams available, be sure to grab the
Limited Edition Hand Therapy Trio
SGD$33
that comes in Frosted Fruits, Iced Rose and Spice Ginger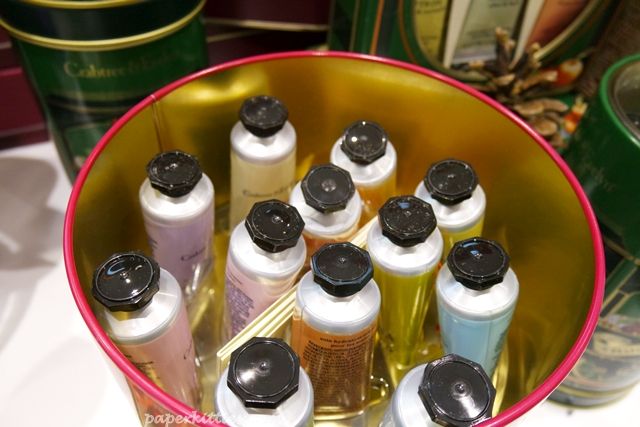 Musical tin cans seem to be a hot favorite this year, and Crabtree & Evelyn has several for you to choose; from
Hand Therapy Musical Tin in Scentsational Six
SGD$58
and
Big Top Twelve
(as seen above)
SGD$83
, to
Biscuit Assortment
SGD$75
and
Spiced Fudge in a Musical Tin
SGD$40
!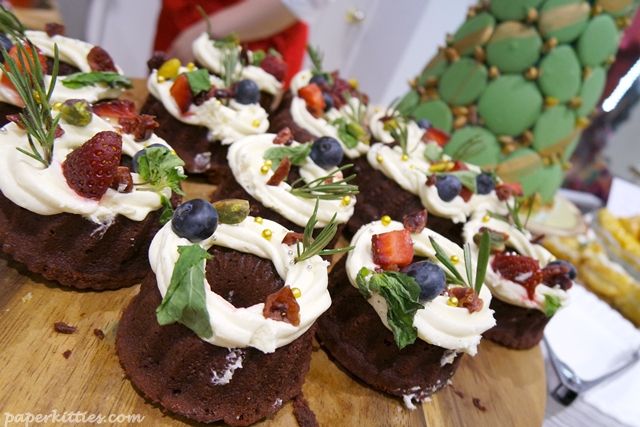 Red velvet cakes in the form of gorgeous Christmas puddings. I didn't have a chance to snap much shot of the food (too busy eating, sorry) but you will be pleased to know that there is are new flavors in Crabtree & Evelyn's fine food range: Honey & Oat biscuit and Blackberry Green Tea. If you're keen, you should also give their
Festive Preserve Trio
SGD$23
in Spiced Orange Marmalade Thick Cu and Spiced Berry Preserve a try, they are really yummy~
And here are my Crabtree & Evelyn Christmas haul:
♥ Spiced Fudge in a Musical Tin SGD$40 – I really love how the fudge reminds me of gingerbread man and it is so addictive I just can't stop popping them into my mouth! (Thankfully they are not too sweet as well)
♥ Limited Edition Hand Therapy Trio SGD$33 – A hot favorite that was sold out on the day of the media preview, it's not hard to understand why! My personal favorite is the Frosted Fruit by the way!
♥ Rosewater Essentials SGD$88 – for my mom as she is such a massive fan of this range. In fact this is the only body care she ever wants these days when I want to pamper her with gifts. Haha. Only dared to announce it here instead of instagram as I know she doesn't read my blog x: