Editorial Review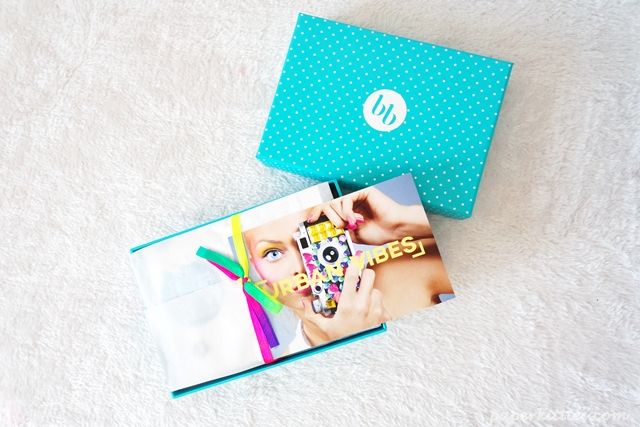 After trying out
Exuviance Club Facial Treatment
earlier on this year, I have always been interested in trying out their skincare range since most of their products cater to skincare doctors and dermatologists. With this
Exuviance Urban Beauty Kit
to kick start the introduction of what's in September's Bellabox, it is most befitting to the "Urban Vibes" theme! A four-piece skincare regime for smooth, healthy-looking skin.. this kit includes a multi-benefit purifying and brightening cleanser, a serum with 6 potent antioxidants (say what~), a tone corrector to deliver instant brightness and lastly, a wrinkle repair that boasts to diminish visible signs of aging.
Next up, we have the Klarity Lasertox CC Miracle White Lotion that I have previously reviewed HERE! Enhanced with diamond powder and wild rosehip, this 11-in-1 multifunctional CC cream is recommended for busy ladies and perfect for lazy girls ;p
ModelCo Party Proof Lipstick contains a creamy, non-drying formula packed within a chic white case that includes an inbuilt mirror for effortless application on-the-go. It goes on smoothly with some shine so that your lips will look more plump and moisturize, and it doesn't dry, cake or flake (: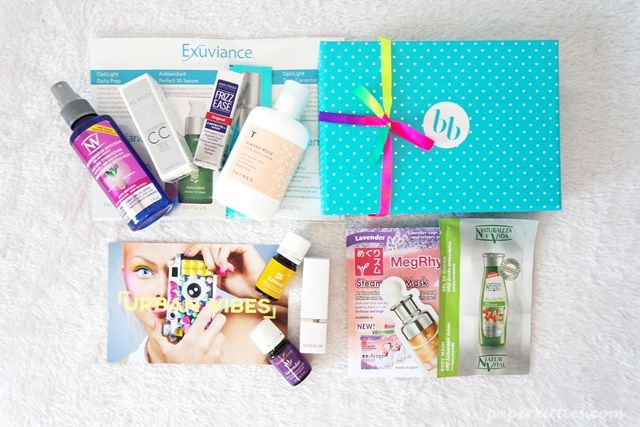 Back then, Adelaide is hardly the place to get international brands as the state strongly supports their local brand. Bet you wouldn't even believe that Starbucks once existed in Adelaide only to be closed down eventually and instead, we have Cibo (a local brand and can't be found in other states) to lead the coffee-chains. And yes, Jurlique is a must-buy in Adelaide too. There wasn't any Laneige, Jill Stuart, Kose, Biore etc until much much later when some rich China folk brought them all in and ease our thirst for the brands we are ever so familiar with. This particular store is also where I first know about
Megrhythm Steam Eye Mask
, when I was looking for something to ease my eyebags, This unique self-warming steam mask gradually warms to a comfortable 40 degree, creating moisture to calm you sensitive eye area and ease your eye fatigue. I would especially recommend it if you're mostly staring into the comp too.. Commonly found in all the drugstores in Japan (I stock up by the dozens), this brand was hard to find even in Singapore and I was glad that the floodgates finally opened and they are now easily found in Guardian and Watsons. A must-have!
Soft but not overpowering, the scent of Thymes Petite Body Lotion in Kimono Rose is A.M.A.Z.I.N.G! Infused with uplifting variety of fragrance and deep hydrating benefits for a luxurious experience, it absorbs really fast and leaves a slight cooling sensation. I am really intrigued with the brand now, and most likely will be doing some shopping after spying how gorgeous the full size packaging are!
This month's Bellabox also include 2 bottles of Young Living Essential Oils in Lavender and Lemon. I am someone who is always very particular about good scent and can get easily turned off the moment I smell something foul and off-putting… thus explaining why I am always welcoming essential oils with open arms! Natural self-pampering therapy all at the comfort of my own room ♥
For the ladies with frizzy hair problems, try John Frieda Frizz Ease Original 6 Effects Serum to manage unruly, frizzy hair with this powerful leave-in hair serum. Remember to focus mainly on the ends of the hair else you will end up with greasy hair instead. And if you haev hair loss problem, you will be please to try Naturvital Hair Loss Leave-In Conditioner (Anti-Breakage) that prevents problematic hair loss by strengthening while beautifying each hair strand.
Another Naturvital product found in my Bellabox would be the Sensitive Bath Shower Gel-Goji that is not only hypoallergenic, it also cleanses and nourishes one's skin while keeping it soft and protected. Last but not least, we have the Cliv Revitalizing C I2PL Corrector Ampoule that diligently diminishes blemishes and restore skin to its natural healthy tone; all thanks to the vitamin-packed ingredients of lemon water, tomato stem cell, multiple botanical whitening elements etc..
I hope you have fun with the September's Bellabox and do look out for October's Bellabox! A major surprise is coming your way~