A well groomed French woman would not dream of leaving the house without a dab or two or three of her favourite perfume…


Since its creation in 2008, Petite Chérie Eau De Parfum has become one of Annick Goutal's most popular perfumes. This year, a charmed limited edition bottle has been created to celebrate Summer with a fairytale feel. Embodied by the grace and purity of a dancer, the bottle is adorned with three cute, delicate golden tassels. Join the dance with the sweet scent of pear, rose and freshly cut grass!
But what really caught my attention when I was first introduced to Petite Chérie is the beautiful touching story behind this fragrance. Created from a mother's beautiful vision for her child, baptized with the nickname she gave her daughter, for Camille; it is a vibrant tribute that captures the joy and innocence of childhood. Petite Chérie means "little darling" in french, the scent Annick Goutal bestowed on her daughter as a gift.
Petite Chérie is an extremely wearable scent – subtle, clean and provides a sense of sophistication and femininity; yet sweet, sassy and mischievous, all at once! It opens with juicy peach notes, while the heart is enriched with rose and pear, before ending the base with velvety vanilla. A very unique fruity fragrance I must say, just the way I like it~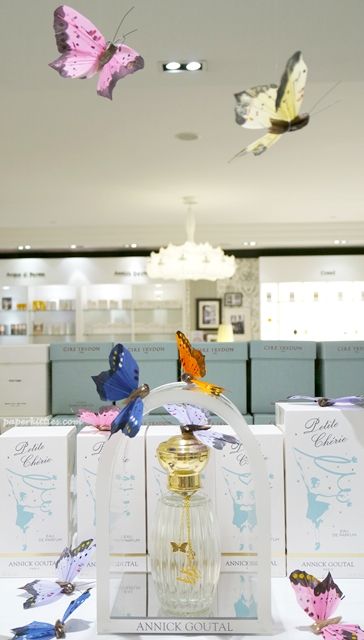 Retailing at
Escentials
Paragon and Tangs, they also offer a wide range of niche and cult fragrances. When spoilt for choise, you can also try out
Escentials
Fragrance Experience for an interactive fragrance profiling session to identify the fragrances that appeal to you! The love affair created by a good perfume between you and other people, you and nature, you and yourself, you and your memories and anticipations and hopes and dreams; it is all too beautiful a thing ♥