Editorial Review
With over 80 years of innovation experience in oral care, Sunstar's latest edition of the best-seller toothpaste for stain removal in Japan has three flavours, and boasts a bright cartoon art design to make tooth-brushing fun and super kawaii!! The secret to Ora2 Stain Clear Dental Paste in two complementing ways:
1.
High Cleaning Silica
– that safely removes the first layer of plague and stains, it also provides a polishing effect to give teeth a whiter appearance.
2.
Stain Control Agent
– unique formula to gently dissolve any remaining stains and prevent stain build-ups.
Peroxide and pyrophosphate free, Ora2 Stain Clear Dental Paste also contains fluoride which creates an additional protection around the teeth enamel, thus reducing risk of acid attack and tooth decay.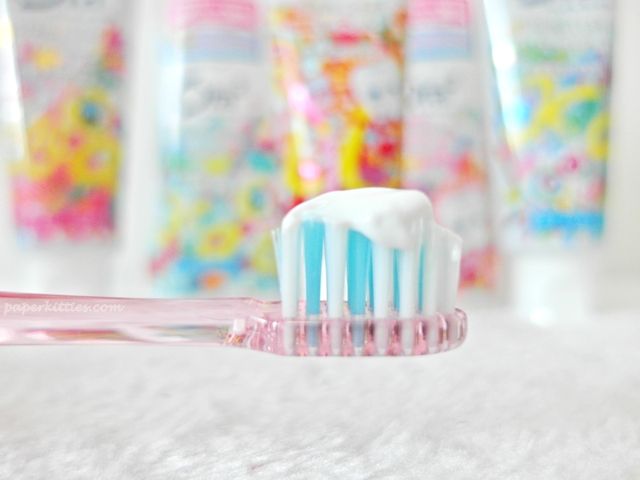 Always having the biggest weakness for pretty packaging, how can I ever resist the recently launched Ora2 Limited Edition Stain Clear Dental Paste with Japanese "KAWAii" Princess, Kyary Pamyu Pamyu?! The sight of the packaging itself perks me up when I brush my teeth every morning (and night, of course).. so rare to find pretty toothpaste for adults that actually target our problems. For a tea lover like me, my biggest woe is my stained teeth that makes me pretty ashamed to smile with my teeth sometimes as it is so yellow and stained from my years of braces wearing and daily need for tea – which is what makes the Ora2 Stain Clear Dental Paste perfect for me!
I never did understand why the Japanese use such small toothbrush (I was very surprised when I first saw one in my Jap friend's hse in Oz) until my parents came back from a Japan trip and made sure I started using these tiny toothbrushes as well -.- Apparently they are meant to do a better job as they are much easier to maneuver inside your mouth but still gentle to your gums with their soft bristles. Available in selected Watsons stores, it comes in three flavours – Natural Mint, Apple Rose and Peach Leaf.. yes they even come in unique flavors ♥ ♥ ♥ I am currently using the Ora2 Stain Clear Dental Paste in Apple Rose and Ora2 Stain Clear Mouth Wash in Peach Leaf along with their Ora2 Stain Clear Toothbrush – the perfect combo! I like how the unique flavors gives a refreshing change to the usual minty choices but still does its job in cleansing and preventing bad breath. It may be too early to tell, but I do feel that my teeth are slightly less stained after a month of using it. Worth a try don't you think?

Ending off with their ultra kawaii commercial~ Enjoy!

X