Editorial Review
The long awaited June's Bellabox have finally arrived at my doorstep and I just couldn't wait to unveil it after much teasing and sneakpeeks from their instagram! I am very impressed that the "Haul of Fame" theme certainly lived up to its hype so let's go straight to reviewing these babies..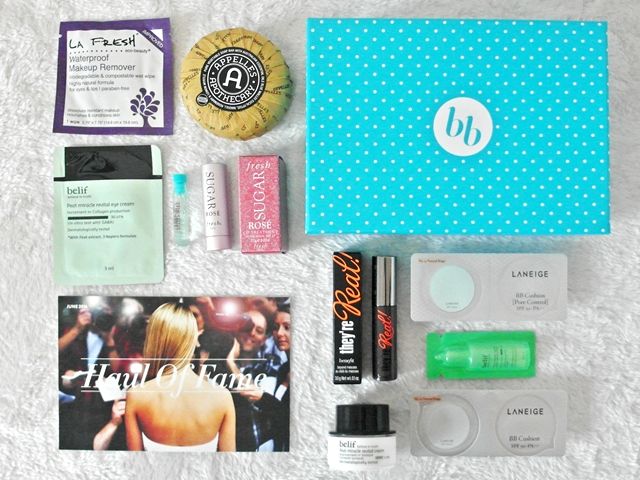 TADAH~
Fresh Sugar Rosé Tinted Lip Treatement Sunscreen SPF15
has got to be the highlight of this month's beautybox! I have heard heaps of rave reviews about this brand but never did got around trying it due to the infinite amount of lippies I own 😡 Upon trying this out, I can fully understand why it is loved by many. This hydrating lip therapy glides on smoothly onto my lips with an exclusive belnd of moisture-preserving sugar and nourishing precious oils. It also protects my lips with SPF15 and hydrates my lips so well, I have long-lasting soft, supple and kissable lips! So going to break the lippies ban and try out more of Fresh products ♥
Appelles Rosemary Body Bar
smells divine. With a refreshing scent blue mallee eucalyptus, niaouli, lemon myrtle and dried rosemary leaf, this luxurious body bar cleanses and nourishes the skin with its foamy lather while locking in moisture for hydrated, soft skin. I hardly used soap bar (except for Ettusais Acne Clear Soap Bar) but I will make an exception for this 😉
Laneige BB Cushions
needs no further introduction if you have been reading up my blog. But which is better –
the 6-In-1 BB Cushion SPF50+ PA+++ with whitening properties
or
the BB Cushion [Pore Control] SPF50+ PA+++
? I will blog about the latter soon but for a brief summary now, its fairly simple.
The 6-In-1 BB Cushion SPF50+ PA+++ with whitening properties
will be ideal if your skin is more towards the dry-normal type and you would like to achieve a dewy glowy look whereas
the BB Cushion [Pore Control] SPF50+ PA+++
is better suited for combination to oily skin to help achieve a semi-matte complexion all day! I would personally prefer using the former in dry/cold climates like Australia and Japan as my skin looks amazing and glowy while the latter in humid Singapore and Malaysia so as to avoid having my makeup streaking and looking like I need heaps of blotting sheets to control the shine.
I've always been a fan of Anna Sui's fragrances due to their signature fruity floral scent and the
Anna Sui Secret Wish EDT
is one of my favorites (another would be Anna Sui's Flight of Fancy)! A flawless matrimony of fruity and floral notes, finishing off with a gentle dusk of musk.. this is a magical enchantment ready to be liberated.
Who can ever say no to deluxe sample size mascara~ Easy to pop into one's makeup pouch with a far more reasonable shelf life – who can ever finish up a full-sized mascara within 3 months seriously? I was pleased to be able to finally try out the highly raved
Benefit Cosmetics They're Real! Mascara
! A revolutionary jet black mascara that lengthens, curls, volumizes, separates and lifts lashes for maximum impact to achieve an irresistible eye look. It was hard to believe a mascara could create such incredible results but I'm already sold! Some may dislike how the wand's bristles are harder than the usual mascaras out there but I suppose that's the trick in making my lashes really long and thick with no flakes nor clumps. It's easy to use, comes off easy with soap and water.. Best mascara you can buy!
La Fresh Eco Wipe
is new to me and I was intrigued at how it got into the "Hall Of Fame" box so I tried it of course. This refreshing cleansing wipes boasts to remove impurities to reveal purified and refreshed skin. Some facial wipes leave some sticky residue but not with this, it leaves my face clean and refreshed without irritating or over drying my skin. I highly recommend for ladies who are always on the go, convenient to pop it into your bag without the hassle of bringing your entire cleansing set 🙂
Last but not least, here's some of the Belief products making its occasional appearance to get one's anti-aging routine covered:
Belief Peat Miracle Cream
to extensively rejuvenates and stimulates to restore skin to its natural turnover late for a younger-looking complexion.
Belief Peat Miracle Revital Eye Cream
to keep fine lines and wrinkles out of sight.
Belief Peat Miracle Revital Serum Concentrate
to restore skin's turnover rate, leaving it hydrated, firm and smooth.
I hope you like your June's Bellabox as much as I do! Feel free to comment your thoughts ♥
X