Sponsored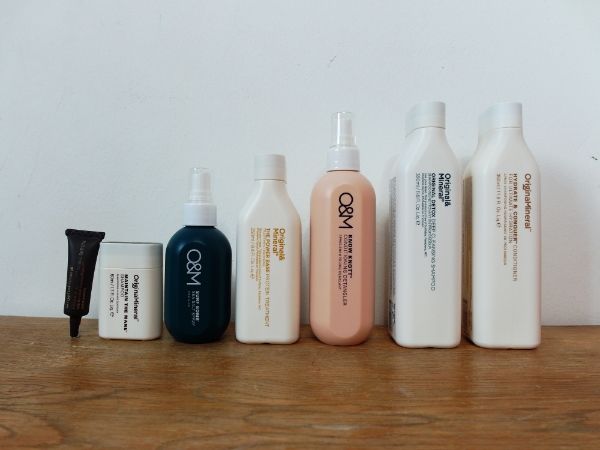 Honestly, I have never heard about
O&M
until I was given their travel sized hair products to review
last year
.. and I have been an avid fan ever since! I am proud to announce that this year, I will be one of
O&M
ambassadors.. so look out for more reviews and get first hand updates on when the revamped website will be launched!
My current hair routine mainly consist of all things O&M! What's amazing about this organic haircare brand is that it leaves out harsh chemicals (like Phthalates, Sulfates, Parabens, M.I.T, Sodium Chloride, Propylene Glycol and Tricolans) and replaced them with Australia native actives that nourishes and protects our hair.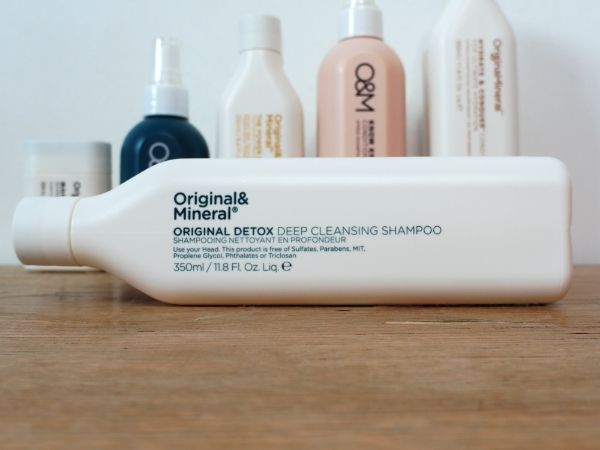 Step One: Original Detox Shampoo
Product Info:
For the ultimate cleanse to remove deposits. Australian River Mint deeply cleanses without stripping essential oils, and Peppermint refreshes with cooling effect.
Review: It is perfect if you have super oily scalp like mine! It targets my concerns by focusing on restoring and regulating the pH levels to neutralize excess oil, providing an intensive cleanse without drying or stripping the natural oils, and keeping it sufficiently hydrated. After using it for a fortnight, I actually tried to not wash my hair for 2 days (you know how it is relatively impossible when you are living in a humid country with oily scalp) and I am pleased to say that my hair produced at least 50% less oil by the end of the 2nd day as compared to its usual! Because it's not loaded with sulphates, it may not lather as much as other shampoos out there (but sufficient enough for my liking); but it still adequately cleans my hair and scalp thoroughly. Due to its peppermint ingredient, it is very refreshing and invigorating, leaving my mane feeling super clean, light and airy! Although it is not drying to my scalp, I use it 2-3 times a week to help improve my scalp oil regulation. It is also due to the fact that I have other hair concerns to address..
There was an additional O&M shampoo that I have recently started using after my hair makeover at Bloc+ as per Celia's advice; but I will review it a month later as I want to see the results before blogging about it 🙂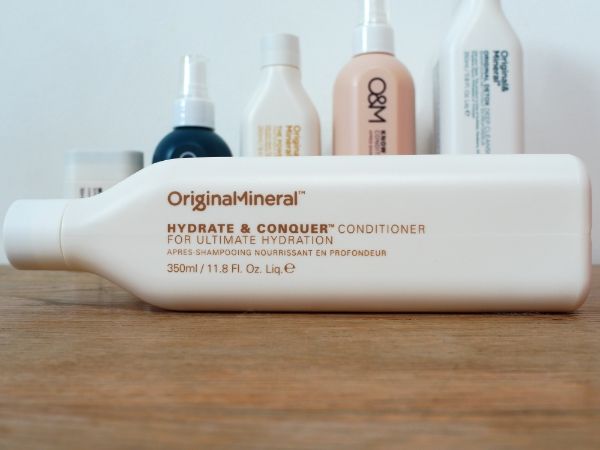 Step Two: Hydrate & Conquer Conditioner
Product Info:
For ultimate hydration. It gives dry, damaged or colored hair some TLC with nutrient-rich Tasmanian Sea Kelp rich in Vitamins A, B, C & E while 13 amino acids help to revitalize tired or stressed locks.
Review: It smells like vanilla + caramel and is unbelievably awesome!!! As I have damaged split ends from all the coloring and that one time diy-bleaching, this is used to help to nourish the dry ends. I find it slighty hard to get the product out of the bottle, so I tend to store it upside down. It is gentle even on the scalp (I actually used it once a week on my scalp too since Celia told me that our hair is just like our skin, it produces more oil cuz our scalp is thirsty~) but very rich and conditioning! Fly aways become less prominent and my hair ends are finally soft and manageable again, without being heavy and weighing it down. Even Miranda Kerr said in an interview that she used it to get her amazing shiny hair 😉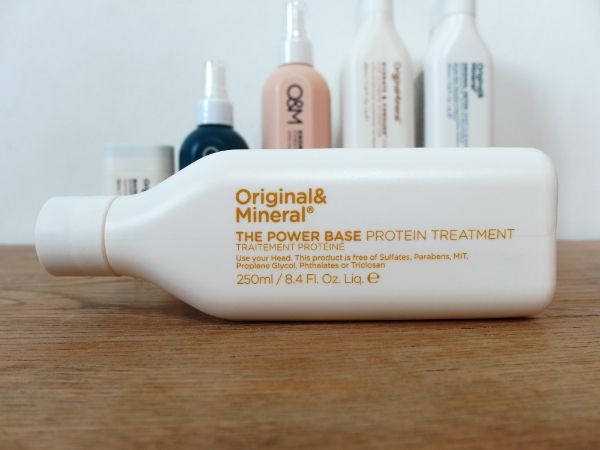 Step Three: The Power Base
Product Info:
This protein masque is the king of lifts for damaged hair. The intense, double-action treatment helps restore your main from within through the miraculous properties of wheat protein. Apricot Kernel Oil and Sweet Almond Oil help to moisturize and nourish dull, parched or damaged hair.
Review: A creamy hydrating treatment for dry and damaged hair. The Power Base is light and easy to rinse out, leaving my hair feeling plush and silky rather than flat and dull. It acts as a lifesaver for peeps like me who put our hair through a lot of heat-based stress. I use this treatment 1-2 times a week for 5 minutes after shampooing to repair my hair ends. I personally like how it makes my hair feel stronger and thicker after each usage, but still airy and light!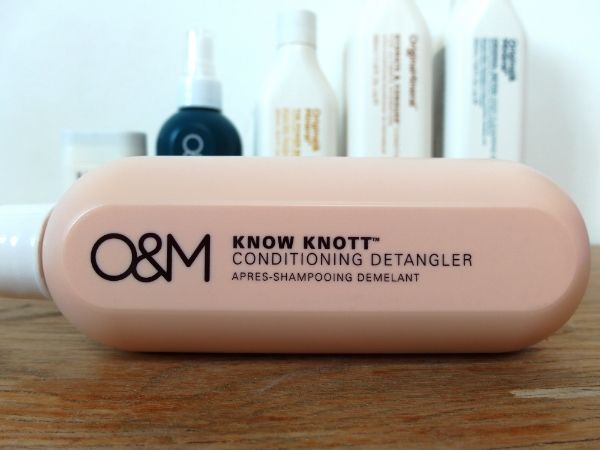 Step Four: Know Knott
Product Info:
A conditioning detangler, get tangle free with this perfect blend of nourishing Australian natural ingredients. Cold-pressed Certified Organic Argan Oil and Macadamia Nut Oil combine to recondition the hair leaving it glossy and knot-free.
Review: This was my life saver before I chop off my manes! You can use it on either wet or dry hair, but I prefer applying it before blow-drying my hair. With its fruity apricot scent, my hair is left feeling soft and silky smooth every time I use it. What I love about O&M hair products is that no matter which of their haircare products I used, none of them ever weigh down my hair and left it feeling all limp and flat. Nope, it is always so light and airy and this is no different! Super easy to use, I just spray this all over my hair ends and blow dry it; hair is always so easy comb through whenever I use this.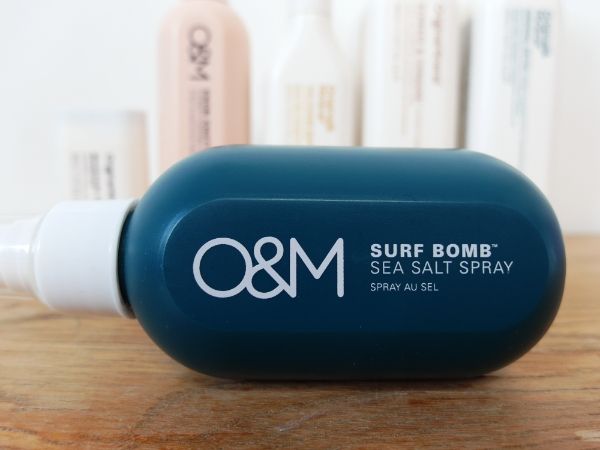 Step Five: Surf Bomb
Product Info:
The Sea Salt Spray is a shot of the sea when a dunk in the ocean isn't possible. This textured spray delivers that effortless, sexy tousled look without drying out your hair or dumping sand in the shower.
Review: I am no expert in styling my hair so I asked Celia for a simple technique to use this… and boy am I hooked now. This is a must-have for all limp and fine hair peeps! Another favorite lightweight spray to add on to my list, this matte textured spray helps make my hair slightly coarser and crunchier (you know that feeling when you just get out of the sea?). I like to apply to my semi-damp hair whilst styling it to add a slightly mussed, textured look. Another easy way to use it when my hair is dry is to toss my head upside down, spritz a little and scrunch a lot before giving it a quick blow dry. And most importantly, no greasy or dirty afterfeel – freaking awesome!
—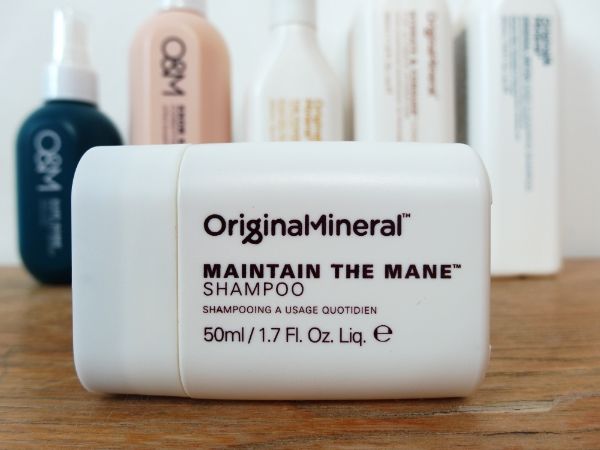 Maintain The Mane Shampoo
Previously reviewed
(here)
, I gave this bottle to my mom since she was on a holiday trip. Like me, my mom also has oily scalp but very damaged hair from all her perming, coloring and whatever chemical treatments my trendy mom is capable of… so I thought it will be a nice change to let her try a hair product that won't have all those harsh chemicals for once and just give her hair a well deserving break. Appropriate for daily use and in the perfect travel size bottle, this gentle formula doesn't irritate her scalp and helps in detangling. As she also tend to use heaps of hair styling products, she was also pleased with how the shampoo lathers really well despite the lack of sulphates 🙂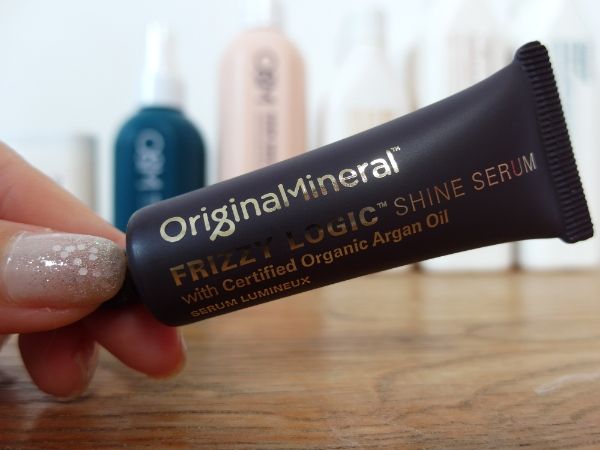 Frizzy Logic Shine Serum
Also previously reviewed
(here)
, I gave this to my mom too since I still have two tubes left.. and I reckon she needs it more than me :X As mentioned before, a little goes a long way; so please don't go crazy with this product. It helps keep the frizzies hidden and gives control on fly aways. I find it slightly heavy since my hair is super duper fine and straight, but my mom loves it. It makes her curls silky smooth and gives a soft healthy sheen. Apply mid-length down, this serum will actually help to weigh down the hair without making it feel oily and too flat – it is of the right consistency.
♥ Where to buy O&M Hair products ♥

Department Stores:
– TANGS Orchard Lv 2
– Robinsons Orchard

Online retailers:
– LeBonoCollection (Coming Soon!)
– Luxola
– Tangs
– Survivesg
– Zalora

Salons:
– Bloc+
– Urbanhair
– Focus Hairdressing
– Trimmings Hair Salon
– Passion
– Renaza Hair & Make Up Studio @ 15 Telok Ayer Street
X