Editorial Review

The winner of "#1 Bestselling Nutrition Mask in Korea", VOV is a Korean brand that makes interesting-looking makeup and skincare products and their facial sheet masks are recently available in most Watsons stores! I fell in love with the delightful bottle shaped foil packs the moment I laid eyes on it… how I wish they were real bottles instead; what dainty props they would made :3
Do you know that VOV is very the company that brings you The Face Shop from Korea? For this range of daily sheet masks at only $2 each, they are specially formulated from natural foods such as strawberry, pomegranate, aloe, pumpkin, honey, etc, and some unique essence like Sake Nori, Sakura Honey and Mineral Water. Super cool eh? By the way, simply buy 4 pieces of VOV Daily Fresh Mask on 28 August 2013 and you'll get 1 piece FREE!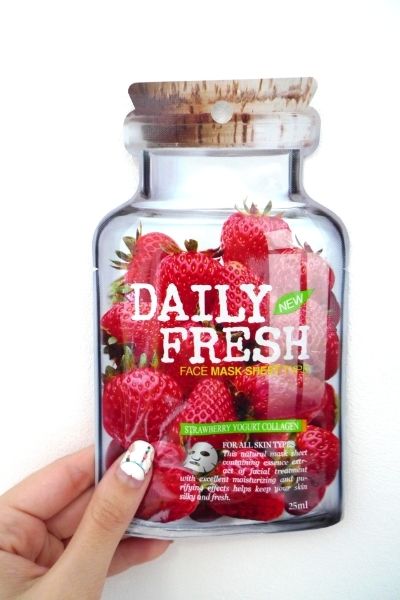 Daily Fresh Face Mask Sheet in Strawberry Yogurt Collagen
The yogurt yeast helps to remove keratin smoothly and has been known to help in healing the skin from acne especially, while strawberry extracts helps to provide soft and smooth skin. Upon opening, the whiff of strawberry scent was so sweet and heavenly, my mood immediately lifted! This is my favourite berry scent and I couldn't stop smelling it! The sheet mask is slightly thicker and stiffer as compared to the usual masks out there but it still adheres to my face shape perfectly with eye flaps. Since I have combination to oily skin and have been getting good results from Laneige Multiberry Yogurt Peeling Gel + Repair Pack, I figured giving this lovely Strawberry Yogurt Collagen masks a try! (I will not advice this on sensitive skin as it may be too harsh for your delicate skin) I love how quickly my essence was absorbed the mask was absorbed into my skin with no sticky feeling afterwhich 🙂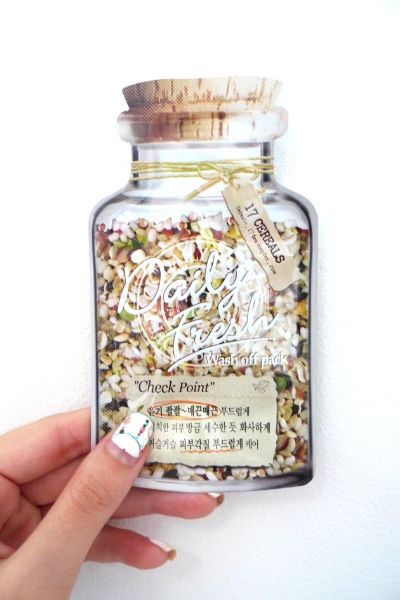 Daily Fresh Wash Off Pack in 17 Cereals
Made of cereals, 17 tea complex and rice, this wash off mask replenishes and restores skin instantly, leaving it a healthy and vivid glow. It is quite economical as you can use up to 3 uses for one sachet! Apply on a cleansed face, 17 Cereals has this faint scent of cereals and exfoliating beads; 2-in-1 don't you think? Wait for 15-20 minutes before rinse off with lukewarm water in circular motions to make full use of the exfoliating beads. I wasn't expecting much as there were quite some disappointing reviews around but I am pretty pleased. It is not a miracle worker but it serves its purpose. As I've always mentioned, a good way to get rid and prevent whiteheads is to constantly exfoliate your face at least 2-3 times a week.
For more info about VOV Daily Fresh Masks visit: https://www.facebook.com/EssentialNature

♥ ♥ ♥

3 lucky winners will get to win 2x Daily Fresh Masks each (randomly picked) thanks to the lovely people from VOV for sponsoring!

How to enter:
Like my TallyGirlSearch pic on Facebook

Extra entries (whichever you fancy):
1. Follow Paperkitties on Instagram (x1 chance)
2. Follow Paperkitties on Twitter (x1 chance)
3. Like Paperkitties on Facebook (x1 chance)

Simply leave a comment with your email and your twitter and/or instagram username(s) in this format when you're done:

Name:
Twitter: (if any)
Instagram: (if any)
Email:

Entries are open to all readers until 25th August (23:59) and I will draw one winner on 26th August.
Good Luck!

*comments will be moderated*