Editorial Review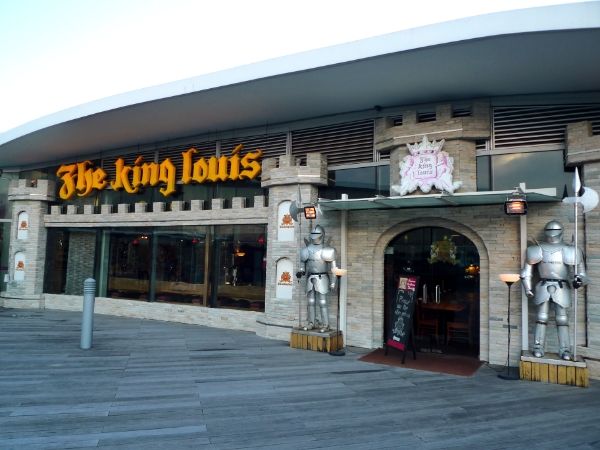 I have never been to a themed restaurant and The King Louis is my very first! The one and only castle themed restaurant in Singapore!
Decorated like a medieval castle with gray walls, knight armors, stuffed tigers, long wooden tables and benches..
you will not only feel like kings and queens, trust me when I say that you will be feasting like one!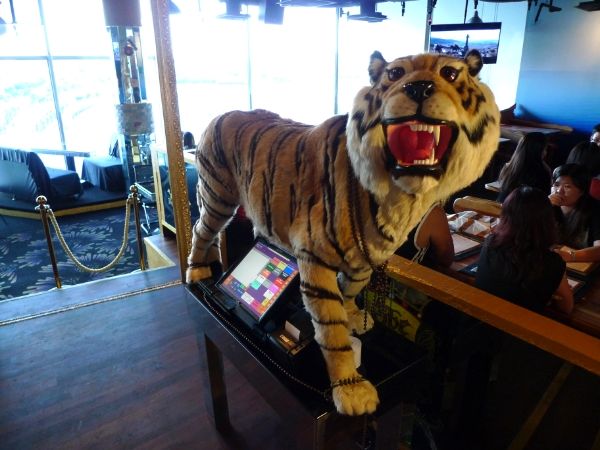 *rawr*
I'm not sure if you notice the dude on the upper right hand corner, but that is where the resident live band plays! I love how the live band here is different from the usual ones; for I never like patronizing cafes or bars with them! With the music being played so freaking loud half the time, it just kinda ruin my mood when I have to keep screaming into my friends ears to communicate with them.
But no! Not at The King Louis! The lovely band was serenading diners with soft alternative music that at times I actually mistaken them as background music. It was such fabulous ear candy, I find myself humming along and truly enjoying live bands for once 🙂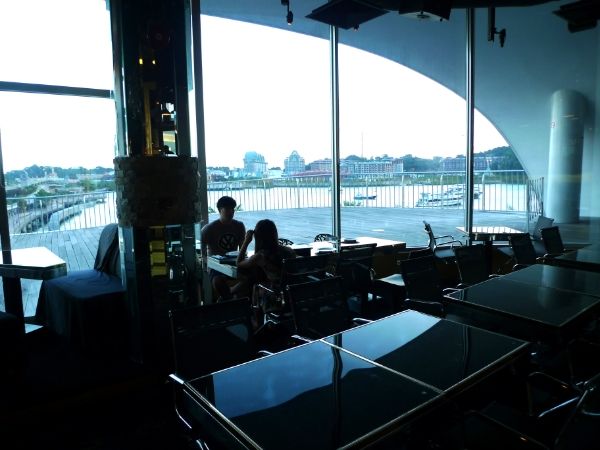 The back of the restaurant faces the sea and Sentosa Island… We were told that the fireworks from RWS can be seen from
The King Louis
on weekends. And if we're lucky, we get to see them on weekdays too.
We were there on a Wednesday so imagine our delight being able to enjoy the pretty fireworks midway into our meal. Awesome live band + fireworks + a majestic ambience.. what a perfect combo to catch up with friends and chill! Hees.

Our starters..

Signature Mushroom Soup ($8.90) & Pumpkin Soup ($7.90)
We personally much prefer the mushroom soup to the pumpkin soup, mainly due to our love for mushrooms. With bits of mushrooms that gave texture to the creamy soup, it is a definite crowd pleaser. The pumpkin soup is sweet and velvety smooth, both portions were huge and each bowl can easily be shared among the four of us.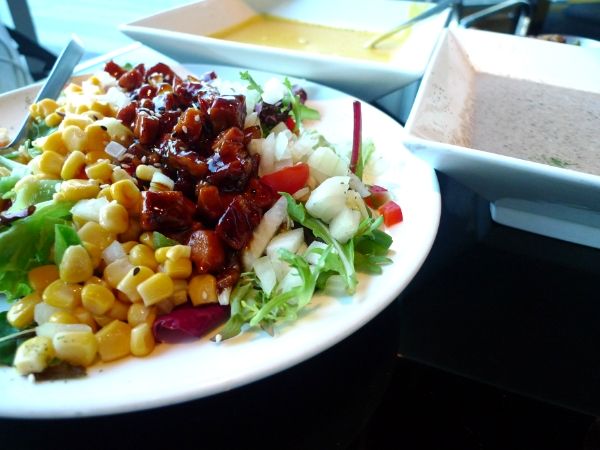 Teriyaki Chicken Salad ($13.80)
My favourite! A perfect combination of sweet and salty, the grilled teriyaki chicken breast meat comes in bite-size pieces along with fresh garden salad and Parmesan cheese. I couldn't stop munching on it cuz it is that insanely addictive!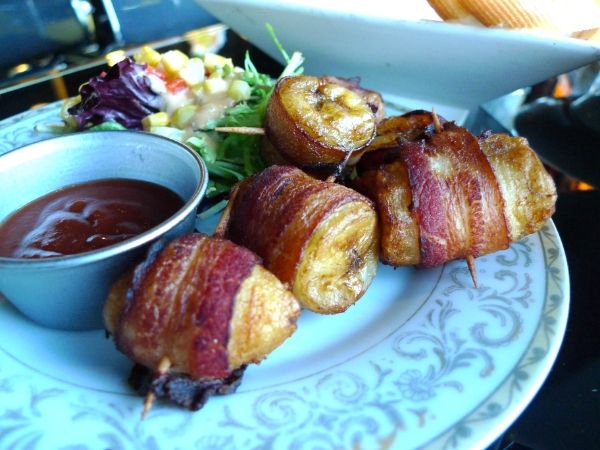 Banana Bacon Bite – $10.50
Enoki wrapped with bacon has always been a common sight in local menus.. but have you tried banana wrapped with bacon?! Unique and sweet with varying textures, this was the first and only dish we managed to completely wipe out within seconds (partly because the rest of the servings were freaking m-a-s-s-i-v-e).
My girlies ♥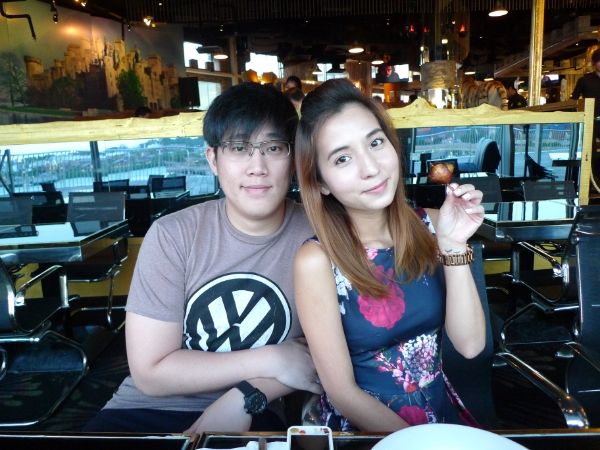 We are really growing horizontally over the years.. (I shall dig out our 2005 pictures to compare someday~ hees)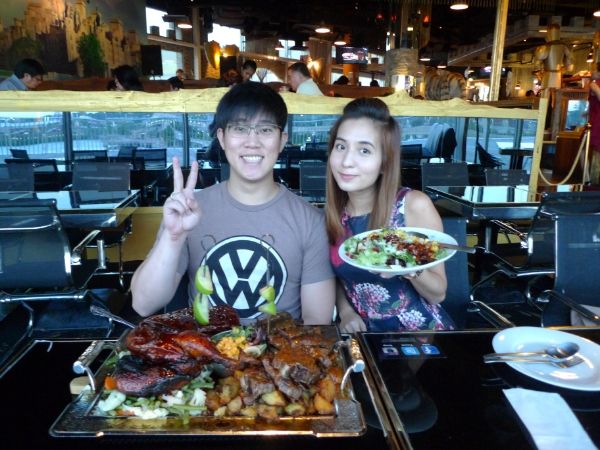 Here's us presenting to you the humongous banquet fit for Kings!

Everything else looked so tiny when this was served.

The Queen Isabelle 4-5 pax ($129.90)
The King Louis
serves many different platters (ranging from solely meat, seafood, or a combination of both) to cater to different group sizes and preferences. The adventurous us decided to give the crazy meat banquet from The Queen Isabella a go! Although it is meant for 4-5 pax, it obviously won't be a problem feeding up to 6 or 7 peeps.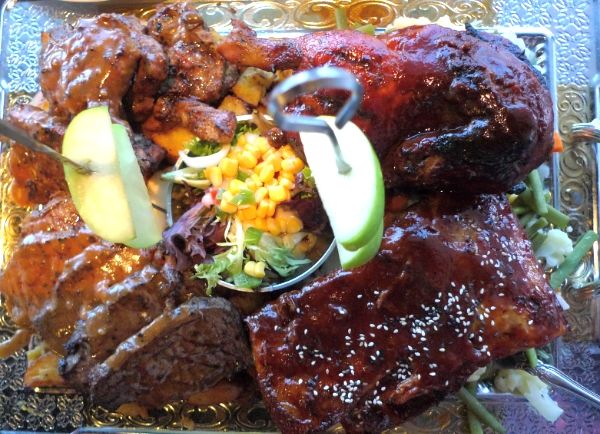 Clockwise from left:
Lamb steak with rosemary herbs, Roasted queen pullet in english style, Premium BBQ baby back ribs and Roasted beef with black pepper sauce :3
One side of the tray is buried with mixed vegetables whilst the other with baked potatoes. My favourite of them all would be the perfectly cooked and lightly salted baked potates, the beef steak which was nicely done medium as per my request and the ribs that were so succulent, meat easily fell off the bone.
Prices may seem high on first glance, especially the banquets, but considering the massive portions and how many people it actually takes to finish a banquet at The King Louis… I actually find it pretty decent! The best place for gatherings and birthday parties!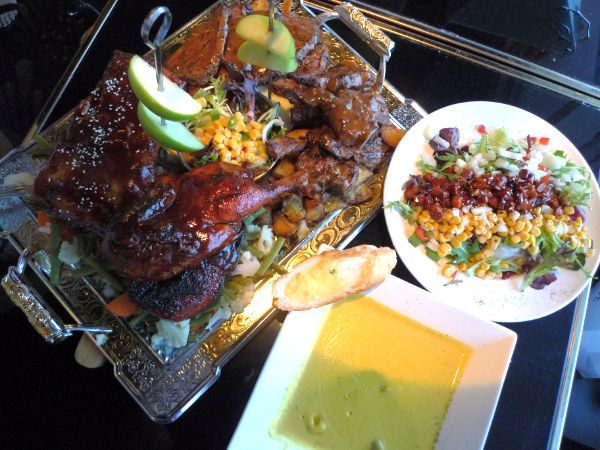 Fret not if you find the platters way too massive for you,
The King Louis Grill & Bar
offers 2 for 1 in house deal promotions from Mondays to Thursdays. I am also heaps attracted to their lunch express menus on weekdays, 12-3pm! Order any of their selected main course set, from Spaghetti aglio olio ($10.50++) to Roasted Australian beef ($16.50++), and you'll receive complimentary soup+drink+dessert 😀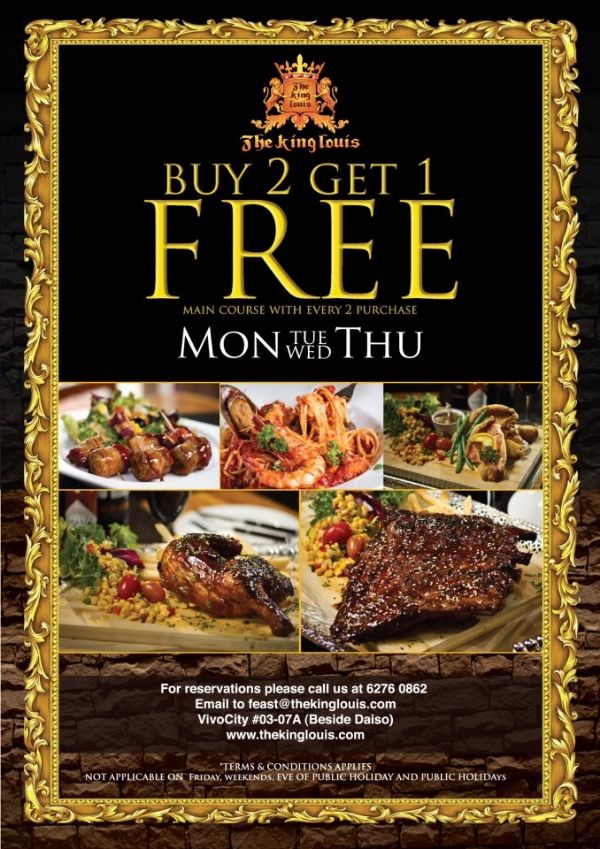 The King Louis Grill & Bar
1 Harbourfront Walk, VivoCity
#03-07A, S098585 (Beside Daiso)
Website | Facebook | Instagram
♥ ♥ ♥
Great news for my dear readers, I have awesome vouchers to giveaway to 5 lucky winners thanks to the generosity of The King Louis. Woohoo!
Each lucky winner gets to walk away with…
x1 $50 dining voucher at The King Louis Grill & Bar, and
x2 free gourmet coffee vouchers at Queens Dessert Cafe Bistro* (their sister cafe)!
♥
Winners announced:

Congratulations guys!
♥
*Queens Dessert Cafe Bistro is located at Sentosa Boardwalk, perfect for a sweet date for two. More details up on her facebook page 🙂