Editorial Review

I have always been an avid fan of Mookata (Golden Mile anyone~) and was heaps excited to be invited to
Moojaa
for food tasting. "MooKaTa", for the uninitiated, literally means "Pork Skillet" in Thai and refers to the special cooking apparatus created to enjoy both barbecue and hot pot at the same time. If you're there with your boyfriend, poke him in the belly and call him
Moojaa
– only tell him what it means after you are done eating.
Moojaa
is a popular slang word meaning "My lovely pig!" and commonly used by couples who have put on a little of that happy weight during their relationship!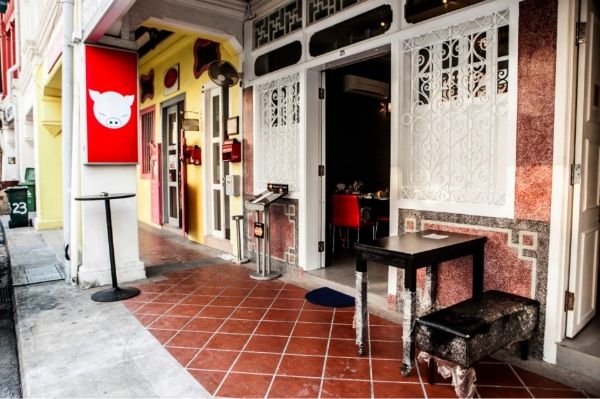 You know you're at the right place once you spot this little piggy~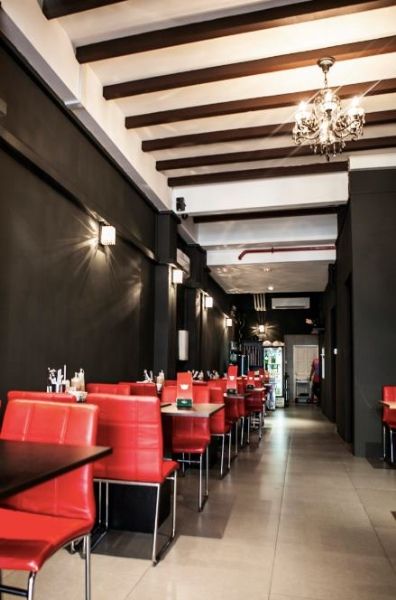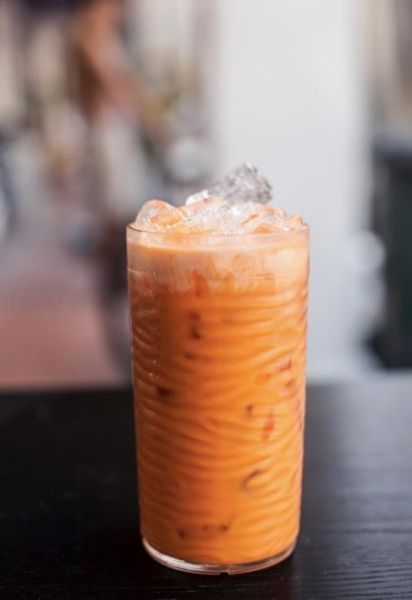 In my opinion, no mookata feast is complete without Thai Milk Tea ($2.50)!
Once again, fats love it so much he had 3!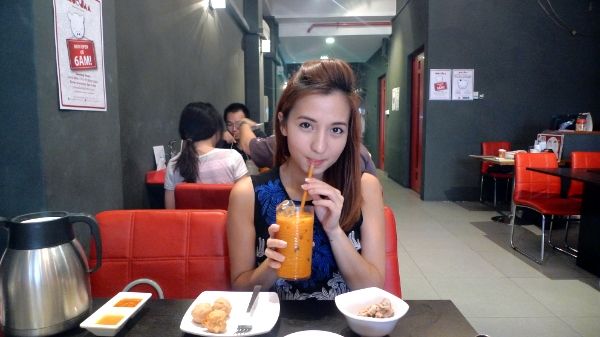 Milk tea is super thick and authentic Thai style.
*craving for it right now*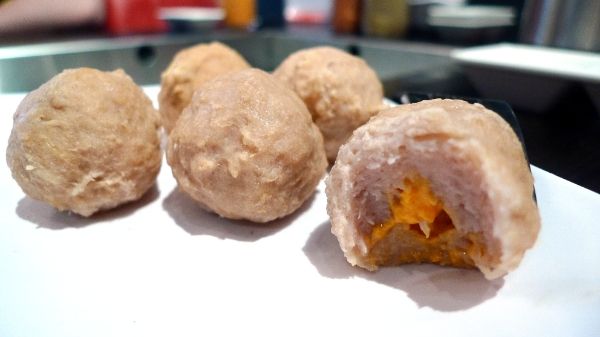 Cheese balls!! ($8)
Love how it is filled with nacho cheese and though the filling seems little, it is more than enough to complement the entire cheese ball.
I am a crazy fan of nacho cheese, it is amazing how it goes along so well with almost everything~~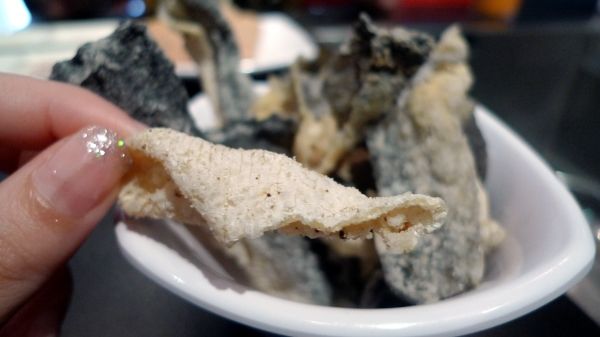 Fish skin ($6)

I am not a fan of anything fishy and was so hesistant when this was brought out…
Thank goodness there was no fishy taste at all; it was crispy and goes really well with their seafood sauce!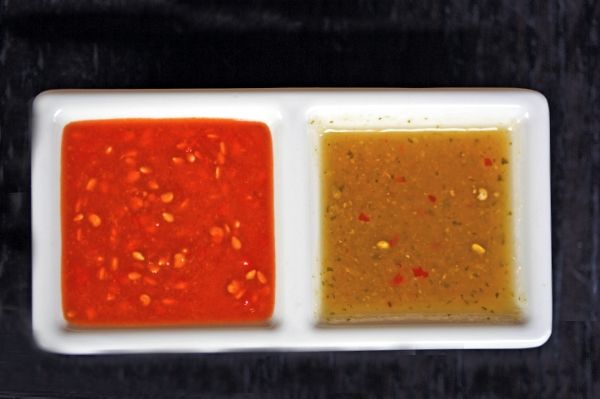 In my opinion, the sauce makes or breaks a good bbq session and these homemade condiments are hella addictive! The sauce are prepared from scratch with 30 different ingredients and it involves six straight hours of nonstop stirring so that it doesn't char or burn. It is made fresh weekly in small batches so it never goes stale. The tangy seafood sauce (right) is enough to whet your appetite whilst the chilli sauce (left) adds in a the right amount of spicy punch without reducing you to tears.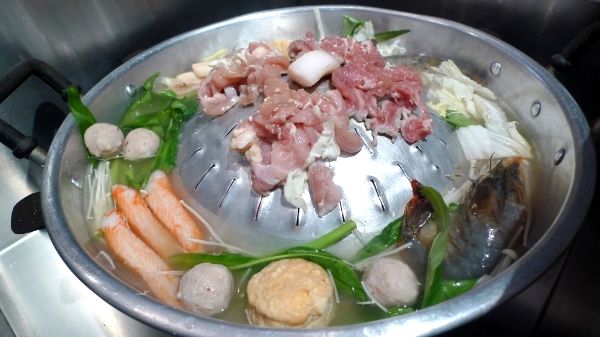 I LOVE MOO(pork)KATA(grill)!
The mookata assembly takes place inside a recessed sink on the dining table to prevent the soup from splattering all over the customers, ideal for shorties like me too.. I can finally see what I am cooking. Lol. The sink is also equipped with in-table ventilation system around it to draw out the more intense smoke whilst the fully air conditioned restaurant made sure that I was kept cool even when the crowds started streaming in.
At Moojaa, they use quality Binchotan Japanese charcoal, so you don't have to worry about soot getting into the food and turning them acidic. A trough of soup sits on top of the charcoal and a dome shaped grill is placed on the trough. This allows the smoke from the charcoal to waft up to the grill, perfuming the meats with some seriously fragrant "wok hei". Next, pork lard is placed on top of the dome for its melted fatty goodness to add a great fragrance and crisp to the bbq-ed meats; the juices from all the meats will then flow into the soup resulting in a very well-flavoured soup!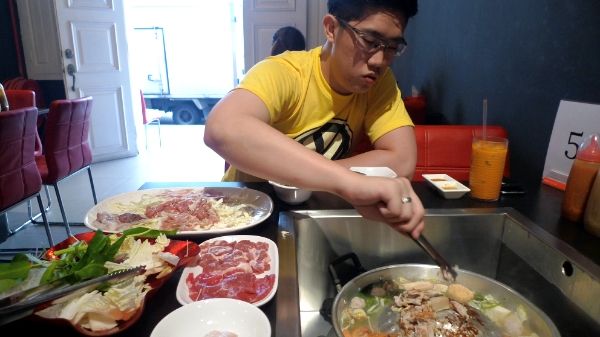 He cooks, I eat~

Fear not if this is your first time trying out Mookata…
The friendly staffs will actually help you get started by placing all the food nicely and giving tips on how to cook it the right way.
We were served a combination of Set Moo and Set Gai (for 2 pax, $45 per set), with Angus Beef Slice ($22) and Kurobuta Pork Collar Slice ($22); add $6 for tom yum soup base. The sole difference between Set Moo and Set Gai is that the former has pork collar whilst the latter has boneless chicken instead. I feel that the sets are super value for money, $45 with seafood like prawns, Hokkaido scallops, Surimi kanikama and even abalone! The most I have from my past Mookata set experiences are just 3 pieces of prawns and squid. Not to forget, you can actually reserve the private room for special occasions! There are also Thai cooked dishes here like Som Tum, Tom Yum Soup Green Curry, Pad Thai etc to satisfy whatever Thai cravings you have.
Moojaa's head chef personally handpicks the seafood and meat every morning and then marinates it herself in a secret marinade that is MSG free. The resulting meats are tender, juicy, and bursting with great Thai flavours. I personally like how I can taste the freshness and slight hint of the marinated meat at the same time! The soup base for the hot pot section is brewed for five hours to create a chicken and pork bone broth that's tasty and light in the beginning and turns incredibly flavourful and complex by the middle of my Mookata session from all those meaty juices, kissed with a smoky hint from the charcoal fire.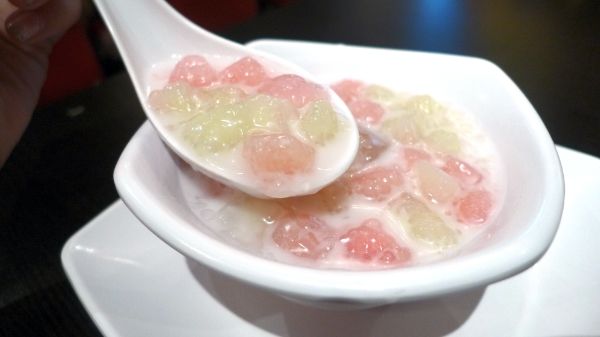 Red Ruby ($4 for small)!

I wanted a full dining experience, so I ordered desserts to complete my review 🙂
I love the texture of the water chestnuts but the coconut milk was too salty for my liking.. if you love coconut milk you will definitely love this!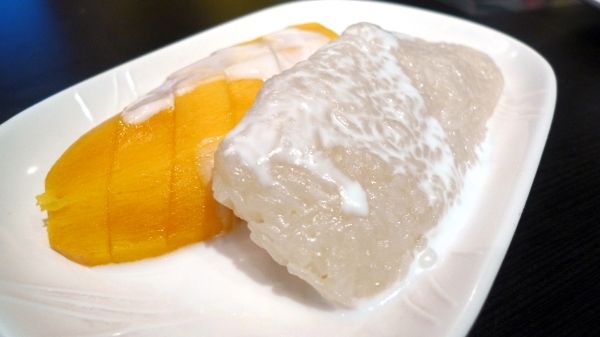 Mango Glutinous Rice ($6)!
How can I consider my meal complete if I do not try their most popular dessert right? The mango is so fresh whilst the glutinous rice is perfectly cooked.
We were giving an additional serve of coconut milk to drench over our glutinous rice should we find it too little. Definitely a must-order!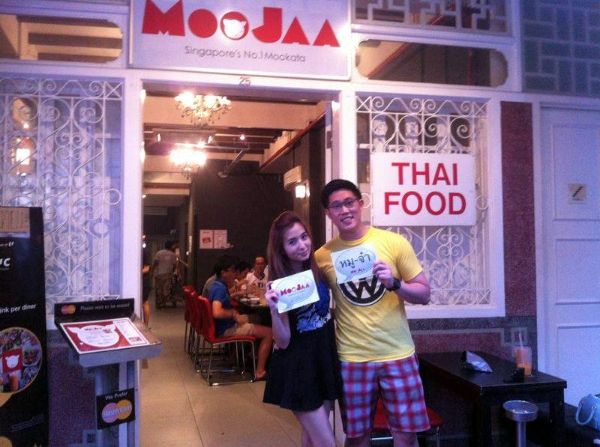 Remember to make a reservation before going down so as not to be disappointed ok?
Moojaa is always full, esp during dinner!