Pardon my slight disappearance for the past few days. I had been pretty busy with training at my new casual work place whilst juggling heaps of mid-sem assessments. Doubt I will be free anytime soon as it all boils down to good time management and less procrastination for my part, maybe I can finally take a breather by July? 🙂
On a lighter note, I received my first ever ILoveThisBox beauty box this month after reading impressive reviews for their previous boxes. This month's theme is an Easter box full of surprises, with randomly placed "Golden Eggs" in 10 of their beauty boxes to unleash great discounts on their online shop. This month's box focus mainly on mineral and organic products [though I don't think Maybelline is either] 🙂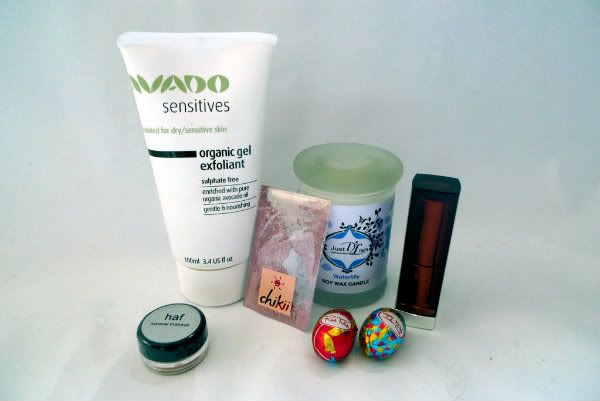 Product details:
Burn Time Soy Wax Candle in Water Lily
The moment I opened the box, all I could think of was how wonderful this box smelt. Turns out the candle was the reason why! I love lighting scented candles for days when my apartment smells boring so this is definitely perfect for me.
Avado Sensitives certified organic Gel Exfoliant
Was satisfied to receive this since I mentioned that I was wishing a facial exfoliant. For a facial product meant for sensitive dry skin, I must say that it is quite strongly scented. Not sure if it is the candle's fault though.. haha! Was also given a $5 off voucher for a Priceline discount.
Haf Mineral Makeup Australia in Sunset
I didn't take a picture of the color I received but let's just say it kinda looks like neon orange with glitter but it blends onto my skin smoothly and is not as shocking as it looks, looks quite natural in fact. It is an all natural pure mineral pigment long lasting eyeshadow that can be used wet or dry.
Chikii Natural Salon Quality Mineral Cosmetics in "Embrace" Mineral Blush
I suck at cosmetics so bad I couldn't tell if it was a blusher or bronzer cuz it looked pretty dark when swatched on my hand. I was really lucky that unlike reviewers, my sample didn't spill.In the end, I mixed it with my elf mineral blush for that extra shimmer without going OTT (pictures below). Chikii Mineral Blush is extraordinarily soft and silky sheer and can be even used on your lips! Free from any preservatices, chemicals and artifical dyes, it is the perfect fit for sensitive skin.
Maybelline Color Sensational Lipcolor in Blushing Brunette
With crisper color from pure pigments, creamier feel from nourishing honey nectar, I love how it smells like chocolate! Sadly I feel the shade is too dark and mature for me, I like something more nude and pinky, so I most probably will be giving this to my mom instead.
Hate to admit it but this is the first time ever I actually felt that it was not well worth my moolahs. This is especially so after reading that they will be increasing their prices to $19.95 for new subscribers, the first beauty box in Aussie to increase its price. For $14.95, despite the products mostly being pharmaceutical/supermarket brands, it was still quite worth it. However, if I am to receive the same items for the new listed pricing, I will definitely cancel my subscription right away since I can get a much better deal elsewhere 🙂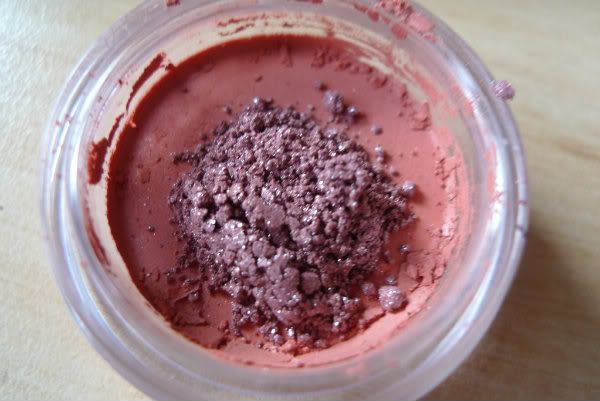 Before mixing the Chikki Mineral Blush into my Elf Mineral Blush

Tadah~ Both blushers are very pigmented so I have to use them sparingly at all times!