One of the perks of working in my current company is my savvy colleagues! I've always been an impulsive shopaholic but stepping into the corporate world had me constantly thinking of making my moolahs worth every penny – especially when it comes to:

online shopping
Think discount codes, credit card rebates, cashback and all.. every cent earned contributes to the next haul. I can always rely on my colleagues who are constantly educating me on how to save, and thats when they introduced me to
ShopBack
.
Here's an interestingly thorough introduction to what
ShopBack
is all about! In short, get instant cashback within 48 hours of your payment made from a huge variety of brands such as
Guardian
,
Taobao
and
ASOS
etc.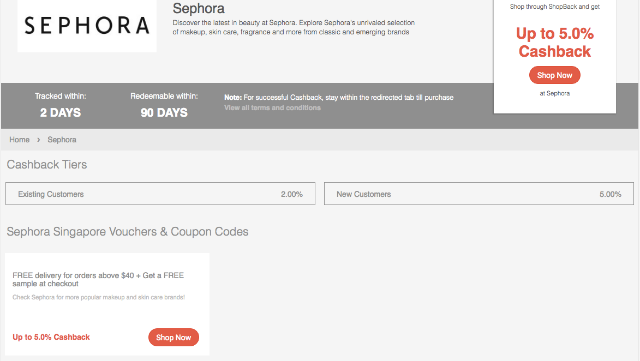 Find out about a Sephora sale
by clicking on the brand or searching through their categories, scroll to the bottom to
find the latest online shopping coupons
available for you.
As you can see above, first time customers get 5% cashback, whereas existing customers (means you've previously purchased through ShopBack on the same brand) enjoys 2%. Therefore, my tip is to always calculate the best time to shop up a storm to get your money worth the first time round!

Here's a breakdown for you on what the cashback tiers mean, you purchase $100 worth of products from
Zalora
.
New Customer: $100 x 12% = $12
Existing Customer: $100 x 4% = $4
On top of that, if you're using a credit card like me, you get rebates too! Why not right?! Don't forget to further save with a Zalora discount code before making your purchase 🙂
Although your cashback is only redeemable after accumulating to at least $10 once order is validated by the merchant to ensure that you don't abuse the system and request for refunds/cancellation/exchange (fair enough), it's super easy to hit the $10 goal! Look at how quickly I've accumulated through my random splurge during
sales
:p
To entice you further, enjoy a $10 bonus cashback when you sign up and make your first purchase through my referral link HERE! Don't say I never share good things with you kitties~ x