For someone like me who doesn't fancy accessorising myself often, bridal jewellery can be a rather perplexing concept for me. I abhor the ghastly outdated costume jewellery that some brides wear, nor do the typical si dian jin tickle my fancy, yet the dainty accessories I'm used to are too inappropriate and understated for the big day.. how now brown cow?
For my wedding, I've picked 2 jade bangles and 4 pair of earrings to rotate about my outfits. Today's post will be touching on the Singapore side first as I would like to round up one wedding at a time, lol.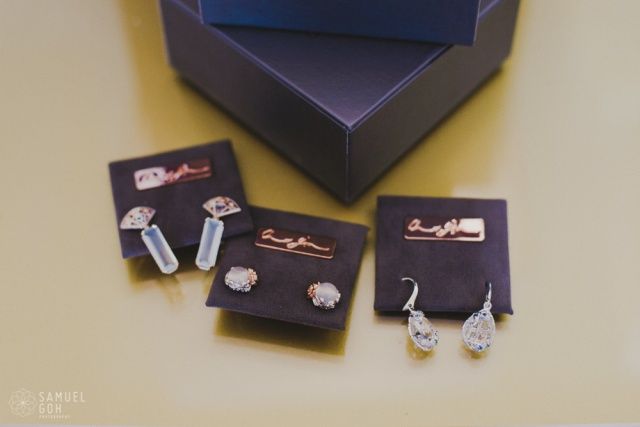 There's no top favorite among the three for I love them all equally, each were timeless and elegant on their own accord; they were uniquely befitting for both casual and formal wear. From left to right, here's 3/4 of my pick:
The gorgeous jade bangles were on a whole new level of their own. Who knew I would actually fall for not just one, but two?
Choo Yilin
actually takes in customisable orders where you can choose your preferred jade white lavender to granny smith apple green; on top of that, you can also pick from the variety of design and decide the type and color of gold and gems you would like too! Mine was just two of the many designs available, namely:
Bamboo Trio Jade Bangle (top) and Sakura Trio Jade Bangle (bottom)
As mentioned, I've specially picked these jade bangles to complement my nyonya kebaya during our tea ceremony (in SG) and to greet our guests. It was a last minute decision actually, when my lovely in-laws decided to gift me as a wedding present since we were doing away with the traditional betrothal gifts 过大礼. I couldn't be happier to finally own one!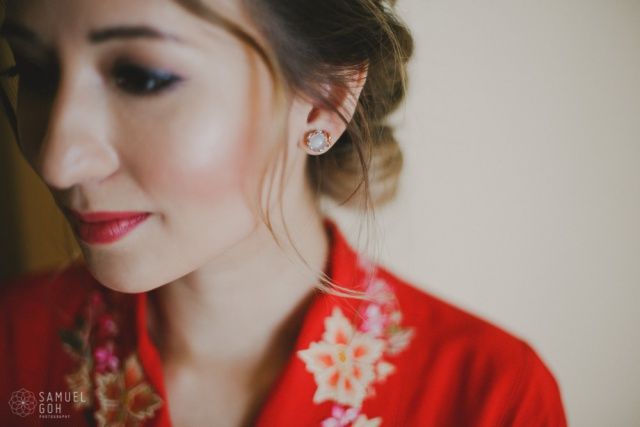 Flower Jade (in rose gold & white moonstone)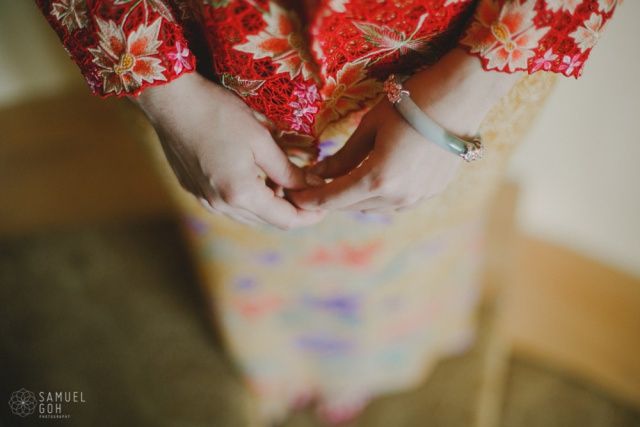 Sakura Trio Jade Bangle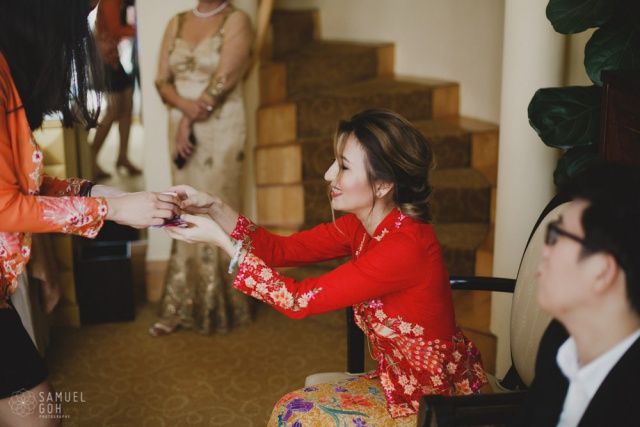 Can't believe the day have come for me to finally take the seat and be served tea! Us being the eldest in the family and second eldest in our maternal side… this can only be the beginning of kissing many ang baos goodbye :B
For my second march in, I choose to wear
Choo Yilin Bamboo Drops in rose gold and rose quartz
. Don't you find it such a perfect fit with my pastel mermaid gown? ♥
I couldn't be more pleased with my selection and will be showing you guys on how I match it at my Malaysia wedding in time to come. Thank you
Choo Yilin
for donning me in such modern and graceful jewellery for my big day! If you kitties are intrigued and would like to find out more about what they have to offer, I've previously dayred about my shopping experience
here
. I can't promise that you won't be enabled~ x