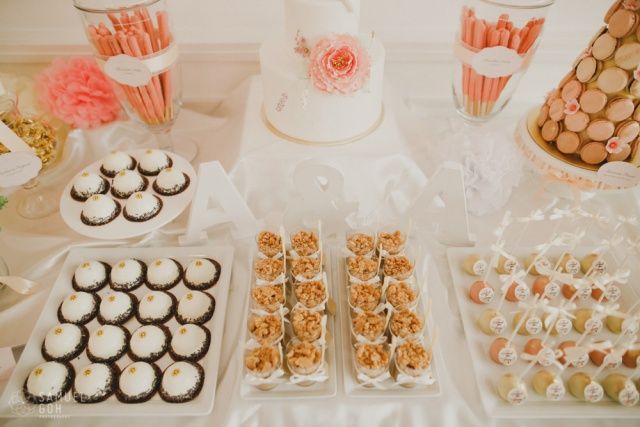 I'm so excited for today's #Operationkitties post as it was a hot favourite during my wedding! I totally underestimate what sweet tooth my guests are.. can you imagine the dessert table being 80% gone by my first march in?! Lol. I'm very proud of my choice of vendor when it comes down to choosing our dessert table because my dessert chef is definitely crème de la crème. Graduated from Le Cordon Bleu, I have my eyes set on
The Delights Heaven
ever since I attended their store opening 1.5 years ago and tasted Joey's unforgettable Earl Grey Panna Cotta.
The Delights Heaven
specializes in earl grey infused desserts due to Joey's love for this particular tea and who can resist her signature 100% teddy bear cake that's so intricately made (as seen
here
)?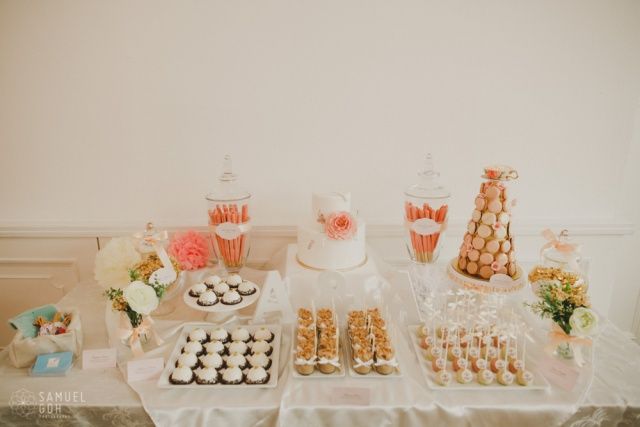 To match my
floral theme
, I requested for color palettes of white, pink and gold to match the fresh blooms and gold tiffany chairs for my luncheon. Something simple yet classy to entice my guest.. little did I know that I should have listened to
The Delights Heaven
and up my volume instead. Apparently, my guests were busy stuffing themselves with these yummy goodies while waiting for the luncheon to commence!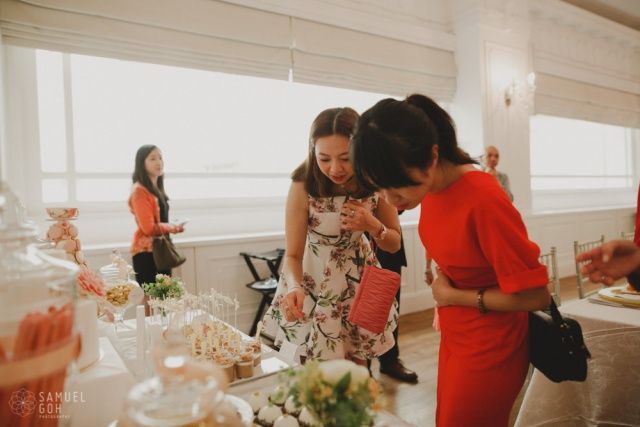 Point in case, the most guilty of the lot was caught on camera :B
Let me walk through with you on the thought process behind this dreamy set up filled with mouth watering goodness. Right from the start, I knew I wanted Earl Grey to be the key highlight among the desserts. Being a tea lover like me, how can I say no to
The Delights Heaven
forte? I would have wanted to include their super potent tiramisu if only it could have blended in with the color palette.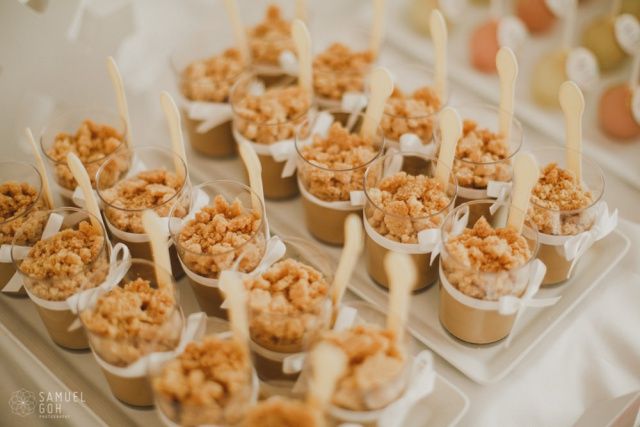 And so, Earl Grey Panna Cotta was definitely high on my list even though the dessert for our luncheon was coincidentally Panna Cotta with berries (dad's favorite :x). I was so grateful that my sweethearts from
The Delights Heaven
specially set aside quite a few for me (amongst the other desserts) because they know how much I love them! I was so touched by their sweet gesture and thoughtfulness~ *big hugs*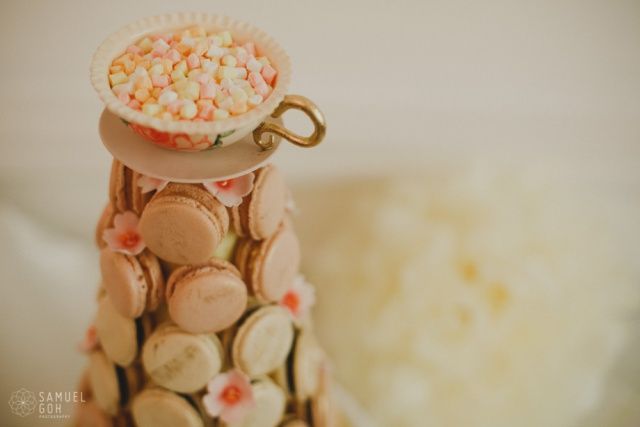 Next up was everyone's favourite and the first to be swiped clean: macarons ♥ As
The Delights Heaven
didn't want to overwhelm my guests with too much tea (in case some are not a big fan of it), here's where it became a good mix of my husband and my favorites – dark chocolate or earl grey flavoured macarons. Don't you just love the dainty baby marshmallows in a cup? The flower frostings add such a beautiful touch to my theme too.
Even had mini doggy bags with pretty tags for my guests to "dapao" (take away) some sweet treats home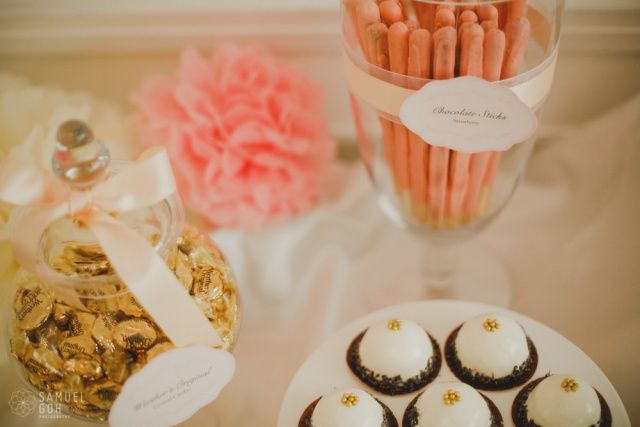 I totally love how every part of our dessert table is so instagram-worthy.
A faux cake specially designed just for my wedding, this delicate peony is just gorgeous.
Would it be ok if I start spamming my instagram feed with these? ♥
Aesthetics wise, these cake pop has got to be my favorite of them all~
The Delights Heaven
personalized "Thank You" message with our wedding date and some florals.. They were totally on point with our wedding theme, I love them so much!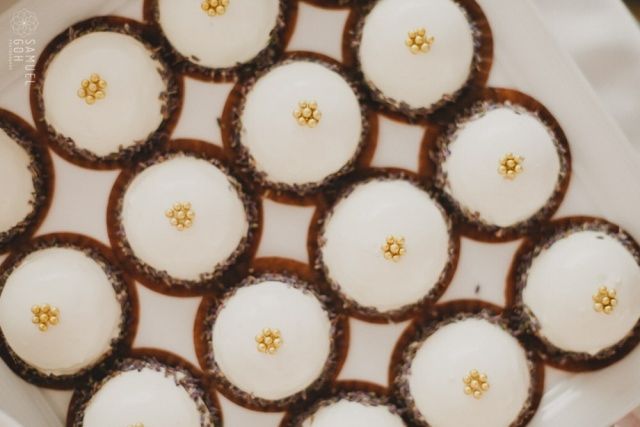 Dark chocolate domes surrounded with fresh lavender bits to continue on the floral theme whilst signifying my husband's sweet tooth. The little thoughts that counts.. I couldn't be more pleased with my choice 🙂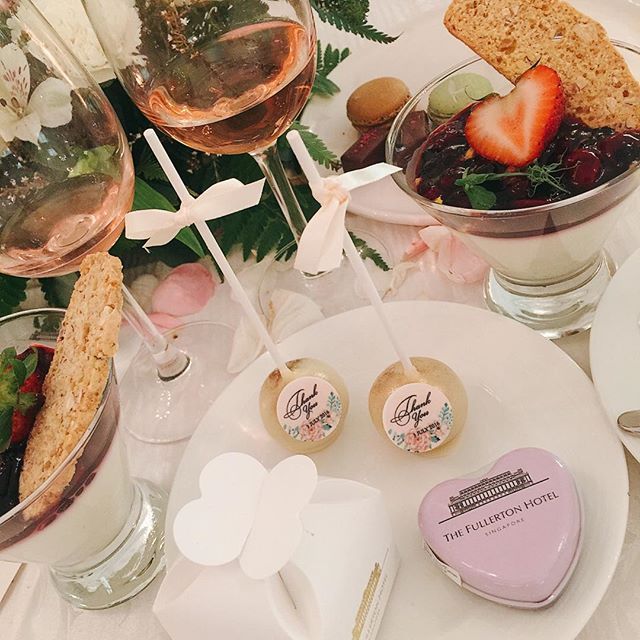 Another shot of the beautiful cake pops. Thank you Linda for this beautiful shot! x
Here's a festive promo for you kitties if you're having a year end X'mas/countdown parties (or are December babies like me) or even a wedding banquet!
The Delights Heaven
is having an early bird promo at $220 for a dessert table that serves 12-18 pax with goodies such as Chocolate Raspberry Log Cake, Cake Pops, Crème Caramel Puddings, Gingerbread Man and more! Pop over to their festive promo link
HERE
to find out more 🙂