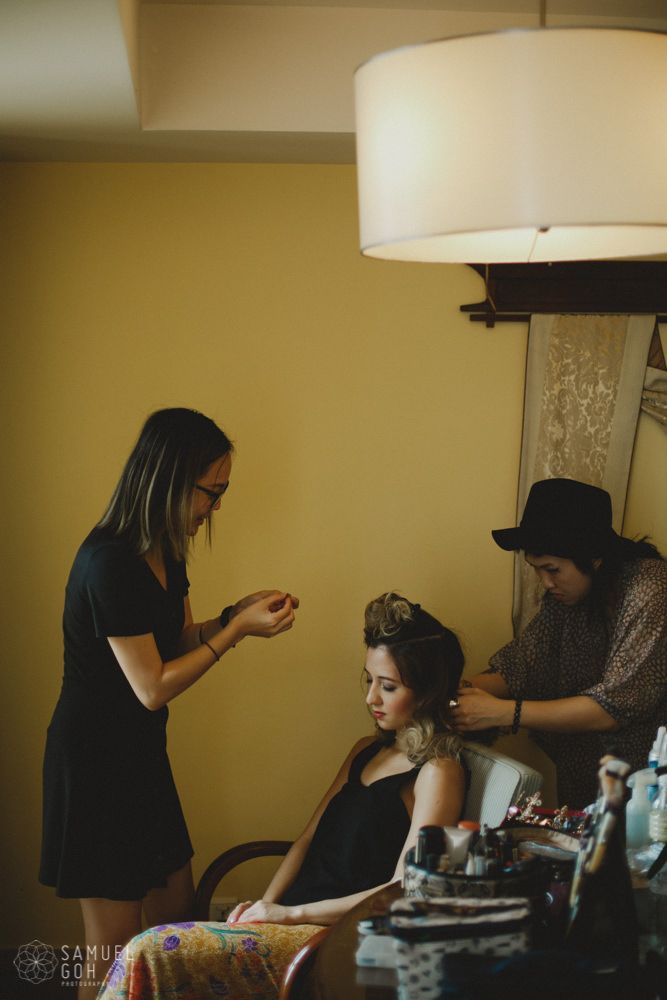 Behind every beautiful bride, is a team of brilliant MUA and Hair Stylist! Being in the beauty circle, I have been very blessed to work with many different talented individuals; thus it came as no surprise for me to entrust my big day to two of my favorite ladies to doll me up: Marie Soh from
27a
and Celia from
Bloc+
!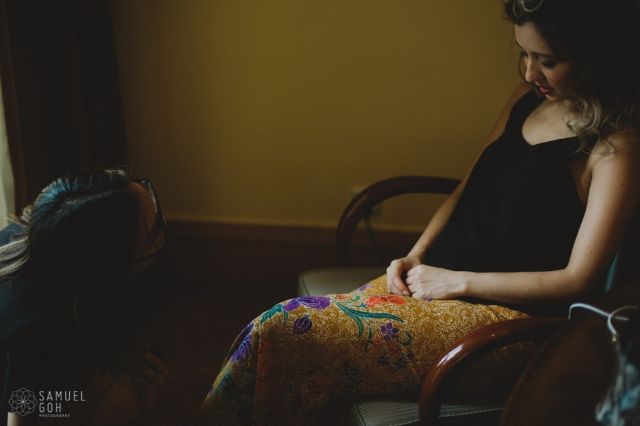 Marie Soh
should not be new to you kitties as she was the same MUA for my
Pre-Wedding shoot
with
Samuel Goh
. This time round, I tasked her with creating a look for me that will flatter my 3 outfits with minimal touchup needed. She is such a bubbly bundle of joy to be around, kinda like a mini cheerleader prepping me up and making me feel like a princess.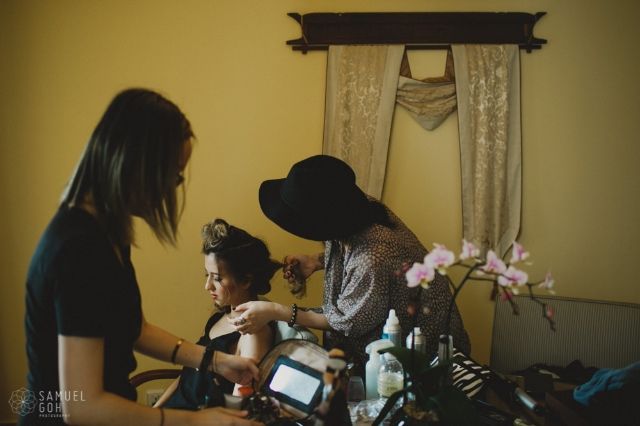 Actually, I know that most bride will just stick to just one MUA who can do both hair and makeup (which
Marie
could do of course) but I had always wanted
Celia
to fix my hair on my wedding since the day I met her. Anyway by doing so, my entire look was done in less than an hour.. just in time for everyone to start streaming in! I was very touched by the professionalism of all my vendors who were all punctual by the way, even my bridesmaids too!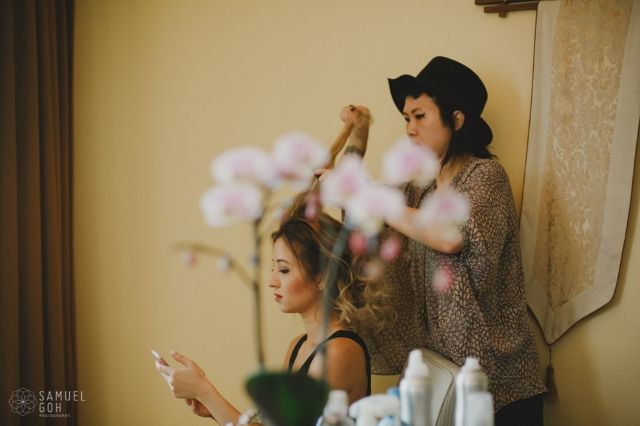 My hair has been under the good hands of
Celia
for the longest time and I couldn't be more thankful to her for always taking such pride in her work whilst respecting her customer's wishes. You know how most hairstylist communicate one thing with you only to show an entirely different results after it's all done? Well, it never was the case with
Celia
– not even when she permed my fatty's hair!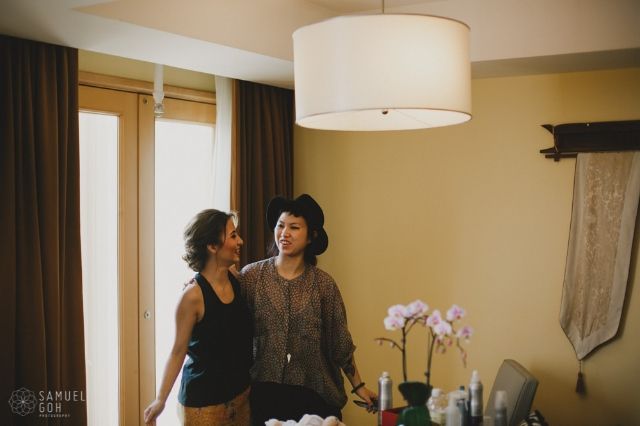 From the bottom of my heart, thank you
Celia
for always taking such good care of me all these years. Despite the times I've been so fickle minded over hair decisions, you still patiently entertained my needs and did what's best for my hair – in terms of striking a professional balance for both my OL and blogging world, and never damaging it! Never had I left
Bloc+
without compliments… If you're reading this, you MUST pop down
Bloc+
at least once ok?!
Now let me show you the final look that Marie
(27a)
and Celia
(Bloc+)
had curated to complement my 3 outfits of the day! First being the Peranakan outfit for our tea ceremony to the husband's side (my side was done in Malaysia).
*Left was to show off the back of my hairdo before I went up to change :p
Preparing for First March-In in my Zwedding Gown. Thankful to
Vinna
(who's also a popular MUA among taitais btw!) for helping me with the crown!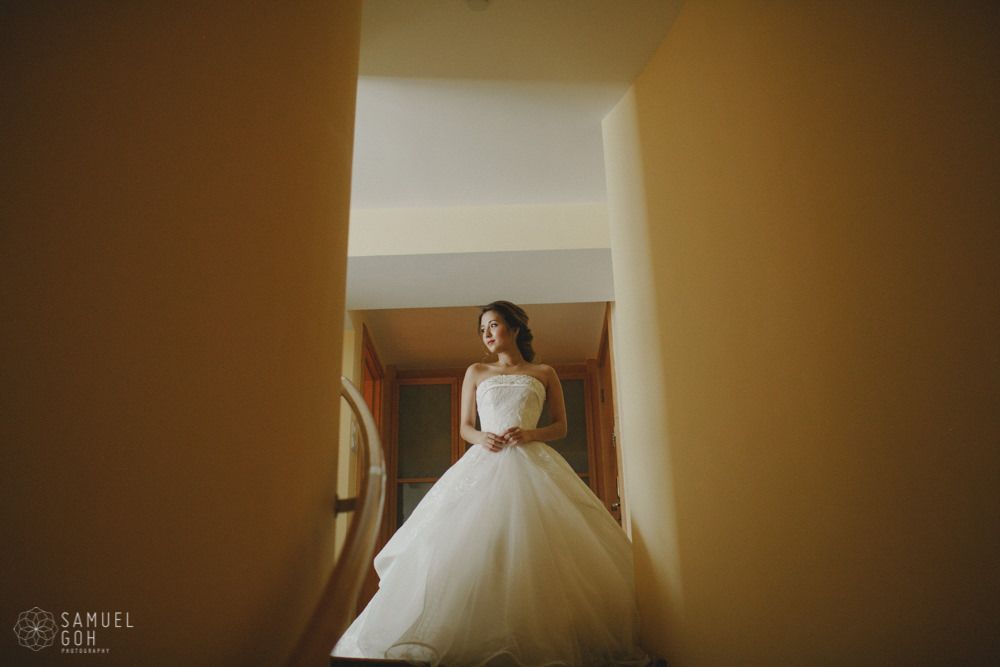 Here's another one in it's full glory

Last but not least, my gorgeous pastel mermaid gown also from Zwedding! Zero touch-up 'till the very end.. x

P.S Spy my oppa's Korean hairdo by Celia!