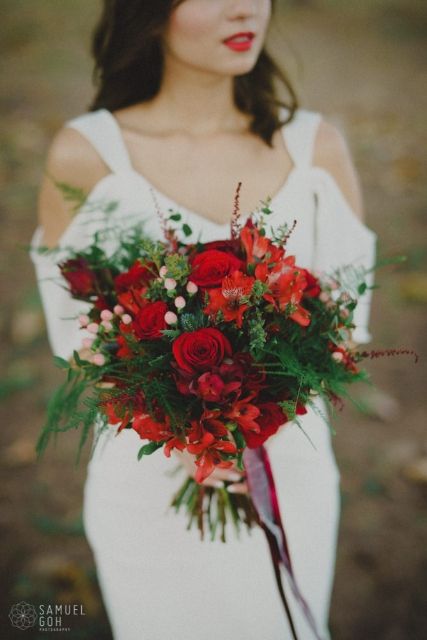 With the many (way too many in fact) options in our local market, finding THE florist for your big day can be a pretty daunting task. Would you stick to the usual favourites that everyone keep talking about, or risk a hidden gem to fulfil your floral dreams? The florist you select will play a major role in setting the tone for your big day.. My florist would play a vitally important role on my big day since I've decided to scrape the idea of hiring a creative to style and conceptualized my wedding and focus solely on fresh blooms. You see, florals play a big part of my relationship with my husband (when we were teenagers, he used to surprise me with gerberas and lilies!), my social media posts and my home decor; I wanted to share that love with my guests on our big day. To make sure all of these blooms are beautiful and within your budget, picking the right florist (and working with her) is crucial to say the least. So I started my research pretty early on..
By luck, I first got to know about CottonandSage on her Valentine's Day Special and found myself impressed with her floral arrangement. It steered far far away from the traditional cringe-worthy bouquets and focuses on wild flower bouquets I'm crazy on. Thus, we decided to work on my pre-wedding shoot for starters!
For my pre-wedding shoot, I wanted lush green environment in which Samuel Goh has such a brilliant eye for the golden hour (as seen here) and capturing raw emotions.. but I didn't want it to be just the boring monochrome get up. An all red bouquet with wild foliage would be ideal for that rustic vibe I was looking for;
CottonandSage
delivered it perfectly, my bouquet was breathtaking. There and then I decided to search no further and started discussing further in depth on what I'll be expecting for my actual day…
White, green, pink with a touch of gold was my ideal wedding palette. Too much of a certain colour would have toppled the old colonial romantic feel I was going for. My wedding bouquet (as seen above) had two massive peonies that I requested for last minute and was so lucky that
CottonandSage
managed to get hold of them just as peony season was ending! Other than her brilliant floral arrangement, I was impressed with
CottonandSage's
eye for detail. At one point I was even considering on having a cascading bouquet – in which she rejected the idea due to my petite frame. Who knew, right?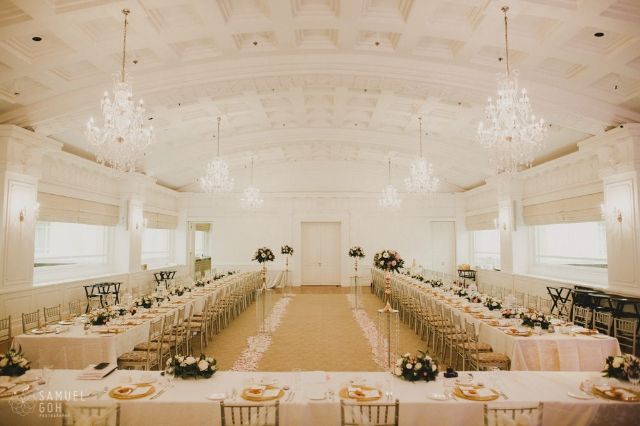 Wedding theme on point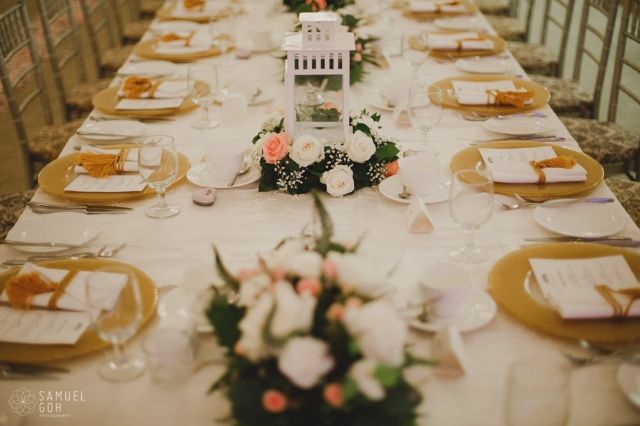 My guru of blooms not only specialize in florals; she also help conceived and execute the design for my reception, from flowers to linens, candles, lights and more. Yes, I "kinda" save on my wedding styling thanks to her 😛 Many a times I were fickle minded on what would complement the theme and if anything additional was needed, such as candlelights and fake floral petals, and she was more than willing to advice me on the needful. I remember consulting her right before making my final decision on the minute details with the hotel to ensure that no table cloth or complimentary flowers provided by the hotel would look out of place with her work. If I didn't specifically pull out the works done by her , you definitely won't have believe how seamlessly her work blended in with the ones provided by my hotel. Top is by
CottonandSage
, bottom with candle holder is hotel complimentary. Not a single flower out of place! This is definitely ideal if you want to invest in florals but won't wish to spend a bomb on it, get the best of both worlds!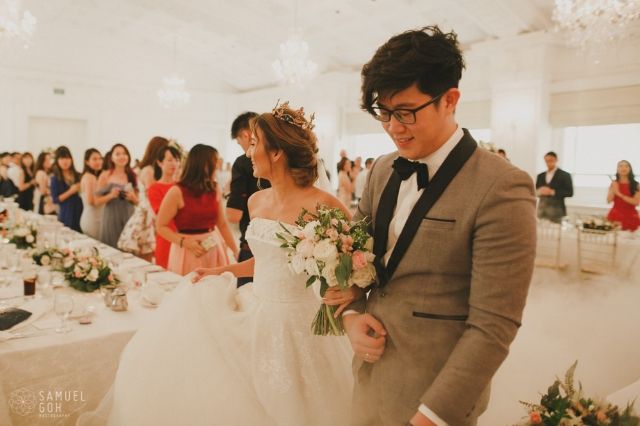 (Don't you just love how my bouquet can stand on it's own :D)
When conversing with your florist, be prepared to give them a full picture of your entire wedding, and discuss your flower preferences and budget. Everything from your color scheme to your AD & bridesmaid gown sets the mood for your bouquets and arrangements, so feel free to be as elaborative as possible. Once she understands your desires and price range, your florist can start making her own suggestions, based on her expertise about flower types and prices. Right from the start, I knew I wanted a long floral centerpiece to flow down my long tables and adding candles for ambiance. In return I was given a symmetric low centrepiece that is chic and elegant as well as practical, without blocking the view of my guests on opposite sides of the table. To add on to my love for blooms, I even bought my Jo Malone Red Roses Room Spray to amplify the floral vibe! It's all about connecting your sense of sight with your sense of smell. What are your thoughts? x