Blessed Friday everyone! Before I introduce you to the newly launched LPRN Intense… let's talk about Guerlain's La Petite Robe Noir Eau Fraiche instead that was launched earlier this year instead!
A new addition to La Petite Robe Noire's perfume wardrobe, the new Petal Dress is still easily recognisable in it's legendary glass bottle with a soft green lacquer that screams fresh, green and Spring all at once. It opens up with an explosion of citrus accords of mandarin, lemon and bergamot scattered with a shower of green notes. It then moves on to a soft floral heart of Bulgarian and Turkish rose, almond blossom, freesia and jasmine. Finally, it settles to a gourmand base of delicious pistachio imbued with white musk and patchouli. Such a joyful green sparkling floral scent with a delicate, soft, silky drydown… Pleasant, a little sweet, close to skin without being offensive to the nose, it sure is perfect for Sunday brunches, won't you agree?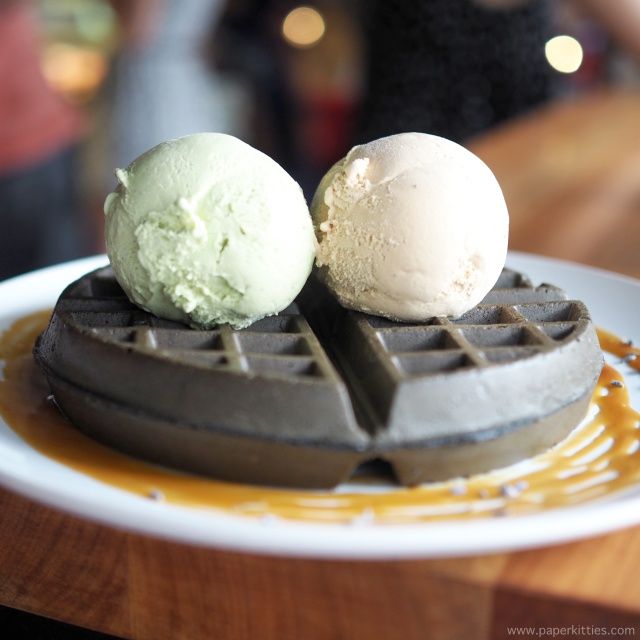 Speaking of weekend brunches, I love dragging my fatty around various hipster cafes on weekends for our mini adventurous dates! After lusting over FATCAT Ice Cream Bar's instagram photos for ages, we finally made it~ Unsurprisingly, this mini cafe was so packed it took us awhile to be seated; I got a little self conscious in taking the modern industrial interior and just settled to taking food photos instead… I hope that's ok 🙂
We got off to a good start by ordering a bubbly mug of Butter Beer ($12) – so sinfully yummy, I kept stealing sips even though it was supposed to be his :p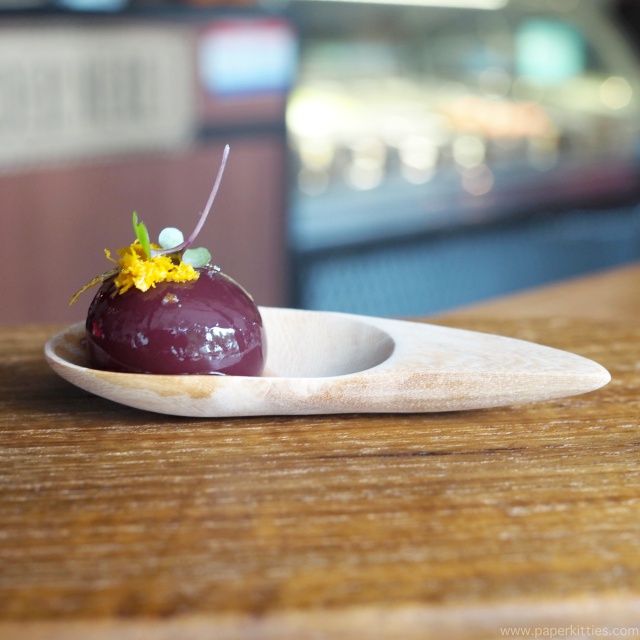 I have been dying to try out this bite-sized treats for ages! Am so happy that FATCAT is one of the few dessert bars in Singapore that actually offers it. From what I know, they tend to change their menus frequently so what I'm having now but not be available when you're ordering~ I forgot what I've picked, other than the knowledge that red wine was in it, but it's worth trying. This is unfortunately not meant for sharing… One mouthful and that's it, $4.50 gone. Lol.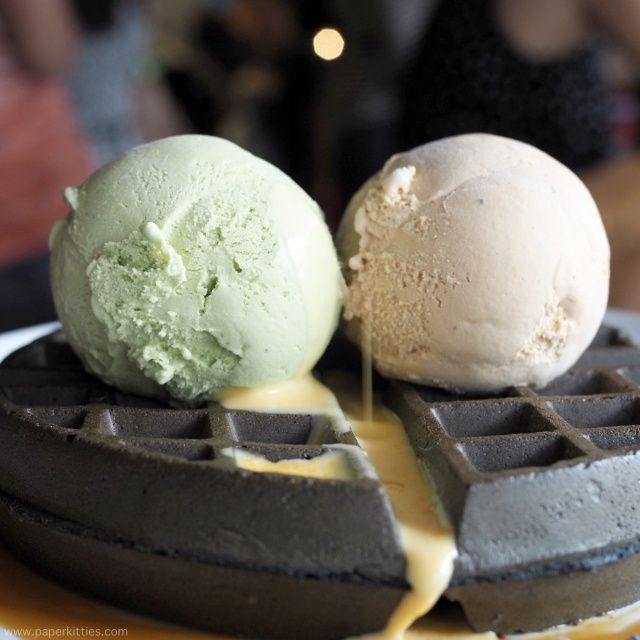 Last but not least, the legendary charcoal waffles ($6) with salted egg yolk sauce, additionally topped with ice creams ($3.90-$4.50 per scoop) of your choice! Apparently they are sold out in limited quantities, so we were pretty lucky to have it at first try. The waffle was crispy and fluffy, with a hint of lavender and caramel sauce surrounding it – which I enjoyed dipping into. As for the salted egg yolk, it was pretty subtle so one won't find it too
jelat
especially when matching it with already creamy ice creams.
But I'll admit that what I enjoyed the most was definitely their ice creams. Homemade from scratch daily with fresh ingredients, they have unique flavors such as green thai milk tea, butterbeer etc and are always rotating! The flavors are intense, creamy and true to their source ingredients.. I find it taste much better than the many gelatos out there and was seriously considering on buying a tub home to binge it. For someone like me, FATCAT Ice Cream Bar was well-worth our moolahs spent and I could certainly forsee myself popping by next time just to takeaway some ice cream home 🙂 x