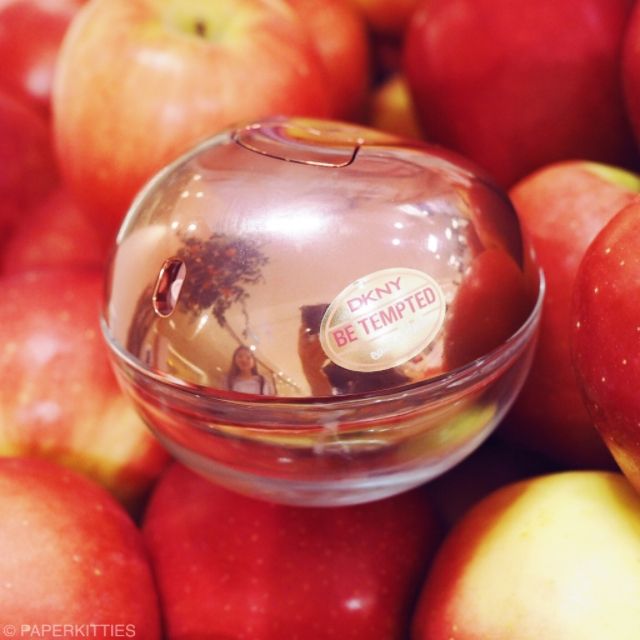 TGIF YA'LL!
Let's talk about DKNY's recently launched fragrance, Be Tempted Eau So Blush, to kick start a fun-filled weekend! Still housed in the signature DKNY Be Delicious apple-shaped bottle, this particular scent contains no apple notes at all. Surprise, surprise~ Do not expect any juicy fruity notes this time round as DKNY Be Tempted Eau So Blush steers towards a softer floral-woody interpretation instead. Think top notes of all things feminine.. pink grapefruit, magnolia, red currant and red orange. This is swiftly followed by familiar heart notes of peony, jasmine and cedar wood before melting into a base of creamy woods, apricot and solar musk. Perhaps it is due to the fact that I have not tried on musky fragrances for quite awhile, so I felt that the sillage was very long lasting on me. It's ideal for an everyday scent that's befitting for our sunny weather in Singapore, musky woody undertones that's well complemented by the fresh floral without being overwhelming.
I used to collect DKNY Be Delicious fragrances as a teenager and made sure to try out all its apple launches, so I'll admit that this new non-apple related scent did disappoint me a little. I understand that the marketing point this time round is focused towards a more modern and feminine take as compared to its usual fun-loving campaigns; but as a consumer, maybe it shouldn't be within the same range? Something completely different and new would have been a refreshing change and eliminate any expectation and comparison against its predecessor? Call me bias, but my true love will forever be the original DKNY Be Delicious (in green) – fresh, fruity and energetic; I won't want it any other way!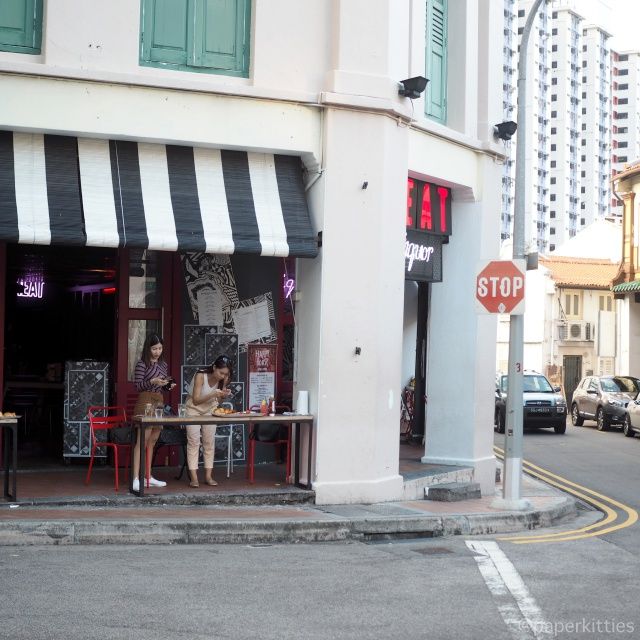 Moving on to get the weekend binging started,Tanjong Pagar have become a favorite hangout spot with my fatty for Korean food ever since I've become a Zwedding bride and am a frequent goer at Webarre. Though this time round, I'm exploring something different at Duxton Hill with my girlfriends – think famous UK burger joint and fancy cocktails!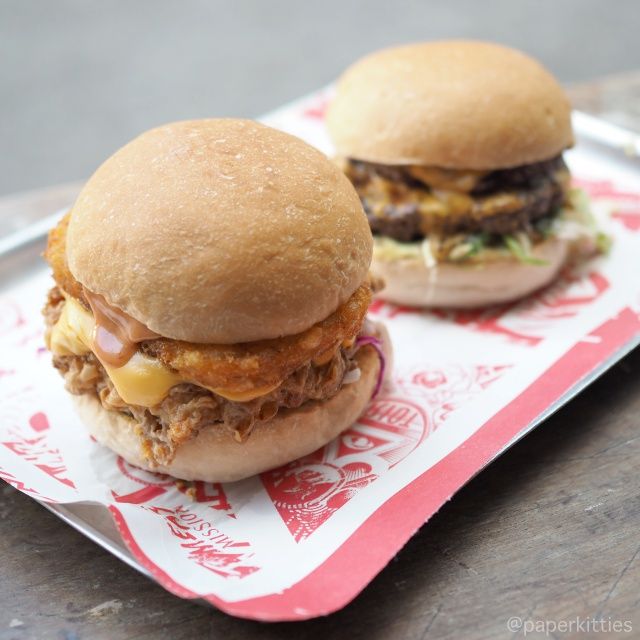 MEATliquor is renowned for its legendary burgers made with 100% USA Prime Angus Beef, and prides itself on simple, quality food that features thoughtful flavour combinations and top of the line ingredients. Naturally for us, we ordered their best-selling Dead Hippie (double 100% prime beef mustard-fried patties and house-made 'secret recipe' sauce) and HDB Chicken Burger (Fried chicken fillet, cheese, hash brown, jalapeños, slaw, Russian dressing) to share. All I can say is, they are not famous for their burgers for nothing! The portions are massive but oh-so-satisfying.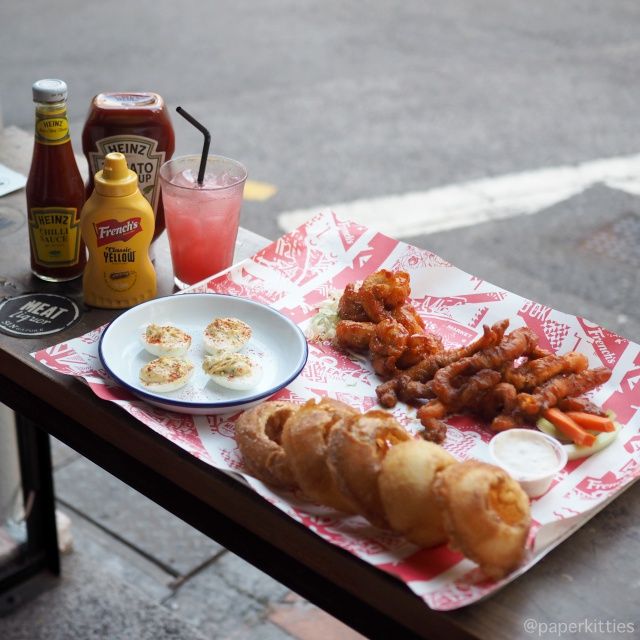 Then comes the sides all spread out on a tray with no cutlery, just use your fingers yo! They were so sinful but oh so delish, I reckon I will just come back for these! My favorite was the Buffalo Shrimp – spicy, sour, tangy and mouth-watering good. You can also dip in their blue cheese dip for a good contrast.
Devilish Eggs

Big, chunky Onion Rings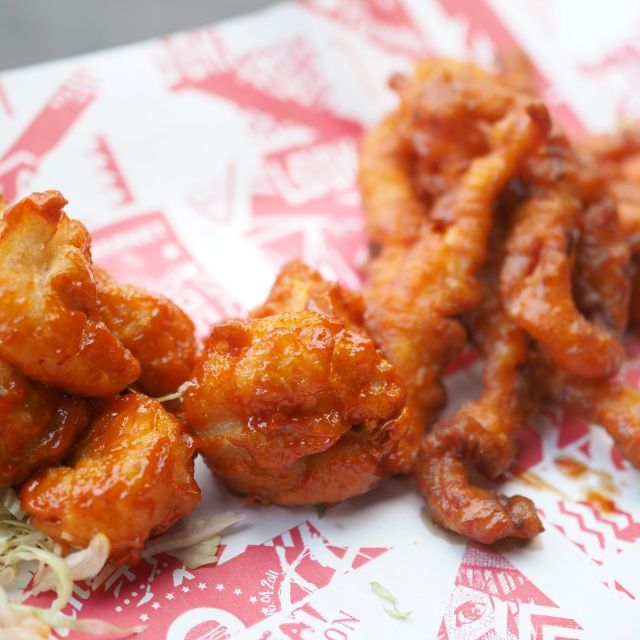 Buffalo Shrimp

My refreshingly fresh Raspberry & Grapefruit cocktail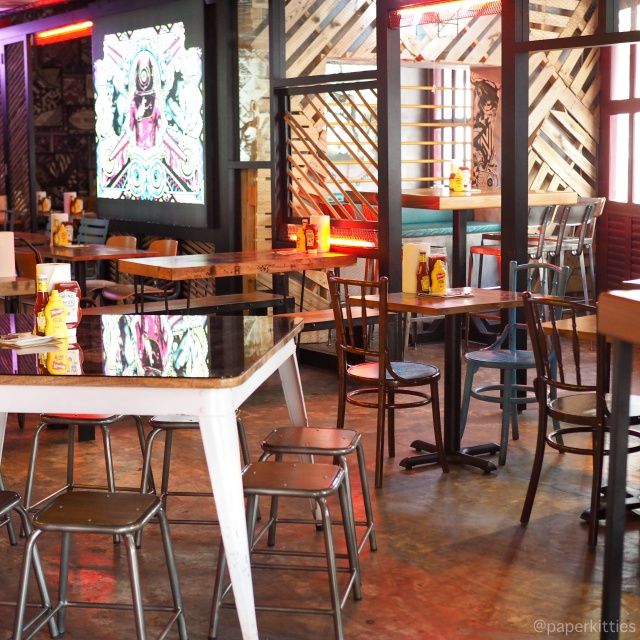 Graffiti x Neon, the vibrant interior that screams of edgy décor and punk tavern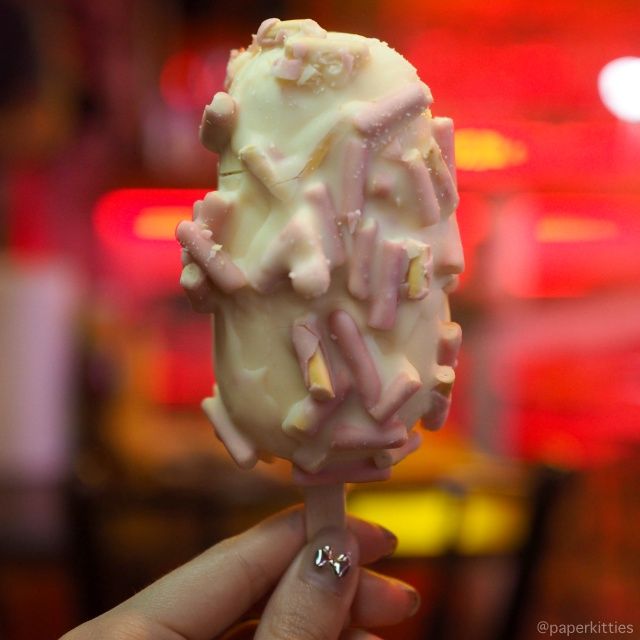 The grand finale to our sinful meal: Neh Neh Pop ice creams! I choose
strawberry pockie
that's basically vanilla ice cream with huge strawberry swirls, coated with white chocolate. So adorably yummy, I felt like a kid again!