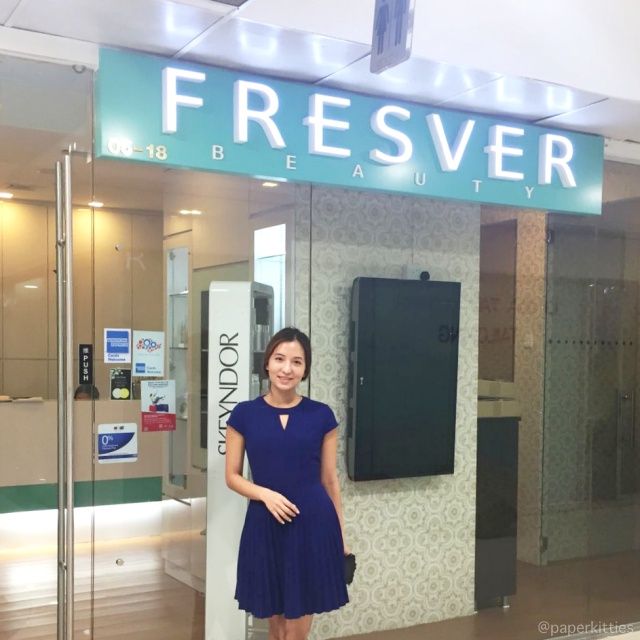 One of the perks of working near town is the gazillion things I get to do during my lunch break :B This time around, I've decided to fully utilise my lunch break for a much needed facial at Fresver Beauty – a spa and wellness boutique in Singapore that's as old as I am! Out of the 3 outlets, I've chosen the most conveniently located one at FEP to experience their award winning Hydra Perfect 3-in-1 facial. This facial treatment promises extra smooth, glowing skin and has even won Singapore Women's Weekly Best Perfecting Facial 2016.
After my skin analysis and consultation, we narrowed down my skin concerns to 3: combination skin (blackheads and clogged pores on T-zone), uneven skin surface and post-acne scar. As Hydra Perfect is able to target a wide variety of skin problems, coupled with Fresver Beauty's top tier skincare.. I know my skin was in for a treat!
Without further ado, I was first treated to an aroma ritual head massage to calm my nerves and get myself settled in for the facial. This was then followed by the usual double cleansing as expected in all facials.
Remember the main skin concerns I was talking about earlier on? Fresver Beauty had broken it down into 3 skin treatments that was added into my facial. Basically that's how the treatment package will be like at Fresver Beauty where they will always treat your skin in accordance to the current skin problems you are facing.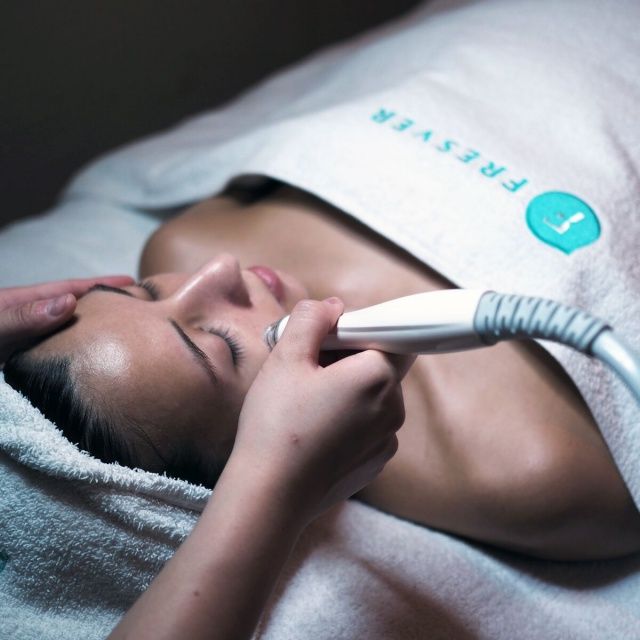 My first skin treat was
hydra exfoliation + optimal solution
that alternate pulses of gentle vacuum suction and vortex technology. Sounds terrifying but it is such a gentle procedure where the softening solution helps dissolve debris and dead skin before being coupled with vortex technology that pushes the product deep into the dermis layer of skin, so that pores are decongested and cleaned thoroughly. There's 2 different solutions and intensities where the solution 1 (mild) is used on my entire face whereas solution 2 (stronger) was only used on my T-zone. Vacuum suction then gently sucks up all the debris, cleaning and clearing skin thoroughly to prevent future breakouts from clogged pores whilst simultaneously allowing nutrients from skincare products to better penetrate into the skin. My therapist then finished up with a Hydra Exfoliation that uses water to exfoliate, they are so gentle it won't damage one's skin. Ultimately, any remaining debris will be softened and more easily removed by facial extractions.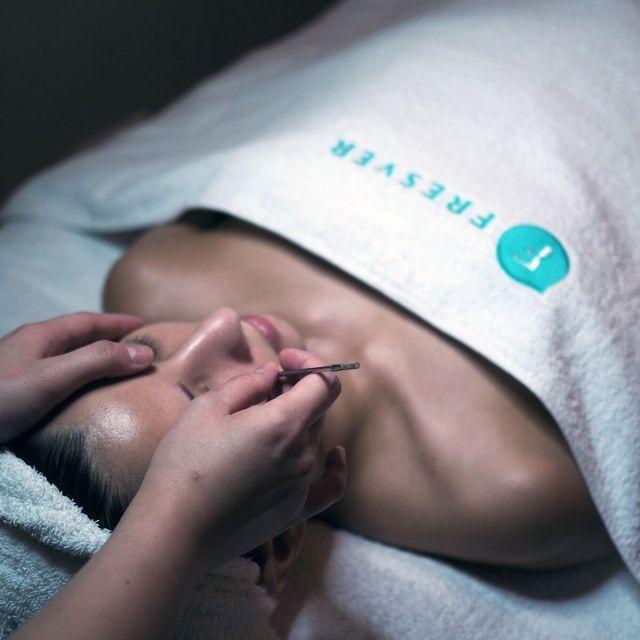 As this was my first experience with Fresver Beauty, only light extractions were done on my face as they wanted to evaluate on my skin condition before the next treatment. Nevertheless, my therapist was still kind enough to extract as much pesky little bumps and blackheads as she could while ensuring minimal redness so I could head back to work straight after without touching up!
The redness was further reduce by my second skin treat:
Cryoboost Customised Therapy + Hydrating serum
. Cryoboost is a refreshing therapy that is especially great for dry, sensitive or troubled skin. By using an exclusive carrier plate that emits microsonic waves, this machine gently pushes a customized serum deep into the skin. For my skin, an intense hydrating serum was used to plump and lift the skin, thus making it appear smoother and brighter. The icy cool plates of the machine, brings down skin temperature to tighten pores and close it up after extraction, soothing skin and reducing redness. As a whole, this therapy brightens, tightens and lifts the skin. I particularly enjoyed this step as it was so comforting to feel the coldness gliding around my skin 🙂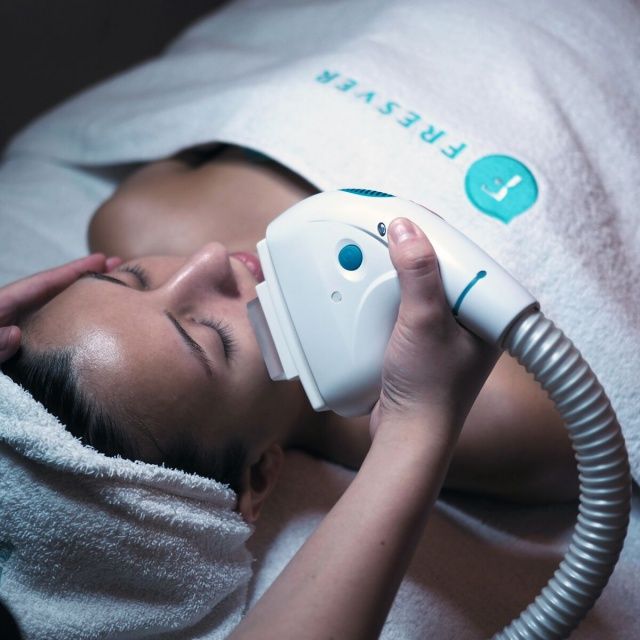 This was then swiftly followed by the final skin treat:
PTF Plus Localized Treatment
to spot treat my post-acne scar marks. wAn upgraded patented advanced technology from IPL, PTF has many different spectrum of lights that promotes the production of collagen, improves microcirculation and enhances vascular function to bring about a smoother, lifted and more radiant countenance. It also attacks bacteria on the surface and in the sebaceous gland to prevent break outs and soothe skin. I didn't expect much from this final treat initially as I have been trying to lighten my acne scar for a month, so imagine my amazement when I saw how this PTF effectively lightened mine in just one treatment with zero pain, zero downtime! I need more please!
Oh it just keeps getting better.. Facial lymphatic massage is always a good idea to fix a bloated face whilst removing toxins. Add that in to a mid-day treat, I wish it would never end.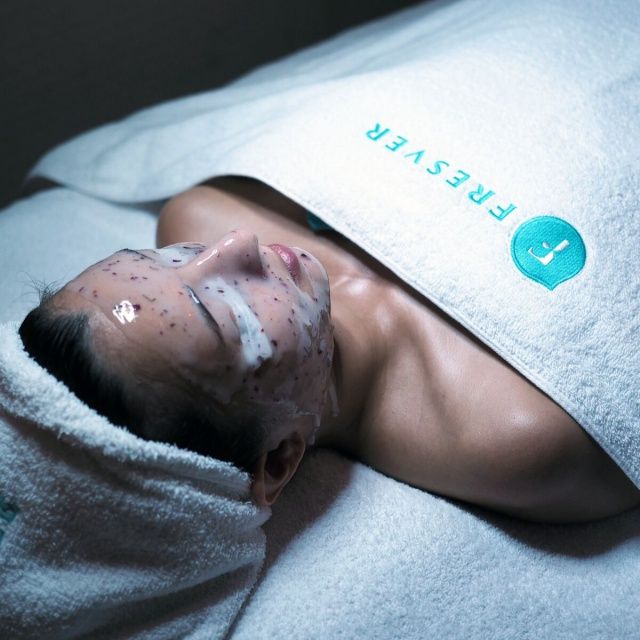 But it did, and I was well "compensated" with a customised rose mask to hydrate and tone my skin whilst restoring suppleness and radiance. Infused with rose petals, it smells so amazing I actually dozed off. Lol.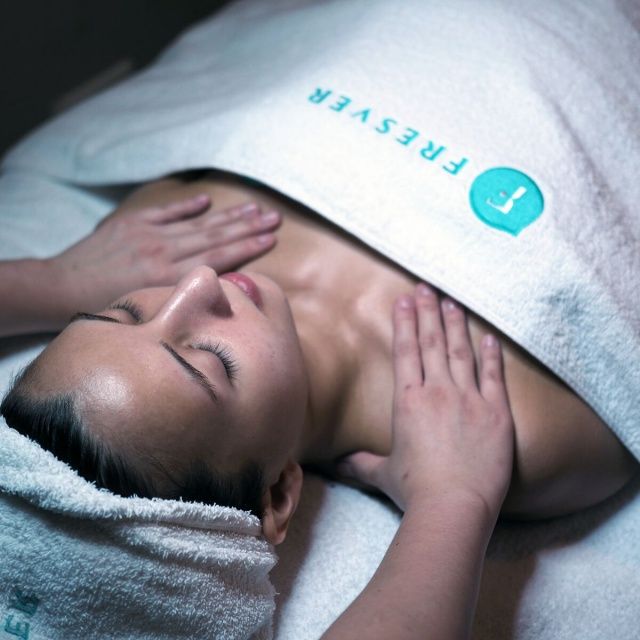 To end things off with a bang, my facial treatment was wrapped up with an awesome shoulder massage that I'm currently yearning for as I type. Obviously it was too early to see how effective the entire treatment will be in just one facial; from my experience, results can only truly be seen after at least 3-4 months of intensive treatments or 6 months just to be safe. But I would say that overall I'm impressed with the sincerity in the service and how serious they are in ensuring my skin receives the best treatments that it needs. This made-to-tailor Hydra Perfect Facial Treatment sure gives me the confidence in the brand 🙂
You too can enjoy this special trial simply by quoting:
– BG-Alene1 for a Complimentary Cryoboost Customised Facial Therapy (worth $160) (for first 30 redemptions).
OR
– BG-Alene2 for a Special Trial of Hydra Perfect + Cryoboost Customised Facial Treatment@ $58 (worth $540)
To redeem: SMS your Name, Age and the Trial Code to 9011 1234. T&C: -For first time customers of Fresver Beauty aged 21-65 years old – SG, PR, S or E Pass Holders ONLY -Promotion ends 31 October 2016. x