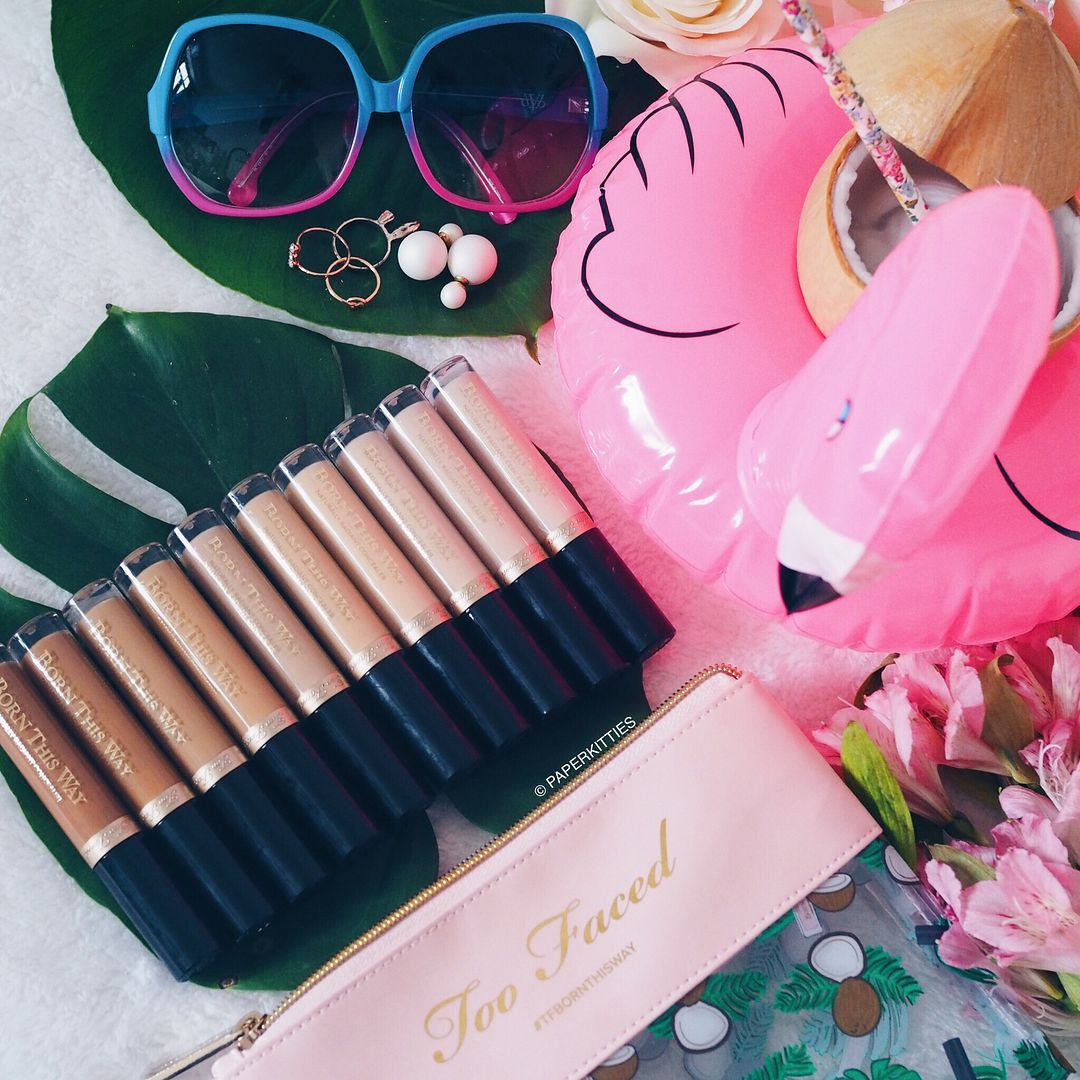 Concealers are a staple in my daily life ever since I was 12 – when I first noticed the existence of my dark eye circles. I have since gone through different brands/pots/sticks/coverage to get me through these years of panda eyes along with angry teenage acne. I had two holy grails, MAC Studio Sculpt and Ettusais Premium Perfect Clear Up Concealer, that had since discontinued and pulled out of Singapore respectively.. so what's next?
Ever since my acne had cleared up and my face was very well prepped for the wedding, I have avoided foundations and cushions as much as I can. Not concealers though, never. Today, I'll be talking about one of Too Faced bestselling product: Too Faced Born This Way Concealer, to achieve your flawless "no-makeup makeup look" whilst covering the necessary flaws!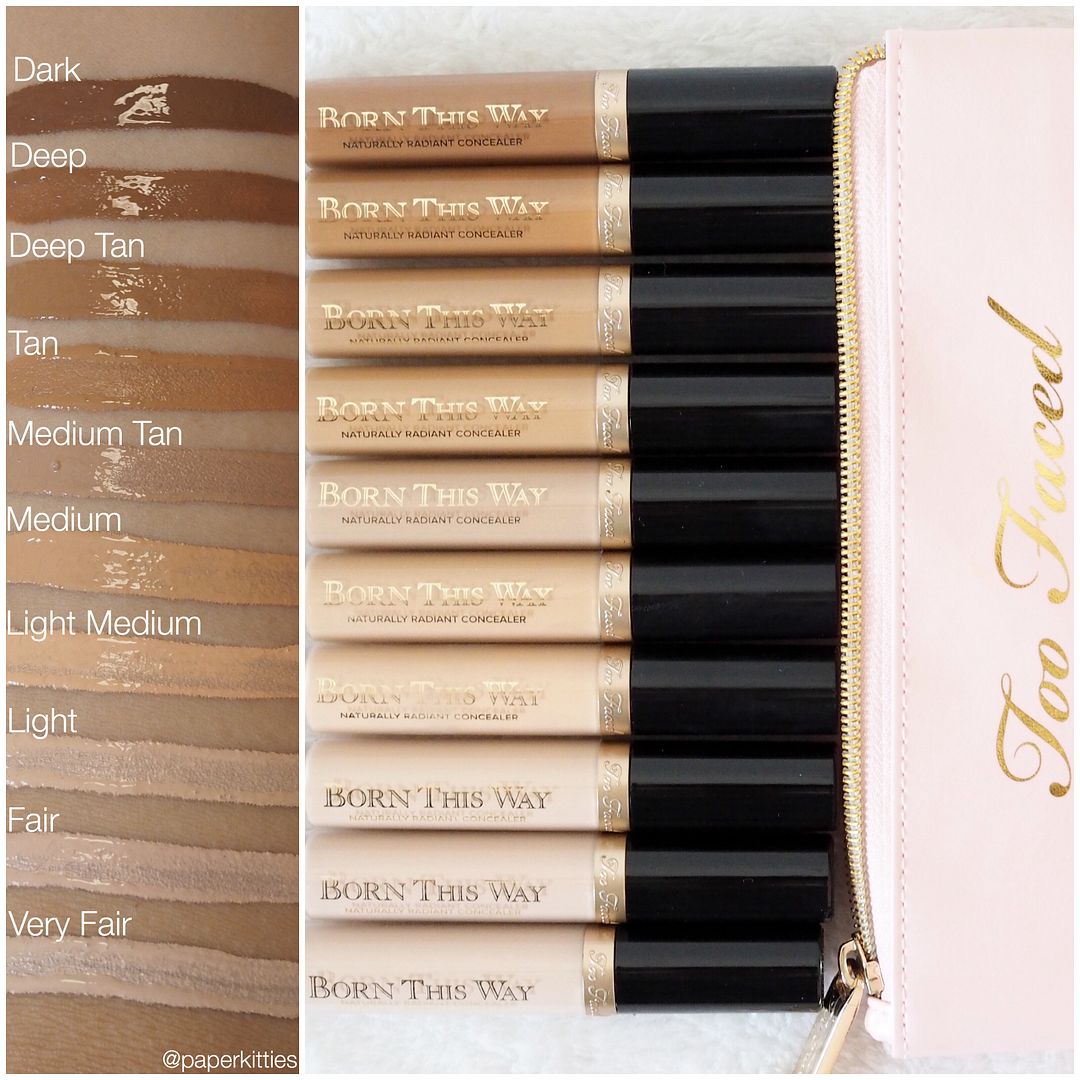 Too Faced Born This Way Concealer Swatches
Too Faced Born This Way Concealer
comes in 10 beautiful shades from
Very Fair
to
Dark
as swatched above, but please note that the first four shades (Tan, Deep Tan, Deep & Dark) will not be available in our Singapore Sephora outlets though.
I'm between Light and Light Medium as the former is steered towards the pinkish side whilst the latter is more yellowish; thus, I tend to mix them if the need arises. For my dark eye circles, I would say that it need two to three coats before my panda eyes gets concealed and brightened. Just one coat is needed for my acne scars though 🙂 What I like most is its staying power, and how it doesn't crease throughout the day even though my eye area tend to be pretty drying. The oil-free texture itself is commendable too: smooth, weightless finish that blends easily! An interesting ingredient that I like (which can also be found in their Too Faced Born This Way Foundation) is the coconut water for moisture, and yes, the light whiff of coconut water is so delightful~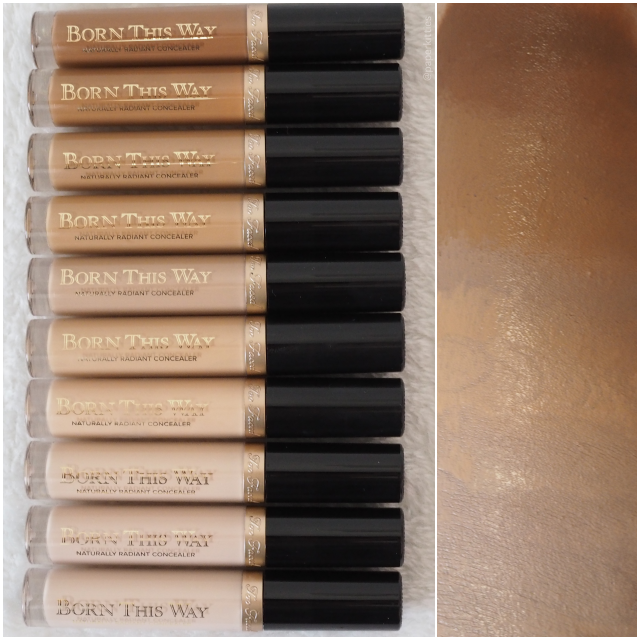 Too Faced Born This Way Concealer, blended
All in all, though it did not make the mark for my next holy grail concealer (as I need heavy duty coverage for my horrendously heriditary puffy dark eye circles to be concealed), I still find myself reaching out for it on days my face feel dry or when I'm out on a roadtrip! As my skin is on its transition period between oily/combination to dry,
Too Faced Born This Way Concealer
have been comforting to use as it hugs my eyes very nicely whilst keeping it hydrated. I personally find it more ideal for more mature ladies as it does blurs the look of lines and wrinkles.