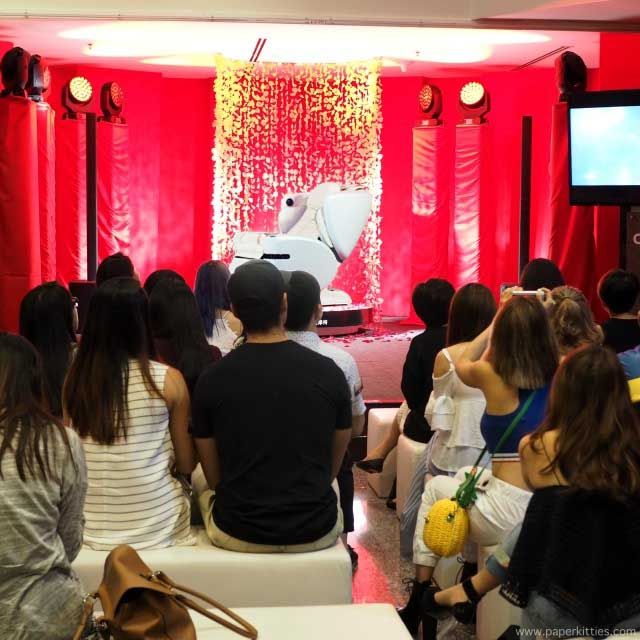 Throwback to last Wednesday when I had the awesome opportunity to pop by OSIM for the unveiling of the gorgeous new ambassador, Fan Bing Bing, for their uLove massage chair. It's no surprise that Fan Bing Bing is the ultimate goddess who spares no expense in pampering and indulging herself – I have always loved reading articles from her that advocates and empowers women to always remember to love themselves a little more by taking real good care of their skin (cuz if you don't, who will?). Now, we have this amazing woman revealing her beauty secrets to us: hydration and massage!
And no better way to introduce OSIM's uLove 白马王子 massage chair than alongside the new ambassador right?! This all white massage chair was love at first sight for me, so stunningly elegant and a perfect fit for my future dream house. I knew I was in for a treat when we were each led to our individual OSIM uLove massage chair for a 30mins massaging session..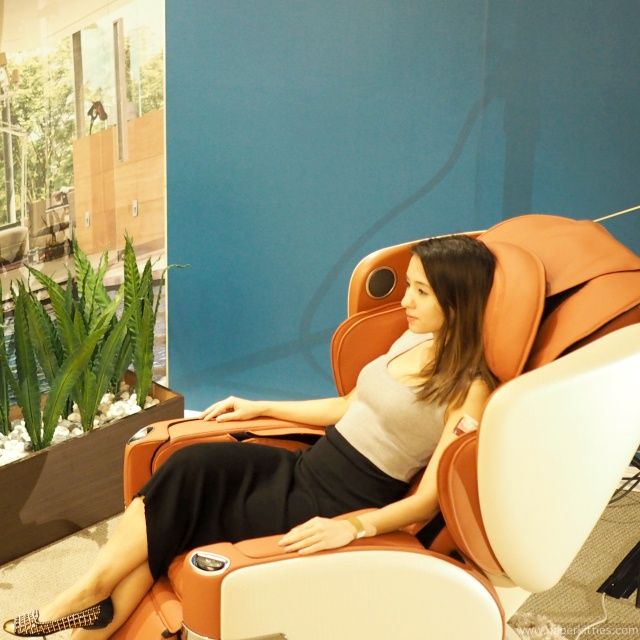 Dashing Copper
But first, let me bring you to the "Lifestyle" aspect to this massage chair. And that is none other than the handsome sleek design and 5 gorgeous colour to choose from, versatile enough to suit different modern living space! All that was missing at the preview was
Charming Red
– which I can only imagine how sexy that sleek machines could look like.
Handsome Brown
Each OSIM uLove is upholstered in quilted and modern weave leatherette and it has got to be the most comfortable massage chair I have ever sat on. It was akin to a luxurious hotel bed as I sank into it, I didn't really wish to get up if I had a choice.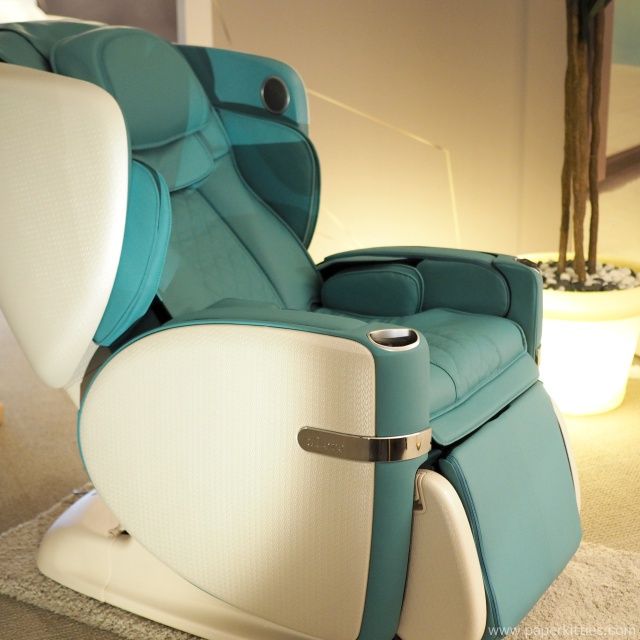 Gorgeous Teal
Other than the
Dreamy White
, this was my next favorite shade too! It looks so fun and young, so different from the usual massage chairs design/colour scheme we are used to. It is also thoughtfully designed with retractable remote tucked inside a hidden panel and omg, the surround-sound speakers~~~ This is the epitome of couture luxury chairs!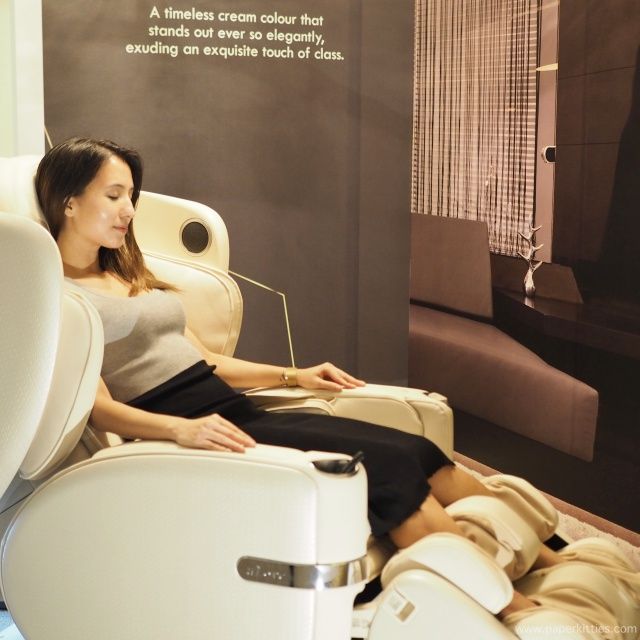 Dreamy White
Now comes my personal review after my 30minutes experience at OSIM's uLove massage chair: I want to buy one! I went for the experience with zero expectations because I haven't been on one for years. I was first greeted with surprise by the immersive audio system that plays soothing instrumental music to relax me before settling down to enjoy the professionally tailored programmes to hit all the right spot.
The first being the foot massage unit, in which I sink my feet into and get enveloped by the cosy feature that warms my feet. I have no idea how tired my legs actually were until they started being thoroughly kneaded and squeezed to loosen my muscles.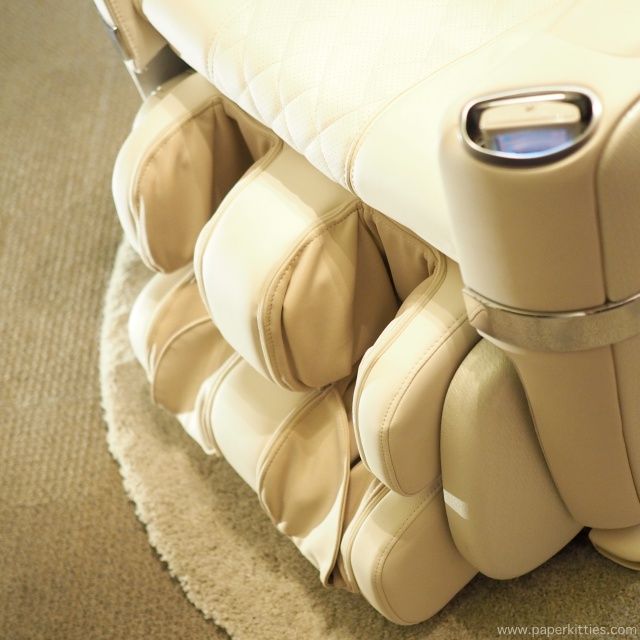 You'll be surprised to learn that the foot massage unit can be extended to fit different user's height, providing an even more personalised massage from your head all the way down to your toes!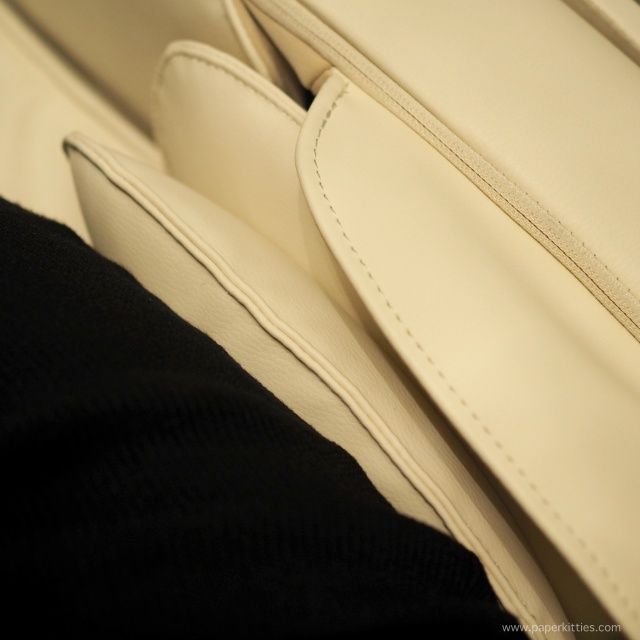 I find their signature massage programme so cute! There's one that's called the butt cuddle where the massage is targeted at your butt and back for those OLS like me who have a prolonged sitting lifestyle. One of the features was to literally squeeze my butt (comfortably), haha. And it comes with a soothing warm feature where warm air on the back helps loosen stiff muscles and joints. This could be on of the main reason why I can't help but keep finding myself dozing off when I initially willed myself not to – for fear of looking unglam. LOL. The state of relaxation was unavoidable!
And lastly, my kryptonite: shoulder and neck massages. At one point, the intensive massage pressure was so on point, I can't help but mumble at how shiok it was. It sure gave my neck and shoulder a quick relief from aches and tension after staring at the comp all day, every day. At SGD$5,999, OSIM uLove Massage Chair definitely ain't cheap but it sure brings couture lifestyle to another level and add a touch to any home!
For a limited time only, the OSIM uLove retails at Special Preview Price of S$5,499 (UP S$5,999) & will be exclusively available at the following:
-OSIM uLove Preview Shops at Tampines Mall #B1-05, Causeway Point #B1-37, Nex #03-05, Jurong Point (B1-34A/35/36) & Takashimaya B1 OSIM Counter
-OSIM uLove Preview Roadshows at Parkway Parade L3 & Suntec City L1 (20 Jun-3 Jul), Causeway Point L1 (27 Jun-3 Jul), VivoCity L1 (28 Jun-4 Jul)
-Online at www.OSIM.com
Find out more about the OSIM uLove at ulove.osim.com
x