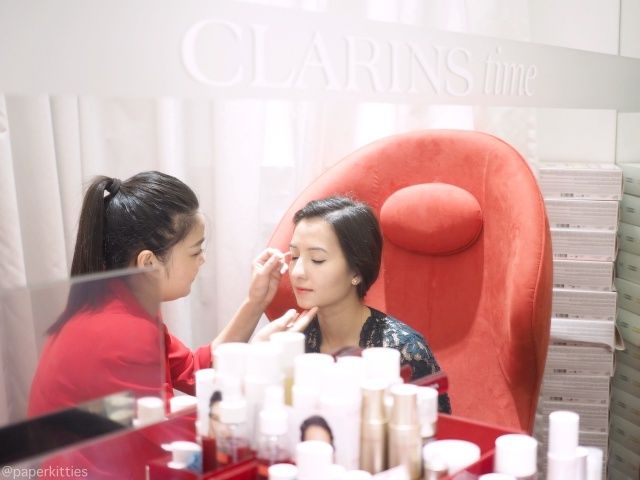 I have always loved
Clarins
since my undergraduate days; afterall, living down under have kinda altered my mindset that plant-based beauty products are always very much preferred. In fact, they have so many awesome local natural but affordable brands, that has got to be one of the things I miss most about Australia. Back here, it's pretty hard to find good natural brands that won't burn a hole in my pocket, so it makes me very thankful that I still have my good old
Clarins
to rely on. This is especially crucial since my Big Day is drawing near, I am ever on a quest on spots reduction due to the unfortunate post-acne scars I have been putting up with for quite awhile. Doesn't help that some side profile shoots I did a few months back showed quite severe dark spots on my cheeks 🙁 Though easily covered by a medium coverage foundation, which bride doesn't want her skin to be as perfect and radiant as possible right? If I could, I would rather be using light coverage makeup and have my glowing skin shine through my wedding luncheon. So without further ado, I popped over to
Clarins'
counter for a quick consultation on the perfect products best suited for my current skin problems!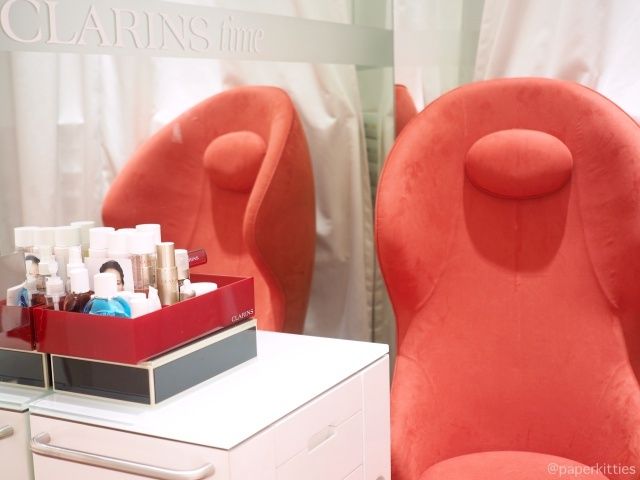 I was assigned to Holly, beauty therapist for this private session, whom also patiently answered all my questions and taught me so much skincare tips, I couldn't be more grateful for her experience and generosity.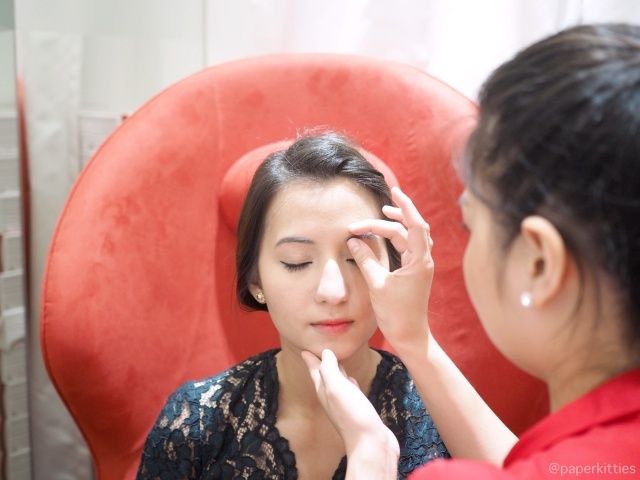 After filling up a form to identify my skin concerns, Holly proceeded to analyse my skin with only her sense of touch such as skin elasticity and hydration level – no fancy equipment used.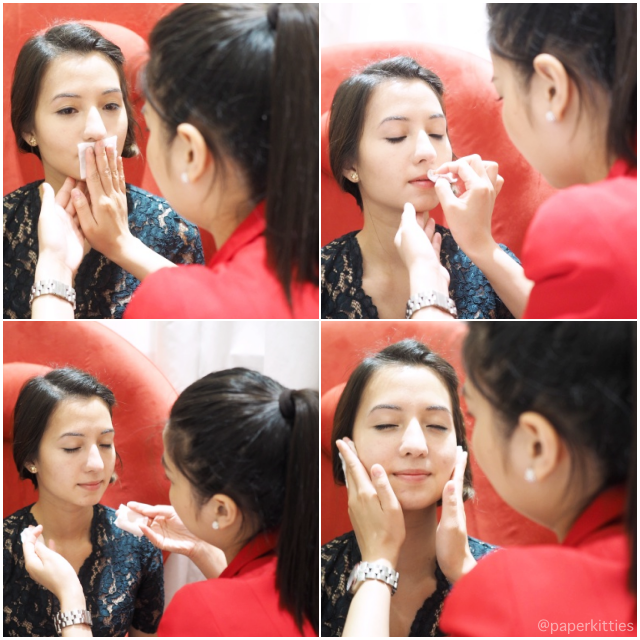 Holly then proceeded to introduce a set of skincare products she felt would be most suited for my skin. Whilst explaining each step along the way, my makeup was removed for the session (except for my eyeliner for some saving grace. Lol). In this case,
Clarins Instant Eye Makeup Remover
was used to remove my eye and lip makeup (it is actually good for heavy duty mascara and eyeliner too) before using
Clarins Water Comfort One-Step Cleanser with Peach Essential Water
to remove the rest. I really love the latter by the way as it smells faintly of sweet peach that I ended up buying after. 😛 We finished this mini cleansing session up with
Clarins White Plus Brightening Pure Aqua Lotion
(in layman terms, toner) and ensure my skin is dry before moving on to the main topic of the day~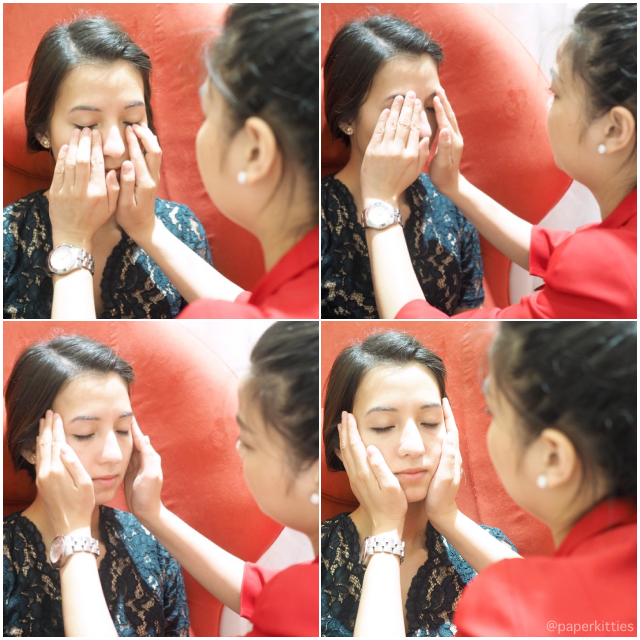 Next, I was introduced to
Clarins
Science of Touch. Many of us tend to apply without thinking much, as long as it is in a clockwise/upward motion, yet these may caused unnecessary tugging that invokes wrinkle and fine lines. Instead
Clarins
focus on applying their skincare products in pressing motions namely the natural touch where you apply products to your face and neck without pressing, before repeating the steps again, this time round pressing down on your cheeks, forehead and neck. This application method will help ensure that your skin is firmer and more radiant in the long run instead of the usual subconscious tugging and pulling.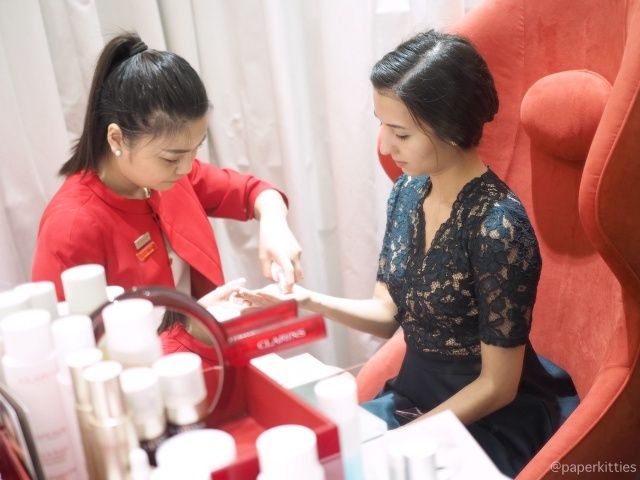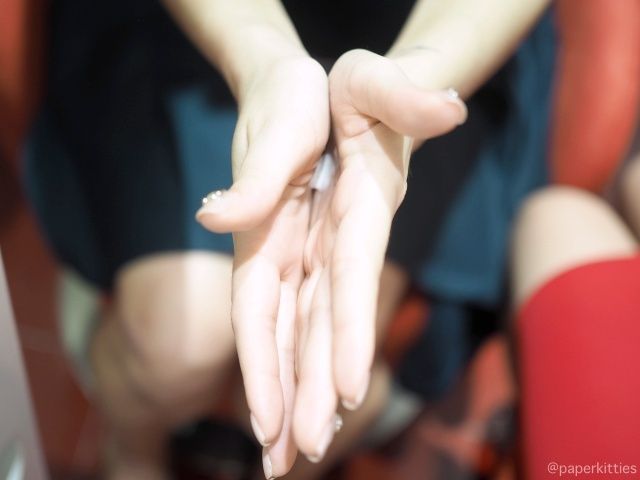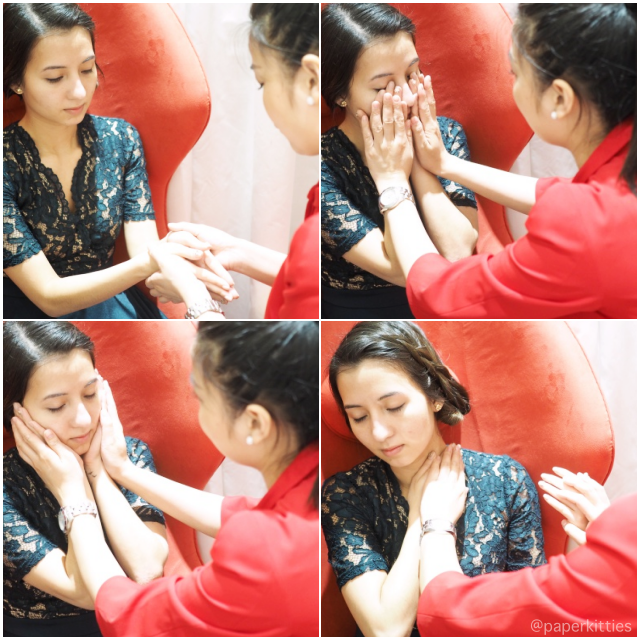 I was then given the opportunity to try out the steps myself, with Holly aiding me in the process to ensure the right amount of pressure is applied on my face at each time…
Before I eventually learn to apply it on my own. Here's a
tip
for eye care: Use three fingers to gently warm your eye cream to boost circulation and absorption. Using the same natural and pressure method as you would to your face, apply your eye cream outwards, starting from your lower inner corner.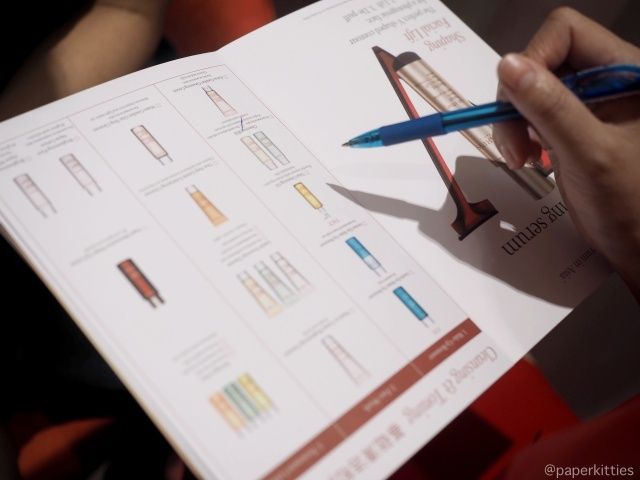 Luckily Holly was kind enough to tick every single
Clarins
product that would be suitable for my face so that I can easily refer to it for my next purchase!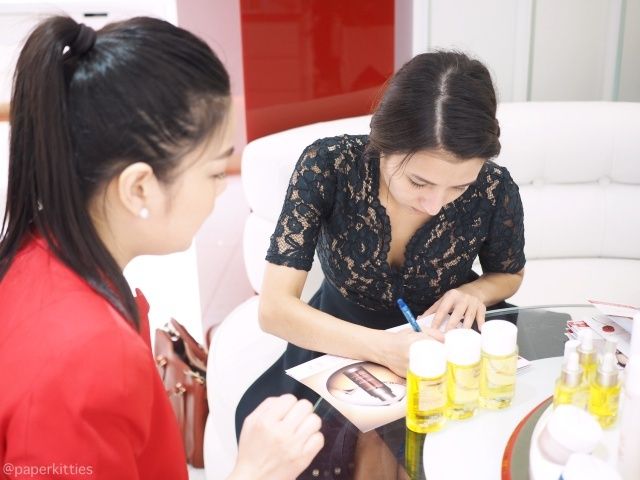 That's me writing down some of the tips she was sharing with me. I believe I was noting down the different methods I could experiment when it comes to applying
Clarins Facial Oil
.
Tip #2
: Apply
Clarins
Facial Oil twice a week, 3 drops each after toner. There's no need to apply skincare after which. For maintenance, you can mix 1 drop of oil with your toner every night, before proceeding to your next skin care step 🙂
Unveiling every beauty junkie's favourite moment: SAMPLES TIME!!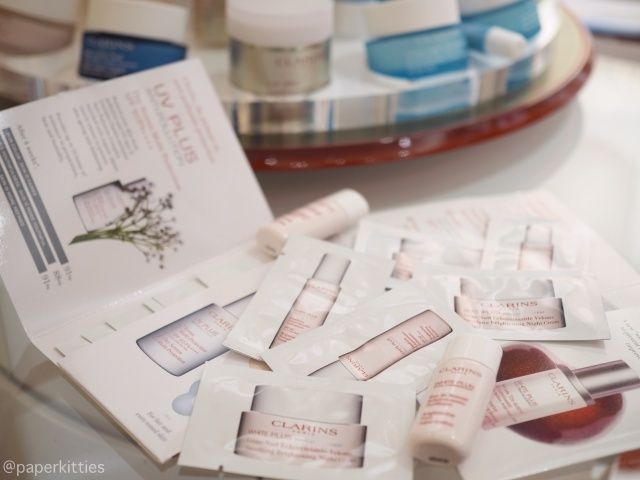 Thank you for the generosity,
Clarins
! I'm always thankful to the brands that allow us to try before we commit; no hard selling nor pressure to try on the spot because brands like these are confident that their products will work anyway! You too can try out the
Clarins White Plus Serum
simply by signing up
HERE
!
Well, these are just some of the products I have gotten from
Clarins
newly launched e-commerce site. When ordering online, I like to pamper myself by selecting the gift options when it is FOC so that it really feels like I'm opening a present for myself when receiving it 😡
Introducing two star products to you today, the first being
Clarins White Plus Tri-Intensive Brightening Serum
. I have been religiously using this serum, alongside its brightening hydrating emulsion counterpart, ever since I laid hands on it! Like I have mentioned earlier on, being a bride-to-be, it is really important for me to have luminous skin with minimal dark spots.
Clarins White Plus Tri-Intensive Brightening Serum
aims to reduce and slow down melanin production in the epidermis to improve skin complexion and aims to achieve a spotless, healthy glow that radiates from within.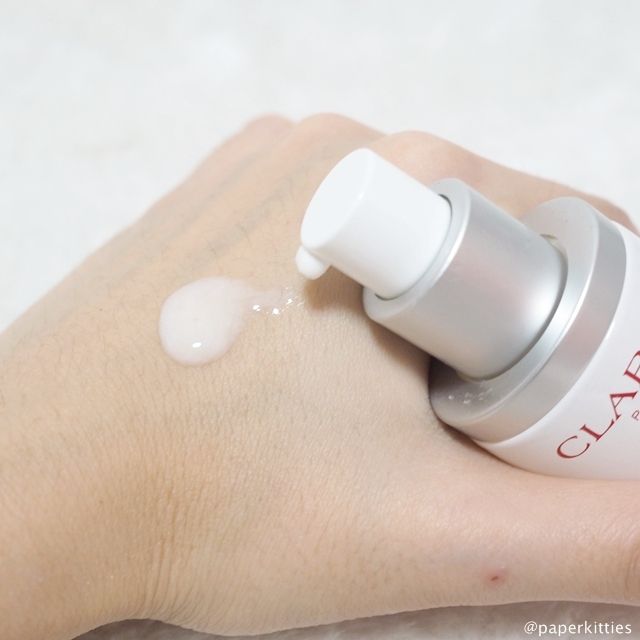 I have been using this serum for at least a month now, and alongside my
Prive "I Do" Bridal Package
, I am utterly impressed at the results. I have been having dull, tan skin for quite awhile now (to the extent I was going one shade darker than my usual choices), yet that is now the least of my problems!
Clarins White Plus Tri-Intensive Brightening Serum
helps achieve fairer and radiant skin with results in just one month for myself! Although my dark spots have not completely disappeared, new ones have at least stop appearing. Texture for this amazing serum is surprisingly lightweight and absorbs easily, making it an ideal product for both day and night use despite our crazy humid weather. These days, all I have to do is just apply sunblock and bb cushion for light coverage, and I'm good to go!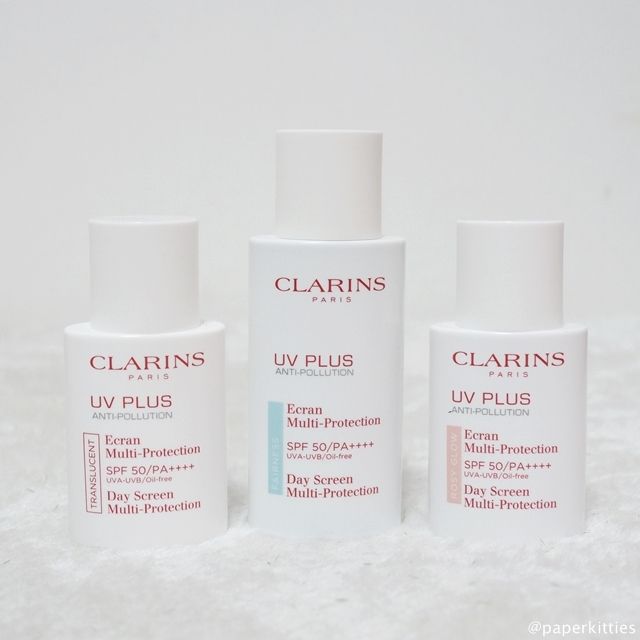 Speaking of sunblocks, I
ONLY
use
Clarins UV Plus Anti-Pollution SPF 50/PA++++
ever since I first tried it. No kidding! I used to be the kind of girl who can spend 24/7 under the sun as a camp instructor and not apply any sunblock at all. Even when I entered the beauty blogging world, it was still terribly hard for me to incorporate sunblocks into my daily beauty regime due to the fear of them being too greasy and having the high potential of clogging pores. Thus, I always choose foundations with some SPF for bare minimum protection. Well, all these finally changed after I received
Clarins UV Plus Anti-Pollution SPF 50/PA++++
that is..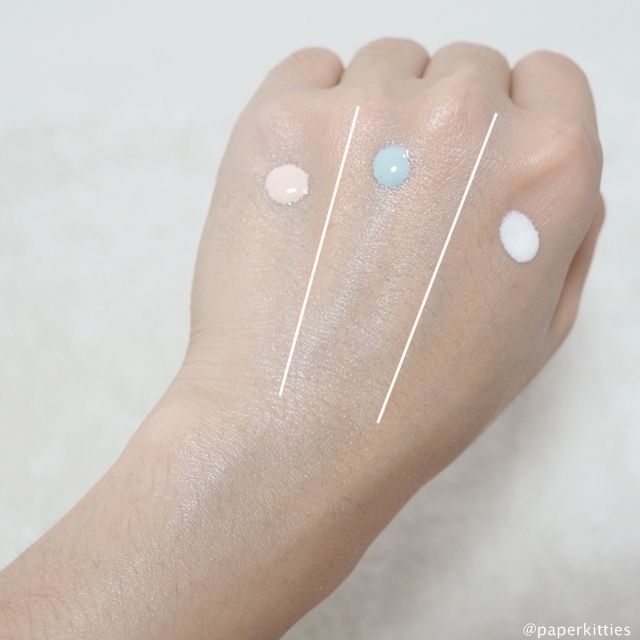 Available in three shades (L-R): Rosy Glow, Fairness, Translucent; there's bound to be one for everyone. White is definitely for those who just want to apply sun block for protection, whereas blue is for those with yellow skin and would like their skin to look fairer. The latter could be a hit or miss, if you are not that yellow, you may look greyish instead. In my opinion, the best best is definitely the pink rosy glow shade! Not only does it works so well as a sunblock, it acts as a primer to give your skin a much brighter and healthier complexion. On good skin days,
Clarins UV Plus Anti-Pollution SPF 50/PA++++
in Rosy Glow is all that I apply and get compliments on (as compared to not using Rosy Glow at all). The texture is super light and absorbs quickly with ZERO greasiness. In fact it seems to control oil really well as my makeup streaks lesser whenever I apply this sunblock. Clogged pores? Definitely not a single bit. I am on to my second bottle and my skin is seemingly getting better instead.. I really have no reason to ever stop using this holy grail!
Thank you Clarins for accompanying me in this journey to better, translucent skin.
You're my dream come true~

Follow my blog with Bloglovin ♥