Editorial
Holla!
I have been really overwhelmed as of late, mostly due to all the bridal preparation that takes up so much of my attention, my weekends are practically burnt. Yet I can't take much leave as I have already been doing so for more bridal stuff. Zzzz. All these resulting in really slow updates on all the wonderful beauty products I have been receiving so far! Please be patient with me~ Regardless, today's post is dedicated to helping the Women for Burkina. L'occitane's Global Programme has three objectives: to assist in literacy, to provide access to micro loans, and to promote entrepreneurial actions. L'occitane has since formed a strong bond with the women of Burkina Faso for the past 30 years, whose land have been produced shea butter by these meticulous women. And the chosen product is none other than…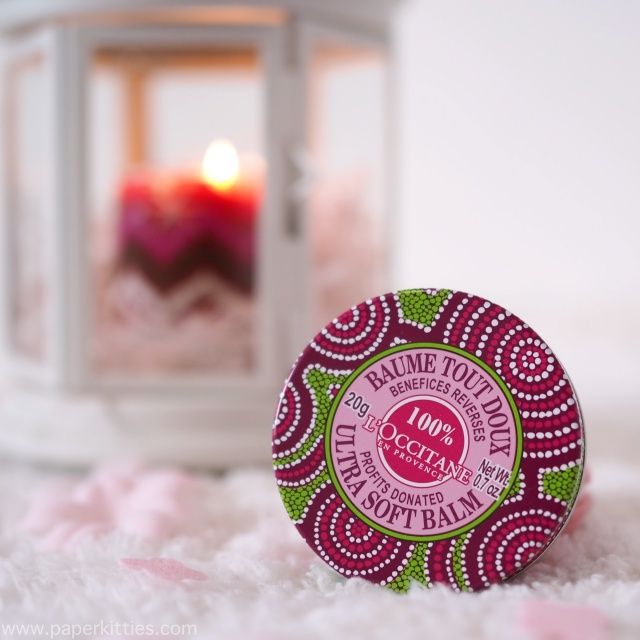 L'occitane Ultra Soft Balm, SGD$6.50
the Ultra Soft Balm! Featuring a blend of rose and shea butter (98.6% concentrated), this nourishing lip balm is solid and may require a little warming up to glide smoothly on your lips. I find the beauty of this product is that it is not just limited to your lips but also on cuticles, flyaway hairs, and even massaging it on my eczema! All packed in the festive gloss of bright hues that is reminiscent of African wax fabric, it is also a symbol of festivity and tradition deeply tooted in African cultural heritage. For only $6.50, all profits will be donated to NGOs, which support female leadership, and it looks so pretty in my makeup pouch without taking much space!
L'occitane Cherry Blossom Foie Floral EDT, SGD$70 for 50ml
And since we are on all things pink and beautiful, why not welcome Spring season with the newly launched limited edition Cherry Blossom Foie Floral collection by L'occitane?! Expect a breath of happiness when you spritz on this sparkling fruity floral composition of blossoming cherry trees in the spring. With citrusy top notes of bergamot, mandarin and orange; followed by heart notes of cherry petals flirting with rose and violet, Cherry Blossom Foie Floral EDT eventually settles to musk to celebrate the dazzling of nature reborn. I personally like how the scent is so light and fresh, it is perfect scent to trail along the everyday happy-go-lucky lady!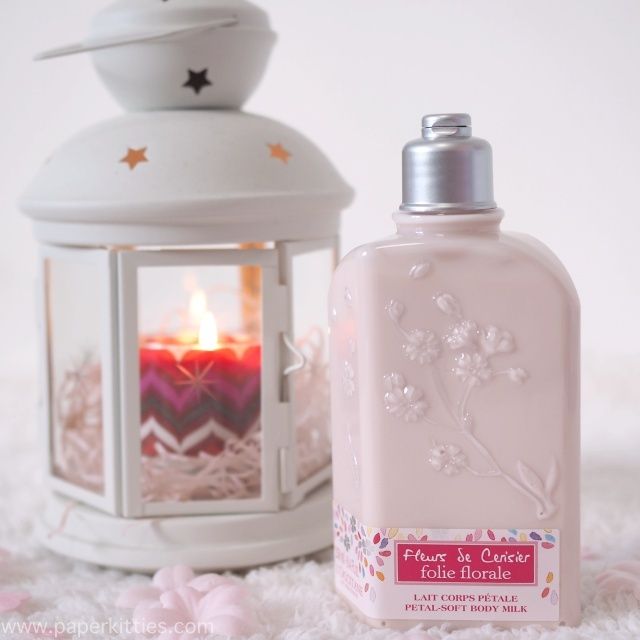 L'occitane Body Milk, SGD$48 for 250ml
A tip to having your favourite scent last longer is to always layer it with lotion first, then the fragrance. In this case, Petal-Soft Body Milk deliciously sinks into your skin to nourish and moisturise, yet it's lightweight texture means that there will be no greasy after feel – perfect for day use too.
If you would like to have your cherry blossom collection complete, this limited edition range also comes with Sparkling Flowers Shower Gel at SGD$33 for 250ml and Hand Cream at SGD$15 for 30ml. x
Follow my blog with Bloglovin ♥