One of my favorite flowers and scent has always been peony (Blair Waldorf days anyone?)! So it goes without a doubt that L'Occitane's Pivoine Sublime range came as a delightful surprise for me. A patented peony extract that's extremely rich in natural sugars, twhe Pivoine Sublime nude effect is all about natural beauty – fresh, rosy, hydrated and smoother skin.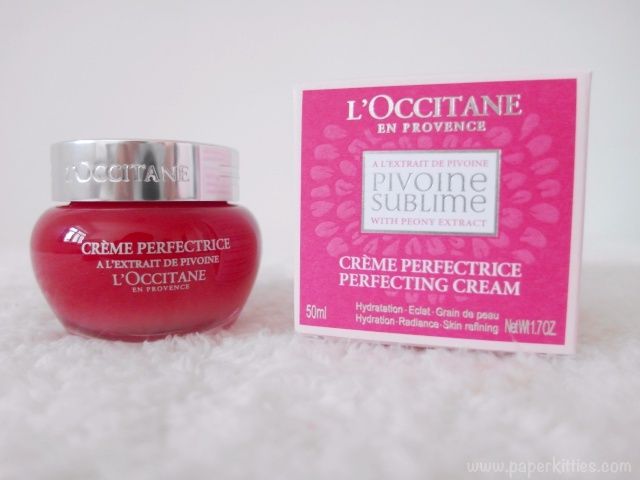 L'Occitane's Pivoine Sublime Perfecting Cream, SGD$67 for 50ml
Containing an intelligent texture agent that is able to adjust its hydrating action to climate and humidity levels,
L'Occitane's Pivoine Sublime Perfecting Cream
is set to leave your skin perfectly hydrated and smooth. The scent may not be as sweet as the mist, but it is definitely stronger (in a good way cuz I like it) with lingering scent even when fully absorbed – so this is really ideal if you love peony as much as I do. I was quite surprised to find the texture thicker and richer than I would have expected but luckily my skin is left feeling only slightly greasy. I wouldn't recommend using this cream during the day, especially when you have oily skin and lives in a humid climate, and was a little disappointed to wake up to an oily T-zone. I really think it is too rich for me despite its hydrating properties, and would be much better suited for dry skin types.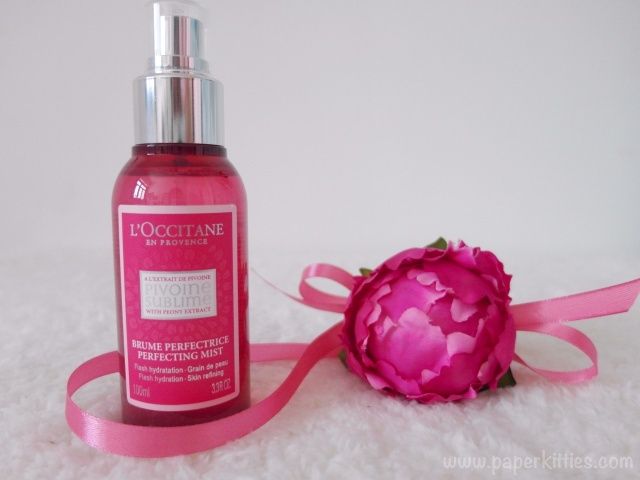 L'Occitane's Pivoine Sublime Perfecting Mist, SGD$28 for 100ml
Working and living within an air-conditioned environment almost 24/7, I am constantly trying out new facial mists to not only hydrate my skin but also to rejuvenate my senses. Facial mists are a must-have even when you are really lazy with your skincare routine. It serves as an instant pick-me-up in the morning, hydrates your skin and works as a brilliant beauty touch-up throughout the day! I love love love this
L'Occitane's Pivoine Sublime Perfecting Mist
not only for its subtle peony scent, but also the nozzle that spritz out an ultra fine mist to refresh and enhance my skin throughout the day. My recommended method of using it? Spray this mist into the air and walk towards it! I bet your mood will be lifted when you do so!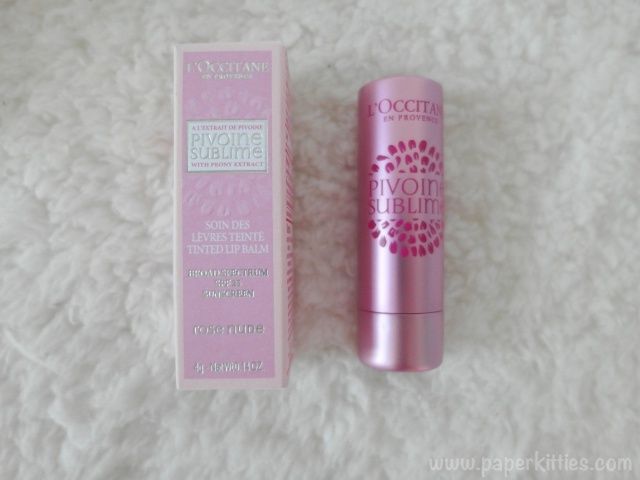 L'Occitane's Pivoine Sublime Tinted Lip Balm, SGD$33 for 4g
The
L'Occitane's Pivoine Sublime Tinted Lip Balm
comes in four colours and mine is in Rose Nude. Enriched with perfecting peony extract, this lip blam nourishes, smoothes and protects my lips with SPF25 while bringing my lips to life with its very sheer red hue. To be honest, it reminds me exactly of Fresh Lip Balm, works the same, texture is the same and is priced the same in Singapore too! I reckon it all boils down to personal preference? :X
Follow my blog with Bloglovin ♥