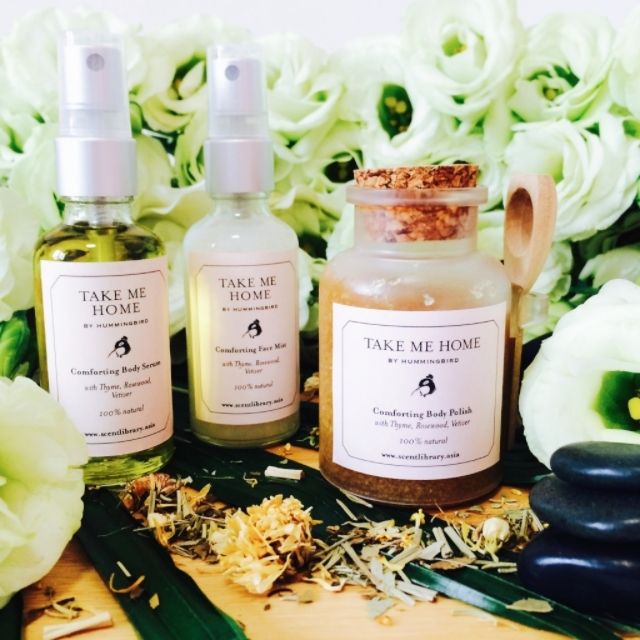 I first chance upon
Scentlibrary
when I was covering for Soozip's "Design Free Market" event happening at Orchard Central. If you didn't know, Design Free Market is an exhibit of handmade products made through a collaboration of Korean and Singaporean designers – some of the items can still be found in their level 4 Soozip store. So amidst exploring the Korean and local designers, I chanced upon
Scentlibrary
featuring a range of body scrubs, face mist and body serum
by Hummingbird fragrances
. Each product is created from natural ingredients (and are paraben free and vegan friendly) using only therapeutic grade essential oils for the most beautiful scents and aromatherapy benefits. It was hard to pull myself away from the stall after I fell in love with the calming and relaxing scent from the
Take Me Home
range. #supportlocalbrands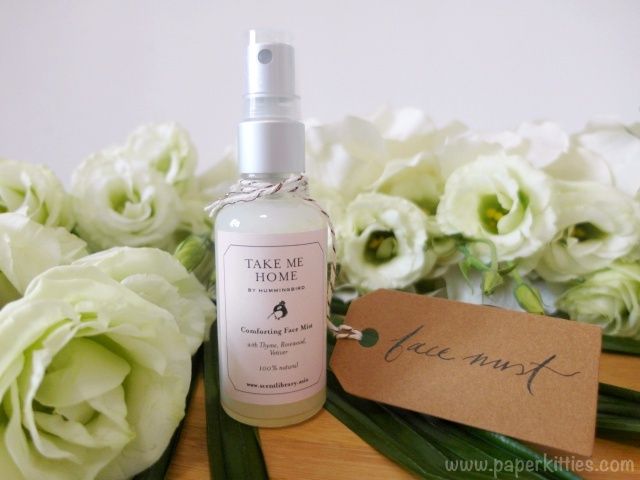 Take Me Home Calming Face Mist with Lemongrass, Rosemary, Thyme, USD$24.95
If you're constantly in an air-conditioned environment like I am, you will know the importance of a good face mist. It has to be hydrating enough, acting as an instant touch up, and most importantly, the scent. Considering how much I need to freshen up throughout the day, I very much prefer my face mist to have a soothing, relaxing scent for instant stress relief.
Take Me Home Calming Face Mist with Lemongrass, Rosemary, Thyme
has an earthy, woody scent with floral highlights. Now I don't normally steer towards such "dark, masculine" scent but there's something so therapeutic about these essential oils, I find myself leaning towards it than the other range. Concocted with six herbaceous and woody essential oils such as Lemongrass, Rosemary, Thyme, Rose Geranium, Rosewood and Vetiver; Vegetable Glycerin, Witch Hazel and Vitamin E are also some of the other ingredients blended in to hydrate, tone, calm and protect your skin from environmental aggressors.
Take Me Home Calming Body Polish with Lemongrass, Rosemary, Thyme
This
Take Me Home Calming Body Polish with Lemongrass, Rosemary, Thyme
is actually my utmost favourite in the entire range because it is so shiok! I save this treat for a twice weekly pampering, after a good workout, where I slowly massage it onto my skin.. enjoying how the raw cane sugar crystals are so big and grainy giving it a very thorough exfoliation against my dead skin cells; yet it is so gentle on my skin, melting after a few good scrubs and doesn't aggravate my sensitive, eczema-prone skin at all.
Psst, the wooden spoon is super cute and useful in scooping up generous loads of the body polish! Simply rub it all over your body, and leave it on for about 2 minutes to soak in the oils before washing off.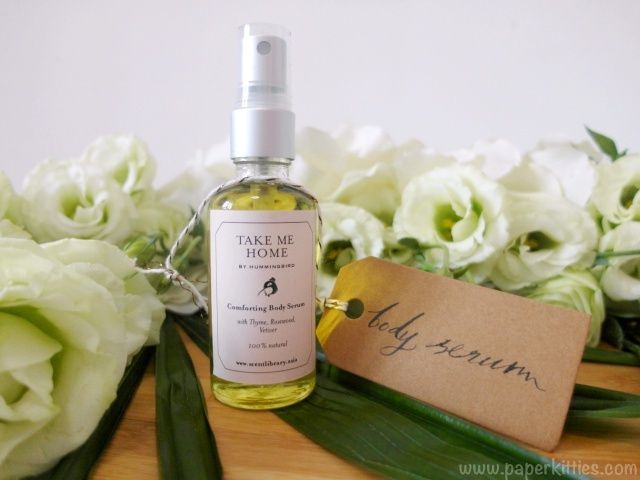 Take Me Home Calming Body Serum with Lemongrass, Rosemary, Thyme
Ideally, it is best to follow up with
Take Me Home Calming Body Serum with Lemongrass, Rosemary, Thyme
while your skin is still damp, to seal in moisture and soften fine lines after such a good scrub down. Let the oils soak into your skin for about 5 minutes before you get properly dressed, it also works as a scent layering when used after the polish. Of course, you can still use it on its own to seal in moisture and rejuvenates by toning, moisturising, and protecting your skin from environmental pollution. I love indulging in this routine after my hot yoga as it thoroughly relax and calms my nerves, giving me a very good night sleep! You can also customise your fragrance as well, in which I will be opting to choose more rose geranium in my next purchase since I always have a soft spot for it 🙂
You will be delighted to know that all of by Hummingbird fragrances products are handmade upon order confirmation to ensure freshness. As no synthetic preservatives are used, aka short shelf life, you can be assured to be benefiting from only the most natural, premium quality ingredients freshly made for you. If, like me, you are very into fragrances, scented candles, diffuser and the lot, you will be pleased to know that Scentlibrary also brings in some good brands that can't be easily found in Singapore. My favourite? Glasshouse candles! x
Follow my blog with Bloglovin ♥