Still focusing on the eye area, since our eyes are the windows to our soul, here are a few more makeup launches that will also be in the permanent collection and I certainly find them worth raving about!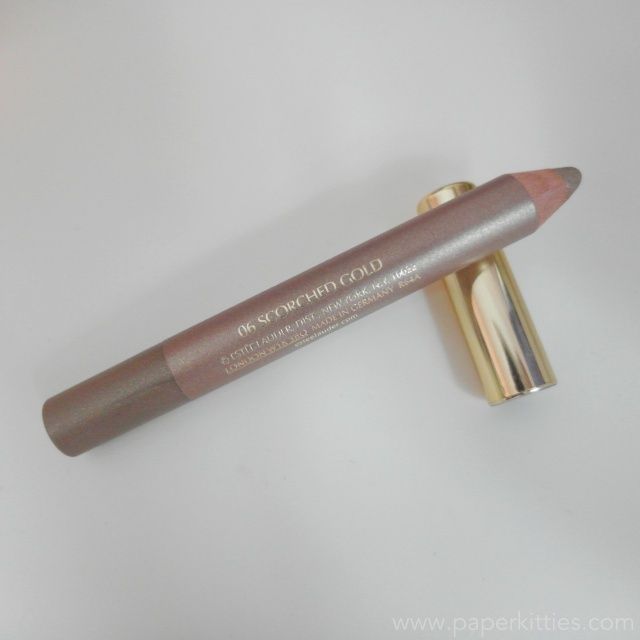 Estee Lauder Magic Smoky Powder Shadow Stick in #06 Scorched Gold, SGD$30
The new Estee Lauder Magic Smoky Powder Shadow Sticks are a bunch of innovative silky pressed powder shadow that easily sweeps across one's lids, over and under lashlines like magic. Its perfect for layering, and simple enough to create your ideal sultry smoky eye look with 8 shades in a variety of matte, satin and shimmer finishes. Boring old me didn't think much of using the Magic Smoky Powder Shadow Stick for smoky eyes initially, so I choose #06 Scorched Gold with the intention of using as a nice light shimmery gold base below my eyeliner for the casual everyday look.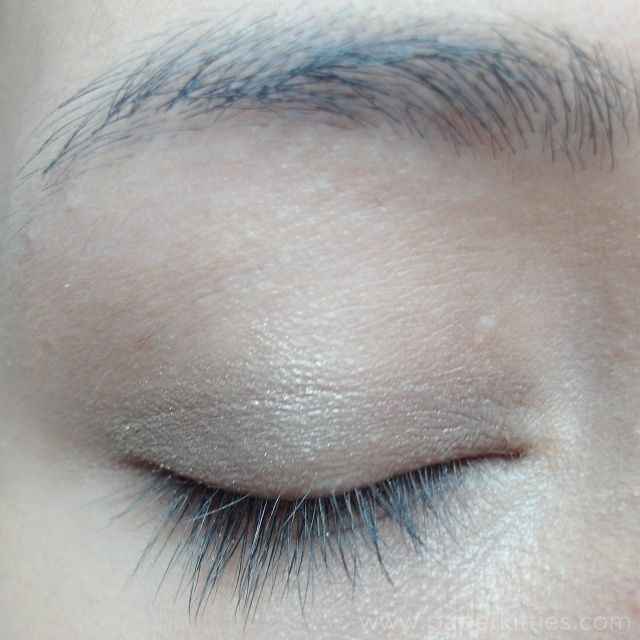 Eye Swatch (sans all my usual eye makeup)
I appreciate the ease in applying my eyeshadows with this jumbo pencil as it glides across effortlessly without the need of a brush and doesn't smudge the slightest bit. It basically lasts forever and I find it fascinating that the pencil rolls on like it is dry but looks soft and shiny when applied.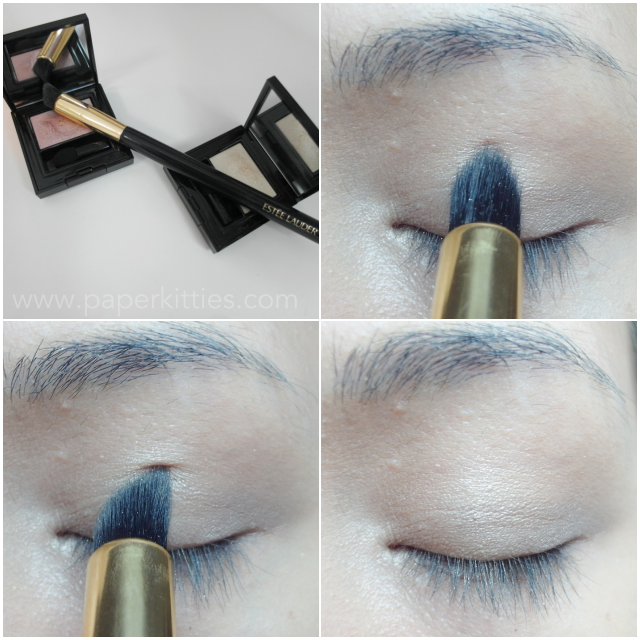 Estee Lauder New Sculpting Shadow Brush, SGD$50
Just a little beauty history for you kitties, shimmery eyeshadows started to kick off in the late 50s and colours were applied quite minimally and generally only one colour was used on the eye lid. For myself I like to layer my Estee Lauder Magic Smoky Powder Shadow Stick in #06 Scorched Gold with
Estee Lauder Pure Color Envy Eye Defining Singles in Impulsive Blonde
for that perfect 50s-inspired makeup look. To make sure my eyes pop, I'll apply Impulsive Blonde in the middle of my lids with the help of Estee Lauder New Sculpting Shadow Brush – an ergonomically brush that helps in perfectly fitting into the natural contours of the eye. The unique contour shape means you can be precise when applying eye colour to the corner and creases, or simply use the built-in tip for contouring, defining and lining.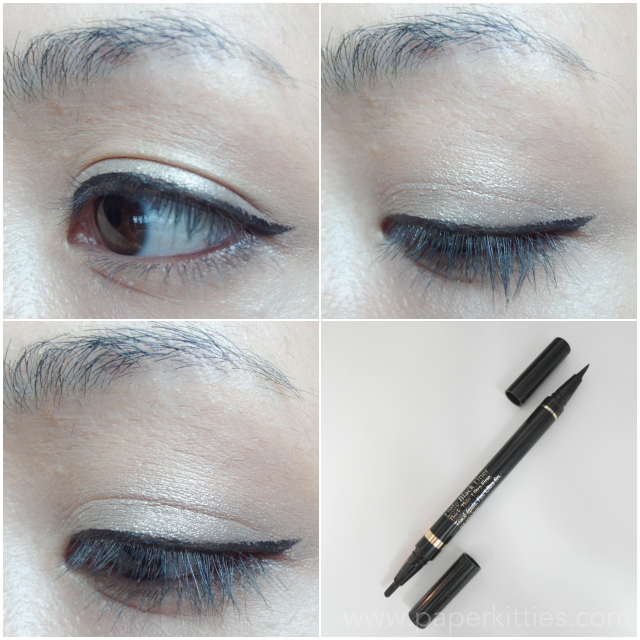 Estee Lauder Little Black Liner, SGD$50
Still on to the 50s inspired look, I'll use a black liquid eyeliner and carefully line my top lashes. The line should be dark and solid, sweeping outward and upward to "extend" the look of your lashes. To achieve this look effortlessly, I tend to steer towards Estee Lauder Little Black Liner where you can create three different eye looks with just one tool! This unique dual-ended waterproof eyeliner allows to create any look you're in the mood for, and is the perfect companion to the previously launched
Little Black Primer
!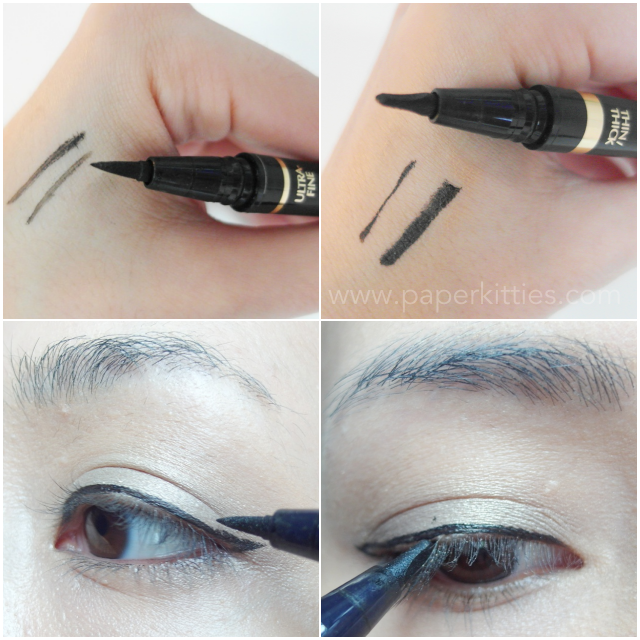 Little Black Liner Swatches in ultra fine and thin/thick
This is without a doubt my favourite eyeliner owned so far. It is extremely easy to manipulate the thickness of my line as it glides on ever so effortlessly, providing a smooth perfect line every time. For myself, I like to use the ultra fine side to determine the thickness of my eyeliner of the day before filling it in with the thinner side of the paddle applicator at the thin/thick side. If you have single eye lids or are in the mood of something dramatic, simply turn the paddle applicator 90 degrees for a bold and daring look!
As promised, below are some of the looks I have created with all the Estee Lauder Fall 2015 Collection products I have reviewed so far. I hope you'll like them as much as I enjoy being creative with them, and please, do let me know which is your favourite? 🙂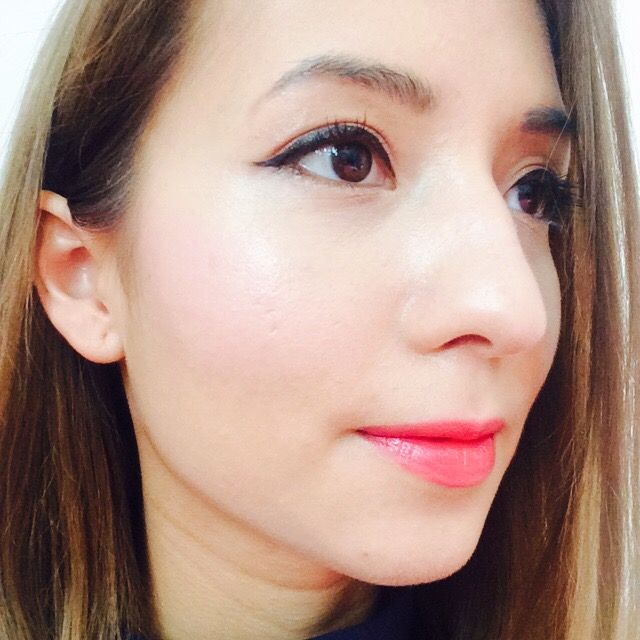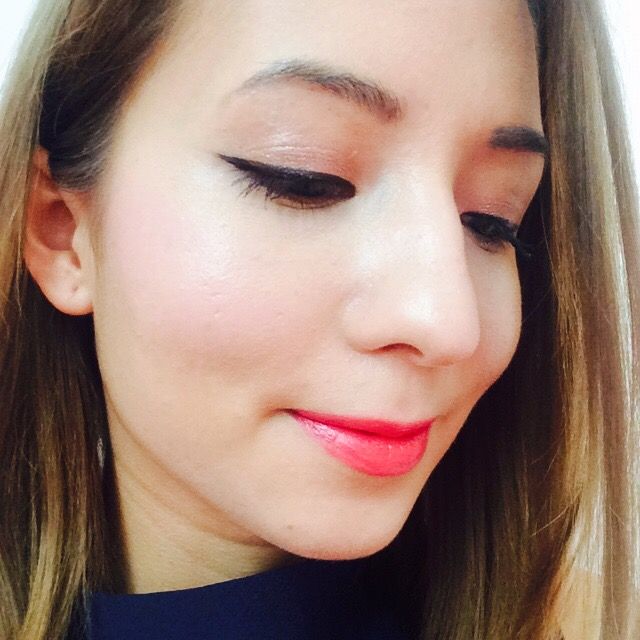 MOTD #1:
– Estee Lauder Pure Color Envy Eye Defining Singles in Magnetic Rose
– Estee Lauder Little Black Liner
– Estee Lauder Pure Color Envy Lip Potion in Naughty Naive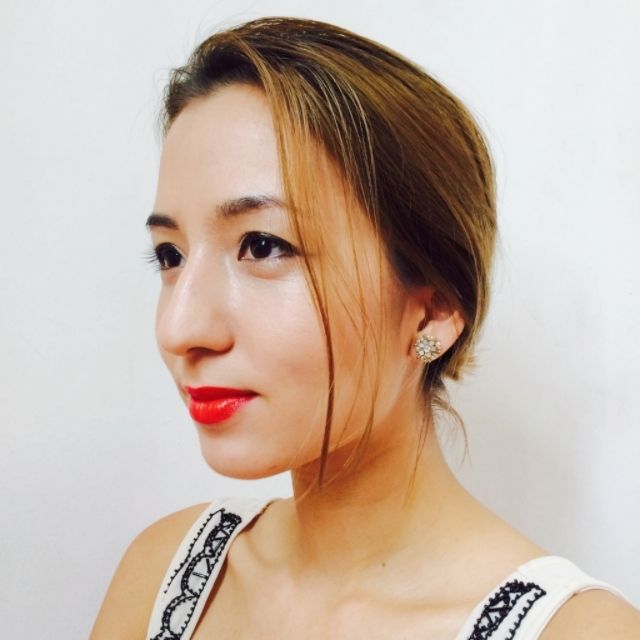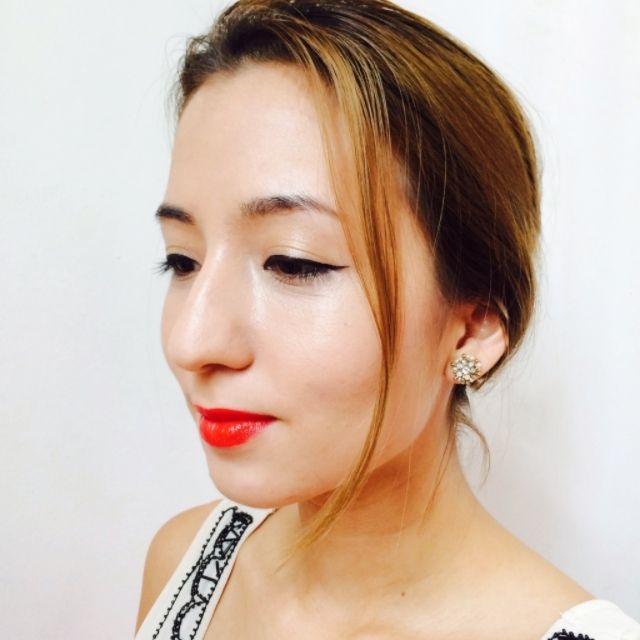 MOTD #2
– Estee Lauder Pure Color Envy Eye Defining Singles in Impulsive Blonde
– Estee Lauder Little Black Liner
– Estee Lauder Pure Color Envy Lip Potion in Lethal Red

MOTD #3
– Estee Lauder Pure Color Envy Eye Defining Singles in Impulsive Blonde
– Estee Lauder Little Black Liner
– Estee Lauder Little Black Primer
– Estee Lauder Pure Color Envy Lip Potion in Pierced Petal and Wicked Sweet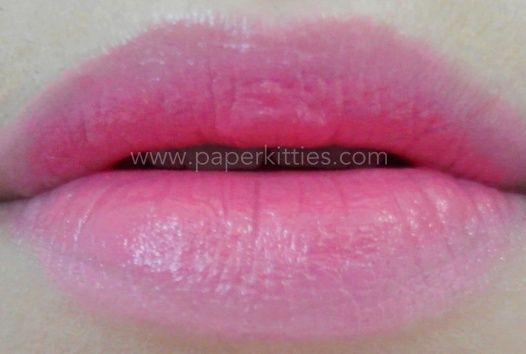 A close up of my ombre lips: Pierced Petal (outer) and Wicked Sweet (inner)
X

Follow my blog with Bloglovin ♥