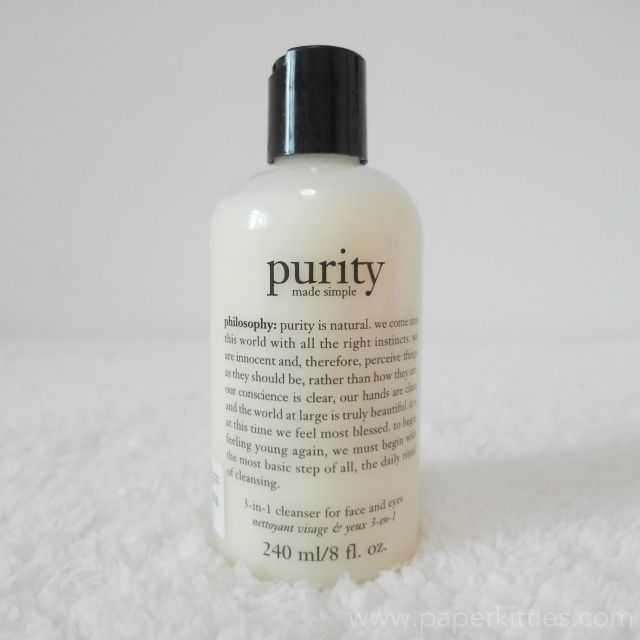 Purity Facial Cleanser
Many a times I have found myself loitering around the Philosophy's booth at Sephora, feeling spoilt for choice at the variety of products available from a skincare point of view. So if you ever find yourself at the same position as me, I'll recommend you the very first product to kickstart your Philosophy regime:
Purity Facial Cleanser
. There have been tons of rave reviews about this award winning cleanser is a crazy multi-tasker that cleanses, tones, dissolves away makeup and lightly hydrates in one easy step. Formulated for all skin types, it replaces your eye and/or makeup remover, facial cleanser and toner! and gentle enough for the sensitive eye area, while deep cleansing your pores with natural oil extracts to help condition skin.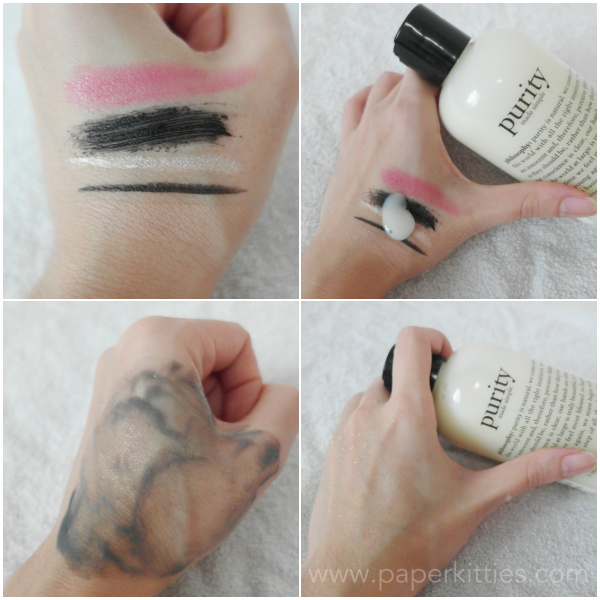 Best way to use it? With my clarisonic!
Purity Facial Cleanser
is super gentle and leaves no residue on the skin, daily makeup is easily removed without a trace (as seen above).. and let's not forget the botanical scent that is so relaxing to my senses after a long day at work. The texture is smooth, creamy and has just the right amount of foaming action (which is hardly any) but enough to give you that feeling that your face is thoroughly cleansed.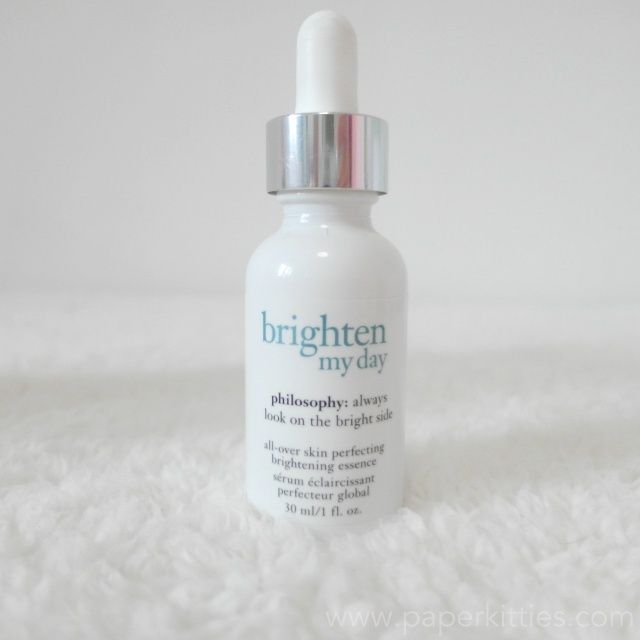 Brighten My Day (brightening & hydrating) Cream
After cleansing & toning, it's time for serum! I was quite confused with this product initially, it's called a cream with a texture much thicker than the serums I owned (and opaque too?) but it's a serum?! I was so worried that it will be too rich for my skin but my worries were immediately put at ease after massaging it into my face.
Brighten My Day (brightening & hydrating) Cream
has an ultra lightweight texture that absorbs almost immediately into my skin, leaving a slightly matte after-feel. It has claimed to address enlarged, darkened pores, redness and dark spots for brighter skin that boasts of a more refined texture in just four weeks. I have tried it twice daily for a week now, and one thing for sure, my skin is much brighter and luminous than before with my dark spots visibly reduced.. that could also be due to the next star item I'm about to review too: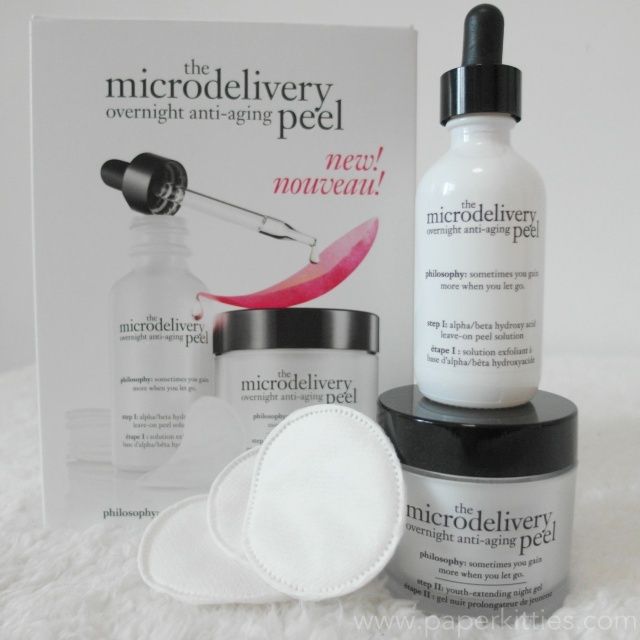 Microdelivery Anti-aging Peel
Used twice a week,
Microdelivery Anti-aging Peel
eliminate dead skin cells on the surface and help restore and prolong the look of fresh new skin underneath overnight, to counter the visible signs of ageing. There's always this unspoken fear of using peels at home due to the many terrifying reports over the years, but this has got to be the most gentle yet effective peel I have ever used! A two-step system that combines the immediate micro-exfoliation of a peel with the restorative benefits of an overnight sleep mask to virtually eliminate the potential for irritation for skin that appears healthier, it aims to improve firmness whilst diminishing wrinkles and pore size! I find it interesting to note that the
Youth Extending Night Gel
has a unique 'pudding like texture' that allows the gel to return back to its original flat unmarked surface no matter how deep a hole I've dug! I don't necessary use it for wrinkles since I have no use for it yet, but I am definitely never too young to start indulging in anti-aging products. However, I did noticed that my skin feels smoother, seems to glow more, dark spots are lighter (they have been around for at least a month..), and my enlarged pores look smaller! I'm still unsure if it is just the peel, or due to me using the entire range so faithfully throughout this past week, but nevertheless, I'm definitely impressed to say the least.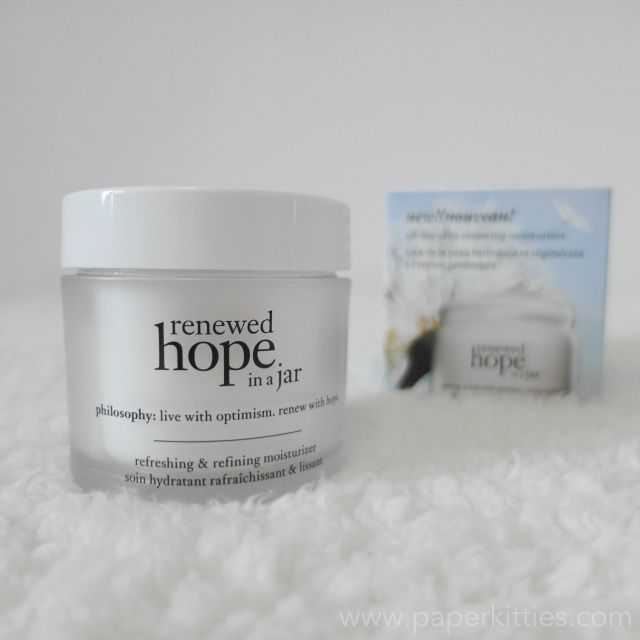 Renewed Hope in A Jar Moisturiser
Finally, nourish and protect skin every day with serums and moisture creams it needs to prolong the radiance revealed by your peel. The texture for
Renewed Hope in A Jar Moisturiser
is light and comfortable; so much less greasy feeling than the original Hope In a Jar, and smells one thousand times better. It absorbs in seconds, doesn't make me oily, and gives my skin a glow I haven't had in a very long while. What I have noticed after using this for a week, is that my face became much more hydrated and no longer turn as oily by the end of the day!
For someone like me who had combination & acne prone skin, I always find it daunting to completely try out an entirely new skincare routine for a brand I have never really tried on but I'm glad I did. It had never been easy for me to find products that help brighten my skin and lighten my scars without causing a breakout, it was always an either or – I either have glowy skin with acne or dull skin without acne :/ Overall, I have been very pleased with the results achieved from Philosophy's "Cleanse, Peel & Treat Regime" and would definitely continue incorporating it into my daily skincare routine. And because Philosophy and I believe in sharing the good things, we're going to be giving away
5 x Purity Cleanser (240ml) & RHIAJ moisturiser
!!!
It's pretty simple to join this giveaway*, all you got to do is:
1. Follow me on instagram @Paperkitties
2. Comment on this entry with your IG username & email
5 lucky winners will be picked by this Friday (9 October) 2359, following which the winners will be announced here! Good luck! x
—
[UPDATE]
Congratulations @mayaalbert, @gladysyang, @marie_nini, @joycelynmusic and @jamiechaw for winning the Purity Cleanser (240ml) & RHIAJ moisturiser!! Do look out for my email soon! 🙂