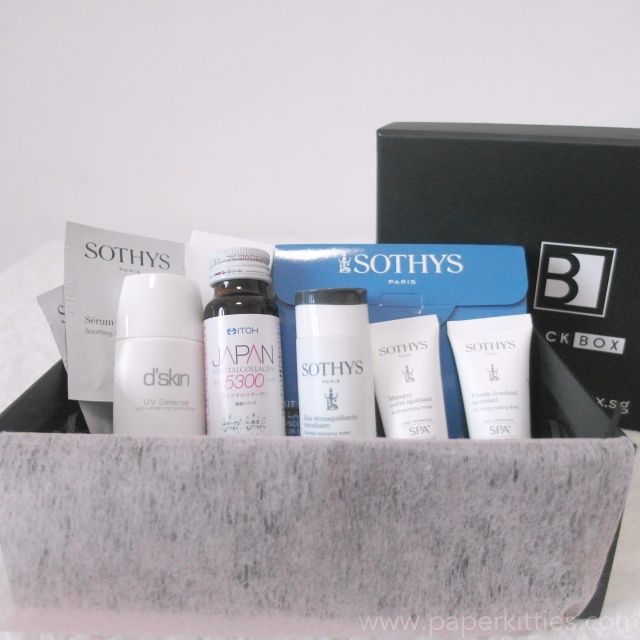 It's been awhile since I have done a beauty box review so let's get back to what inspired me to beauty blogging back when I was just a poor uni student :p As most of you may have known, a lot of beauty boxes company have slowly ceased business operation so there are not many left. Thank goodness, good old BlackBox is still around for me to try out new brands without having to commit huge moolahs for the full-sized versions. This month, "The Beautiful Truth" is all about making your skin look good inside out!
D'skin UV Defense
has
no limitation
to its effectiveness in SPF & PA and provides Pure Whitening to lighten and balance overall skin tone when you apply it daily. The texture is very lightweight and absorbs super quickly into my skin with a slight mattifying effect, making it very ideal for my oily skin type in our humid climate – I'm very pleased with this sunscreen.
Next up, we have SOTHYS Discovery Kit for Sensitive Skin; the perfect beauty pack to bring around when you're travelling. It contains Micellar Cleansing Water that effectively cleanses face and eyes gently. Recommended for removing light makeup, this 2-in-1 cleanser needs no rinsing and is a must-have for on-the-go beauty and lazy late nights (I still will advocate removing your makeup and cleansing your face thoroughly before sleeping though). The Soothing SOS Serum and Soothing Melting Fluid are THE skin saviour combo in instantly soothing any dryness or discomfort on your face. And if all else fails, there's always the Nutri-Soothing Mask packed along and ever ready to provide immediate relief to discomfort sensations and maintains the balance of sensitive skin!
Now, with all these haze and nasty air pollutants we have to unfortunately put up with these days.. it is important to consume some beauty goodness to protect and maintain your skin against these external aggressors. ITOH Japan Crystal Collagen 5300 brings you a step closer to younger and supple looking skin when consume on alternate days. I have tried ITOH's 100% Pure Collagen last year and had fallen in love with the brand for being one of the few powdered collagens that doesn't have any fishy/weird taste and could actually see the difference. This liquid version tasted like white peach and is thankfully not as sweet as the similar ones out in the market, and contains goodness such as Vitamin C and hyaluronic acid resulting in plump and smoother skin!
If you're interested to try the October BlackBox out, I'm pleased to share with you on a very special deal~ Starting from 1st October, you'll be able to enjoy this beauty treat at a promo price of only $17.90/pack (U.P $261.15)! This is only for the first 40 sets, better hurry if you don't wanna miss this!