I realized I didn't have much chance to blog about Fall'15 in the beauty world these days, due to my exceptionally high volume of work for this quarterly closing – and for that I truly apologize. So before my favorite season is over, let's talk about my utmost favorite collection this Autumn: Guerlain Bloom of Rose! Instead of the usual bold lippies and crazy liners that are trending this year, Guerlain is focusing on two things: to pamper and to brighten with as minimally and natural as possible.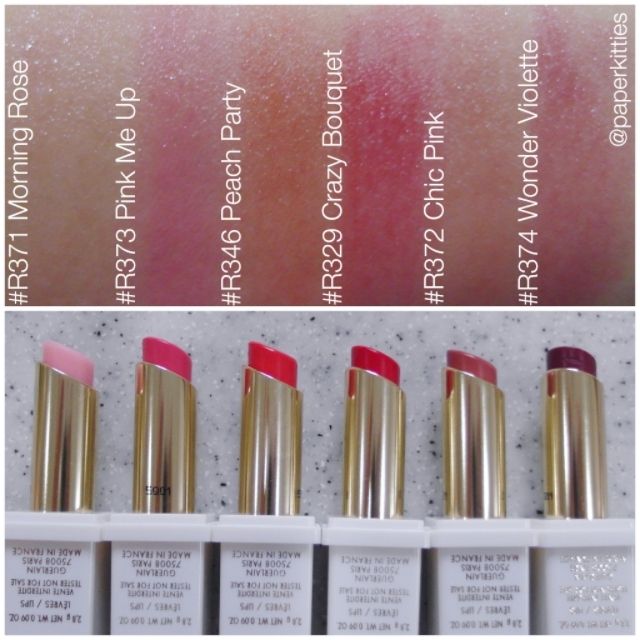 KissKiss Roselip Swatches
The Guerlain tinted lip balms with perfect hydrating and plumping benefits definitely won my heart among the lot! Enriched with jojoba oil, fine oils and rose essential oil, the KissKiss Roselip combines colour and lip care into a subtly tinted natural sheen. A fresh and modern white lacquer coat version on its three iconic cubes with a touch of gold, it comes in 6 delicate shades for an irresistibly natural bitten-lip effect. From passionate red to thrilling pink and romantic nude, there's definitely THE shade for every lady out there.
Since I've always been into natural pink lips for that healthy glow, my picks are
Morning Rose
and
Pink Me Up
!
Morning rose
is a colorless balm boosted by an active ingredient that interacts with your lips natural pH levels to give them a slight tint of pink – in other words, it's kinda like Dior's Lip Glow but more moisturizing thanks to the Hyaluronic acid ingredient that instantly shapes lips to leave them plump, smooth and ultra-glamorous. So moisturising it is, you can actually treat
Morning Rose
as a lip treatment by applying it before you sleep! For
Pink Me Up
, it's a much darker pink but still looks extremely natural and wearable for the everyday casual look.
Tip of the day: you can also create a "rose petal" effect by applying the lighter shade in the centre of the lips and the darker one towards the edges 🙂
Rose Aux Joues – Pink Me Up
Next up, we have blushes that bring out a natural glow and shimmering shadows to prolong the summer feel! Guerlain Rose Aux Joues (Tender blush) is an innovative colour-revealing blush that works in total fusion with the skin for a natural glow. It also has a subtle floral scent and contains "Pink Booster" pigments that capture natural red light and enhance the cheeks' natural pink hue. I know I know, you're starting to compare it to Dior's Rosy Glow Blush, but here's where it's different: it comes in 6 beautiful shades to perfectly match all 6 KissKiss Roselip shades!! An elegant case with its delicate black compact decorated with golden hot stamping, Rose aux Joues blush is adorned with an elegantly refined festoon motif. My pick of the lot? Pink Me Up for its punchy pink~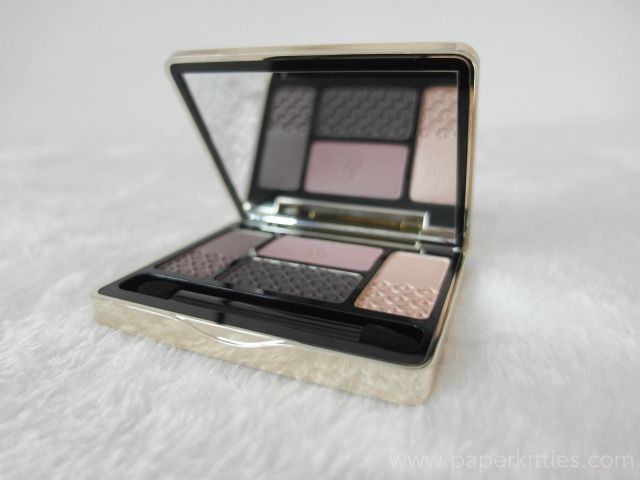 For the eyes,I've picked a sweep of warm tonal shades to accentuate the intensity of the eyes and to complement the Fall season. Écrin 4Couleurs 19 Les Cendrés features everyday neutral shades that's perfect from day to evening wear. As seen in the swatches below, the colors are very intense and pigmented, and actually last all day without creasing.

Swatches: Écrin 4 Couleurs 19 Les Cendrés & Rose Aux Joues Pink Me Up
Follow my blog with Bloglovin ♥