Editorial
Newly launched last month, the Estee Lauder Nutritious Vitality8 Collection is infused with highly potent Pomegranate8 Complex. But why the number "8"? Well, this powerful and energizing new collection recharges skin with the power of 8 – 8 powerful ingredients help reset skin's natural dynamic equilibrium to help activate 8 dimensions of radiantly healthy looking skin, all in jus 8 days! This powerful antioxidant collection boast to have your skin looking and feeling radiant, refined, hydrated, energised and nourished! Coincidentally, I was flying to Perth for exactly 8 days.. no better ways to make me stay faithful to my Nutritious Vitality8 collection throughout this trip (without diverting to acne creams, random masks etc)!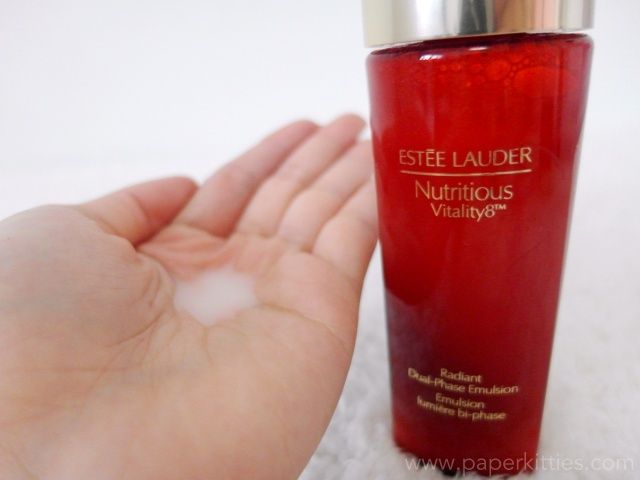 ESTEE LAUDER NUTRITIOUS VITALITY8™ RADIANT DUAL-PHASE EMULSION, SGD92
The innovative dual-phase formula is an energizing burst of light hydration and nutrients instantly revives and refreshes skin's radiance while ginseng complements the high-intensity of Pomegranate8 Complex to recharge skin with vital energy. Australia being Australia, my face is always so dreadfully tight and dry whenever I was my face, so this emulsion brings great relief to me. Remember to shake it before usage, the texture is very lightweight yet rich with powerful ingredients that can be felt instantly upon application – my skin is left hydrated and soothing. Beauty junkies all know that the key to great skin is drinking a lot of water, well my skin definitely felt like it is literally quenching its thirst when using the emulsion. Even back home in Singapore, I'm still using it since it isn't too rich for daily usage. However, do take note to not use any acne-care facial wash before using the emulsion, as it gave me a mild tingling sensation (w/o any redness though) that I couldn't quite put a hand to until I switched my cleanser…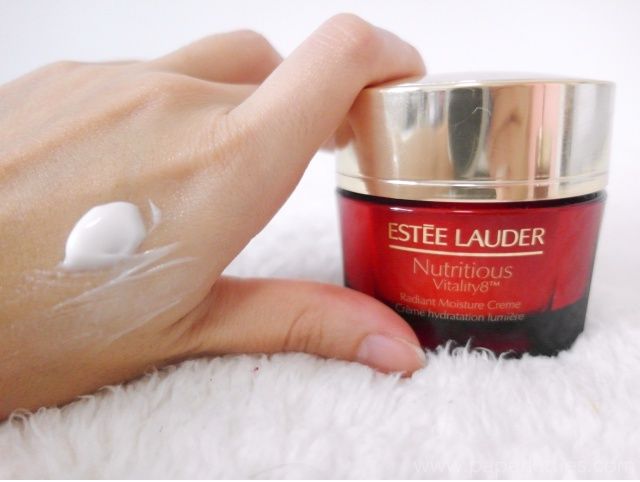 ESTEE LAUDER NUTRITIOUS VITALITY8™ RADIANT MOISTURE CRÈME, SGD92
An instant infusion of intense hydration that lasts throughout the day. This nourishing creme helps neutralize environmental aggressors with anti-oxidant power leaving skin looking smoother, healthier, dewy and fresh. It was perfect when I was using it down under! My skin was well moisturised the entire day and there was no need to touch up on T-Zone either. Sadly, I find the texture slightly too rich for Singapore's weather so I will be keeping it for future travel usage instead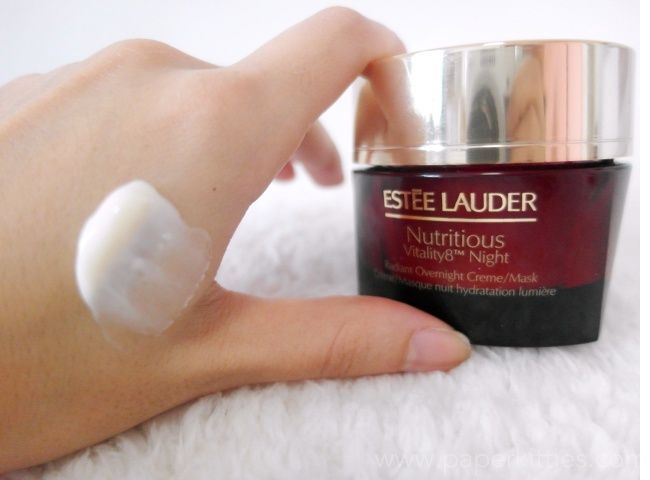 ESTEE LAUDER NUTRITIOUS VITALITY8™ RADIANT OVERNIGHT CRÈME/MASK, SGD106
A rich overnight moisture creme that restores skin's balance and infuses deep hydration and nourishment, it can also be applied generously as an overnight mask for an intense nutrient infusion. Although the texture is thicker than the radiant moisture creme above, I tend to just leave the radiant overnight cream on overnight (be it in Oz or in Singapore) since I am always sleeping in my air-conditioned room anyway. Dry and dehydrated skin has been the least of my problems ever since I started using this, I no longer wake up to an oily T-zone.. say hello to a more radiant and nourish complexion!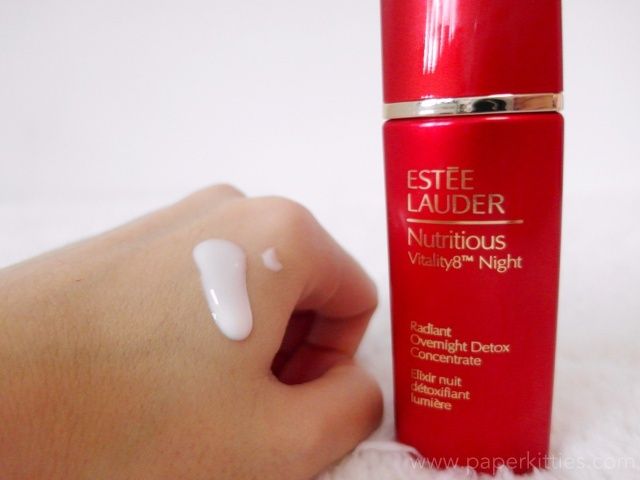 ESTEE LAUDER NUTRITIOUS VITALITY8™ RADIANT OVERNIGHT DETOX CONCENTRATE, SGD116
Enhanced with highly concentrated pomegranate power, this Overnight Detox Concentrate is an intensive detoxifying treatment for smoother, softer, brighter skin. This treatment intrigued me the most out of the entire collection as it is said to be formulated with clay to help absorb impurities and detoxify the skin. It also helps minimize the look of pores and purify accumulated damage from pollution and other aggressors. Designed for seasonal use, it is ideal to use for 28 consecutive nights at the beginning of every new season or as desired. For such a powerful product, its texture is thankfully much lighter than the two creams above, making it suitable for everyday usage. With constant diligence, my skin actually looks much clearer and radiant after two weeks; I'm impressed.
—
My concluding thoughts? Unless you have dry skin, it may be slightly too rich for our humid weather in Singapore to own the entire collection – for me, I will pick the emulsion and overnight detox concentrate to use on a more regular basis when I'm home. However, if you tend to travel on a regular basis or happen to stay in countries with dry climates.. this entire collection will be perfect for you! Since your skin tend to be really dry and dull from all the travelling, Estee Lauder Nutritious Vitality8 collection helps revitalise and moisturise your skin for a radiant and energized look; tried and tested by me 🙂 It had truly been god-send to me during my entire Perth trip, superbly moisturising and hydrating to my skin. I actually came back with better skin than I left home with just by sticking to this entire collection.. definitely brining them along on my next trip! x