Editorial
For someone who used to be under the sun all the time without using sunblock, sometimes I do fear for my older self.. Do you know that cumulative harmful UV exposure can accelerate skin ageing, create wrinkles, cause pigmentation and uneven skin tone? :X Hence, it is really important to be religious in apply sunscreen everyday!
Before we proceed, I felt that it may be good for me to first explains on the terminology used when it comes to sunblocks. Basically, SPF means Sun Protection Factor and it always comes with a numerical digit which indicates the amount of time your skin can be protected from sunburn that is usually caused by UVB rays. SPF30 is more than sufficient for daily usage, whereas SPF50 will be recommended for outdoor activities (think cycling, swimming etc).
On the other hand, the PA in sunscreens is an abbreviation of Protection Grade of UVA which indicates the level of protection from UVA. UVA penetrates more deeply to the skin than UVB and it plays a major part in skin aging and other long term skin damage that can eventually increase the risk or lead to skin cancer. Instead of numerical digits, PA comes with the plus sign; so the more plus sign a sunblock has, the more protection you have from UVA.
✿>
For the Face
✿
The Face Shop Natural Sun Eco Power Long-Lasting Sun Cream SPF 40 PA+++, $28.90
A sunscreen that protects skin against UV rays for hour and provides light makeup coverage to help improve skin tone. It is excellent as a makeup base too. The Face Shop Natural Sun Eco Power Long-Lasting Sun Cream SPF 40 PA+++ provides a long lasting sun protection even on sweat and water; one can expect a smooth application with moist touch.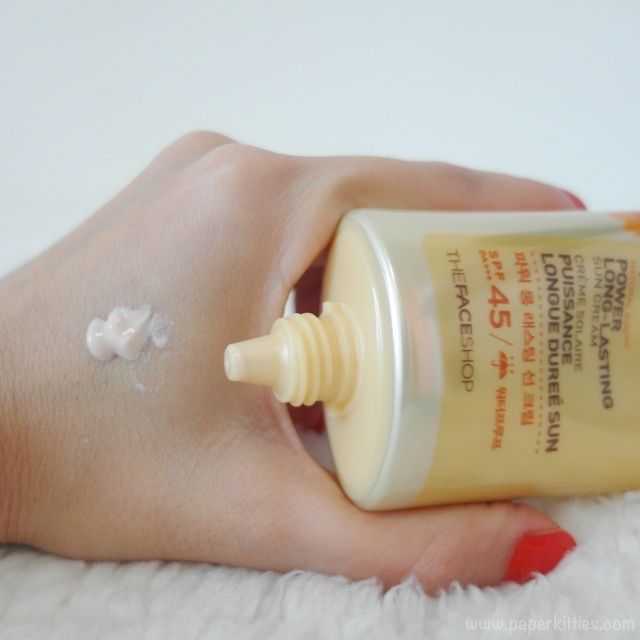 Scent: fruity floral
Coverage: SPF 40 PA+++
Product texture: Natural beige cream which contains colour powder, it's not greasy but leaves a very sticky after feel. Product blends naturally into my skin without leaving any trace of pigments.
Conclusion: To be honest, I like this the least as I am not used to the stickiness as compared to the other sunblock I own, but I reckon it will be good when I go countries with dry climate (like Australia) since it is more moisturising. It's slightly thicker in consistency than the rest and is a heavyduty performer.
The Face Shop Natural Sun Eco Sebum Control Moisture Sun SPF 45 PA+++, $23.90
The Face Shop Natural Sun Eco Sebum Control Moisture Sun Cream highlights itself on its super lightweight texture and amazing sebum controlling functions, this lightweight textured sun block contains eco-certified organic Sunflower extracts and controls excessive sebum.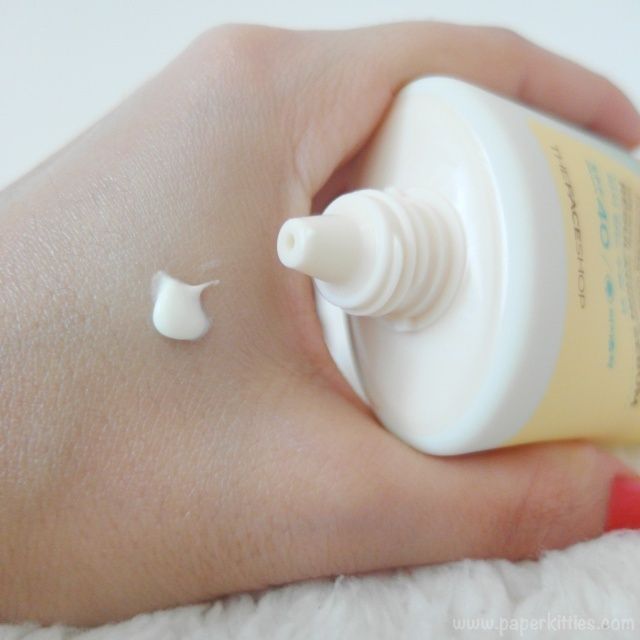 Scent: fruity floral
Coverage: SPF 45 PA+++
Product texture: Half transparent, gel type suncream. It glides and blends into skin easily with its lightweight moisturising texture but provides a matte powdery finish without a white cast.
Conclusion: Recommended for those with combination skin, it has decent oil control without clogging your pores. I especially like the scent and fast absorption of this product with a slightly matte finish.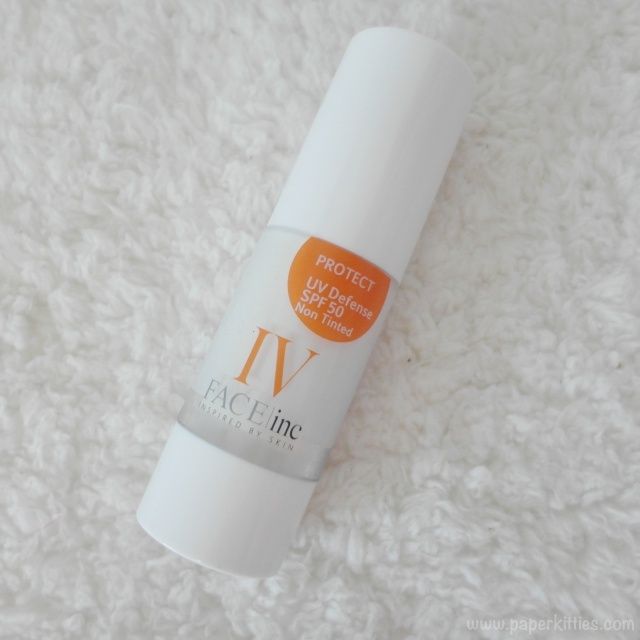 The Face Inc UV Defense SPF 50, Non-Tinted
An advanced physical non tinted sunscreen for protection of the skin against harmful UV rays, prevention of sunburn and photo-damage. Proprietary blend of Titanium Dioxide and Zinc Oxide delivers broad-spectrum UVA and UVB protection. Vitamin E acts as an anti-oxidant and moisturising agent.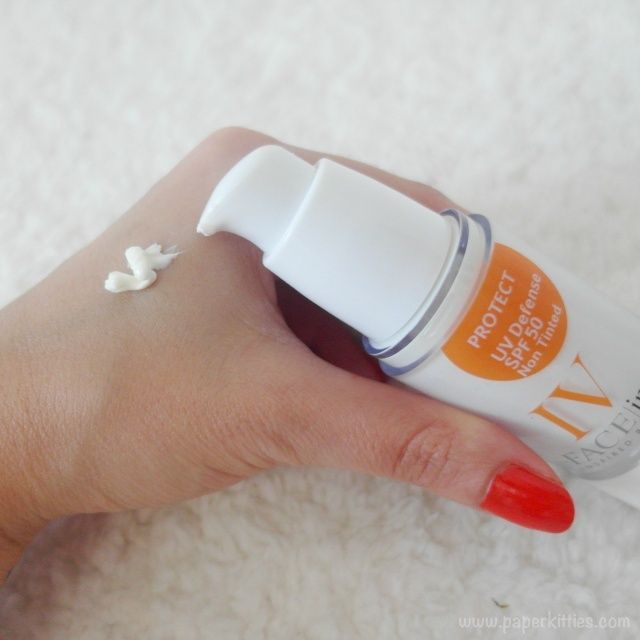 Scent: typical sunblock
Coverage: SPF50
Product texture: Despite the thick texture, it blends into skin easily without leaving a whitish cast. Slight stickiness but not at all greasy.
Conclusion: I used this when I was in Taiwan, perhaps it was due to the weather as well, so I find it perfect for my skin the entire trip. Do not be turned off by this opaque-looking sunblock, The Face Inc UV Defense SPF 50 spreads easily on the skin and the product was quickly absorbed like a moisturiser would.
Radical Skincare Skin Perfecting Screen
Protect, perfect and prime – this 3 in one sun protection uses non chemical filters to protect against UVA/UVB rays. What sets is apart from other sunblock is the diamond encapsulation that deflects light, blur wrinkles and priming elements to provide the ideal long wearing base for make-up. Radical Skincare Skin Perfecting Screen is the ultimate multitasking product for women who want perfection in sun protection.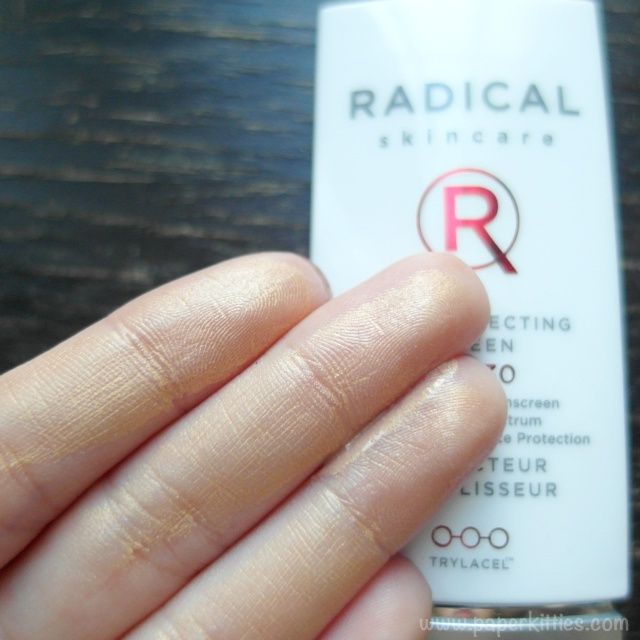 Scent: a semi-strong chemical smell upon initial application
Coverage: SPF30
Product texture: Luxurious texture that easily blends onto my skin easily without leaving a whitish residue, I love how this lightweight product instantly mattify my face with a healthy shimmer.
Conclusion: This is not your conventional sunblock, in fact it is a potent sunblock + skin perfecter in one – allowing it to be used under make up as a primer. The diamond dust really helps create an instant radiant and smoother appearance.
✿>
For the Body
✿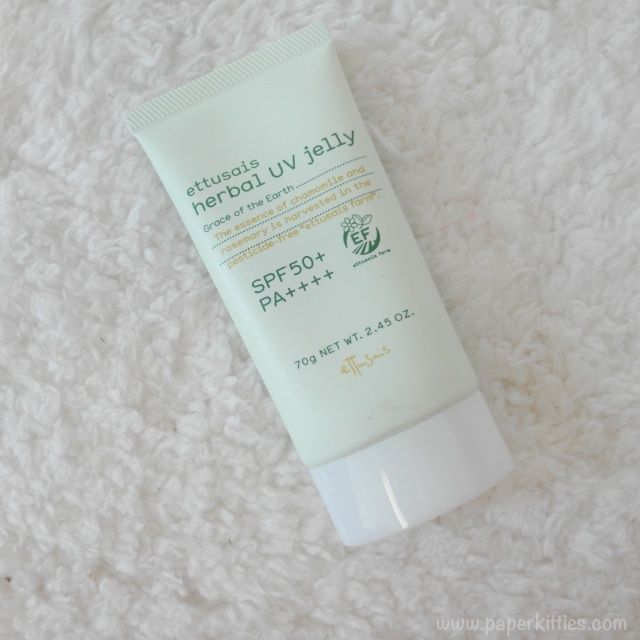 Ettusais Herbal UV Jelly SPF50+ PA++++
Ettusais Herbal UV Jelly SPF50+/PA++++ will help to balance your skin while keeping it feeling comfortable and hydrated all day long. Ultraguard Film to coat each UV shield separately; Chamomile and Rosemary extracts for accelerated skin recovery, Ettusais Herbal UV Jelly SPF50+ PA++++ is also enriched with hot spring water from Tuscany, hyaluronic acid, fermented royal jelly and glycerin to hydrate your skin deeply.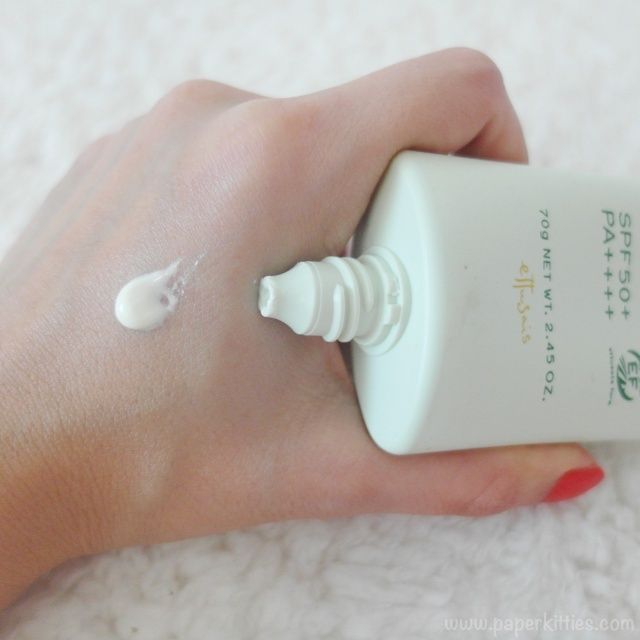 Scent: Citrusy scent akin to grapefruit + rosemary
Coverage: SPF50+ PA++++
Product texture: Super lightweight gel-cream that instantly absorbs into my skin, leaving it feeling hydrated. The jelly formula means it is great for oily skin too.
Conclusion: Brought this along for my BKK trip and I love how it instantly cools my skin whenever I apply it on my face and body. This is definitely one of those which you can slap on throughout the day and it would not clog your skin at all.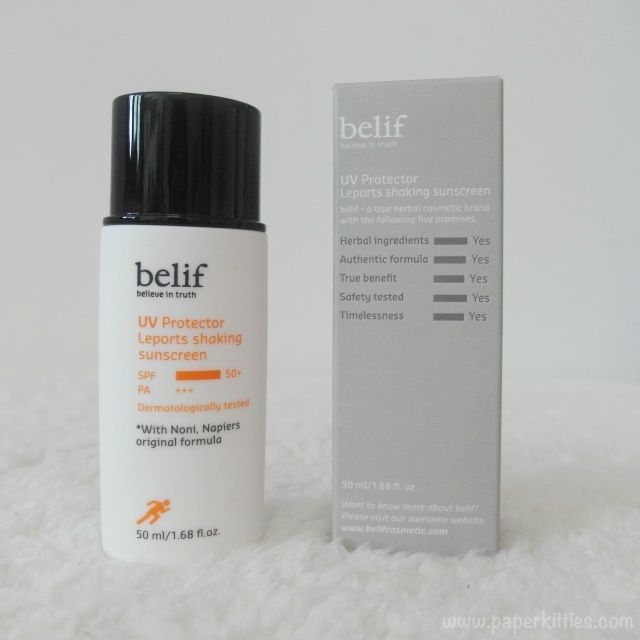 Belif UV Protector Leports Shaking Sunscreen SPF 50+ PA+++
A milky long-lasting face and body sun protection that supports active sporty lifestyles. Enriched with antioxidants from Noni extract that prevents skin irritation with anti-inflammatory benefits.
Scent: typical sunblock scent
Coverage: SPF 50+ PA+++
Product texture: Provides powdery and silky feeling on your skin with no white cast, no greasiness nor stickiness.
Conclusion: Belif UV Protector Leports Shaking Sunscreen SPF 50+ PA+++ instantly absorbs upon application, leaving a powdery and silky feeling as mentioned above. This is perfect for our humid weather in Singapore, especially the active ones, since it doesn't runs off and is sweat-resistant.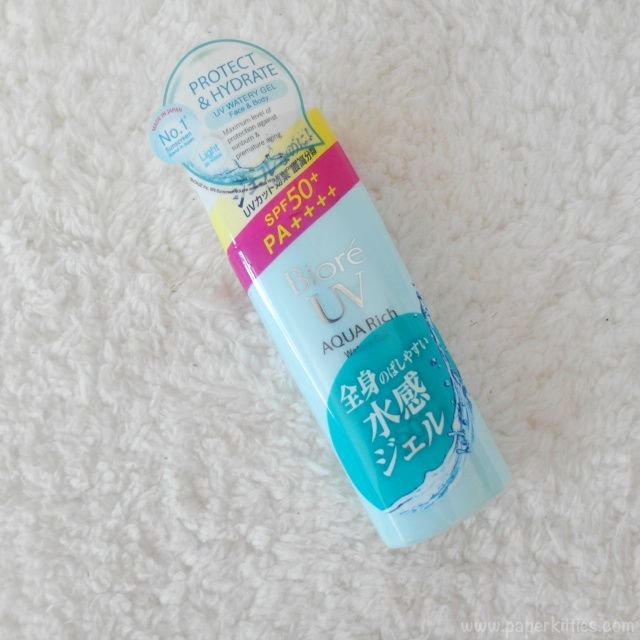 Biore UV Aqua Rich Watery Gel
Providing the highest level of UV protection with SPF50+ and PA++++, Biore UV Aqua Rich Watery Gel is formulated with Biore's unique Aqua Rich technology giving it the same light, watery texture of Biore's popular UV Aqua Rich Watery Essence.
Scent: refreshing citrus scent
Coverage: SPF 50+ PA++++
Product texture: Very lightweight and absorbs immediately upon application thanks to its watery texture.
Conclusion: This is currently taking up a permanent spot on my office table as I've been advised by my colleagues to religiously apply sunblock before lunch ever since our BKK trip gave me really dark arms (T.T) Compared to Belif UV Protector Leports Shaking Sunscreen SPF 50+ PA+++, I would have to admit that it is slightly (just very slightly) stickier but overall, the texture is still very matte with no greasiness! I particularly loves the watery moisturising effect it gives upon each application since my skin tend to be quite dry these days.
✿>
For Touch-Up
✿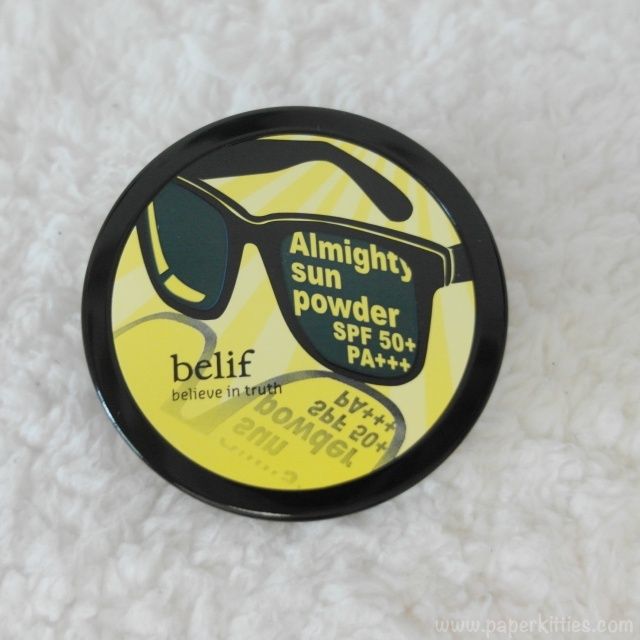 Belif Almighty Sun Powder
A translucent sun compact that protects skin from uv rays while absorbing excess sebum leaving skin soft, matte and smooth. Belif Almighty Sun Powder is formulated with antioxidant Molokhia extract that promotes skin healing while preventing photo-aging.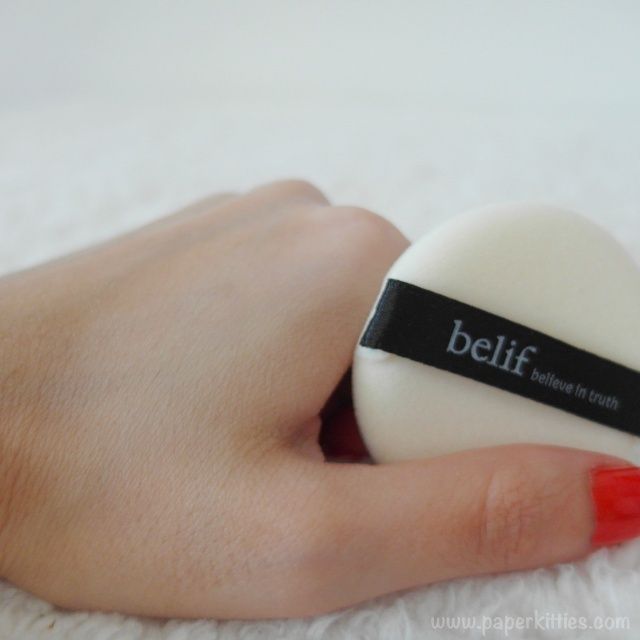 Scent: fragrance-free
Coverage: SPF 50+ PA+++
Product texture: This powder provides a matte finish and you can re-apply as often as needed for maximum sun protection. Try not to go to heavy-handed when patting this powder as you may end up with a ghastly hue instead.
Conclusion: Perfect for the lazy girls out there, like me~ This powder version of a sunblock is the perfect touch-up compact since it not only helps mattify your skin, it provides sun protection as well (no makeup ruined)! There's really no excuse not to own one 🙂
✿>
After-Sun Care
✿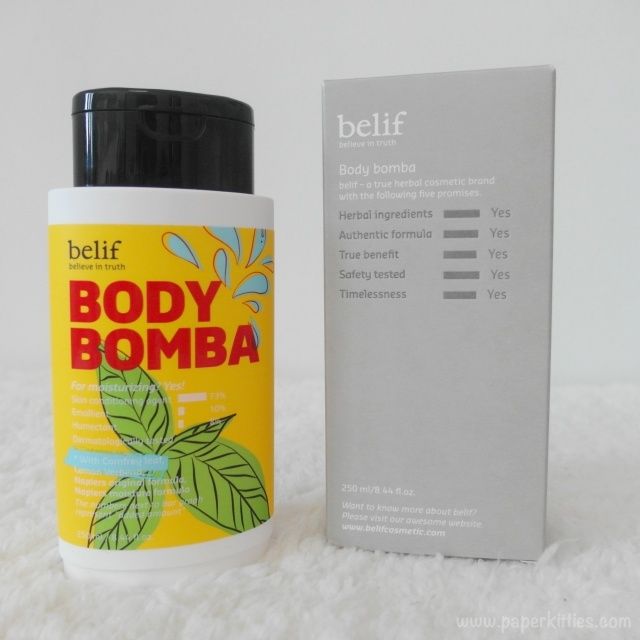 Belif Body Bomba
Refreshing body emulsion that excites senses with the exotic zesty Lemon Verbena herb while Comfrey leaf extract soothes skin trouble and replenishes skin hydration.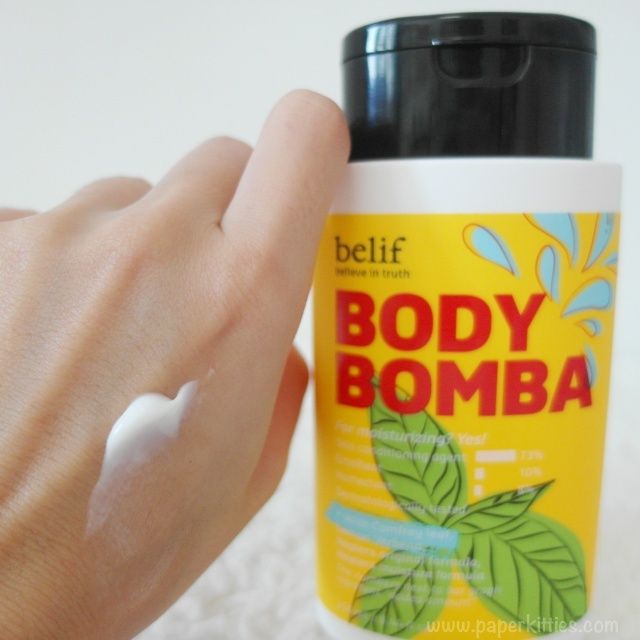 Scent: Zesty lemon
Product texture: Lightweight body cream that instantly gets absorb into skin. It is not oily as applied, giving a great refreshing feel!
Conclusion: This moisturising Body Bomba keeps dry and tired skin replenished and moisturised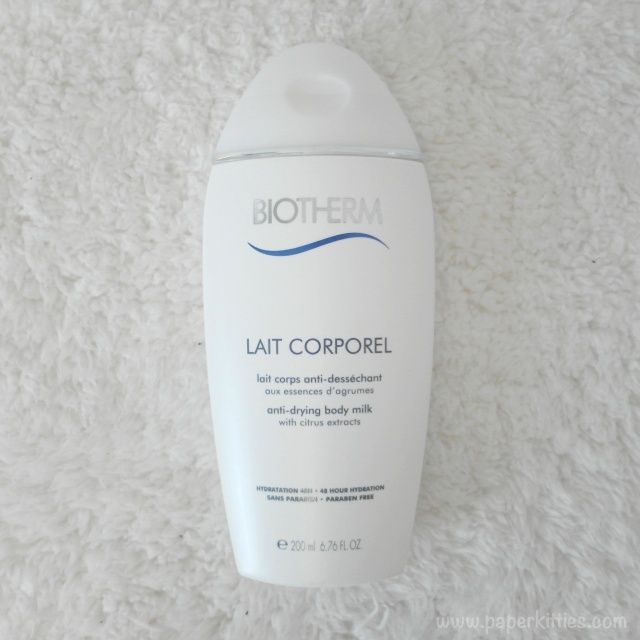 Biotherm Lait Corporel Body Milk
Deliciously soft and fabulously fresh, this everyday anti-drying body milk with natural citrus extracts instantly helps the skin recover its smooth and beautiful appearance. Up to 48 hour hydration, this effective hydrating treatment reinforces skin's natural protection.
Scent: light citrus scent
Product texture: Lightweight body milk that is easily absorbed and leaves no oily traces
Conclusion: I swear by this whenever my skin is on a dry spell and is feeling especially itchy from my eczema. Very soothing and hydrating, making it the perfect after-sun care.