The new La Collection de Grasse fragrance announces the return of fragrant flowers to a land that has been home to the greatest noses. Encouraged by the commitment of L'OCCITANE, Anne Dor grows irises at Val d'Iris in Grasse. Indefinable and incredibly singular, the Iris Floral requires a family of its own – white iris from the Mediterranean contrasts its evanescent sweetness with the intensity of the blue Iris pallida from Grasse.
Iris Bleu & Iris Blanc Eau de Toilette, 75ml
Top: Blackcurrant & citrus
Heart: Iris, ylang-ylang & peach
Base: Iris, cedar & white musk
With a velvety floral water blend of blue Iris pallida from Grasse and white Iris florentina from the Mediterranean, the Iris Bleu & Iris Blanc EDT is a contrasting flower-to-flower encounter that follows the path of the sun. Opening with green, fruity notes to a subtly spiced and floral heart, it ends off with powdery accords of iris and the dry scent of cedar and white musk. I find it a nice, clean, young scent that is very light for Summer/Spring without the usual sugar overload. I won't reckon it's a scent that would make heads turn nor create an impression (it's rather flat to be honest) but if a demure, subtle fragrance is what you're looking for.. something that smells as if your body is emitting a powdery scent, this would be the one.
Packaging wise, I can't stop admiring the mirror effect created by Olivier Baussan to show the reflection of an iris bouquet traced in hot-stamped gold passes through the two thicknesses of glass tinted by the blue shade.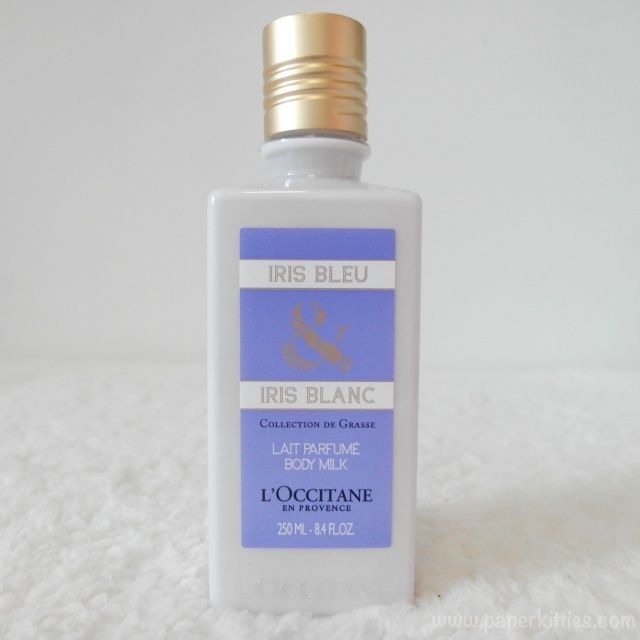 Iris Bleu & Iris Blanc Body Lotion, 250ml
If you would like your
Iris Bleu & Iris Blanc EDT
to last longer, I would recommend layering it with
Iris Bleu & Iris Blanc Body Lotion
. A subtle sophistication underlined by the simple lovely scent of fresh linens and violet to mark its presence, this newly formulated moisturizing lotion will leave your skin feeling wonderfully soft and velvety, yet still lightweight and moisturising for our humid weather. x