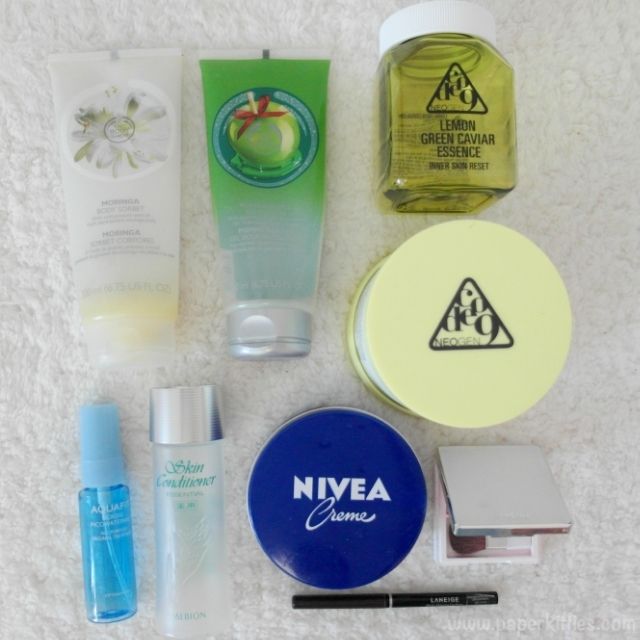 Apologies that this bi-monthly review came in much later than I intended to.. April & May had been a crazy month for me and I'd barely have a breather. Am totally forcing myself to be disciplined these days and start churning out my backlogs in the quickest way possible without compromising on quality, do be patient with me!
1.The Body Shop Body Sorbet in Moringa
TBS Body Sorbet was love at first sight, the initially grainy texture easily melts into my skin and is quickly absorbed with no icky after feel. I find this perfect for day usage, even in our humid weather, due to the lightweight and cooling texture. A very refreshing and hydrating body moisturiser for daily use. There is really nothing to fault about this product, except maybe the "flavours" available, most are either too sweet or artificial in my opinion, and thus I rather stick to moringa any day. Wish they will consider on blueberry or peach next time round though!
Verdict: I'm already on my second bottle!
2.The Body Shop Body Polish in Glazed Apple
Ok I admit, when it comes to body care, I always tend to choose between Bath&BodyWorks and TBS as the products always smell soooo good but aren't too drying for my sensitive eczema-prone skin. Couldn't resist this limited edition X'mas special since it smells amazing! love how this product lathers up and makes me feel clean and fresh; it lasts for up to 3 months despite daily usage cuz a little always goes a long way~ It's gentle enough for light daily exfoliation!
Verdict: Must re-purchase! My favourite is still the strawberry body polish though, best scent ever!
3. Neogen Code 9 Lemon Green Caviar
Blogged about it previously so I will not elaborate too much on it. I wish I have something more positive to say by the end of it's short life span but honestly, there isn't much for me. In fact, I stopped using it halfway as I didn't see much results on my skin. Not much to talk about really.
Verdict: Don't bother.
4. Laneige Pure Radiant Blush in Angel Pink
This is one of my favourite blusher shade as it always gives me a natural pink flush without looking over the top. The colour was easy to pick up with just the right amount of product, making it one of the really fuss-free blushers even for the inexperienced. Although it barely hit pan, my brush was unable to pick up much of the blush after it hit it's two years lifespan so I have no choice but to throw it away 🙁
Verdict: Would definitely consider on re-purchasing it again.. AFTER I finally get through with my current blusher stash that is.
5. Laneige Multi Shaping Eyeliner – Over & Inner Liner in Brown
I just blogged about the black version on my previous review, so I won't go too much into this again. Basically the brown is more natural, so it gives a much softer look – perfect for days when you want to achieve the au naturel look. I just don't really like how quickly it smudges and fades away by mid-day though.
Verdict: I like it but I reckon they may be better ones out there. Will still be using my final one in black whilst looking for better alternative.
6. Nivea Creme
This is a cult favourite where my mom swears by it like how South-african moms would swear on bio-oil. The texture is quite a turn-off as I find it hard to apply on my skin and needs slightly more vigorous massaging before the product gets properly applied and absorbed into my skin. That being said, it is one of the thicker and more moisturising body cream I will turn to whenever my skin is feeling awfully dry and my eczema is threatening to erupt. It helps in soothing the dry skin and would be recommended to be used at night as it can get slightly greasy – perfect if you're sleeping in an air-con room like me 🙂
Verdict: My mom made me stock up 10 tubs the previous time it was on sale at Watson, what do you think?
7. Albion Essential Skin Conditioner
Highly raved by many, it helps boost moisture in skin texture and does not sting despite its alcohol content. But is it that amazing as others claimed it to be? I honestly find the product so-so, I don't know what exactly I was hoping to achieve out of using this but thing is, there wasn't much difference on my skin even after finishing the entire bottle so I'm not at all impressed..
Verdict: Bleah~
8. Aquafit Soigne Picowatermist
I have been meaning to blog about this brand but I haven't had the chance to do so; next thing I know, I've finished using the mist! 0.0 Soigne can be purchased at Face Bistro – located at Holland Village, super near my office. It comes in a handy travel-sized packaging and aims to relieve skin dryness and tightness, and moisturises it at the same time. It's my favourite product to reach for when I am at work as it instantly revitalise and hydrates my skin. In fact, you can use it from head to toe to instantly moisturise your skin anytime. Very lightweight and convenient 🙂
Verdict: I wouldn't mind re-purchasing on this again but am still open to trying out new facial mist before settling down on a holy grail product.