Editorial
I've been trying this new skin activating treatment lotion by Estée Lauder for awhile now and I'm finally ready to review on it! This "essence-in-lotion" aims to strengthen skin's foundation with micro power to reveal a transclucent, angelic glow from within specially proven for Asian skin. Due to it's micro-nutrient bio-ferment ingredient, the Micro Essence Skin Activating Treatment Lotion leaves skin stronger and more resistant to signs of aging – a very important step to introduce into my skincare regime since I am nearing my late 20s now!
Estée Lauder Micro Essence Skin Activating Treatment Lotion works in three ways to make the skin look younger:
– Micro-Targeted; penetrates rapidly and deeply within one's skin to reach where it is needed most, saturating skin cells to renew and rebalance
– Micro-Nourishing; delivers a precise concentration of exclusive Micro-Nutrient Bio-Ferment, penetrating surface skin cells to nourish and energize
– Micro-Active; activates multiple pro-youth functions to deeply replenish and "reset" the look of skin from within
If you're still feeling a little confused on what an essence is, basically it's something you use after toner (or even totally replace this step with the Micro Essence) but before your serum. It comes in a frosted tall glass bottle with a gold cap, and has a consistency that is a little stickier than your typical toner, but thinner than most serums. You can either pour it onto your hand or saturate a cotton pad before patting all over your face; prolonged usage of it had given me skin that is much more hydrated than before, allowing my makeup to stay longer during the day without smudging. Yes, if you haven't already know, hydrated skin is the secret to making your makeup stay on longer!
Comparison wise, one would easily compare it to SK-II's Facial Treatment Essence… in which I have noted that Estée Lauder Micro Essence was more hydrating and moisturising without burning a huge hole in one's pocket.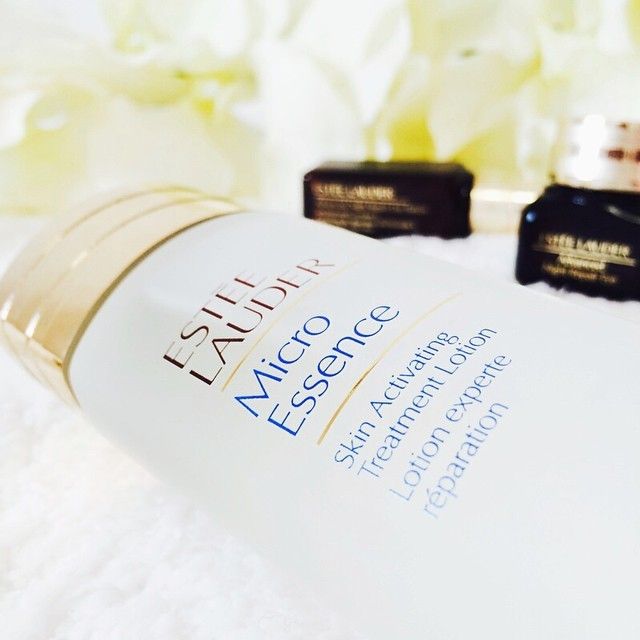 I've used the Estée Lauder Micro Essence for a month before using it in conjunction with my Estée Lauder Advanced Night Repair, in which I found out that these two are perfect complement of each other. As the Micro Essence softens my skin, it aids the application of serum effortless by allowing the serum to sink into my skin right away. I find it really boost the hydration of my skin whenever I use this two together!