Editorial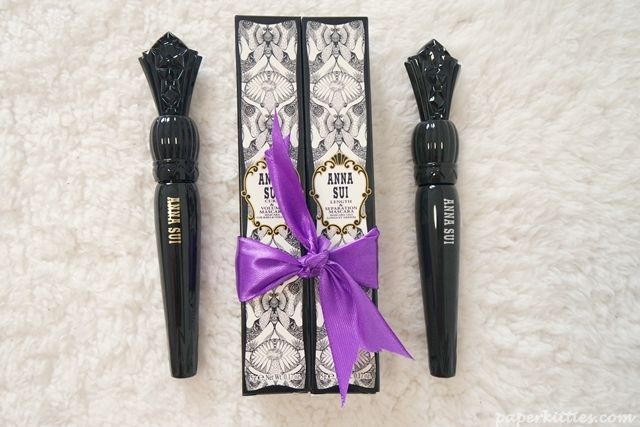 During my teenage years, the adverts on Anna Sui's mascara had always caught my eye with long and thick luscious lashes the models would be seen with. Never would I have dared to dream that I will be reviewing on these babies someday! Just like every single one of Anna Sui's product, the signature rose scent is present in the mascara but will fade within minutes of application.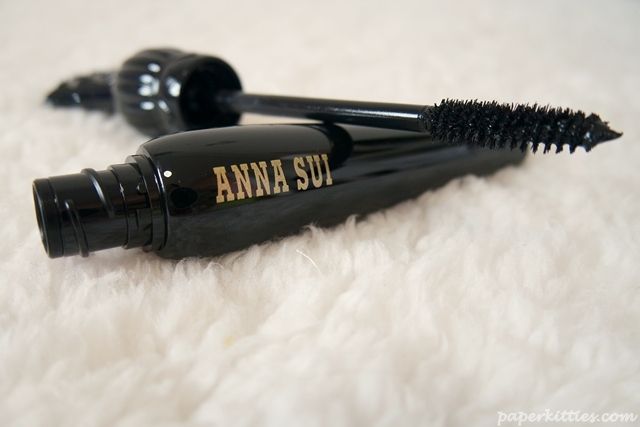 Anna Sui Curl & Volume Mascara in 001
Anna Sui Curl & Volume Mascara is an innovative mascara that curls and volumizes the lashes for a glamorous look. Featuring a dual-sided brush, each flat side of the brush has a different length to deposit the perfect amount of product to help create your desired beautiful feathery lashes. The narrow side (bottom) brushes through lashes to separate and curl whilst the wider side (top) uses two types of bristles to brush the lashes in multiple directions to create full coverage and a voluminous effect. The quick-drying formula gives this product a smooth finish for clump-free volume with maximum curl hold-ability. This waterproof mascara is very resistant to water, sweat and tears; they literally last forever. I myself having a pretty hard time removing it with my usual micellar cleansing water and cleansing oil, so do note that a really good eye make up remover is needed for this.
Anna Sui Length & Separation Mascara in 001
Ensuring a long-lasting finish, this film-type mascara that is resistant to water, sweat and sebum;this slim brush has a curved shape that hugs the eye to grab every single lash, from the inner corner to the outer corner of the eye. The unique twisted & crimped shape of the brush expertly separates & deposits the formula onto lashes, allowing it to hit all your lashes in one go. A thick and buildable formula, I like layering this mascara with Anna Sui Curl & Volume Mascara to create a faux lash look without the heavy feel of a set of falsies. I've also found out that the tapered end of the brush is great for dabbing corner lashes for extra length, just the way I like it. Unlike the Anna Sui Curl & Volume Mascara, all you got to do is remove the Anna Sui Length & Separation Mascara with warm water.

Ending off with swatches!