Editorial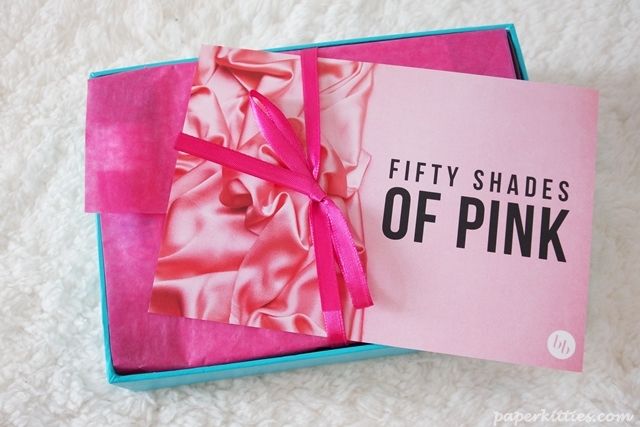 This month's bellabox comes in the prettiest shade of pink one can ever lay eye on! I opened the box anticipating to be overwhelmed with all things pink but instead I'm in for a treat on head to toe intensive pampering for the sensitive one…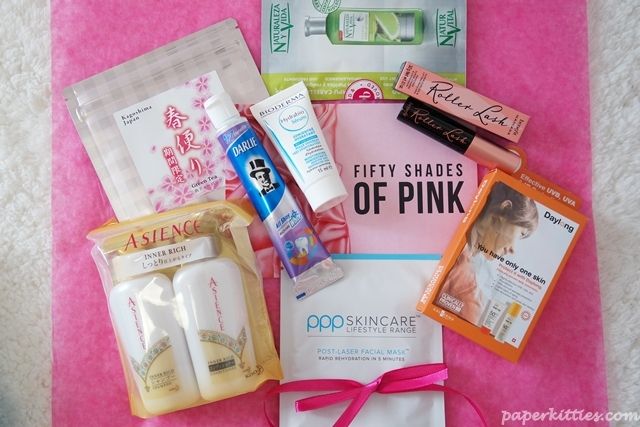 Kicking start this little pink box with a high, we have
Benefit Cosmetic Roller Lash
in the most adorable packaging ever! With an instant curve setting formula and an innovative "Hook & Roll" brush to grab, separate, life and curl for va-va-voom lash. I'm slipping this permanently into my travel pouch~
Another product that caught my eye was The PPP Shop Post-Laser Facial Mask recommended to be used after every PPP laser treatment; in which Bellabox has kindly pop in an introductory card that entitles you to 3 complimentary facials.. My skin is in for a treat! Anyway, the PPP Shop Post-Laser Facial Mask is aims to provide rehydration in 5 minutes to help achieve firer and suppler skin.
For girls with dry, frizzy and unmanageable hair, Asience Inner Rich Shampoo & Conditioner is formulated with a luxurious blend of precious oils and essence to reveal youthful-looking hair. And must I add that it smells sooooo amazing?!
If you have seriously sensitive and dehydrated skin, you should know by now that Bioderma never fails. Bioderma Hydrabio Serum is a moisturizing concerntrate with an incredibly refreshing melt-in texture to reval soft, radiant and rejuvenated skin in time.
Here's also featuring Naturavital Sensitive Oily Hair Shampoo. This hydroallergenic shampoo actually contains lime, witch hazel and 100% organic nettle to rebalance sensitive, oily hair type for long-lasting ,cleaner and healthier hair. And just when you think Bellabox is done taking good care of your skin this month, here's revealing another: Daylong SPF50+ Sunscreen Duo for sensitive to oily skin AND kid's sensitive skin! Quick absorbing, non-sticky and SPF50+.. need I say more?
Being a tea lover, I really appreciate to once again receive another packet of tea from Tealy to try out. The Tealy Spring Green Tea is an exceptional seasonal tea made only once-a-year! If you appreciate those really "green" green tea, you will love this revitalizing strong aroma and distinct sweetness. It actually left me wanting for more after my first cup, making all my current stash of green tea fail in comparison. I kid you not!
Last but not least, don't go to bed without brushing your teeth! Use Darlie All Shiny White Multi-Care Toothpaste to eliminate plaque, strengthen enamel, deliver gum care, prevent cavities and freshens breathe with its fresh mint flavor. I have been using Darlie for ages so more stocks are always welcome :p
What is your favorite item in this month's Bellabox?