Editorial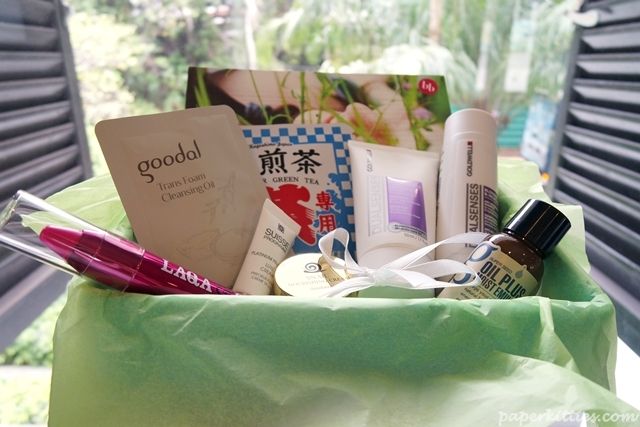 Running a little late with my monthly Bellabox surprise, that I apologize! But just like Feb's theme for Bellabox, I'm all about fresh beginnings and will be religiously catching up on my backlogs.. because I have so many wonderful things planned for this year, all I need is more discipline and time~
Anyway back to the goodies in Feb's Bellabox, the first to caught my eye was none other than Laqa & Co Lip Tube Pencil in Stranger Danger! A gorgeous neon pink shade enriched with peppermint-shea butter to hydrate and moisturise your lips. This light glossy lip balm is the perfect tint to your puckers whilst protecting them.
Next up is Suisse Programme Platinum Precious Luxe Cream to recharge the skin's electrical balance, penetrating deep into skin layers to stimulate cellular renewal and metabolism. The texture is really rich and creamy, taking quite a while to absorb. Due to my recent acne breakout, I am quite reluctant to try this out on my face as I don't think my skin can take it.. but I do like the soft powdery scent of this and most likely will be saving this for my future winter trips instead.
Still talking about skincare, I also received Dearberry Snail Nourishing Cream packed with a high concerntration of 70% Mucin extracted from the snail mucus to hydrate and strengthen skin against external stresses. Upon trying it, I have no doubt it was definitely jam-packed with mucin as the sticky texture kind of reminded me of snail mucus. However, I am delighted to note that the product absorbs really quickly into my skin with no sticky afterfeel, so I can't wait to give it a go on my skin soon to brighten and renew this problematic skin of mine!
Goldwell Dualsenses Shampoo and 60 Sec Treatment definitely got my attention as it is meant for blondes!! As you would know by now, I have recently gone ash blonde (a really difficult color to maintain cuz have to keep the cool tones in check) and this came at perfect timing~ Specially designed for color-treated hair, its FadeStopFormula shampoo works to neutralize brassiness and/or unwanted warm tones *waves*, followed by an impressive hair regeneration with its 60sec treatment. There's hope for my hair 😀
In the midst of all our hectic schedules, one shall not forget to keep calm and drink tea. I personally can't live without my daily morning cuppa tea and this Tealy Summer Green Tea is such a perfect perk-me-up. Think refreshing green tea leaves with a subtle sweetness, pour it into an ice-filled cup and enjoy~
Finally, here's a treat to all the K-beauty fans out there, Goodal Oil Plus Moist Emulsion contains amazing ingredients such as a raw seed fermentation technology of 7 super seed and red yeast to firm and brighten your skin! The texture is very delicate and lightweight, making it a delightful cleanser even for those with sensitive skin! As a bonus, there's also Goodal Transfoam Cleansing Oil – a 2-in-1 lightweight trans foam makeup remover cum foam cleanser to deep cleanse your face and remove even the most stubborn makeup!