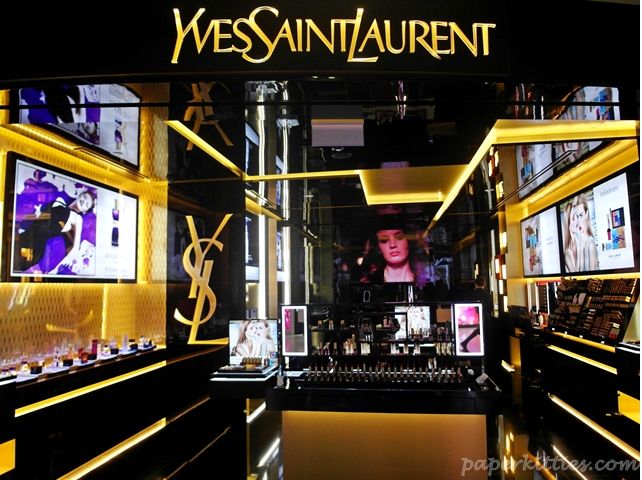 Fans of Yves Saint Laurent (YSL) beauty will no doubt be familiar with YSL Beaute standalone store at ION. Boasting not only the full line of skincare, makeup and fragrances from this French luxury label, YSL also provides one-on-one makeup and skincare consultation services with YSL-trained makeup artists (by appointment only). One particular consultation service some of you beauty enthusiasts may be unaware of is
Rituel Lumiere
, the skincare and makeup products that form the basis of YSL's signature 'Light Ritual'. Unless you would like to get a complete makeover at $150 (fully redeemable for products),
Rituel Lumiere
is actually free of charge~
After having my makeup removed, we begin the ritual with the application of serum. I was offered the choice between
Forever Youth Liberator
and
Forever Light Creator
for my combination skin; both of which are one of the few skincare products specially formulated for Asian skin, thus being less thicker consistency than the European version. I chose the latter since the
Forever light Creator
series contains Actyl C – the latest vitamin C technology to help promote brightening and reduce me lain for visibly brighter skin. Lightweight texture that is best suited for our humid weather, it is also ideal for acne prone skin to lighten scars and prevent uneven pigmentation. Very fine molecules in the serum to prevent clogging pores, step 1 of
Rituel Lumiere
aims to activate the light and prepare skin for makeup.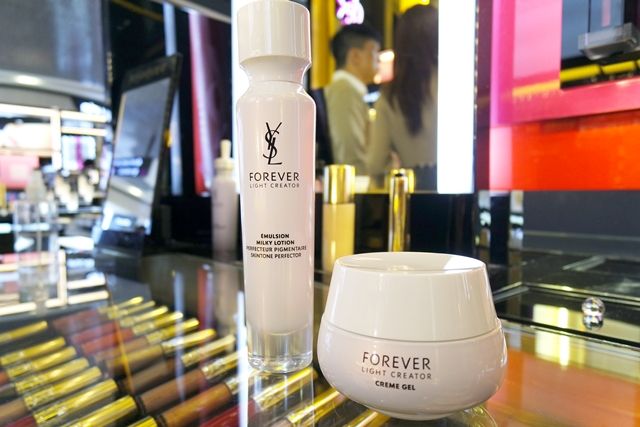 Next up is the choice of either
Forever Light Creator Emulsion
or
Forever Light Creator Creme gel
to moisturise the skin. A milk liquid,
Forever Light Creator Emulsion
is a lightweight moisturiser that can be used both day or night whilst the latter is much more heavier in texture and would be better recommended for night usage.
Instead, I decided to indulge in the newly launched
Or Rouge
face and eye cream! The ultimate skincare luxury designed to combat 11 signs of ageing, it comes in a gold jar with jeweled accents of red and black along with a spatula that gives an exact dosage to be used.
If you've noticed, I am not going to spoil the experience for you with too much selfies as I would rather you give yourself a treat and thoroughly enjoy the process without any expectations. Instead, I'll be focusing more on introducing the star products and tips I've learn from YSL's National Makeup Artist, Francis. Boy will you be pampered like a princess as he knows exactly what's best for your face! For now, here's a rare selfie of me enjoying my mini eye massage from Francis with YSL's
Or Rouge eye cream
♥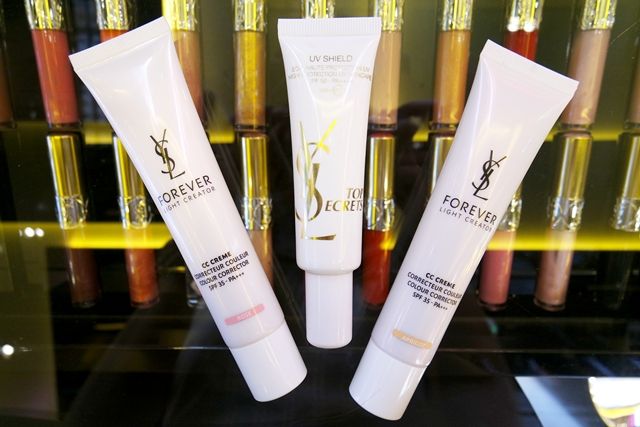 Now that we're done with prepping the face with skincare, let's move on to step 2: protecting our skin from UV rays and free radicals. As this was an evening session with Francis, we skipped the sunblock and proceeded with
Forever Light Creator CC Cream
.
Forever Light Creator CC Cream
comes in two shades, Apricot to brighten up skin tone and Rose for radiance; Francis suggested in mixing them together instead for a nice peach tone before application to get the best of both worlds.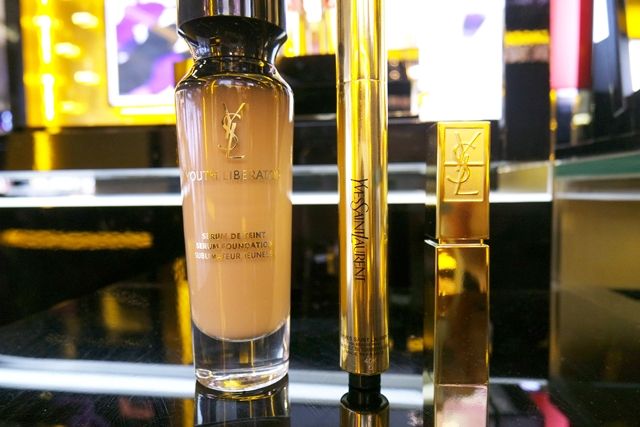 Here comes the important part of
Rituel Lumiere
, diffusing light and unifying the skin tone! Don't for get to highlight and illuminate specific features of your face too. Skin is left illuminated and glowy, but definitely not oily.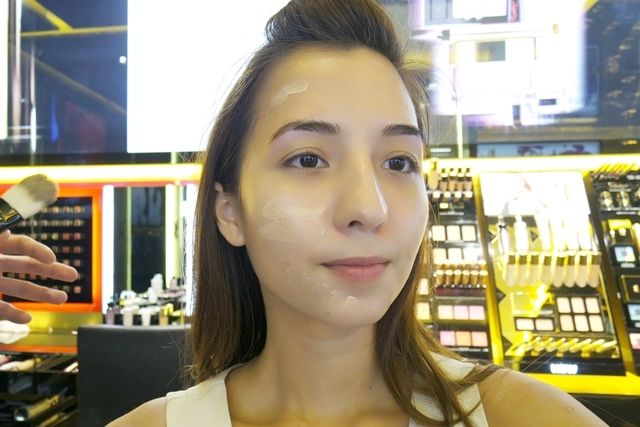 We begin with YSL
Youth Liberator Serum Foundation
(B20 for me), the first anti-aging foundation that combines 24 hours of nonstop hydrating properties to smooth and nourish the skin. It offers medium coverage, cast away uneven skin tone, promotes natural radiance and brightening for an instantly younger appearance. Skin is left looking visibly smoother and revitalised, you can even use
Youth Liberator Serum Foundation
on your eyes too.
Next up was highlighting and contouring my face with YSL famous
Touche Éclat
! When it comes to the magical highlighting pen, YSL
Touche Éclat
never fails to immediately pop into my mind. Back then when I first bought this pen after hearing all the raved reviews, I was quite disappointed as it didn't achieve the effects that it was widely praised for… Turned out I was using the wrong technique all along! *Tsk at myself* Ever since I've learnt this highlighting technique from Francis few months back (as shown above), it has been a permanent fixture in my beauty routine and I reckon you should too! Dark eye circles get visibly lighten and illuminated, whilst the entire face look much lifted and contoured.

Before | After
Let's not forget the one makeup product I can never ever leave without, concealer! YSL
Anti-cernes
#3 steers towards the peachy shade to combat blue and purple undertones such as dark eye circles whereas #1 was targeted for reddish spots with its ivory shade. Above picture shows the before and after of Step 3, would you now believe me when I stress on how important it is to get the base makeup perfect?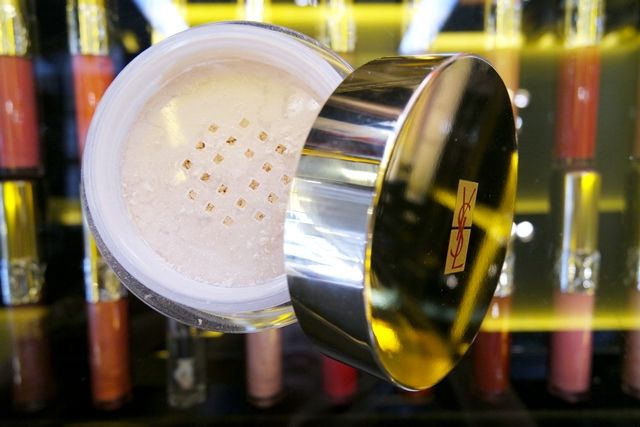 Souffle D'eclat
was lastly used to enhance complexion's natural radiance whilst setting the make-up and covering imperfections. I like how the loose powder has such fine texture, it doesn't cause overlay nor causing my base makeup to look thick. Start applying it from the center of your face before spreading it towards your cheek and chin. For concealed areas, just pat instead of brushing
Souffle D'eclat
to prevent makeup from caking.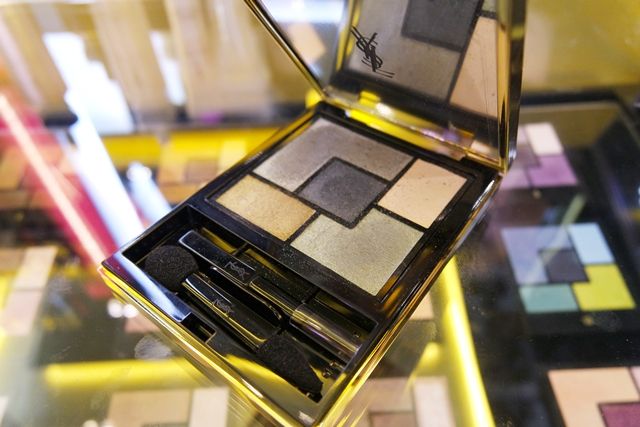 To complete the makeover, we proceeded with trying out YSL's Signature Eye Look. Among the 3 signature look – Smokey, Sheer, Tuxedo, I've chosen YSL's Sheer Eye Look due to my preference for lighter makeup. Wanting to be slightly more adventurous than usual, we decided to give
5 Color Couture Eyeshadow Palette #8
a go for its great mix of gold, olive, and moss greens.
1. Using the base colour (top left) across your eyelid, always use a fluffy blending brush to give out a more blended edge.
2. Next, highlight (top right) the brow bone with a blending brush.
3. Using # 2 (bottom left) along the upper and lower lash-line to enhance corner of the eyes.
4. Apply #3 (bottom right) from the inner corner of the upper eyelid towards the middle with a big eyeshadow brush to overlap the base colour.
5. Lastly, #1 (middle) is used on the lower eyelid to enhance and lift my puppy eye up at the corner.
If you are curious about YSL's 3 Signature Eye Looks, do take a look at their youtube videos for detailed instructions!
Not forgetting to line my eyes with YSL
Waterproof Eye liner
and curl my lashes with
Volume Effet Faux Cils Waterproof
,
Blush Volupe
in #8 Heroine was used to give my face more colour and contour. I really like the sheer eye look in green, a colour I never believed in pulling off only to be effortlessly proven wrong by Francis.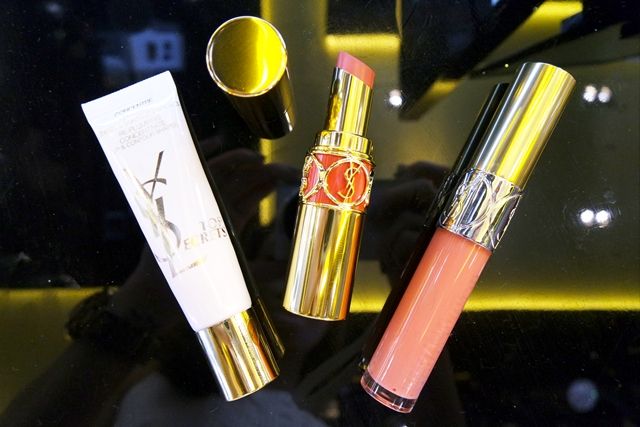 Due to the heavy eye make up, a peachy nude lip colour was paired to bring out the best of the green. Firstly,
Top Secrets Plumping Lip Balm
was used to reduce fine line on lips before gently dotting a tiny amount of
Forever Light Creator CC Cream
in Apricot to tone down redness and bring out a more true and appealing nude lips. Starting from the inner corner,
Rouge Volupté
in #13 peach passion was applied. Totally love how creamy it was with good coverage. The entire look was finished off with a last touch of
Gloss Volupté
in #203 Corail Gandoura on just the middle of my lips for a subtle shine.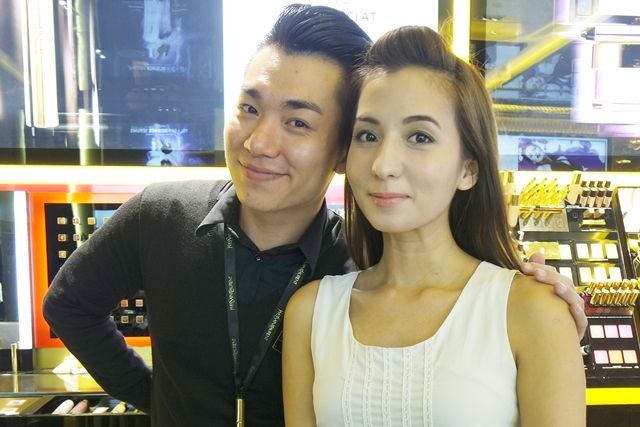 Thank you Yves Saint Laurent Singapore and Francis for prettifying my otherwise dull face and the generous makeup tips to improve my skills! 🙂