Editorial Review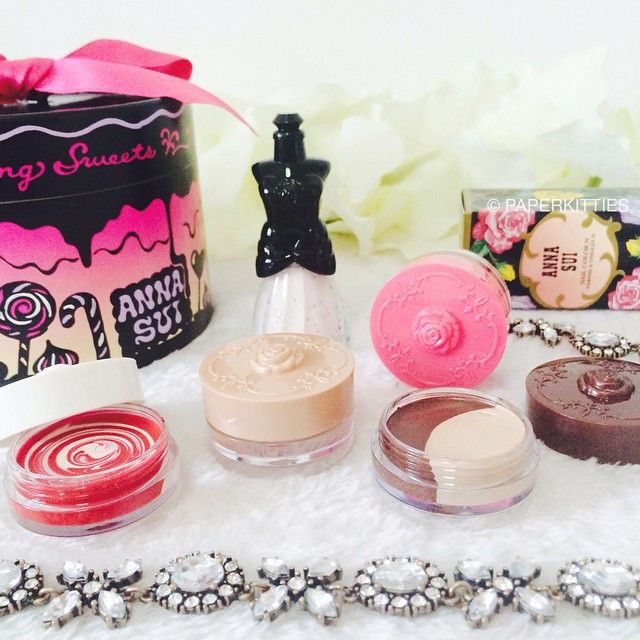 One of the Christmas collections I have always look forward to every year is none other than ANNA SUI, whimsical and all things pretty, this year is no different! Tempting you with all things sugar, spice and everything nice… this sweet collection could just be your next addictive poison to doll you up this festive season.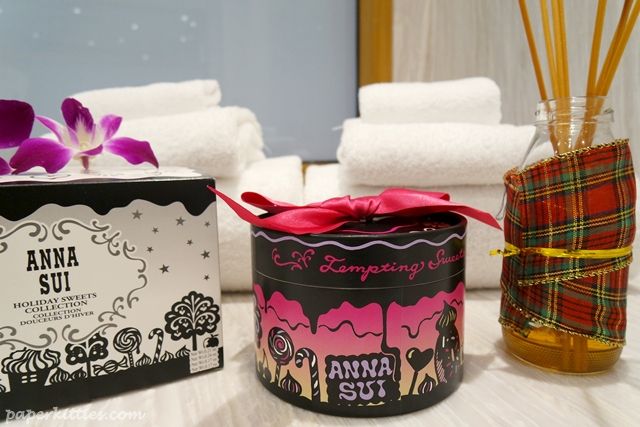 Holiday Sweets Collection, SGD$72
ANNA SUI Holiday 2014 Collection is a tempting assortment of sweets that will lure you in and beautify you if you dare to indulge. The Holiday Sweets Collection comes in 2 utterly delectable kits in #01 Sweet Espresso or #02 Sugary Sweet! A grownup flavor not offered to you as a child, the naughty Sweet Espresson indulgent was mine to explore in this all-grown-up kit.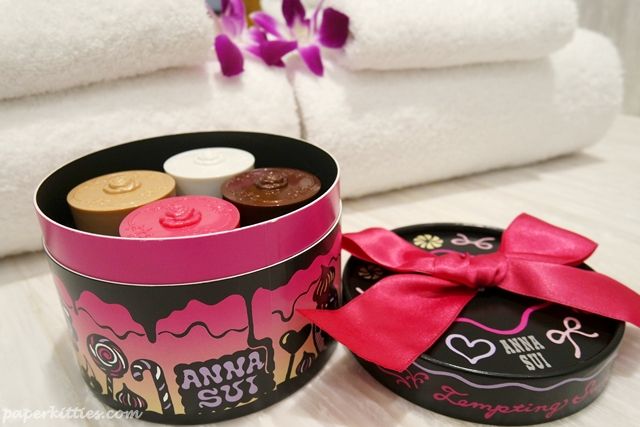 Kit Contents: Creamy Eye Color (6g) / Creamy Cheek Color (7g) / Moisturizing Lip Color (5g) / Lip Balm Jelly (5g)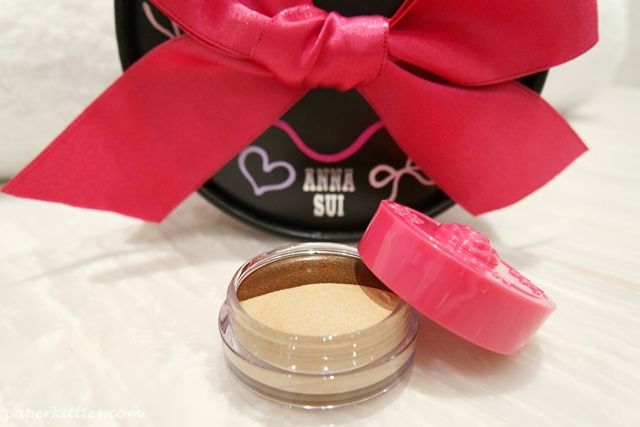 Creamy Eye Color
My Creamy Eye Color is in Chocolate that contains red and bronze pearls (top) and Platinum Almond in gold and silver Pearls (bottom). Just like a flourless chocolate cake, this eyeshadow has an incredibly soft & smooth texture that is very rich and moisturing to keep my lids hydrated and makeup fresh-looking all day long.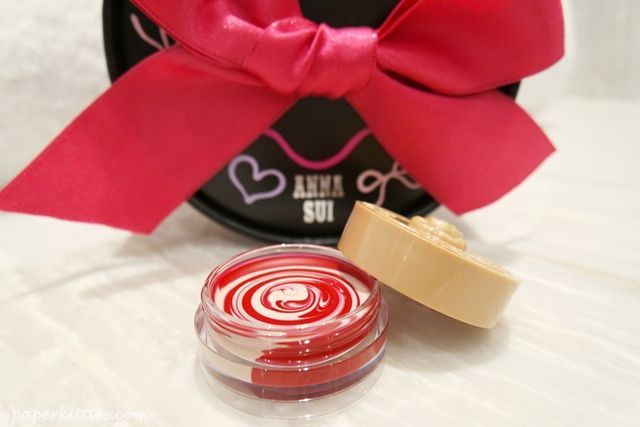 Creamy Cheek Color
Quirky cherry in silver pearls, don't let this shade intimidate you as it is much much more natural when applied and blended on your skin. With a formula as smooth and creamy as caramel, these marbled blushes blend and glide to create a healthy glow on the cheeks with a slightly highlighted sculpted effected thanks to the silver pearls!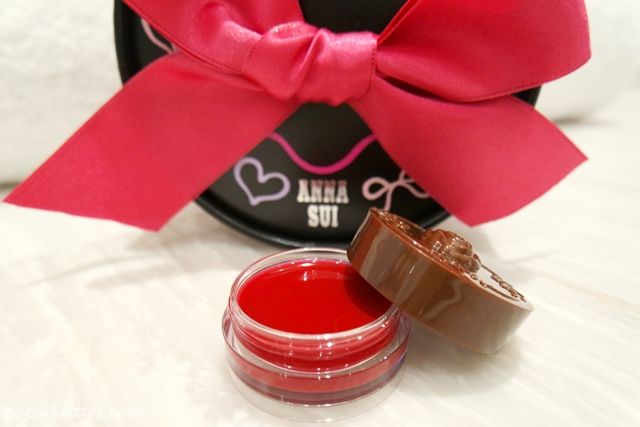 Moisturizing Lip Color
A juicy cranberry shade that makes your lips look all glossy and pumped, its long-lasting hydration and bright pigment that looks freshly applied all day long. Very smooth and easy to apply~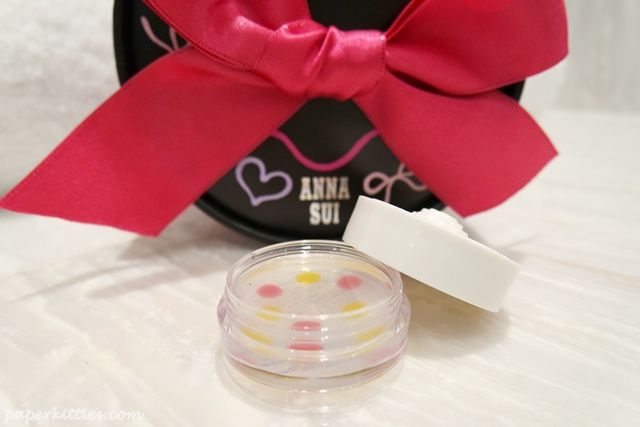 Lip Balm Jelly
It looks so adorable I really just couldn't buy to eat it, I mean use it! This lip balm is like a mini pot of yummy jelly with a delightful application that feels squishy and melty. Its base consists of highly moisturizing treatment oil and clear gel that keep lipid and water levels balanced, say goodbye to dry lips (: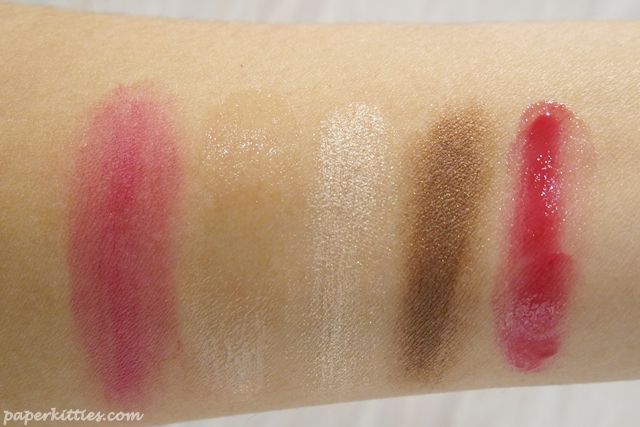 Swatches!
Left to right: Creamy Cheek Color in Cherry, Lip Balm Jelly, Creamy Eye Color in Platinum Almond, Creamy Eye Color in Chocolate and Moisturizing Lip Color in Cranberry
Nail Color N, SGD$24
Availble in 5 new shades, I am so glad to lay my hands on ANNA SUI Nail Color N in Vanilla White! Cream base with Black lamé, silver and green pearls.. it actually looks like speckled paint when applying it. A very unique finishing that I can't stop admiring ♥