Advertorial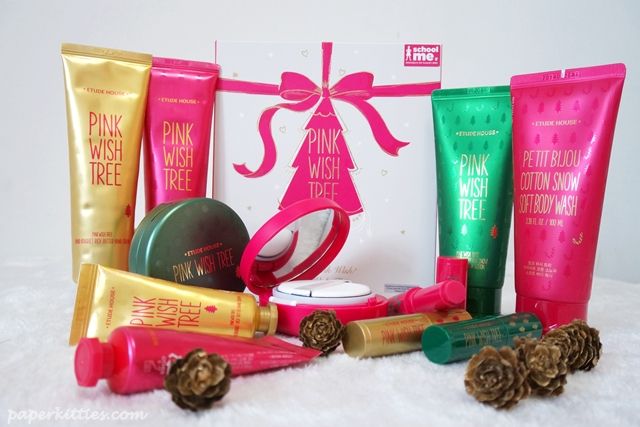 This holiday season, ETUDE HOUSE introduces the limited edition Pink Wish Tree Collection to support School Me Campaign by Save the Children which provides educational opportunities for African girls in Sierra Leone, Liberia, the Republic of Cote d'lvire and Uganda. ETUDE HOUSE will donate 100 Won for every Pink Wish Tree item purchased to the not-for-profit organisation, and an additional 100 Won will be contributed to shoppers who endorse the Pink Wish Card which comes along with every Pink Wish Tree product (FOC and comes in 2 shades of very pretty hair tie). I have always love the idea of gift-giving with presents that also warm the hearts of the less fortunate; it is really so easy and simple to do so, especially when the products you're buying are some of ETUDE HOUSE's bestsellers in the prettiest Christmas theme packaging ever! The prices are also super reasonable, making it the perfect gifts for all your beauty junkie friends without breaking your piggy bank (:
Petit Bijou Cotton Snow Body Set, S$19.90
Packaged in a chic Christmassy presentation box, the nourishing coffret set includes a body wash and a body lotion. Both products smell like baby powder, so soft and powdery!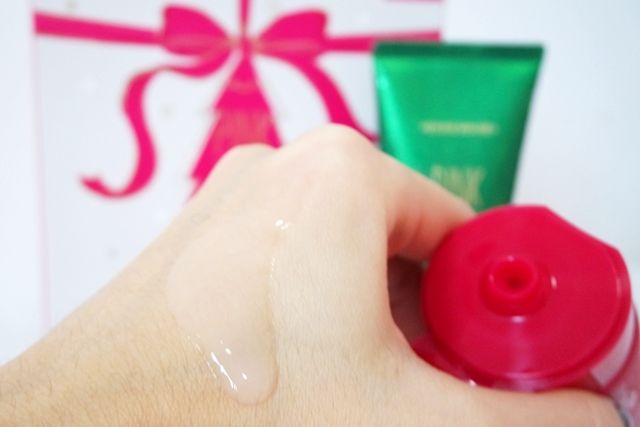 Infused with softening milk proteins and Ivy extract, the
Petit Bijou Cotton Snow Body Wash
helps to alleviate dry skin and prevent skin-related outbreaks, leaving it smooth and supple. Its mild cleansing formula is suitable even for the most sensitive skin.
Slather on the
Petit Bijou Cotton Snow Body Lotion
afterwhich; it is formulated with milk proteins, Chamomile flower extract and Aloe Vera leaf extract, to further hydrate and soothe the tired body after all that late-night festivities. The moisturizer is really gentle and absorbs pretty quickly into my skin, love smelling like a baby for a good night sleep. Hees!
Hand Bouquet Rich Butter Hand Cream JUMBO & Hand Bouquet Rich Collagen Hand Cream JUMBO, S$12.00 each
Two feminine scents to keep your hands constantly moisturized and looking beautiful; they are really moisturising and soothing without feeling greasy or sticky at all. I like that they are easily dispensed from the tube without having to dig my finger in, making them a must-haves in my bag these days for on-the-go pampering.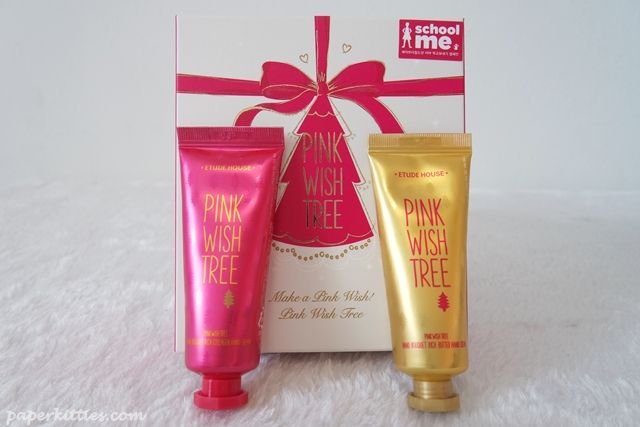 Hand Bouquet Hand Cream Mini Set S$8.00
For gifting purpose, I would recommend that you give the
Hand Bouquet Hand Cream Mini Set
instead as it looks so pretty and allow your friend with 2 to choose from! Whilst the supersized JUMBO version is truly a holy grail for the OLs out there!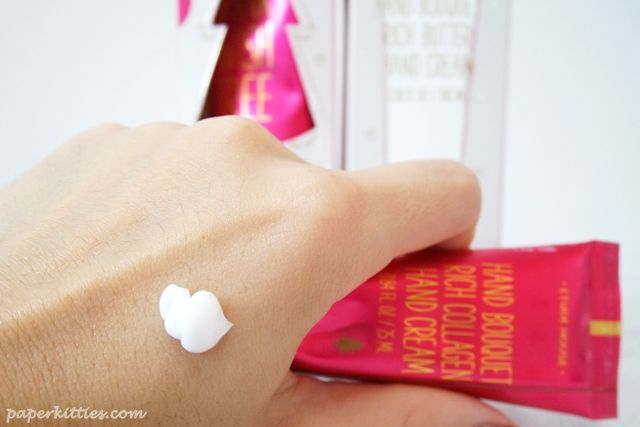 Infused with lots of nourishing ingredients such as urea, mango seed butter, shea butter and green tea oil for super smooth skin, Hand Bouquet Rich Collagen Hand Cream is a preventive care baby-powder scented goodie which also contains adenosine and marine collagen to banish the signs of hand wrinkles, and keep the digits firmer and younger-looking.
Formulated with the rich essence of shea butter, Brazilian nut oil and an improved anti-wrinkle formula, Hand Bouquet Rich Butter Hand Cream is an intensive moisturising floral-scented cream which melts instantly into the skin without leaving a greasy residue and delivers long-lasting softness and smoothness with each use. Amongst the two, I prefer
Hand Bouquet Rich Butter Hand Cream
as there is this very intriguing note to it. If you like the baby powder type like
Petit Bijou Cotton Snow Body Set
then
Hand Bouquet Rich Collagen Hand Cream
will be perfect for you! Not sure which to get, then get the cutesy mini set~
Precious Mineral Any Cushion, S$32.00
The highly popular 6-in-1 cushion foundation has been developed with sebum control powder, whitening, sun protection, moisturising, foundation and skin-cooling properties which blends in perfectly and easily into the skin in 10 seconds, leaving it radiant and moist with flawless coverage to ensure every lady looks picture perfect. It even has a cooling effect, which is perfect for our super hot weather! Limited casing is available in N02 (Light Beige) for the Pink packaging and W13 (Natural Beige) for the Green only.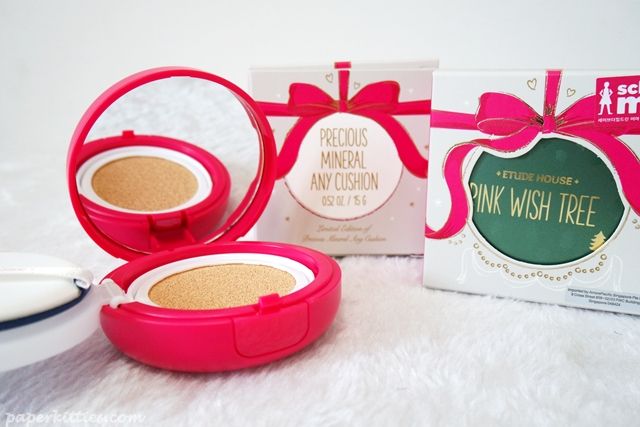 BB Cushions need no further introduction needs no further introduction if you're a K-beauty fan.. especially when this is a re-packaging of their bestselling Precious Mineral Any Cushion SPF50+/PA+++! As seen above, it has a mirror and a dual air puff which is non-absorbing. The packaging is compact so it's easy to carry around with too. The product is provides light but buildable coverage, therefore making it less prone to streaking.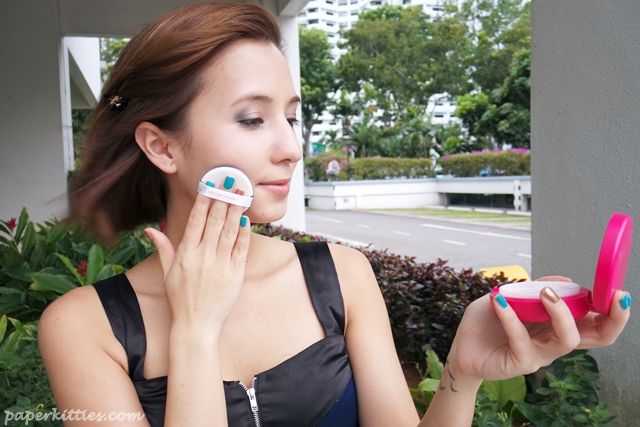 I loooove how the packaging comes in such pretty colours and very adorable Christmas Tree x Polka Dots motifs! It makes me feel less guilty touching up in public when the need arise x: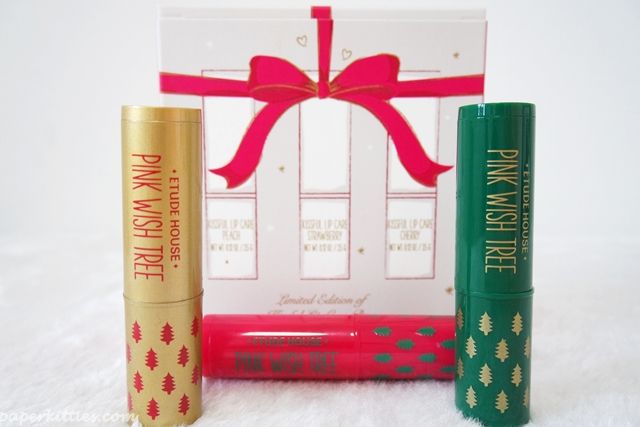 Kissful Lip Care Set, S$18.00
A great collection for those who are crazy about lippies, these are perfect to prep your lips with drool-worthy scents like peach (gold), strawberry (pink) and cherry (green)! The lip-smacking must-have set is formulated with natural nourishing extracts for a moisturised and plumper pout, leaving every woman with luscious kissable lips and smelling absolutely delicious.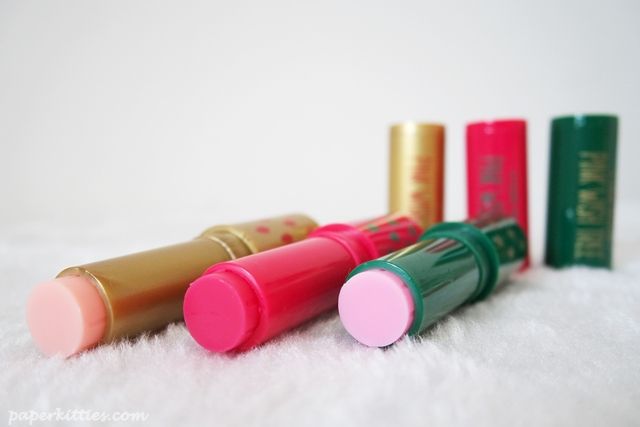 The scent isn't very strong though and will fade upon application, but to me all that matters is that it does its job in keeping my lips moisturized when needed. This trio will be perfect for those who are heading to cold climates this festive season to prevent wind chapped lips. Even in Singapore, I can't live without my lip balms due to my love for lippies.. no better way to prevent peeling lips than to be diligent with your lip balms!
I hope I have managed to enable you, even a tiny bit, to get something from ETUDE HOUSE Pink Wish Tree Collection this festive season. Your little shopaholic gesture will help support the School Me Campaign by Save the Children with every purchase of these charitable limited edition beauty essentials! x