Editorial Review
I hope your weekend have been awesome kitties! Spending my birthday weekend with my boyfie and family had been great; well, being treated like a princess is always great! Hees. Today, I will be reviewing on ESTEE LAUDER Futurist Aqua Brilliance Makeup Collection. It took me quite awhile to review on this collection as I wanted to test some things out (which you will know when you read on) before I proceed with a proper balanced review. I am quite particular whenever it comes to beauty blogging, so I hope that you pretties will forgive me on the long wait (:
In October, Estée Lauder introduces the new Futurist Aqua Brilliance Moisture Infused Liquid Makeup SPF 15/PA++ and Futurist Aqua Brilliance Compact Makeup SPF 20/PA++ developed in conjunction with the world renowned Estée Lauder skincare Asia Research team. Futurist Aqua Brilliance is more than makeup, it is also a hydrating and illuminating skincare. Designed specifically for Asian skin, this deceptively light formula is a potent way to deliver intense moisture that leaves skin feeling hydrated for hours. From the moment it makes contact with your skin, this innovative foundation creates a flawless finish that helps minimize the appearance of pores, even skin tone; leaving skin look dewy, plumped and more radiant.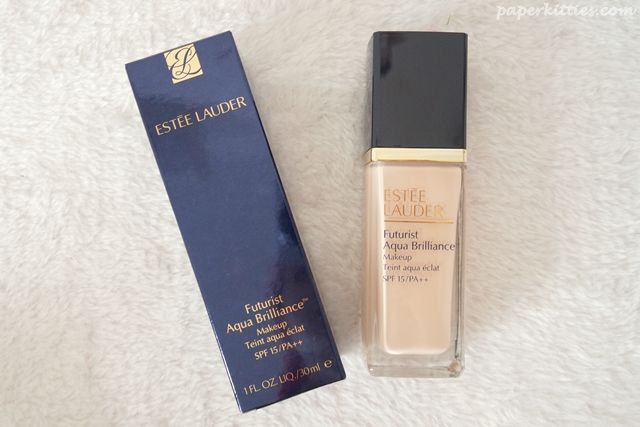 Futurist Aqua Brilliance Moisture Infused Liquid Makeup SPF 15/PA ++, SGD$58
Futurist Aqua Brilliance Liquid Makeup glides on the skin for medium to full, buildable coverage with its incredibly smooth and lightweight texture. Imperfections are diffused, fine lines and pores disappear, and the finish, plumped with sophisticated moisturizers, stays flawless and natural all day. Available in 9 wearable shades with SPF15, it not only hydrates your skin but also protects it from further skin damage caused by the sun.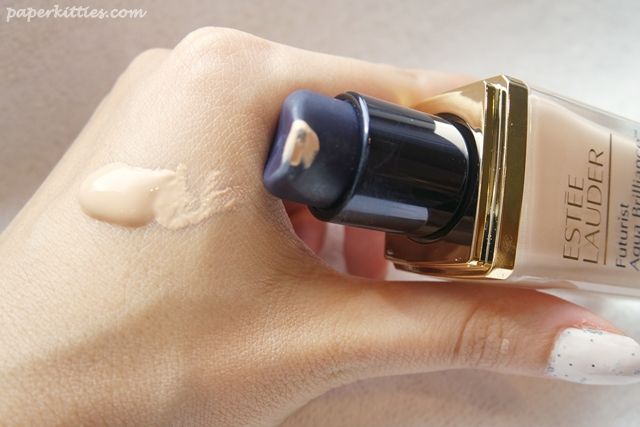 In addition to the Revival Plant Extract, a patented Sustainable Moisture Complex composed of hyaluronic acid and ceramide spheres locks moisture into the skin even after the makeup is removed. Its intuitive technology reads the moisture needs of the skin, penetrating deep into delicate Asian skin and delivering hydration where it's needed most. Water Lily Extract is also added as a potent skin soother that helps create the all-day dewy, comfortable feeling that Asian skin craves. What I find most amazing about this collection is that despite its hydrating properties, it is not too rich nor causes clogged pores. Overall, it feels akin to applying any typical liquid foundation just that it leaves my skin hydrated all day long.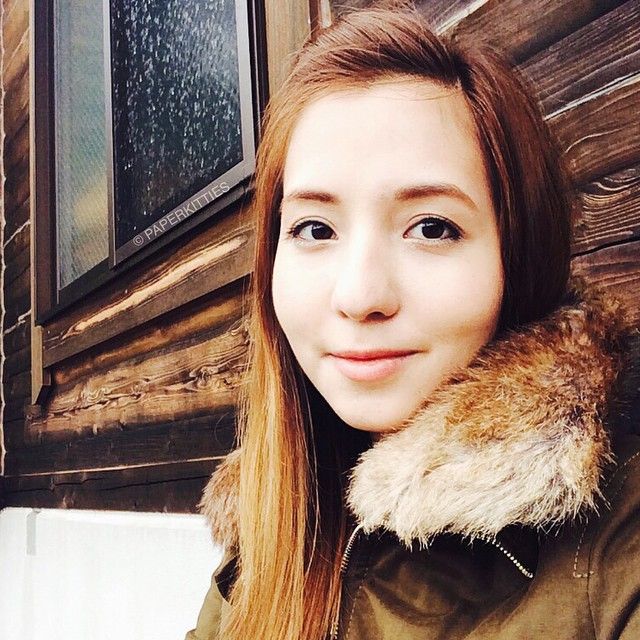 Well, to be honest, I wasn't a fan of Futurist Aqua Brilliance Liquid Makeup when I first tried it on; it was a tad too moisturising for my oily skin (in this crazy humid weather) and streaks pretty easily too. Since I was heading to Japan for my annual family trip, I decided to bring it along to give it a second chance. As the climate in Japan is comparatively dry, I figured out that a hydrating foundation would be the best bet and boy was I right! It stays on all day without streaking yet at the same time, my face did not peel or felt tight throughout the entire trip (as I would usually feel in dry climates). And with this, I concluded that Futurist Aqua Brilliance Liquid Makeup is better suited for those with dry to combination skin as it does its job in keeping your skin supple and fresh all day long~ I also like how it gives me a very natural glowy finish, allowing me to blend in with all the beautiful Japanese ladies and their light makeup looks. Hees.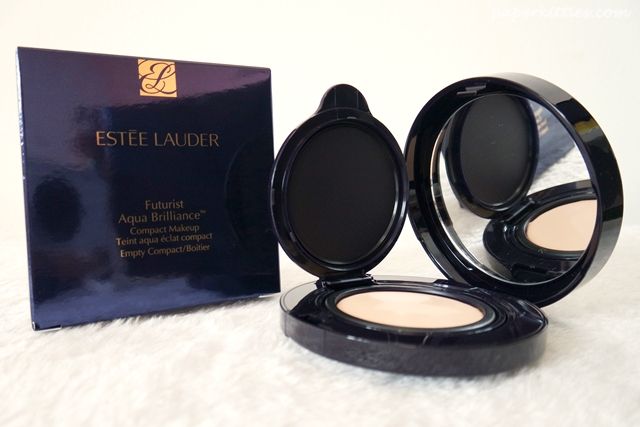 Futurist Aqua Brilliance Compact Makeup SPF 20/PA++, SGD$88
All the radiance of a fluid with the ease and versatility of a powder compact foundation, and none of the potential for dryness, this innovative aqua gel-emulsion formula delivers hours of intense hydration. Buildable coverage, from medium to full and a sophisticated blend of creamy waxes hydrate, illuminate and perfect the skin. It's a foundation, a treatment, and a powdery soft compact in one, with innovative oil-and-shine controlling components that don't compromise on moisture.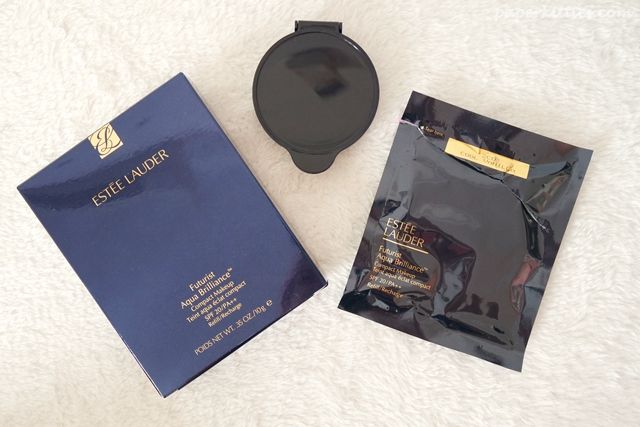 The Futurist Aqua Brilliance Compact Makeup packaging design kinda reminds me of the BB cushions I own due to its refillable packaging design. Not that I am complaining as it is super fuss-free and easy when I need to replace a new one. I particularly love the big mirror in this compact~ This long-lasting oil and shine control compact is available in 9 wearable shades and has SPF20 too. Apply to clean skin with accompanying anti-microbial sponge that designed to pick up and distribute the creamy pigment with remarkable ease, I bring this everywhere with me these days!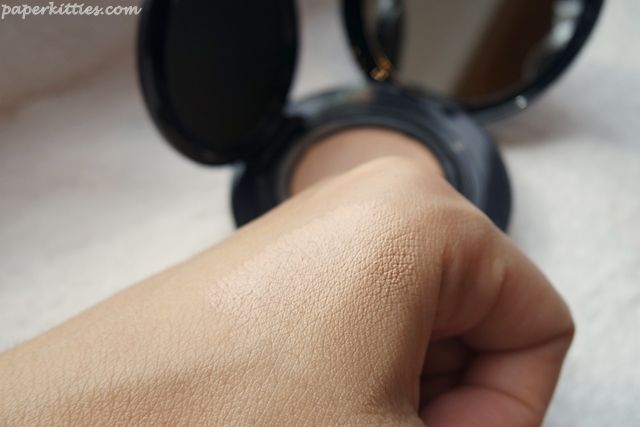 Naturally occurring waxes and skin-friendly oils in the Futurist Aqua Brilliance Compact Makeup help creates a flexible, moist barrier that coats the skin like a breathable, conditioning veil. The waxes melt at body temperature, so they blend effortlessly into the skin. The veil, on the other hand, secures the skin's existing moisture, preventing evaporation and locks in the hydrating properties of the foundation.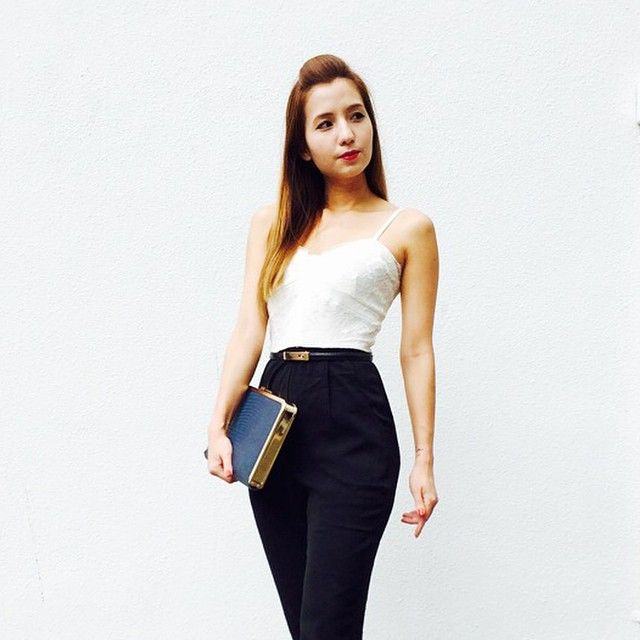 Silly me actually tried this on with a foundation brush previously without realizing that it comes along with a sponge (sometimes I get too excited with new makeup, I do overlook some stuff -.-) and couldn't quite put a hand on the texture. Let's just say that the sponge exists for a reason and that I would strongly recommend you to make full use of it for a more flawless finishing without much blending needed. Don't be put off by the creamy texture as it turns powdery smooth among contact with the skin I find the Estee Lauder Futurist Aqua Brilliance Compact Makeup more suitable for my oily skin in this humid weather. Its coverage is much thicker than the Estee Lauder Futurist Aqua Brilliance Moisture Infused Liquid Makeup, which is good to hide majority of my acne scars before I conceal the remaining with my concealer. As seen above, its matte velvety texture makes it the perfect base to complement my red lippie because it gives off such a flawless finish which is very important for pulling of bright lipstick colours (this I will cover it another day).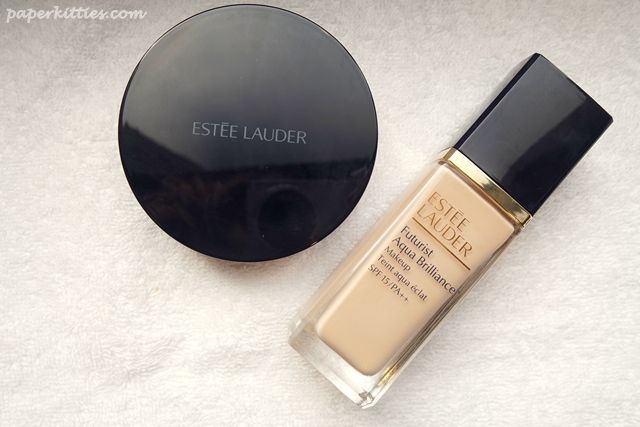 Hydrating foundation is always recommended as a base for acne scars. After all the anti-acne treatments that you have applied on your skin, it tends to be dry and flaky and you will be needing a good dewy-finish foundation to deflect attention away from acne scars and help create the illusion of smoother skin. #Tipoftheday
To sum it up, I would say that the Futurist Aqua Brilliance Liquid Makeup provides lighter coverage and is perfect for those with dry skin (or visiting dry climate countries); whereas for Futurist Aqua Brilliance Compact Makeup, it provides thicker coverage and can last the entire day without streaking, even without finishing powder – pretty amazing for oily skin peeps whose makeup tends to streak frequently. Obviously if you're wondering what my personal preference is, Futurist Aqua Brilliance Compact Makeup is definitely my pick in sunny Singapore. And when I am heading to dry climates country, Futurist Aqua Brilliance Liquid Makeup will always come in handy to keep my face looking fresh and dewy all day long. X