Editorial Review
Famed French boulangerie,
PAUL
, has recently opened it's new outlet at Marina Bay Link Mall! Along with new changes, patrons of this refined heritage French brand will be delighted to try out the 26 new dishes, desserts and beverages that is now launched islandwide.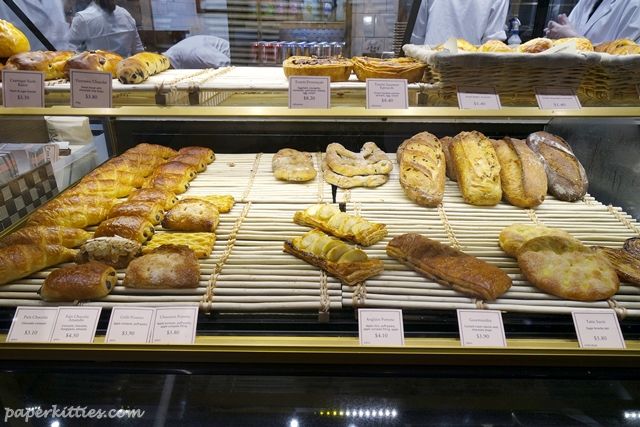 Loved for its handmade traditional and specialty French breads, you will be pleased to find different kinds of rustic and fancy breads that has the same nutty flavour as in France.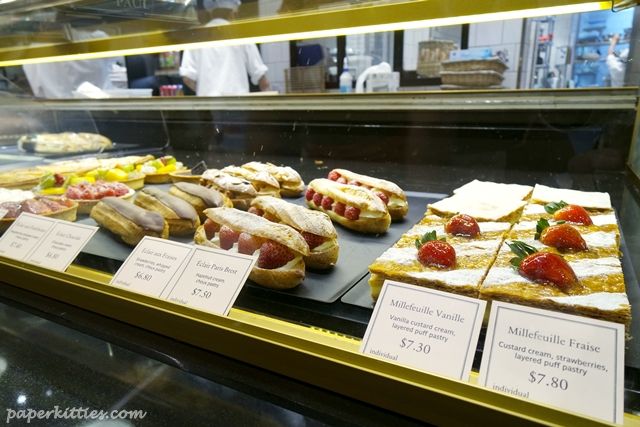 And what French fare is ever complete without its decadent pastries right? But that will not be the main focus today, instead let's have a sneak peek into their new items ranging from savoury mains to sweet indulgences… below are the few dishes I've tried recently!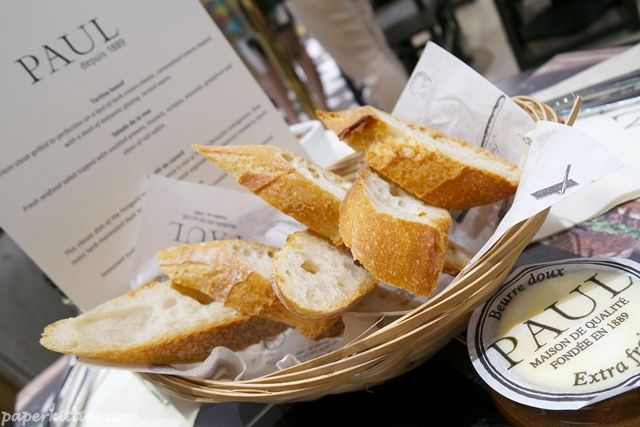 Whilst we were waiting to be served, the boys were mighty pleased with filling their tummies with the rustic bread and fresh butter – especially Ben. And if you manage to find a French boy who is in love with his bread, you know you found the good stuff (;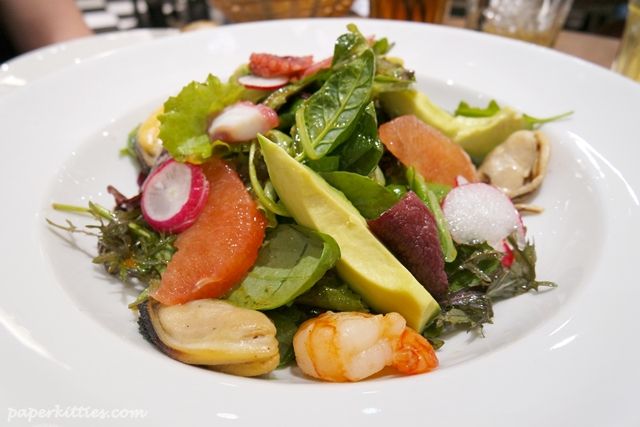 For appetizer, we were served
Salade de la Mer
($20.90) which is a refreshing seafood salad topped with seasonal fresh greens combined mixed with succulent prawns, mussels and octopus topped with creamy avocado, grapefruit and slices of red radish. The ingredients were really generous and I find it more than sufficient if you're into a healthy low-carb option, especially when you're having a quick lunch.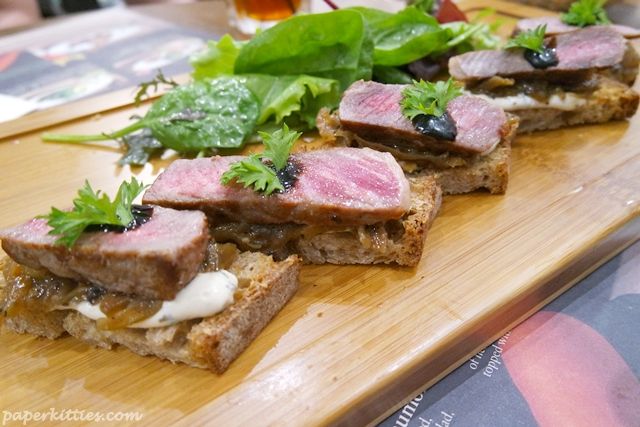 Another great option for lunch is definitely the
Tartine boeuf
($19.90). Tartines is basically a French-style open-faced sandwich; so imagine a freshly baked country bread served with juciy grilled sirloin steak, herb cream cheese, caramelised onions and drizzled with a rich balsamic glaze. It was amazing for my tastebuds, I could totally foresee myself ordering this all over again and not sharing with my bf. Lol. Salad was served as side to cleanse our palate for a refreshing feel so that it will be easy on the lunch crowd's tummy~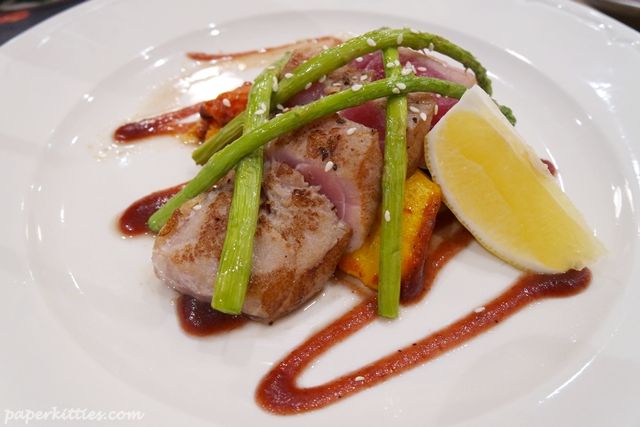 Moving on to the
PAUL
's French classics, we have the
Longe de thon
($29.90) – a seasoned loin of fatty tuna that's grilled to perfection and served with roasted vegetables and cranberry sauce. It was a hit or miss with this one, but I like it and find it an interesting combination of the salty tuna paired with the sweet cranberry sauce.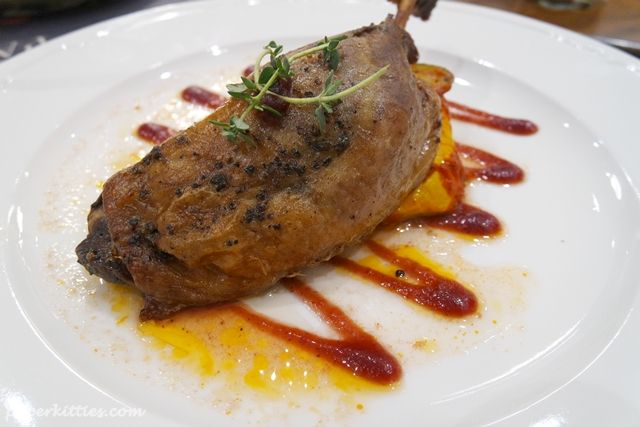 No French classic is complete if you're not served roast duck!
Confit de canard
($28.90) is a slow roast herb-marinated duck leg accompanied by roasted vegetables and cranberry sauce. The combination feels like the tuna but as the portion is bigger, it was definitely more satisfying for my hungry tummy~ We were told that
Confit de canard
is traditionally marinated for 1-2 days before being oven-baked. The entire dish was very well balanced where the cranberry sweet and sour complemented the duck saltiness.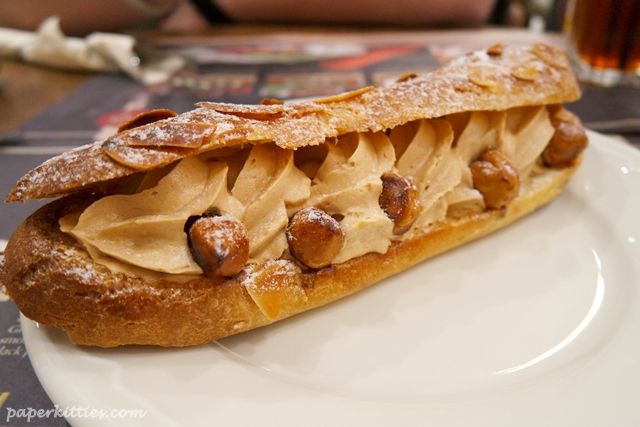 Ending our delightful meal with classic French sweets, we were treated to two new desserts that were recently updated in
PAUL
's wide array of sweet treats.
Eclair Paris-Brest
($7.50) definitely hit the spot for me with its almond-flaked choux pastry generously filled with hazlenut cream and come cutely accompanied with caramalised hazelnuts that taste like popcorns!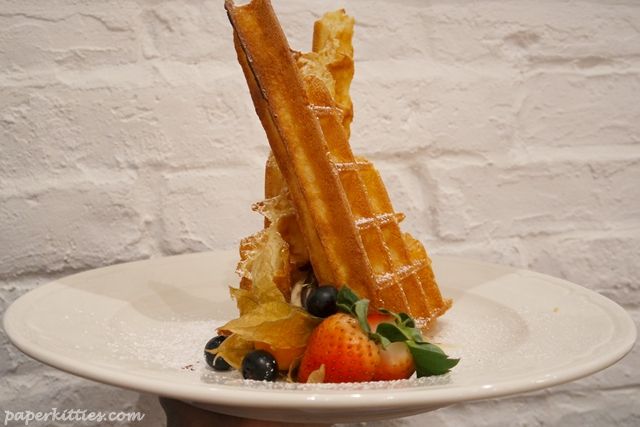 Last but not least,
Gaufre avec glace
($13.90) would be a good alternative if you're looking for a heartier dessert. A buttery waffle laden with fresh berries, vanilla ice cream and drizzled with chocolate sauce, this would be ideal for sharing! Though I will still prefer the former for my own selfish self. Hees (:
PAUL
6509 8339 // 6509 8329
Marina Bay Link Mall, #B2-07
*More locations can be found at their facebook page: PAUL1889