Editorial Review
This may not be the first time Mr Lagerfeld has teamed up with Shu Uemura on a line of make-up, but it is likely the first collaboration between a beauty brand and a house pet – cheekily named Shupette! A make-up line inspired by Karl Lagerfeld's kitty, Choupette, it features fluffy false lashes and shadow the shade of her deep blue peepers; it was love at first sight for me and I felt the burning desire to own at least an item from this collection since it is so befitting of my feline social media handle! *meow*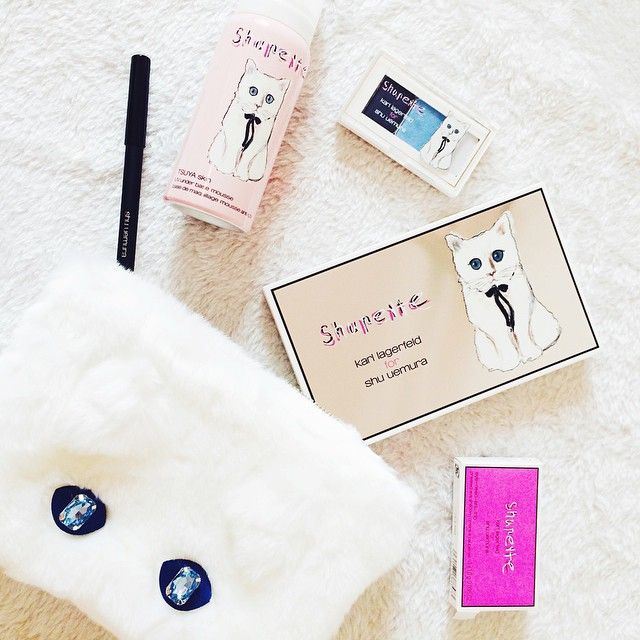 The Shupette Holiday 2014 collection by Shu Uemura x Karl Lagerfeld contains 20 gorgeous beauty products and although I do not own every single one of them, I do have swatches!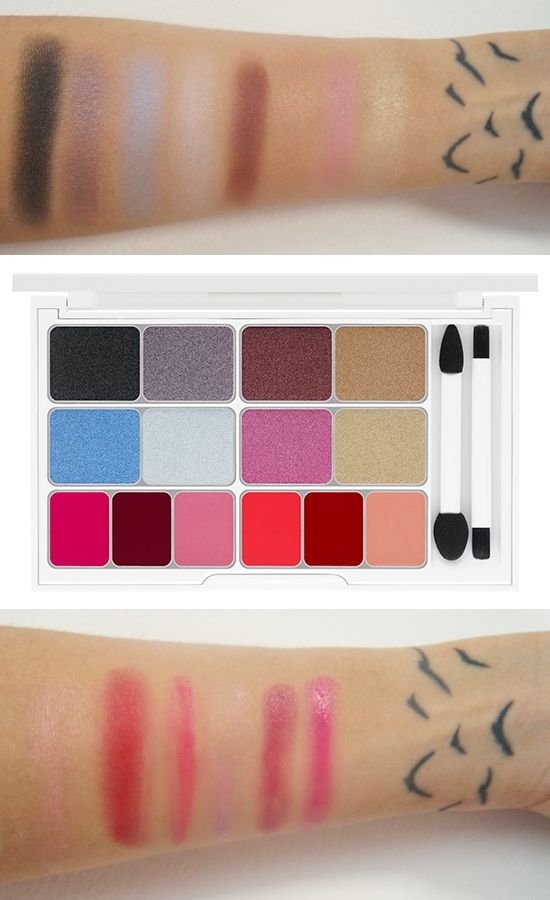 Shupette Has-it-All Eye & Lip Palette (with 8 full-sized eyeshadows & 6 lip colors), SGD$128
I'll get started with the prettiest palette one can ever own (esp if you love your kitties)! As seen in the first pic, it comes with a fluffy white pouch with blue embellished eyes like Choupette's and for the palette, it has a shiny mirror cover featuring the ultra cute Choupette of course. This palette contains 8 full-sized eyeshadows in varying shades from black, dark gray, burgundy brown, toffee, pastel blue (aka
Shupette Blue
), cool gray, rose and light beige. If you're not brilliant in mixing eye colors, like me, you can break them down to two distinct quads – left four for the blues vs right four for the pinks. If you would like the color playoff to be more intense, it would be recommended to apply eye primer beforehand as the pigmentation are not crazy intense for a softer cat eye look. Accompanying the eyeshadows are a dual-ended sponge-tip brush and synthetic bristle lip brush along with 6 lip colors with both cool and warm tones such as magenta, violet, pale pink, salmon pink, deep red and baby pink (swatches from right to left).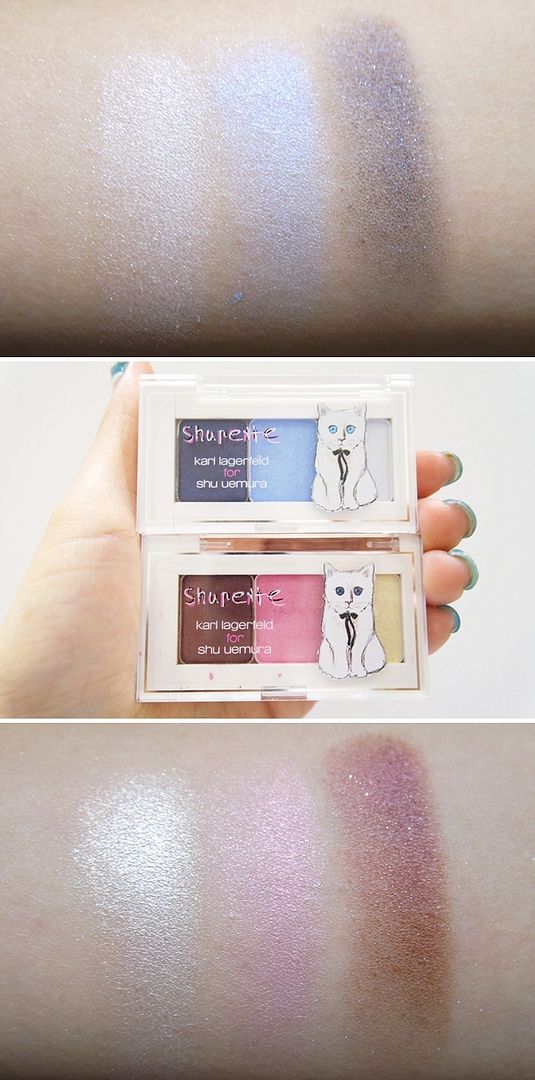 Eye Need Shu Eyeshadow Trio, SGD$55 each
The eyeshadow trios comes in a portable, kawaii casing that holds 3 pressed eyeshadows, each to achieve a unique kitty eye. Paw on #01 for parisienne chic look (top) that includes the gorgeous Shupette Blue or #02 for tokyo kawaii look to get the cute and bright cat eye look!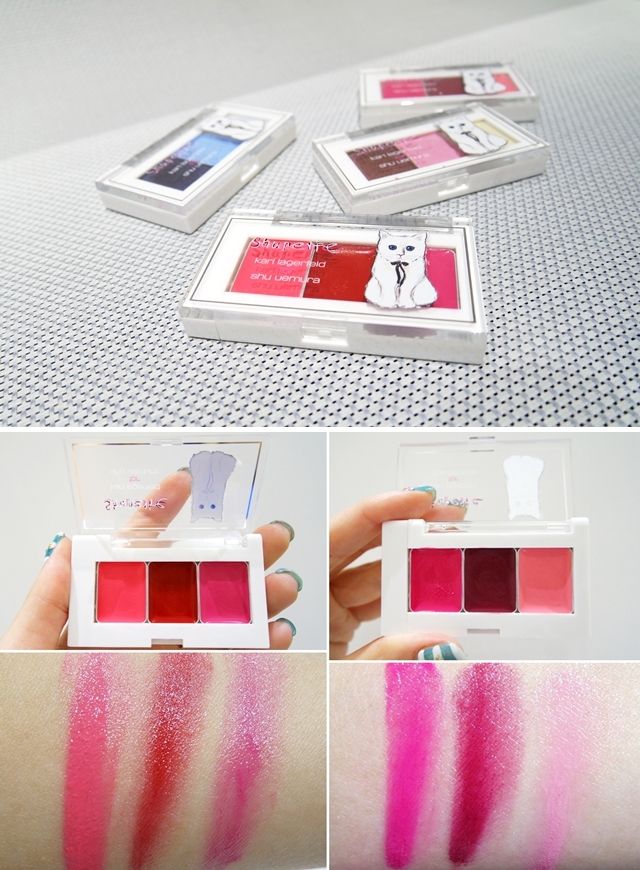 Rouge Bonbon Fantasy Lip Trio, SGD$55 each
More gorgeous trio palettes for you, Shupette's vivid candy color pay-off and luminous finishing for your lips using Shu Uemura's innovative Lumicolor Matrix Technology. #01 for the parisienne chic look (right) & #02 for the tokyo kawaii look (left) to complement the shades for Eye Need Shu Eyeshadow Trio, or a handy pop of color choices to jazz up your everyday look.. your pick!
Silk Cushion Cheek Colors, SGD$45
This addictive marshmallow-like texture is pretty amazing to touch! The texture is powdery and creamy with subtle color payoff, it feels like powder yet stay on the skin like cream. The gorgeous Shupette decorated case easily helps identify the 2 shades available: pink & orange.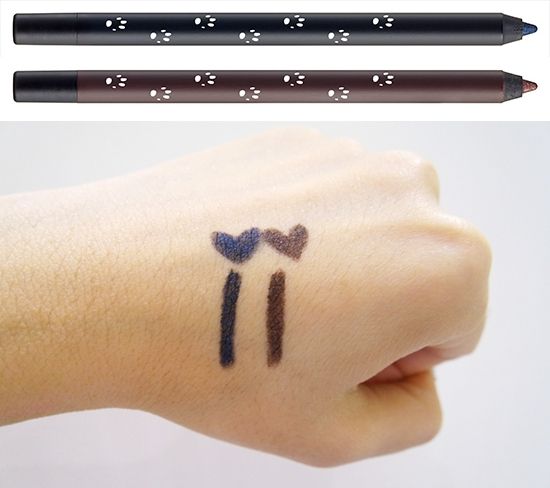 Eye Need Shu Liner Pencil, SGD$33 each
The liner pencil comes in 2 colors, Midnight Black & Gala Brown, this was easily my favorite item of the entire collection (since I'm an eyeliner fine) as I am amazed by how smudge-proof and long-lasting it actually is! A creamy and smooth texture with Shupette Blue Pearl in Midnight Black and Pink & Gold Pearl in Gala Brown, it brings a unique touch when I filled it in my lashes.
My Precious Glitter Set, SGD$55
Another favorite of mine in this collection is this glitter set that features 3 colors in a set – pink, gold, silver. And to be honest, I feel that my swatch does not do justice to this loose powder glitter trio :/ They are super sparkly irl and I can only imagine the amount of dazzling fun it adds to this upcoming festive season of non-stop parties and celebrations!
Pam-pearl Me Face Powder, SGD$60
Speaking about all the glitters and dazzles, this glamour quotient with colorless shimmer powder is so much fun! I am amazed with the kitty-soft silky texture and how generously shimmery the pink and gold sparkles are without going OTT. (Right is how it looks like before I blend it all over my hand)
Fairy Fantasy Premium Lash, SGD$125(top) and Eye Need Shu, SGD$34(bottom)
No Shu Uemura collection is complete without their signature luxurious falsies in the most unique design ever. You can choose between the Furry Fantasy haute-couture eyelash in a sleek metallic sliver box (with elegant pink feather and a hint of Shupette-blue crystal) or Eye-Need-Shu partial accent lashes (with metallic silver highlights and Shupette-blue crystals), or both for the perfect kitty eyes!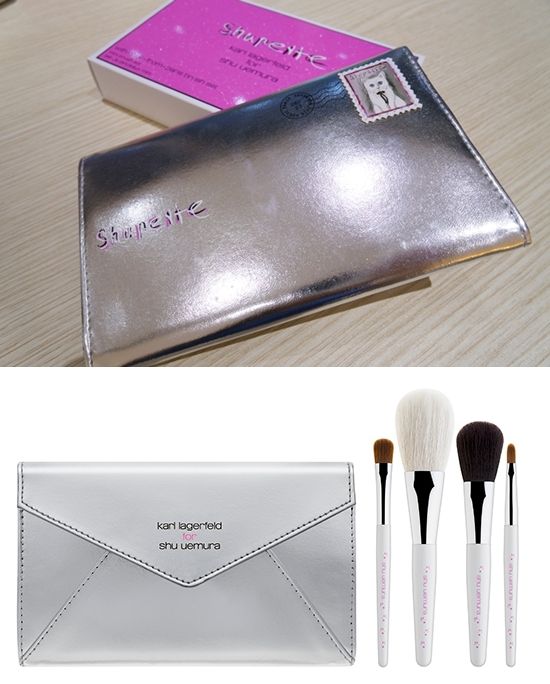 With Love From Paris Brush Set, SGD$125
4 portable brushes in an envelope-shaped stylish brush case in metallic silver, I just can't stop raving at how stylish this brush set is. There are still 5 more items in the Shupette's Holiday Makeup Collection I've yet to touch on but I reckon you should just hop on over to your nearest Shu Uemura store already and have a look for yourself at this marvellous Christmas Collection. From eyeshadows in minky, feline colours to dramatic falsies, there's even a cult Shu Uemura cleansing oil imprinted with a dashing portrait of adorable Choupette! Oh yes, there's plenty of beauty booty in the range and you ought to be excited… very excited! ♥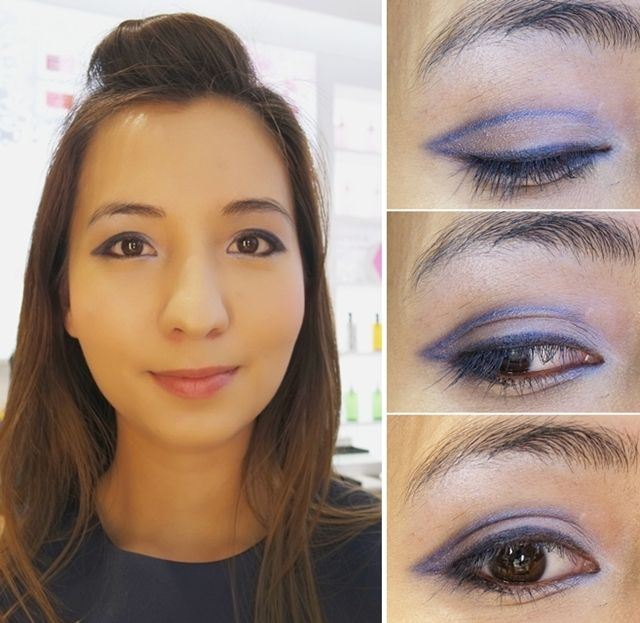 Here's ending off with a Parisienne Chic Cat Eye #motd c/o Shu Uemura's Accredited Makeup Artist, Sophia Chia!