Editorial Review

It feels like it was only yesterday that 2014 started, yet in a blink of an eye… the year is almost over and we're nearing Christmas! My favorite season of the year! There is just something about this festive season that always make me want to be all warm and fuzzy both inside out wearing a furry sweater, sipping hot tea and making merry with my loved ones!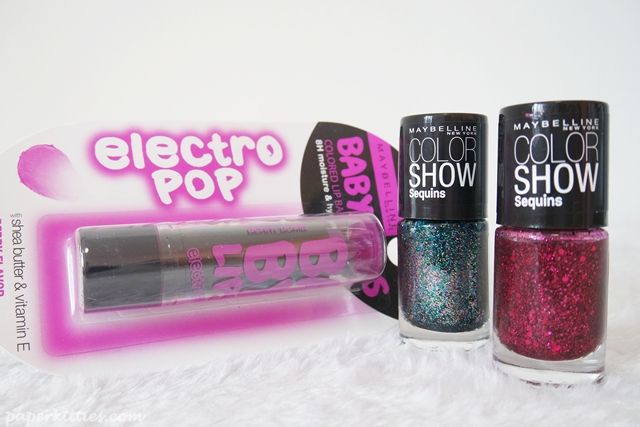 Maybelline Color Show has brought forth a whirl of sparkly nail polishes accompanied with a dash of neon lip balms specially for this Festive season! The
Maybelline Color Show Sequins Nail Polish
comes in 5 dazzling limited edition shades featuring 3D holographic sequins technology for the extra bling! *sparkles groupies please gather here!* With just 2-3 coats, it is super easy to apply without being chunky. I like how the glitter is evenly spread by the 2nd coat without me having to focus on special spots to hide. And did I mention that it is only at $6.90 each, super afforable please~ Here's two of my favorite shades perfect for Christmas!

Maybelline Color Show Sequins Nail Polish in Sea Queen (#825)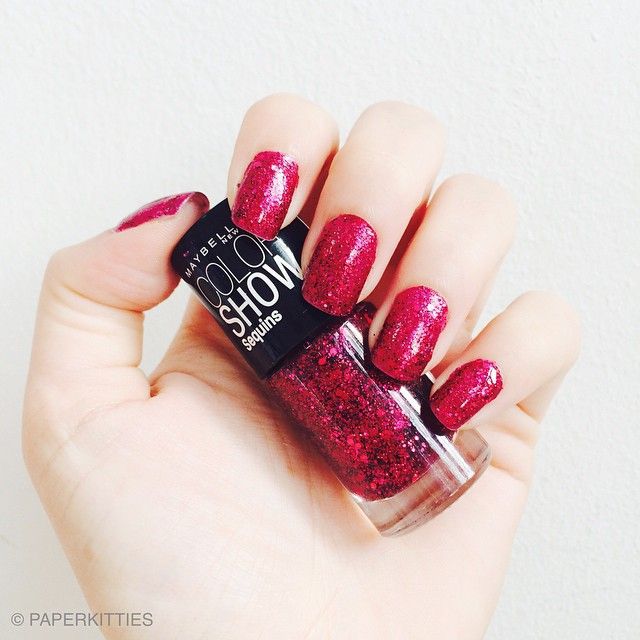 Maybelline Color Show Sequins Nail Polish in Ruby Rhinestones (#800)
If blink blink nails ain't enough for you, why not try out
Maybelline Baby Lips Electro Lip Balm
for lusciously moisturized lips with a rocking 80's neon colour! I've got mine in Berry Bomb and let's just say, don't let the colours fool you… it goes on almost clear. It glides super smoothly onto my lips, giving a healthy shine and upon application, my lips turn into a soft pink violet shade. Super duper pretty, it reminds me so much of
Laneige Water Drop Lip Tint in Orchid Violet
.. I figured I might as well term
Maybelline Baby Lips Electro Lip Balm
as tinted lip balm instead! And if you're intrigued of the scent, it smells just like grape cocktail; sweet grapes and other miscellaneous berries for soft kissable lips *muacks*